Etsy Store Name Generator
Add a word in the Etsy Store Name Generator and click the "generate" button to get the results.
Etsy is one of the biggest marketplaces in the world. It has all the tools and options available that allow you to build a small crafting brand. In this article, we look at how you can build a good brand on the platform using the Etsy Store name generator.
Why Sell on Etsy?
There are numerous reasons why you might want to sell on Etsy. For one, Etsy is a well-known craft platform for creators to sell their products. It helps to connect craft sellers and their audience with ease while taking a modest commission.
Normally, Etsy sellers are portrayed as small businesses with limited revenues. But that isn't the case. There are numerous examples of brands that have become big on the platform, creating full-time, high-paid careers from skills that few people have.
An Etsy seller, for instance, was recently credited with creating a hat that was worn by Beyoncé to advertise her new tour. Since it was discovered who the fashion designer was, and where they could buy it, the Etsy designer has received an unprecedented number of orders, something that has pleased the 24-year-old as well as Etsy.
However, two things have made this happen. One is that the creator was able to make a brand around her work. And she had a name that was relatable to the audience, relevant to her brand, memorable, and enticed audiences to find out more.
Why Use an Etsy Store Name Generator?
There are numerous reasons why you might want to use an Etsy store name generator. These are free tools that can help you develop a basic name concept into a fully-fledged brand name that you can use to reach millions of potential customers across the world.
Cost-effectiveness is one of the best reasons. Numerous business owners create a brand with the help of a marketing agency. The problem is that a marketing agency will cost a lot. As many Etsy sellers are starting as small, at-home businesses, you probably don't have the funds to afford this.
In addition, spending so much money can reduce your cash reserves and flow. Cash flow is one of the biggest killers of business. At least 10% of businesses and up to 90% of eCommerce businesses will fail within their first year. Cashflow is the number one reason with higher than expected costs and a reduction in the number of sales than predicted as the biggest reasons.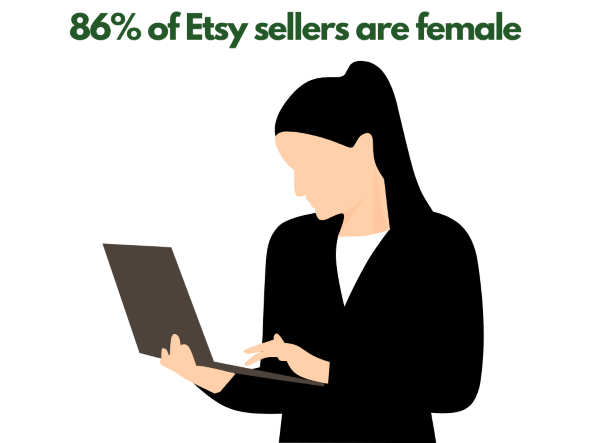 The Etsy store name generator can help you to create a catchy, memorable brand name that customers will remember, making it easier for them to return to you. On Etsy, this is more important because numerous competitors in the marketplace can hurt your customer retention statistics. And research has shown that brands that have memorable names have a higher level of return custom.
Another factor is that you want a name that will differentiate you from the rest of the competition. You might have a unique product, but there are going to be others who have a product that is a close match. Therefore, you have competition and you might find that your brand is going to lose out on some sales.
However, if you have a memorable name, then you can be sure that people will come back time and time again to your Etsy store and reorder from you. Plus, if you have a memorable name, then you can be sure that your customers can tell others about your brand. Word-of-mouth marketing can be one of the best and most cost-effective marketing options.
Using an Etsy store name generator can help you avoid the common problem, that humans tend to use what is familiar to them.
Tips for Creating a Fantastic Etsy Store Name Generator
Here are some of the top tips that you will be needing to help you create one of the best Etsy store names for your brand. These tips can help you create potentially hundreds of potential Etsy store name ideas.
Tip 1 – Etsy Store Names Need to be Unique
One of the first things that you need to do is to realize that you need to have a unique Etsy store name. There are several reasons for this. For one, a name that is not unique can sometimes mean that you are infringing on the intellectual rights of another brand. This can cause a significant issue as you might end up in court over the use of the name.
At the very least, you could be forced to change the name. However, you might also be forced to pay for the damages that are there. And the costs of the court can be very damaging to your financial resources. Some businesses might even have to close because they can't afford the legal problems.
There is also the problem that you might face with audiences getting confused with your business and a competitor with a similar name. On Etsy this is very possible and being found can be more challenging. What is likely to happen is that you will have potential customers finding your competitors and purchasing from them.
Tip 2 – Think about Future Expansion
While you might only offer a set number of products now, you should consider what you might want to offer in the future. If you use a name that only incorporates your current products, it might harm others finding you for other products in the future.
And it might also harm you if you don't think about including potential in the wider areas that you might want to serve. You might only deliver to the New York area or just inside the USA now, but that doesn't mean that in the future you're going to go global.
As a result, you might want to have a name that can allow you to expand your products in the future.
Tip 3 – Consider what Your Name Means in the Other Languages
There are so many brands that have in the past created a brand name that has gone into other markets but the name has a negative connotation. This is something that you should avoid, as it can be very embarrassing. Therefore, you will need to consider what the name means in other cultures.
In many cases, when there is a mistake like this, your business can be ruined in that country.
Tip 4 – Ensure Social Media Accounts are Available
Many online sales are not made via social media. However, that doesn't mean that social media isn't an important part of the sales process. It can be a strong strategy for building a brand that people will want to interact with. It is important to consider social media is used by more than half of customers to research the brand, this is true for craft brands.
Therefore, try to find an Etsy store name that has available social media account names available. And some sales are made on Facebook and other platforms, though it usually only corresponds to 1-3% of sales.
However, you can also use social media as a way to collect email marketing leads. Your Facebook page can be used to collect emails with a simple signup button.
Tip 5 – Ensure the Domain is Available
In addition, you want to make sure that you have a domain name that you can use for your Etsy business. While you might make most of your sales on Etsy, a website can be used to rank on search engines and it can also be used as a way for you to improve your marketing. You can promote your latest products and projects on the website.
The website can also be a great way to promote your projects with a blog. Blogging is an effective option for promoting your brand and getting ranked on Google.
Checking for your name is available as a domain, you can complete a free domain search.
Tip 6 – Make a Name Memorable
You should always ensure that your name is memorable. A memorable name is a name that audiences will be able to continuously remember. There are lots of ways to make your brand name memorable, including keeping it short and using initials.
Tip 7 – Do a Business Name Search
To ensure that your name is unique and conforms to state laws, be sure you complete a free business name search. In addition, you should consider reserving the business name.
Reserving a business name will cost money, and it will also be reserved for a limited time until you can register your business.
How to Produce a Great Identity Using the Etsy Store Name Generator
These are the steps that you need to create an Etsy store name using the Etsy store name generator. These steps are really easy to follow.
Step 1 – Create a List of Important Words
The first thing that you need to do is to create a list of important words that will describe what is important about you. You can include words that describe your ethics, personality, products, and where you are from. There are lots of ways that you can make this list and you should make sure that you have a long list for the rest of the process.
It is important to note that your name could be generated using a keyword generator. At the same time, you want to ensure that the words are not going to be generic, something that another brand could use with ease.
Step 2 – Reduce the List to the Best Options
Now you need to take the list and reduce it down. You want to have about 10 words at the end of the process. You should reduce the list based on words that you know are what you really want to represent your Etsy brand.
If you need to have some help, it can be good to speak to your friends and family.
At the end of the process, you should have 10 words.
Step 3 – Add your Names to the Etsy Store Name Generator
Now you can take the 10 words that you have in the previous step and then add these to the Etsy store name generator. You will get a list of names like these below.
mass Online Etsy Store
political Online Etsy Store
asleep Online Etsy Store
common Online Etsy Store
legislative Online Etsy Store
french Online Etsy Store
wonderful Online Etsy Store
hissing Online Etsy Store
key Online Etsy Store
sunny Online Etsy Store
latin Online Etsy Store
eventual Online Etsy Store
extensive Online Etsy Store
pretty Online Etsy Store
melodic Online Etsy Store
labour Online Etsy Store
statutory Online Etsy Store
theoretical Online Etsy Store
thick Online Etsy Store
extreme Online Etsy Store
unable Online Etsy Store
lazy Online Etsy Store
shocked Online Etsy Store
slim Online Etsy Store
Etsy Store Name Generator
Now you can try the Etsy store name generator for yourself. It doesn't take long for the Etsy store name to give you a list of potential names. The tool is free.
Step 4 – Reduce Your List Down
Now you should look at reducing the list of words that you got. There could be hundreds given to you by the name generator. Reduce the list by choosing names that you know are going to be a good fit for what you want to achieve. At the end of the process, you should have 10 and 20 names.
Step 5 – Business Name Search
Ensure that you conduct a business name search in your state and any other state you want to sell in. Names that are protected by law should be registered in their state. Discard any names that have been registered.
Step 6 – Check for Use by Other Brands
You can use the Google search engine to check that your possible brand names are not used by another brand. A quick Google search is not 100% accurate, but it can work by searching all the business directories and other aspects.
Step 7 – Check Social Media
Be sure that the business name that you would like to use has the available social media accounts. Don't use names that have inactive social media accounts either, it can be very confusing for your audience and it can also lead to lost opportunities.
Step 8 – Check Domain Name Status
Use a free domain name check to ensure that your potential Etsy business names are available. A good domain name is the start of a website and it allows you to promote your brand off Etsy, which does have some limits.
Step 9 – Choose your Etsy Store Name!
From the names that are left, choose your name. This is a name that you love and feel comfortable using for all correspondence and in marketing. If you need help, speak to friends and family.
Step 10 – Register Your Etsy Store Name Everywhere
Now you can register your Etsy store name on every platform and within your state as an LLC. This is a really quick and important process. A registered name protects your name from being stolen.
Final Word: Etsy Store Name Generator
Above are the tips and steps that you need to help you name your Etsy store with the help of the Etsy store name generator. These tips can help you build a brand that will last on the platform and help you grow and succeed.