Online shopping is a popular use of the internet, especially since the start of the Covid-19 pandemic where lockdowns meant that going to shops became harder. As a result, there has been a growth in opportunity for those wanting to sell online. To help you earn a living from your online store, you can use one of the Squarespace eCommerce templates available.
What Makes Great Squarespace eCommerce Templates?
To find the right Squarespace eCommerce template that's suitable for you you need to research a few aspects. The first thing you need to consider is compatibility with the Squarespace eCommerce functionality. This can include a cart system, product pages and access to a payment gateway.
However, even if you have that compatibility, you need other things. For instance, you want to make sure that you have a fast website. A website's speed is tied to its performance. For every second it takes a page to load, you're going to lose approximately 7% of your revenue. The average website takes between 7 and 11 seconds to load. Therefore, many businesses can be losing 50% or more of their potential revenue.
Speed is also linked to your performance on search engines. The faster you are, the higher you will rank on Google and other search engines. You'll also want other features that can help with your SEO like mobile responsiveness.
In addition, you will want other features that connect your brand and audiences for longer purchasing journeys. Email marketing and social media can be big sellers. Having connections to these can be a great way for you to build your brand's revenue. This can be done through social media buttons or email marketing sign up forms.
So, what are the best Squarespace eCommerce templates? Here are some of the options.

Momentum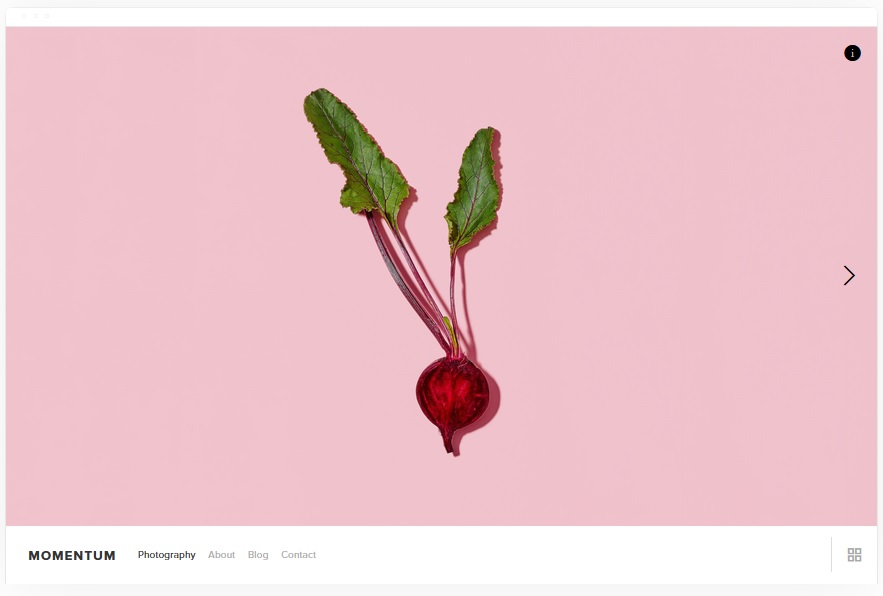 Momentum Highlights:
Add videos and high-quality images to slideshows that can have an automatic transition.
Impress visitors with full-screen imagery to your website and promote your brand.
Sell products directly from your website with ease.
A good-looking website design that's really easy to edit and customize for your brand.

Momentum is considered one of the best templates for eCommerce on Squarespace. It has all the features you require to generate leads and make sales with ease. The template includes video functions that can help convert more of those landing on your website and you can also have high-quality images of your products throughout the website to give realistic expectations to your customers about the product.

To help with the design of the template, you can have dazzling video portfolios that can be displayed within a slideshow interface. You can also utilize full-screen imagery on your website. These features are great engagement points that are highly valued by audiences.

To help you rank there are several features. The first is a blog section. Blogging is very important for traffic. Those that blog more than 15 times per month will get more traffic and higher levels of engagement than those that blog only once per month. You can add slideshows to the blog that have automatic transitions and allow the visitor to control the flow of the images.

The template is also perfect for search engines. The speed is very good and it is mobile responsive.

Hester
Hester Highlights:
Subscribe your visitors to a mailing list to get them to come back to your website.
Have an about us page that can help you give an emotive story about your brand.
Blog to build a website that has more potential for high ranking.
Easy to upload and market products on this template.
Hester is a fun, modern template that is designed perfectly for people to have an eCommerce store on Squarespace. There are a range of styles that can be easily applied and customized to the website. It has large, simple sections that use colors to make products really standout and prevent your audience from becoming distracted and clicking off your website. To help customers skim read your page to find the content they really want there are bold layouts that clearly define your website's areas.

To help with converting your visitors with ease, the template comes with 'shop now' buttons on the homepage. This can help you sell featured, on-sale or favorite products that you want to entice audiences with. You can also build an identity for your brand with an 'about us' page and you can utilize the blog section to sell your brand, entice new audiences and improve your rankings on search engines.

The template is also good for selling to audiences over the long term. Hester comes with a sign up form that can help you collect important contact information from visitors.
Wells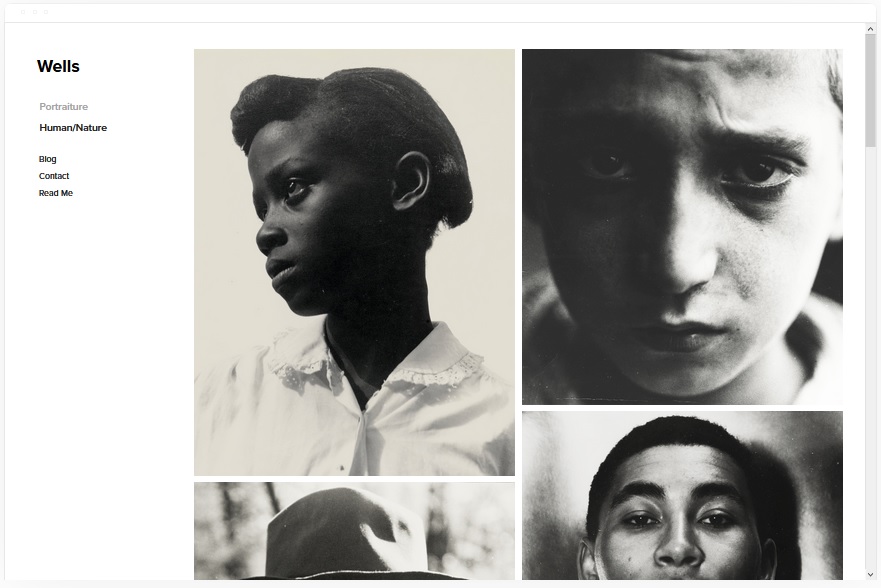 Wells Highlights:
This is a great design, perfect for converting audiences on your website with products.
Display lots of video content on your website to build trust.
Create more visual appeal with images from Unsplash.
Can sell all kinds of products from event tickets to physical products.
Wells is a perfect template that is great for selling products on Squarespace. There are lots of places where you can display high-quality images and other media about your product lines. These can be linked to purchasing pages where you can improve your website's revenue streams and ensure that you are making a living from your website. In addition to images, you can add videos, artwork, text and a portfolio to help bring your products to life.

The template has fantastic eCommerce functionality. This can enable you to take payments from your customers for numerous products. You can also have events/lessons sold on this template if you offer any live events.

Videos are one of the best ways to convert on eCommerce sites and Wells doesn't disappoint. To upload a video, all you need to do is embed the URL of the video directly into the page. Squarespace will then do the rest of the work for you. The same process can be used to insert images onto the website. You can also use Unsplash to add images to your website for free.
Kent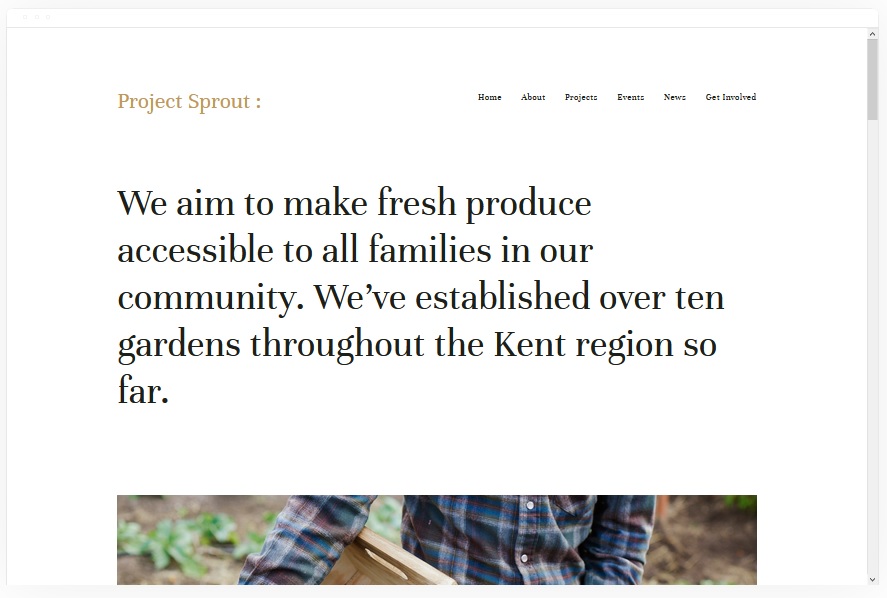 Kent Highlights:
Use media to showcase your website's best features.
Add videos to your product pages for better conversions.
Can sell all sorts of products from this template.
Fast loading, to help with user experiences and improve ranking on Google.
Kent is a beautiful website design on Squarespace that is fast and has clean code. This allows you to take this template and then rank with it for ease. It will also help with conversions and improve the user experience on your website. The better your users' experience, the more they will buy from you per transaction and over their customer lifetime.

The Squarespace eCommerce template allows you to showcase products with ease and there are easy-to-customize portfolio pages that can be added to your website's design. The template can also handle all kinds of media including videos and images. Therefore, you can showcase your products in their best possible light. And none of this requires the expertise of a web developer.

The Kent template has lots of inner pages that can be added to your website with ease. For instance, you can have blog, event, album, about us and more. The eCommerce functionalities are also added to the template to make it easy to sell online.
Bedford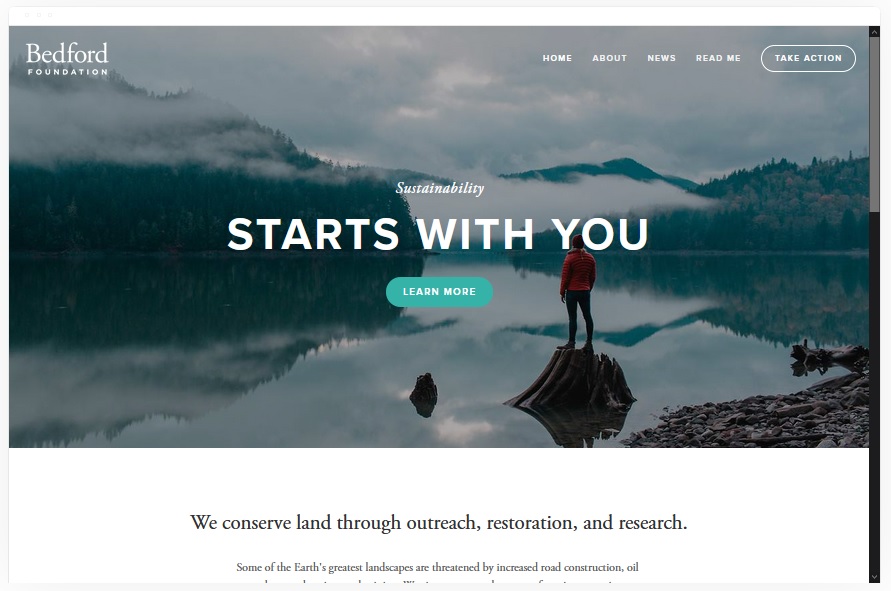 Bedford Highlights:
A multipurpose Squarespace template that is perfect for selling products online.
You can take payments on your website with eCommerce functionality.
Promote products with videos added to product pages.
Use banners across your website for promotional messages.

Bedford is a fantastic eCommerce template that allows you to build a website that can convert more guests on your site into customers. It works for all kinds of industries and niches and it is one of the fastest templates available. The coding for this design has lots of different elements that can help you rank high as well. For instance, you can include a sidebar navigation and a scrolling homepage.

You can add all kinds of pages to your website, each can have 'call to action buttons' that can allow a customer to be directed to a product page. You can also have excellent videos added to your product pages that can help with conversions.

Bedford helps with ranking too. The responsive template is fast loading. This improves traffic levels, conversions and the ranking of your site on Google and other search engines.

Galapagos – eCommerce Squarespace Template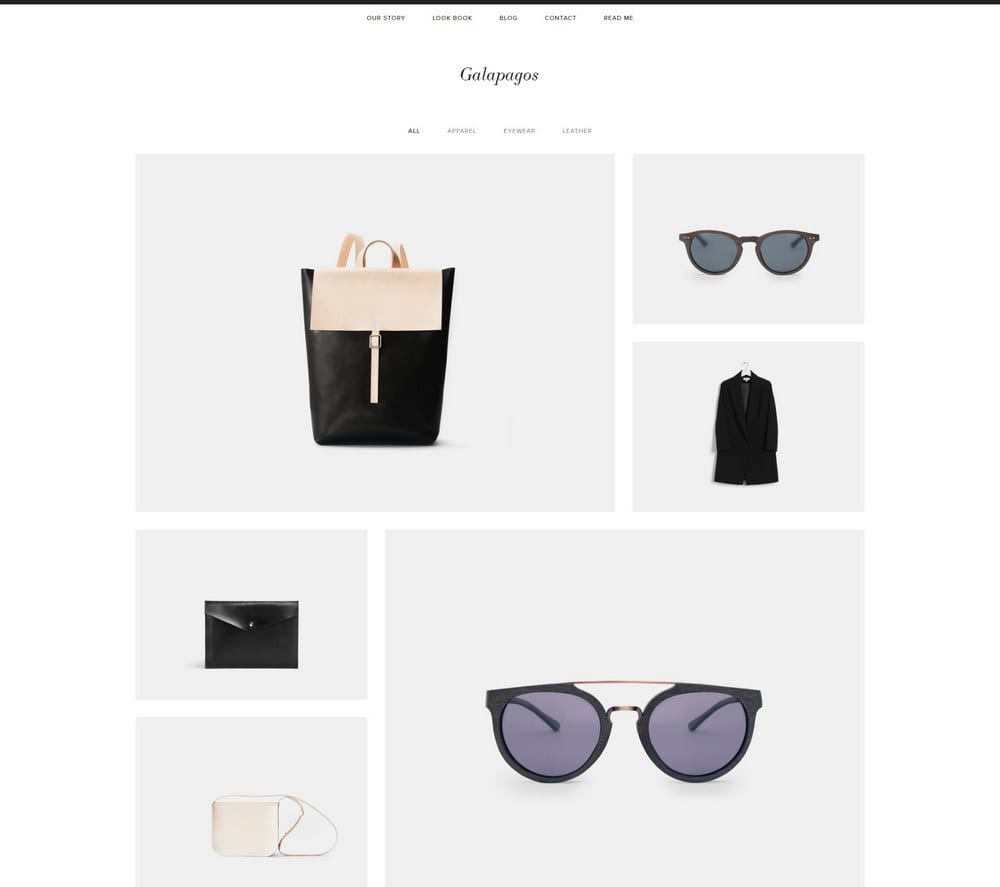 Galapagos – eCommerce Squarespace Template Highlights:
This is effectively designed for the most perfect eCommerce experience for users.
You can apply the 'quick look' feature to help improve conversion rates.
Build trust with audiences while using the Squarespace payment processing system.
Is a fast and responsive design, great for ranking on search engines.

Galapagos is a modern eCommerce website that allows you to have a modern, sleek and sophisticated website that will help you build a relationship with customers and sell. The minimalist design is perfect for loading times and ranking on Google and even though it is a minimal design, the features are none-the-less powerful enough to sell your products with ease.

There are lots of features that are common on the best eCommerce websites across the world. This includes the very effective 'quick view'. This reduces the number of pages that a customer has to go through in order for them to make a purchase. This can be very important as there is a correlation to the number of pages a customer has to load to the conversion ratio. Therefore, 'quick view' can also improve conversion rates.

There's also the integrated Squarespace shopping cart system. This allows you to take payments on your website in a secure system. To help with navigation across your site, there are great menus. One is at the top that allows customers to navigate the whole website. Then there is the featured products area and then you have the footer menu.

Alameda
Alameda Highlights:
Has lots of features to help you sell online.
Speed functionality on your website to help you rank better.
Cross-sell products on your product pages.
Has been built for the Squarespace version 7.1 features.

Alamadea is a great little eCommerce template that will allow you to build a great website. It has been designed for the Squarespace version 7.1 so it has all the latest features and functionality additions to it. It is similar to another template, known as Indigo. So if you're looking for a replacement for that template, this could be a great option.

The site features a homepage featured product area that can really help you showcase the best products on your website. There are lots of elements in addition to this that can help you sell. For instance, you can have the 'quick view' option that can improve conversations. There is also have cross-selling features with the 'you might also like' section.

To help with your website's performance on search engines, there is a lazy loading product images and products. This improves the website's speed that can help you rank better that can also improve your conversation.

Suffolk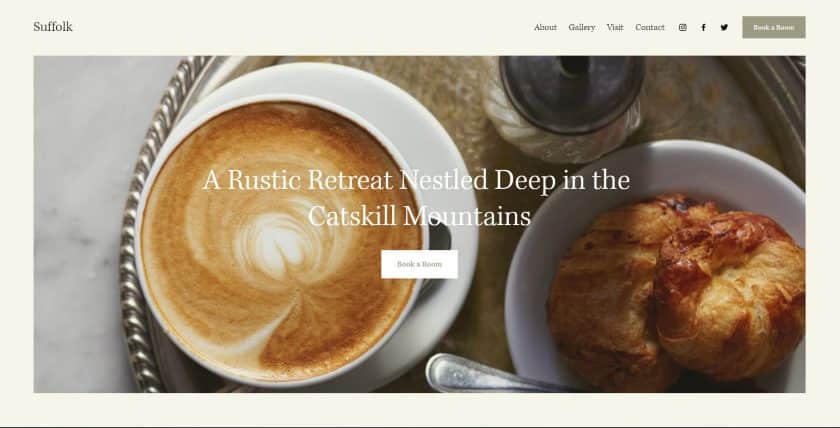 Suffolk Highlights:
A free Squarespace template that is perfect for building an eCommerce website.
Perfect for many niches.
Includes features that allow you to have a fast website on Squarespace.
Call to action buttons to direct customers to your products.
Suffolk is a great free Squarespace template that is perfect for building an eCommerce website. It is great for websites for hotels, rental properties, salons and other stores. The homepage is a clean, boxed style of the show that can display a hero image and there are two 'call to action' buttons that can help you direct customers to your key products.

The template can also boast a sticky menu that can improve engagement rates on your website. There are also elements that can help you set appointments and take bookings. Great if you're an eCommerce business that also takes on consultancy work.

The template is fully customizable and the speed is great, helping you to rank highly on Google and other search engines.

Crosby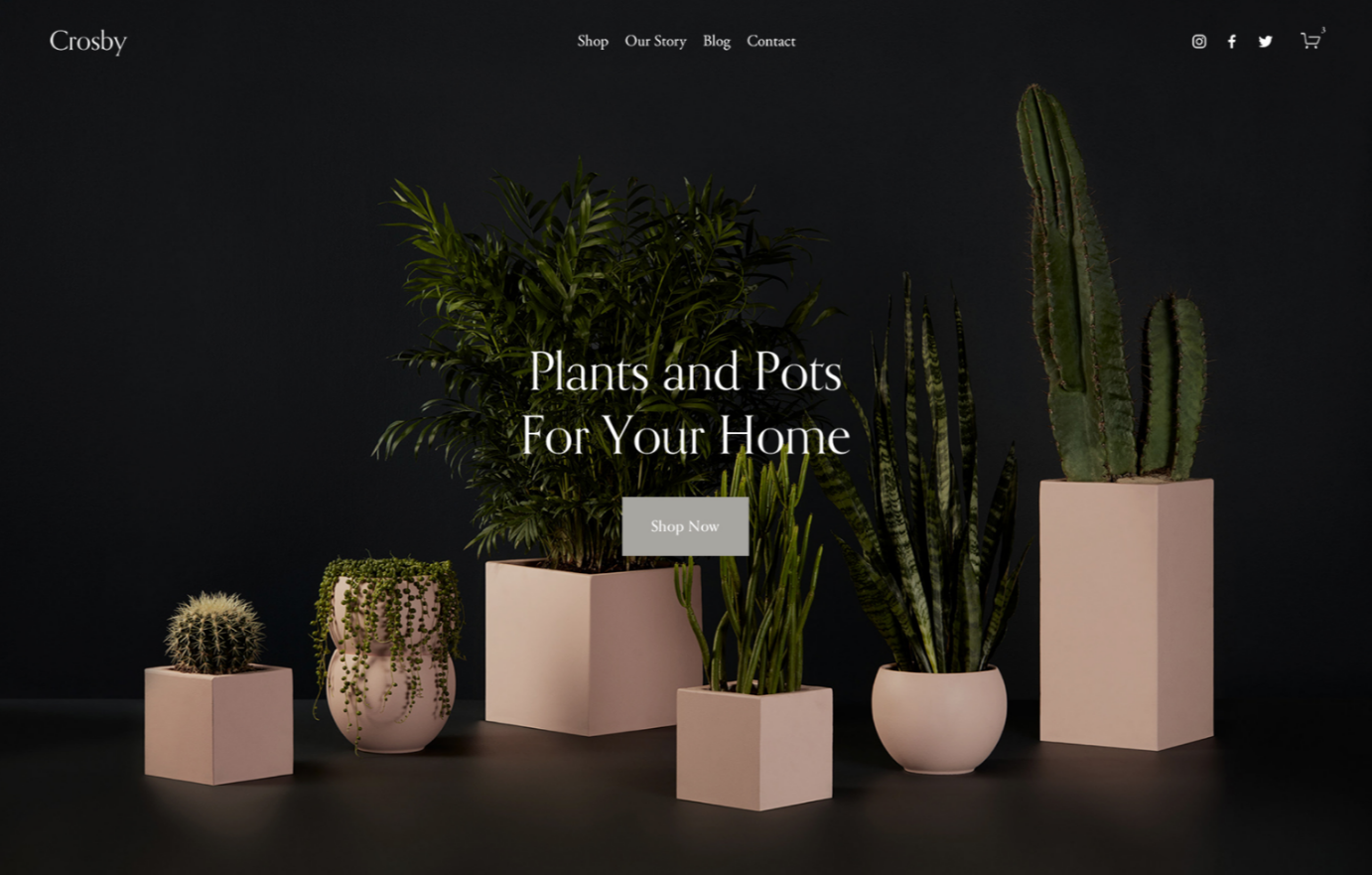 Crosby Highlights:
Darker tones than other templates can help you build a unique website.
Colors can be changed to suit your needs.
Link to blog posts and other transactional areas of your website.
Fast loading and good ranking potential for the template.
Crosby is a darker template from others that allows you to have your eCommerce site look completely different. However, even if you don't like the darkness on this template, then you can change the colors with ease. The homepage layout is aesthetically pleasing and you can have an overview of the entire website with links that can direct the visitors to the most popular shop categories.

The template is perfect for the modern shop. There are links to informational areas of your website, like blog posts as well as transaction areas of your website like products.

Crosby is a fast template that will help your site to load on a browser quickly. In addition, it will rank highly on Google and other search engines.
Almar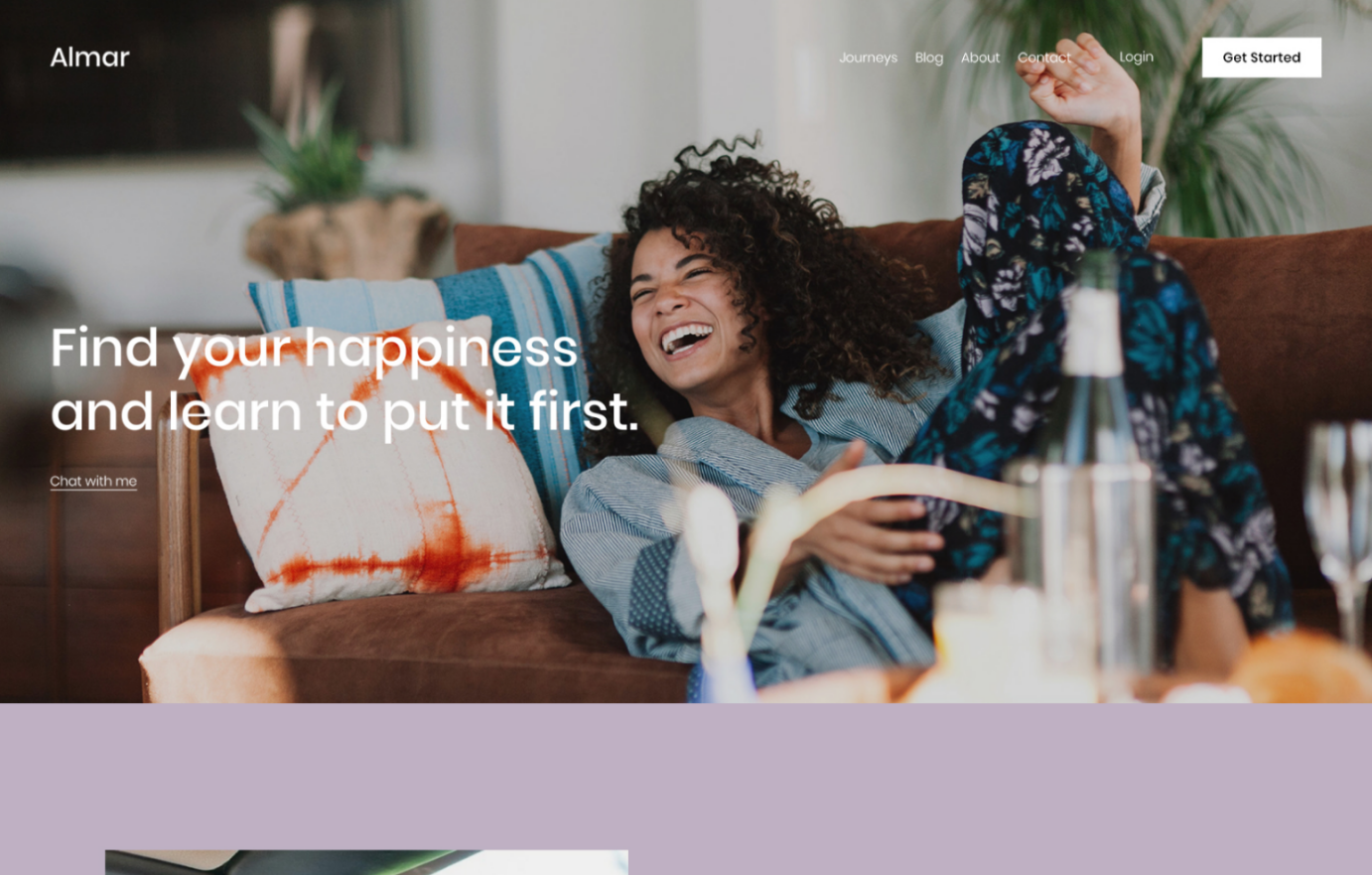 Almar Highlights:
Faster loading times that allow you to improve conversions.
Good for ranking across social media accounts.
Great for sites with large and small catalogs.
Great call to actions that can embedded in your website.

Almar is a clean template that is great for those who want to have a ready-made template that can help them get ready quickly. The template is perfect for service or a product-based business. For those looking for an eCommerce store for a catalog that is just a few products. This template can handle large catalogs too with ways to improve your brand's story.

This template has lots of call to actions that can be used. For instance, you can have an appointment booking system, links to your popular products and offer special deals on your website.

Almar is an effective template for speed and ranking. Therefore, you can use Almar to get your eCommerce store to rank quickly on all the major search engines and improve your site's conversions with faster loading times.

Myhra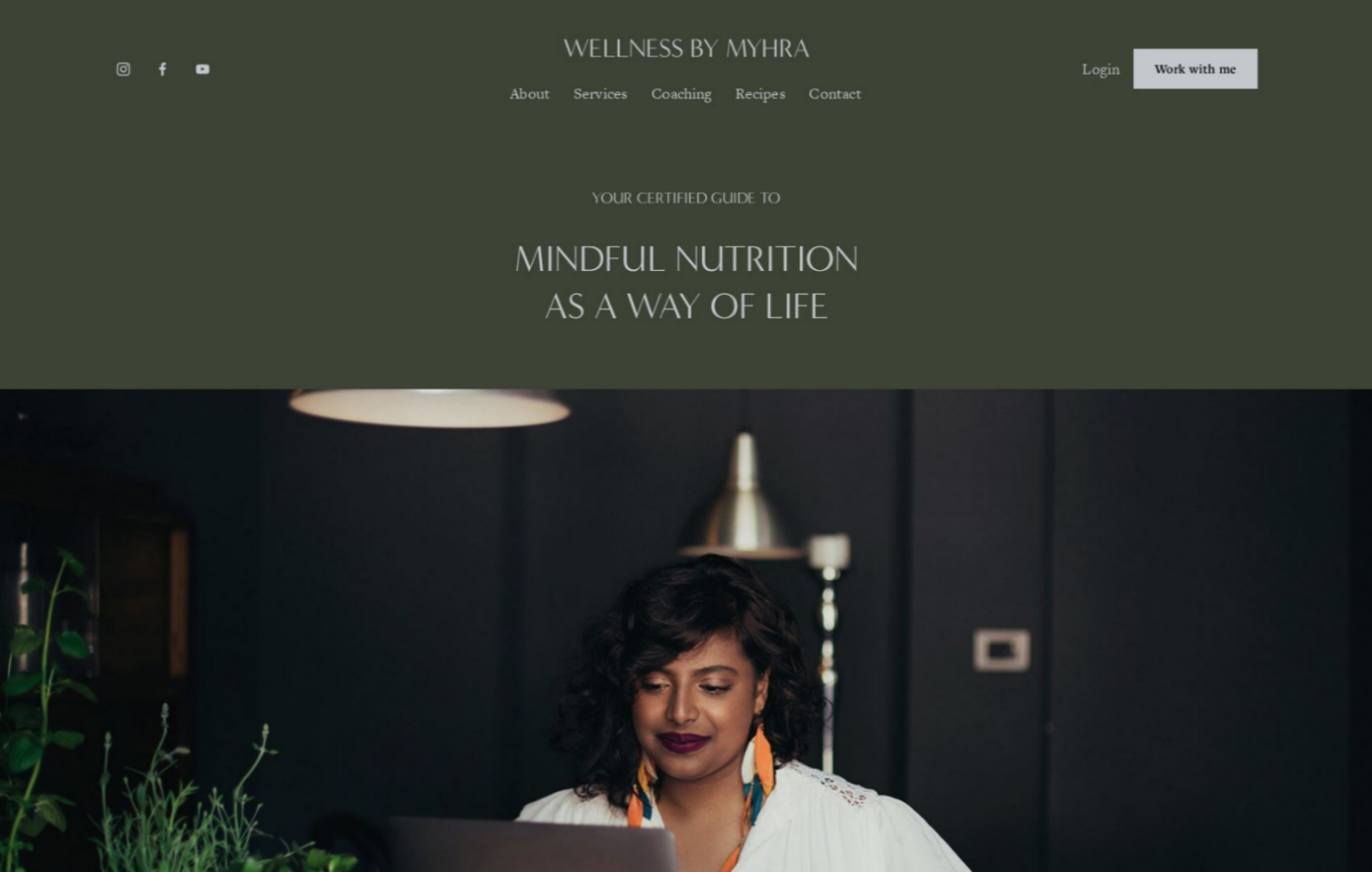 Myhra Highlights:
A great, underrated template that can be used in all kinds of niches.
Build your business and brand with ease.
Use lots of different revenue streams on your website.
Easy to customize, use and rank on Google.

Myhra is one of the top templates that is often missed off lists for small businesses. It has lots of features that can help any business to create a store that can have lots of interactions with customers, including products. The template can offer services, online courses, live events and you can also market your website with a good blog.

Myhra is an often overlooked template. However, there are lots of elements that can help you build your website and brand with ease. It is easy to customize and market with this store. This template can also help you to earn revenue from lots of different streams.

Final Word: The 10 Best Squarespace eCommerce Templates
Online stores are a great investment. The amount of money being spent online and the trend is that online shopping is growing. Therefore, use one of these Squarespace eCommerce templates to take your business online and start selling direct to customers.