Are you looking for the best Squarespace template for a creative agency? You will want something that helps you sell more online and helps you rank highly on Google and other search engines. So which is the best option?
What to look for in the best Squarespace Template for a Creative Agency
There are numerous things that you need to look for when searching for the best Squarespace Template for a creative agency. You want something aesthetically pleasing because clients are going to be judging you based on your website's design. You also want something that it going to offer you better loading speeds and high ranking on Google.
Luckily, here are 10 templates that can be considered the best Squarespace template for a creative agency. Let's have a look at them here.
Carson – Portfolio Squarespace Template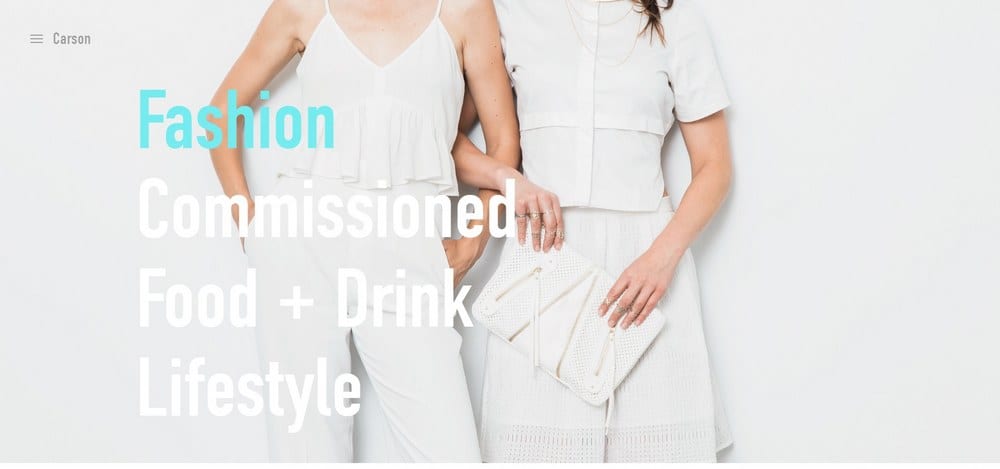 Carson Highlights:
One of the best for showcasing work.
A static homepage.
Reduces the bounce rate on your website.
Background can change as a user hovers their mouse over a link.
This is one of the more unusual Squarespace templates available. The unique design is something that some people will enjoy but others don't. There isn't a static homepage for your website, but there is an interactive edge.

When a user hovers over your website page the background image on your website will change. This can help you to reduce the bounce rate on your website. You can be used to showcase your brands past projects.

To help with navigation, there is a hidden menu within the website's design. This can be used to link to pages across your website. For instance, there are pages like contact services and more. The theme is also highly adaptive for numerous niches, styles and more.
Bedford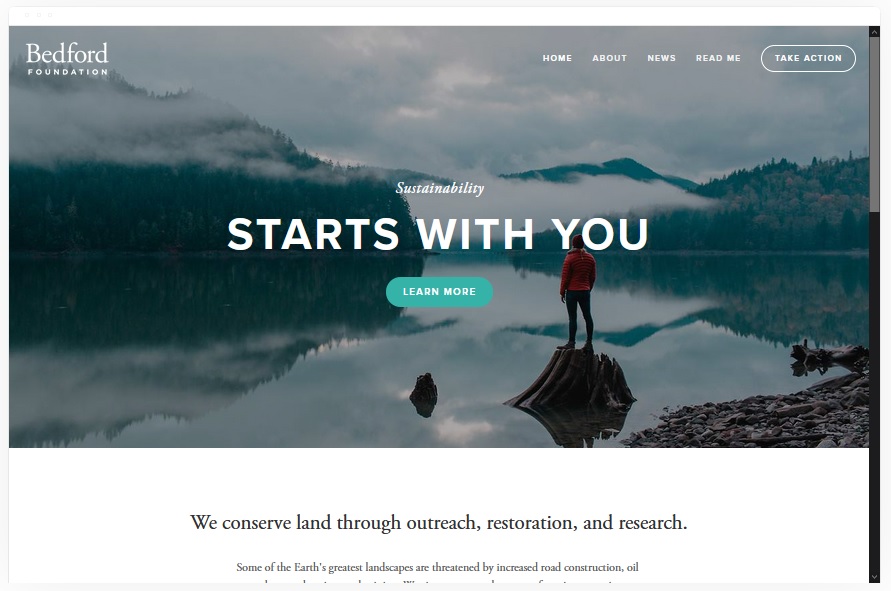 Bedford Highlights:
Can sell services on your website and take payments.
Add videos and images to promote previous creative work.
Create banners on your website to help you sell services.
Improve the rank of your website on Google and other search engines.
This is a top option when you want to promote your brand on Squarespace. You can add lots of information about your brand, services and more with this template and attract more of an audience to your website. The template has a great sidebar navigation system and there is a scrolling home page that you can setup.

The template can help with selling your services online. Therefore, you can build your revenue without having to send invoices to your customers.

All pages on the template can have an image or video added to them. Videos are know to help convert more people to a website. You can also add banners that include these videos/images with ease. Each banner will also include a call-to-action to help build leads.
Rally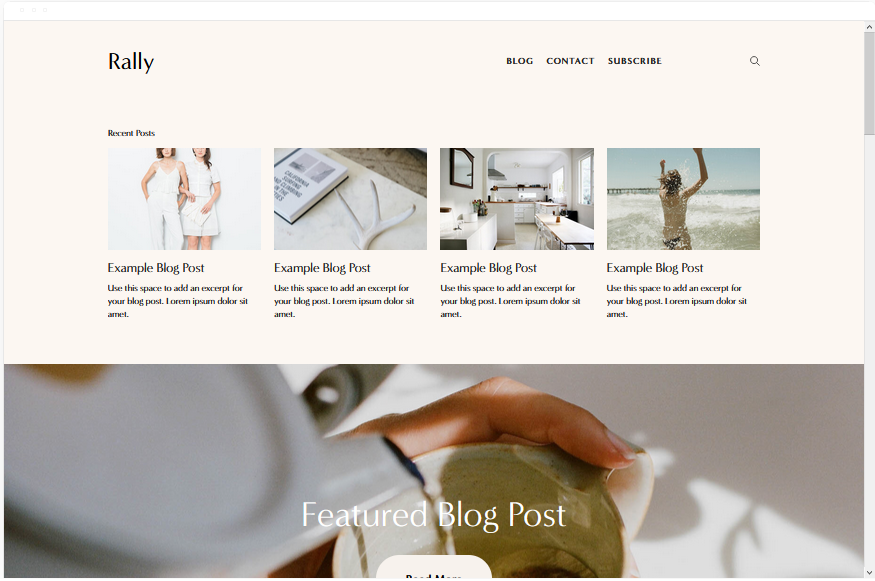 Rally Highlights:
Optimized for speed helping to improve conversions.
Can list lots of blog posts about your past projects or helpful advice.
Smooth scrolling of the website improves user's experience.
Perfect for any niche or service.
Rally is one of the top streamlined website templates that can showcase text and images together that create an aesthetically pleasing design. This is a simplified design that has a great menu option that is located in the top right corner. Next to this menu there is the option to add your social media links.

Rally is perfect for showcasing blog posts. Each blog post can add pictures from your previous projects, giving users a new reason to contact you. There are also ways to add lots of links to your blog posts to keep visitors on your website.

Rally's scrolling is known to be smooth and it can improve the user's experience. This can help customers to learn more about your brand. The template is also fully optimized for mobile devices.
Almar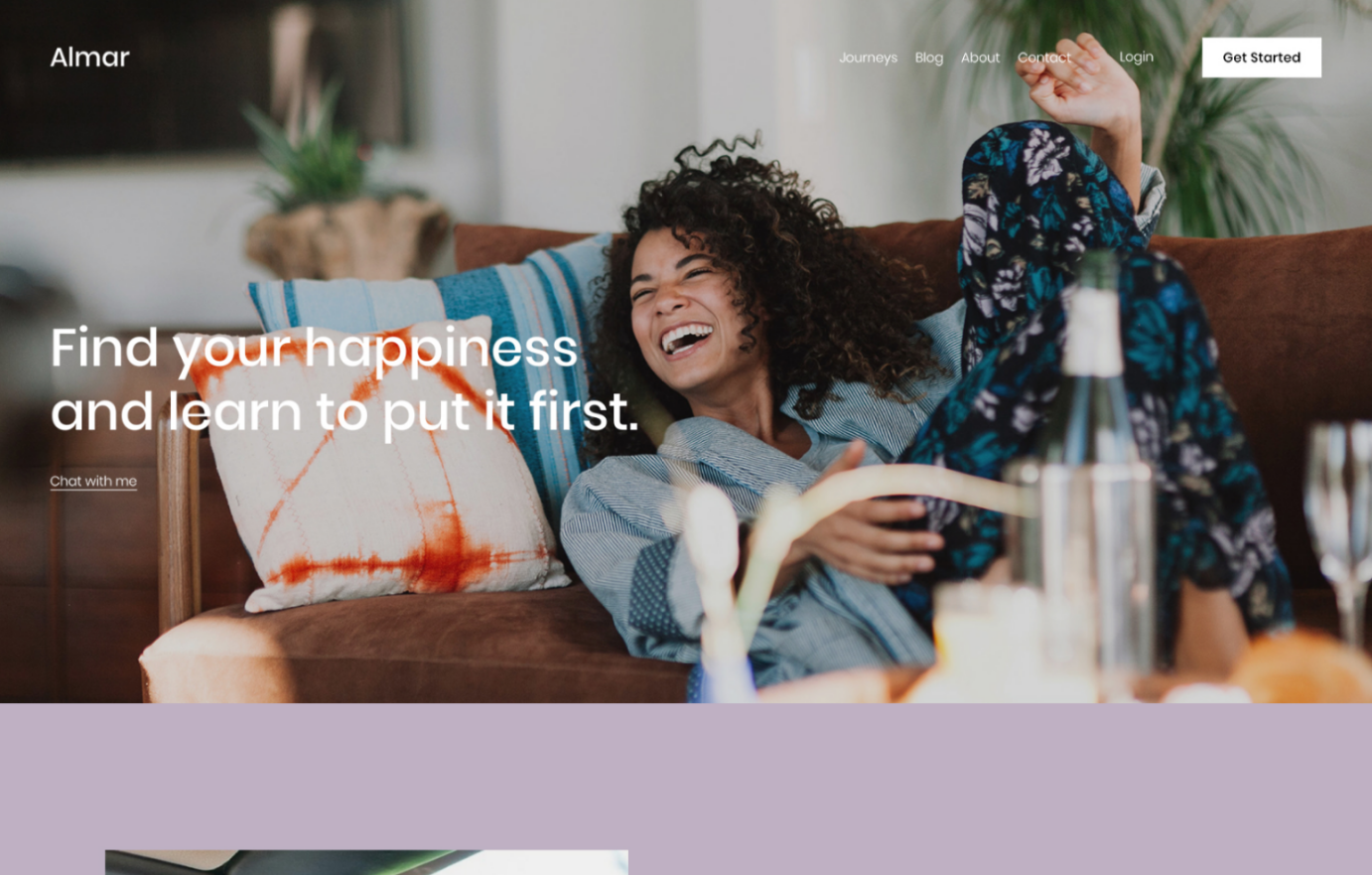 Almar Highlights:
A fast loading template to help with SEO.
Connect your website to social media accounts with ease.
Chances to sell services on your website, including merchandise.
Add call-to-actions to help you build leads.
Almar is one of the cleanest templates that you can come across and is perfect for anyone who is working within a services niche. It has a ready-made template design that allows you to build a website quickly and effortlessly without any troubles. Whether you sell services, products or both, this template can also be made eCommerce ready within just a few minutes.

The template can also include the use of call-to-actions. So you can link several services, pages and more to your website with ease. There is also an appointment booking service that can be added to this template to get leads to commit to a consultation of something else.

Alamar is an effective template for user experiences. There are fast loading times and the potential for you to rank highly on Google and other search engines. The higher you rank on these platforms, the more traffic you will get.
Skye – Modern Blog Squarespace Template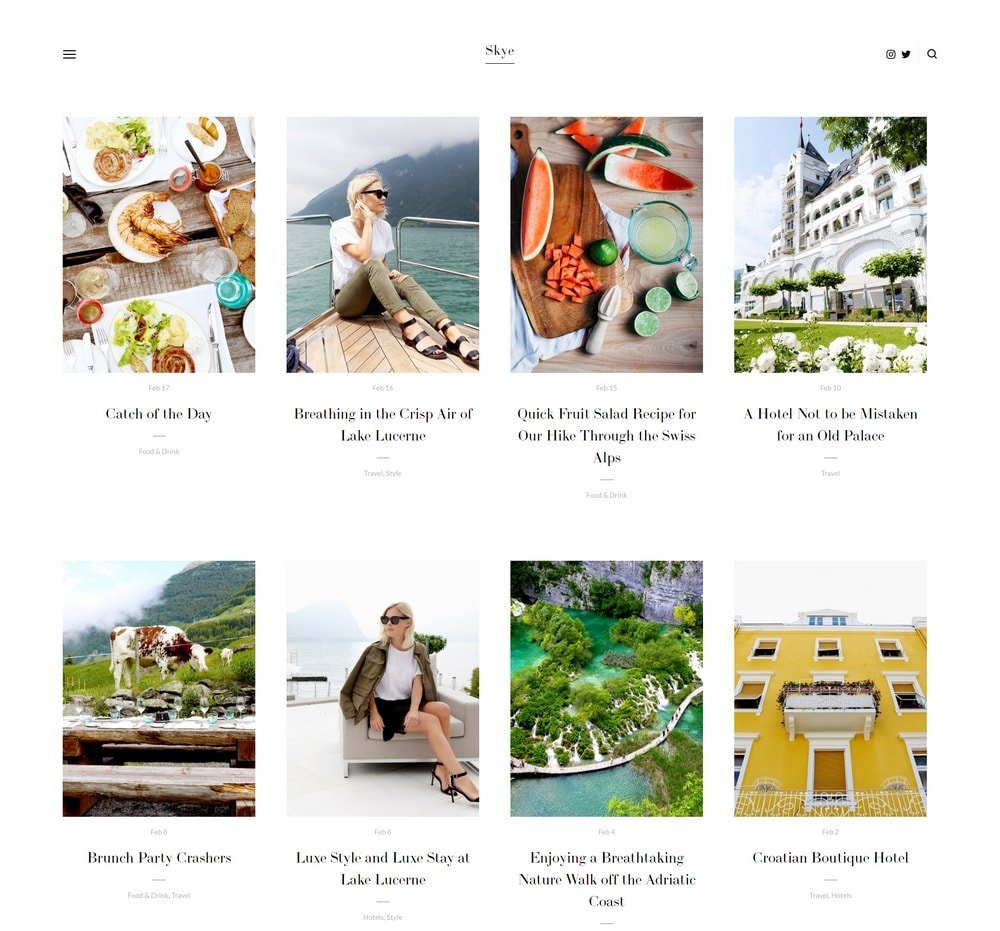 Skye Highlights:
A modern design for high quality images.
Perfect for viewing on mobile devices as well as on desktops.
Can rank high on Google and other search engines.
Visitors can book a consultation using a scheduling
Skye is often cited as one of the top Squarespace template that can be used by numerous other niches, but there is good reason why this is the case. It has lots of features that are impressive and can help you sell your services. The template is very block based, and this makes it easy to customize. So you can spend more time servicing customers than you are managing your website.

The app is also good for those looking to blog. Blogging can be a great way for a creative agency to build a following and create leads. Research has shown that by publishing more than 15 blog posts per month, you can generate 70% more leads.

The template also has one of the best scheduling additions. You can take books for consultations. This can give you a way to train clients, book in sales calls and more. The template is also really fast, giving your visitors the best experience possible. And it can help with ranking, especially as this theme is very mobile-friendly.
Hayden – Agency Squarespace Template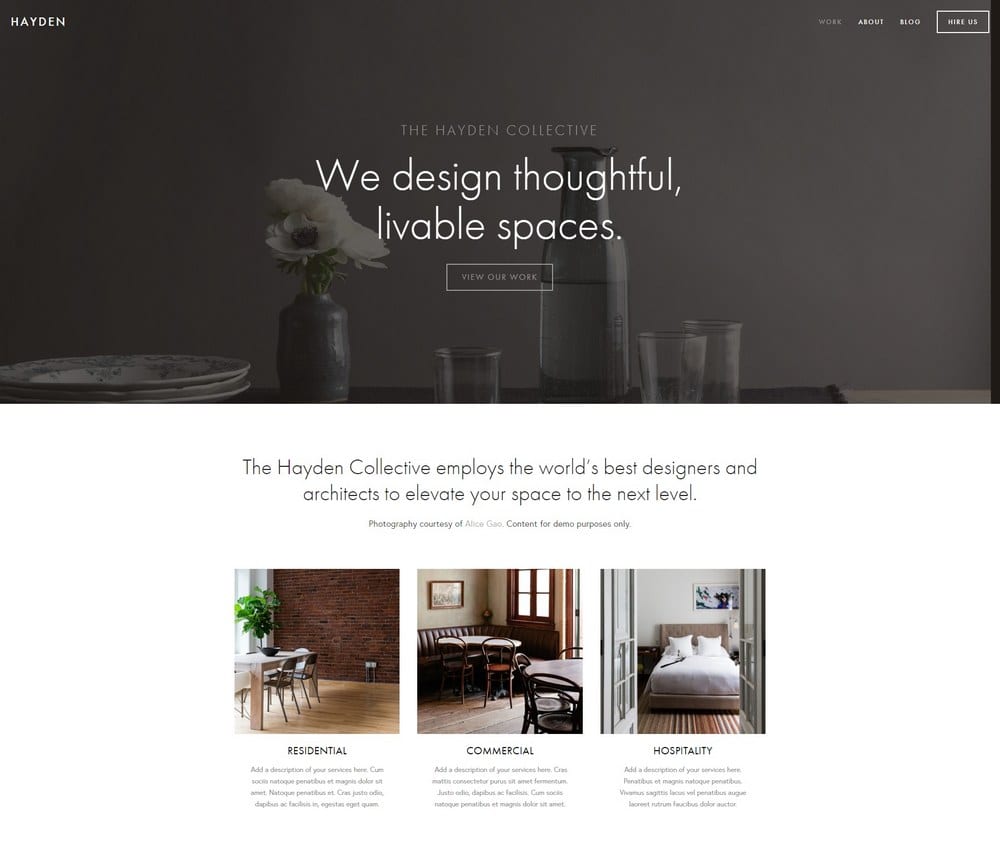 Hayden Highlights:
A simple to edit and customize template perfect for B2B.
A sticky navigation bar to help customers move around your website.
Increase leads through a sales call appointment booking system.
Perfect blogging section to improve your rank on search engines.
Hayden was specifically designed for brands who want a professional design for B2B environments. Therefore, it would suite a creative industry really well. The template comes with numerous features that can help you market your services, showcase past products and help you build leads.

There is a specific area where you can showcase the work that you've completed before. This can help you convince customers that you can complete the work that you claim you can do. There are also ways that you can showcase case studies and your services. Potential clients can also book demonstrations or sales calls through the scheduling system.

Hayden is a really simple yet beautiful design. There is an aesthetically pleasing menu that is located in the top-right corner of the website. Navigating around your website is effortless. And as the user scrolls down the page, the menu will scroll down with them for improved user experiences. There are also options to help your social media accounts grow with integration options.
Wells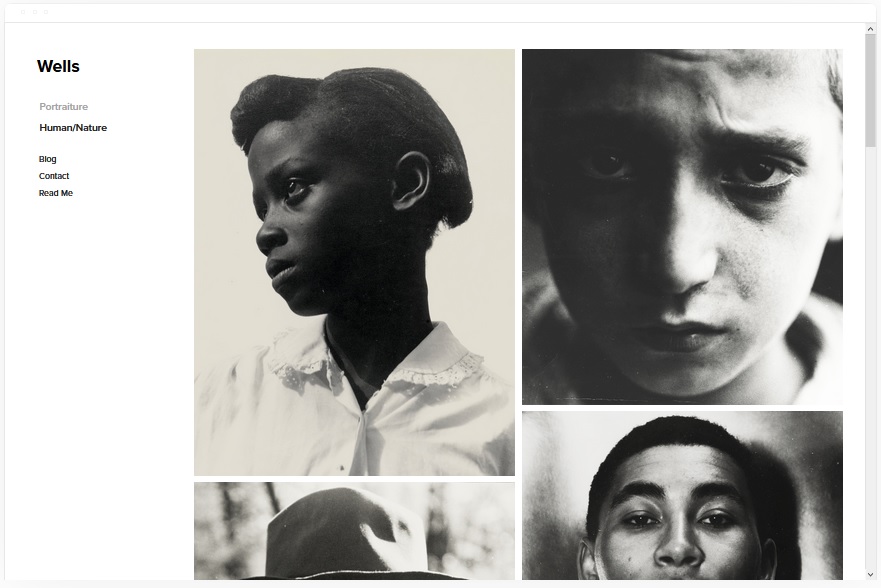 Wells Highlights:
One of the best designs to convert visitors to your website.
Display video content to build a great engagement rate on your website.
Create more of a visually appealing website with high-quality images.
Add more revenue options for your website.
Wells is one of the best templates that is perfect for selling on Squarespace. You can add lots of high-resolution, top quality images to your website that can promote your previous work. These can be linked to pages that can tell the visitor more about your work. You can also improve your website's revenues by having pages that can sell services to your visitors.

The website is also known for its eCommerce abilities. You can sell products like eBooks or software with ease thanks to an online payment system.

This template, however, is best known for the video content that can be used on it. You can showcase a video just by using the URL of the video from YouTube. Then the website's software will take care of the rest.
Avenue – Portfolio Squarespace Template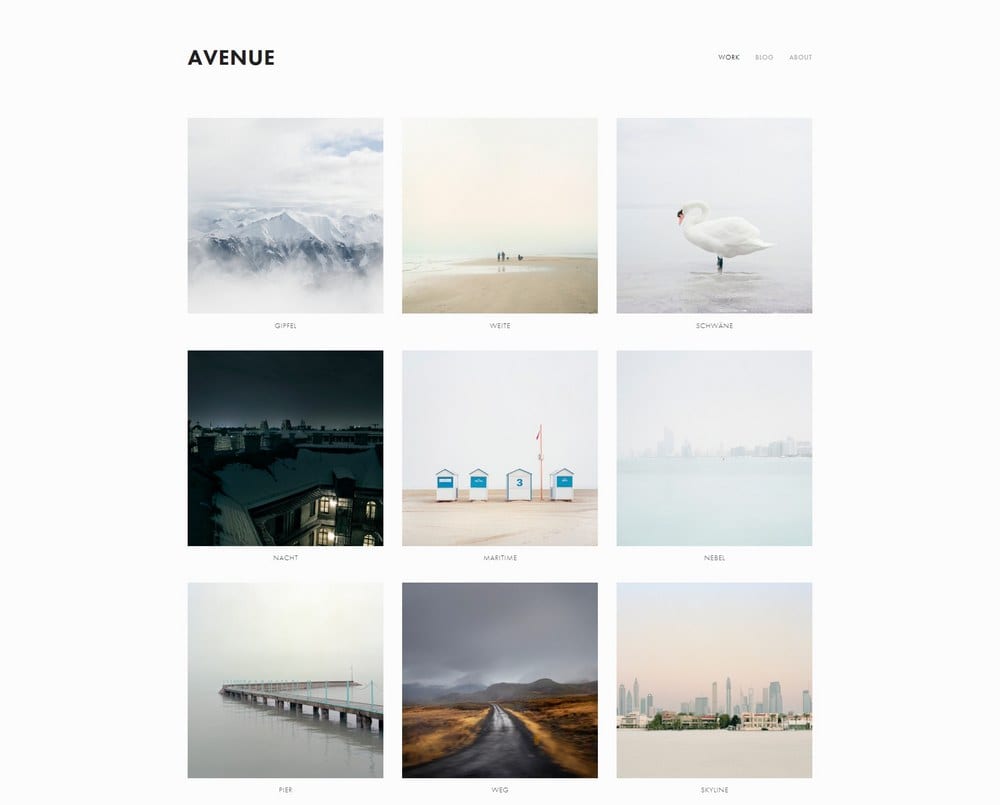 Avenue Highlights:
A minimalist template perfect for lots of different business niches.
Describe past projects with ease on a single page or several.
There is a fast template that will allow you to load pages quickly.
Easy to maintain, so you can spend more time servicing customers or clients.
Avenue is one of the top minimalist website templates for Squarespace. You can use it to convert visitors into customers for your creative agency with ease. You can showcase past projects with ease on their own page and within a portfolio page. When making changes to your website, you can customize the page's colors so they fit more into your branding.

The template can bring your brand a lot of traffic. Portfolios can have lots of great images attached to them. This is a great way to build your trust with it.

The template's design is perfect for fast loading and high performance. Therefore, you can expect your brand's ranking on Google and other search engines to be higher. You can also expect more traffic to your site which can help you bring in more leads and sales.
Native
Native Highlights:
A perfect template for blogging and marketing your website.
Showcase your past projects with great images displayed in rounded thumbnails.
This has been optimised for speed and therefore you can rank higher.
Can integrate your website with your social media accounts.
Native is one of the most versatile templates that has been built to share your ideas, past projects and services to a wide audience. There are lots of special features that make this one of the top Squarespace templates to use for your website. For instance, you can use headers that can be customized, circular thumbnail images on excerpted blog posts and more.

The template is perfect for brands of any niche. But it is great for those who have a lot of visual to display. The main home page can display lots of your images in a blog style page. This home page also has a clean, modern design.

The template can also include a location for each blog entry that you publish. This can be a great option for those creative industries that like to showcase where they're working.
Harbor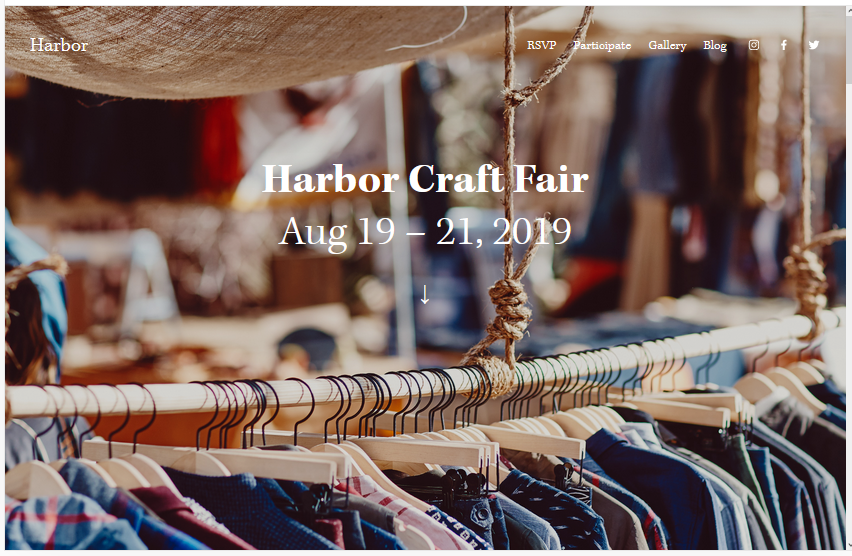 Harbor Highlights:
Aesthetically pleasing design that incorporates a background image.
Simple menu structure for better navigation.
Works across devices.
Perfect for ranking on numerous search engines including Google.
Harbor is one of those templates that can utilized across niches which makes it a perfect option for this list. With a beautiful background image and a simple top-right menu bar, this template can be built and ready to go within minutes.

The template allows you to showcase your past projects and connect with audiences with ease. You can use the front page as a massive advert on why people should work with you and then use a call to action to get them to book an appointment with your sales team.

The template is fast loading and ranks well on Google and other search engines. And it has one of the easiest designs to customer for your brand.
Final Word: The 10 Best Squarespace Templates for a Creative Agency
Are you looking for one of the best Squarespace templates for events, then you have a lot of options. The above 10 can help you make the most of your website. Which template will you choose? Let us know in the comments below.