Fashion blogs are very popular across the world. They are one of the most visited website niches across the world. Squarespace is a great platform for this, you just need the best Squarespace template for a fashion blog.
What Needs to be in a Best Squarespace Template for a Fashion Blog?
Numerous elements need to be included within those that want to be the best Squarespace template for a fashion blog. For one, you would need speed. Speed can directly relate to your ranking on Google and improve revenues.
At the same time, you need to have a template that has lots of image or video capabilities. A lot of your content is going to be image-based because this is what attract fashion readers.
So which 10 can be considered the best Squarespace template for a fashion blog? Here is our shortlist.
Kent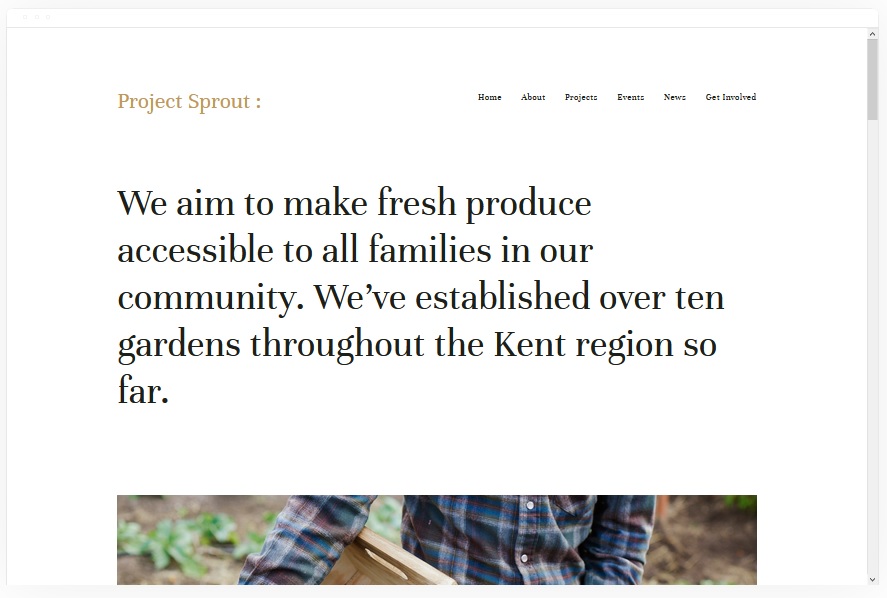 Kent Highlights:
One of the best Squarespace templates for media.
You can add videos to your blog posts and pages with ease.
Sell merchandise, affiliate products and more from your website.
The potential to rank your website high on Google.
Kent is a simple template that is perfect for those looking for an attractive and clean design. It can allow you to place a spotlight on any visually stunning media to help you draw the attention of the reader. There is a portfolio page that can help you showcase the fashion that you want to highlight with ease. You can use videos, images, audio and more on this template without slowing it down.

There are also different pages that you can host on your website. For instance, you can add cover, blog, event, album, contact and more. You can also sell on the website, either directly or using affiliate links. Therefore, there is an easy way to monetize your website.
Bedford

Bedford Highlights:
Sell merchandise and other products directly on your website.
You can add videos and images that can promote your articles.
Create banners that can direct visitors to key pages on your website.
Easy to rank your website on Google and other search engines.
This is a perfect option for those who want to create a seamless and energetic brand on Squarespace within the fashion industry. You can include lots of great features within the website's design to help you stand out from the competition. For instance, you can use a sidebar navigation for easier movement around your website. And there is a scrolling index page that looks amazing.

The template has clear revenue streams with direct eCommerce, affiliate marketing, sponsored content and more being a possibility on this website.

There are also options to have images and videos on your pages for that visual appearance. Banners can also include these images/videos to make them more appealing to your audience.
Rally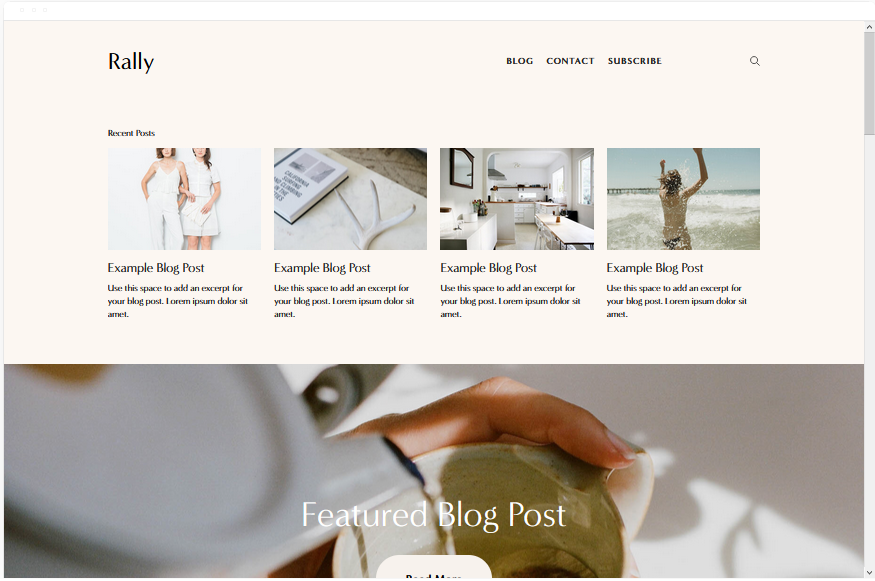 Rally Highlights:
Fast loading pages to help with user experiences and ranking.
Able to publish lots of articles about fashion with ease.
Smooth scrolling appearance for better customer experience.
Perfect for lots of images and videos about your chosen niche.
Rally is a streamlined template that offers an improved experience to your audience. There are lots of ways that you can promote your articles through well-designed blog posts that can include numerous types of media. On the front page, there is a scrolling design that can contain all your latest content.

In the top right corner, there is an aesthetically pleasing menu that also has space for the social media links next to it. Therefore there is improved navigation across your website and throughout the brand's channels.

Rally offers the user an improved experience whatever device they're using. Rally can be viewed on mobiles, tablets and desktops with ease.
Avenue – Portfolio Squarespace Template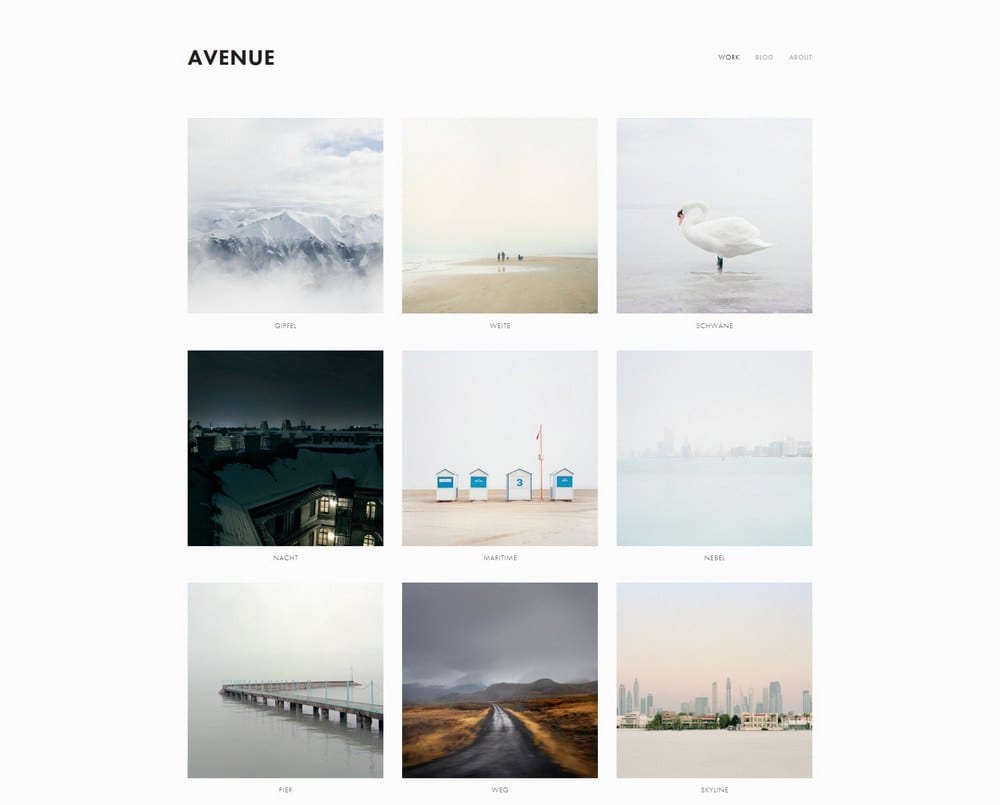 Avenue Highlights:
A minimalist portfolio that allows you to focus attention on your articles.
Describe fashion elements better on a single page.
Fast loading website for better user experiences and higher rankings on Google.
A grid-based design for better maintenance and use of your website.
Avenue is one of the top minimalist Squarespace templates that you can use for your brand. It is perfect for bloggers in the fashion niche because you can really attract audiences to your work with the best images. Then you can convert them into subscribers or get them to help you with merchandise or sponsor you. The website template uses a grid-based layout system that allows you to showcase numerous articles with ease.

There are lots of ways that you can showcase your content. Images are not a problem and can be shown big and in high definition. The basic design of the template can help your site's performance with faster loading times and improved user experiences.
Skye – Modern Blog Squarespace Template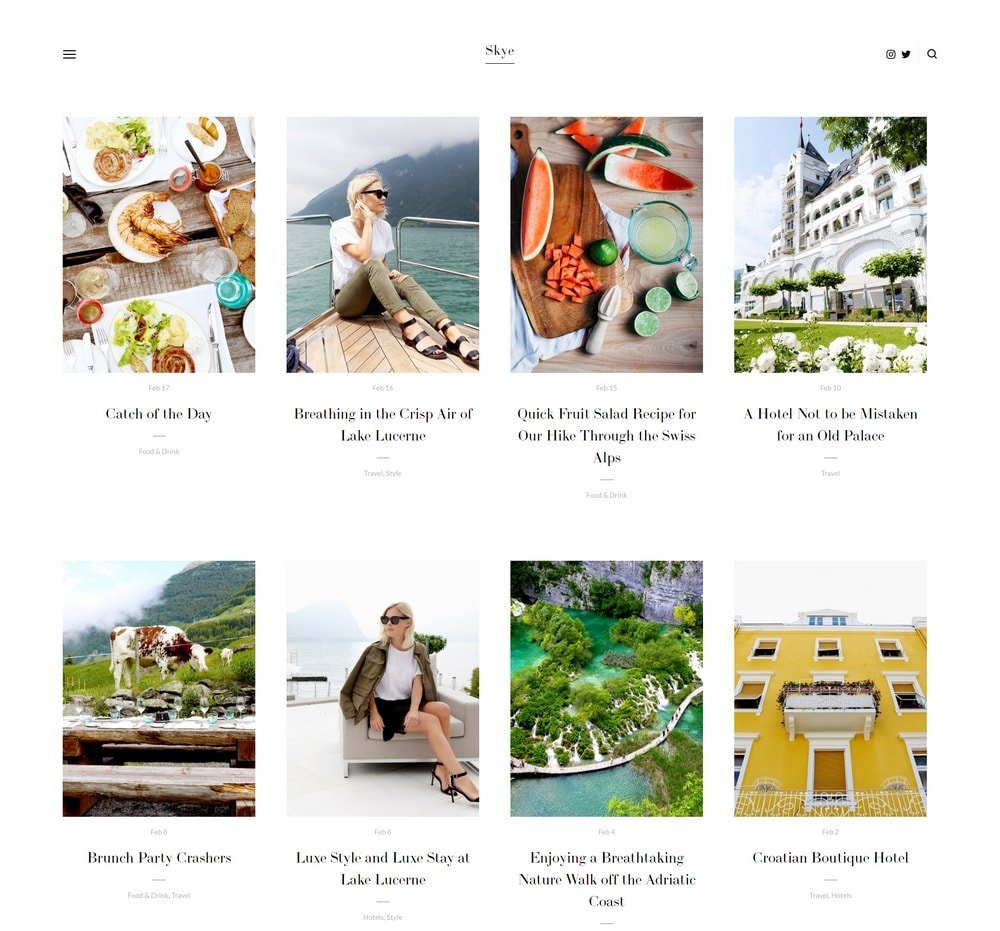 Skye Highlights:
A modern design that is perfect for those who are blogging.
Very visually impressive template that is perfect for showcasing images on a website.
The template is designed for mobile devices first.
Fast loading times help to improve user experiences and ranking on Google.
One of the best Squarespace templates for blogging, this is one is perfect for you. It has a blog feature that sits right at the front of the design, allowing you to report on your favorite niche with big images and good quality media. It is often used by bloggers who are in the travel, food, fashion and creative industries.

The template includes lots of great features such as a fullscreen design that allows for easy reading. There is also the easy-to-maintain grid-based block design that allows you to spend more time creating your content than managing it.

The template also includes easy navigation, perfect got getting your visitors to move from blog post to blog post. Part of the navigation is the slide-out menu that can appear on the left-hand side of the page. The site is fully responsive and ranks well on Google.
Carson – Portfolio Squarespace Template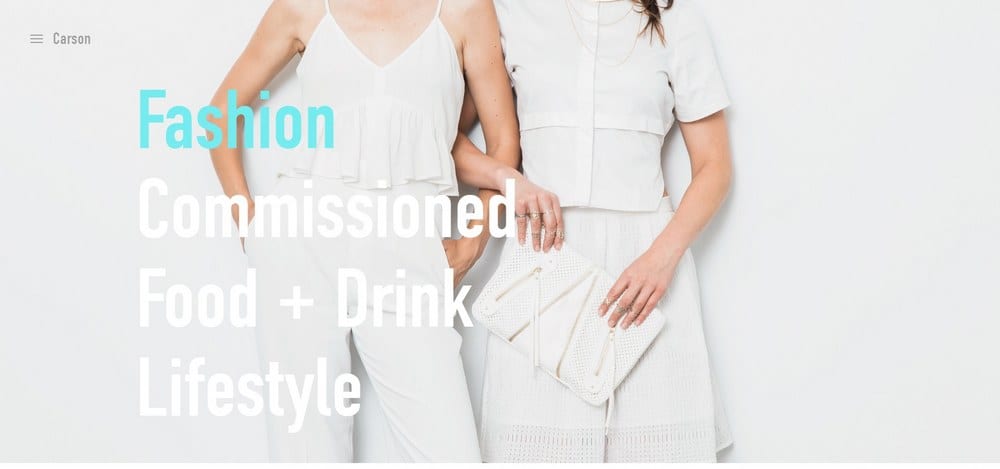 Carson Highlights:
This is one of the most unique templates that is available on Squarespace.
The background image will change whenever a customer hovers over a link.
A hidden menu can appear to help customers to navigate across your site.
Promote current and past fashion events on your blog.
Carson is one of the most unusual Squarespace templates that you can use on your fashion blog. However, the unique design makes it appealing and will certainly interest your audience. The site doesn't have a scrolling website layout as many do nowadays, which can be part of the appeal. Instead, the template uses a background image that will change whenever the user hovers their mouse over a link on your website. This can add engagement and interest to your website and lower your bounce rates.

The website can also be used to promote lots of different things. If you host or attend events, you can use this website to easily promote them. And you can build your brand with a blog, contact, about and services page.

When users do want to move around your website, you can then use the hidden menu that allows for quick and easy navigation.
Sofia Pazari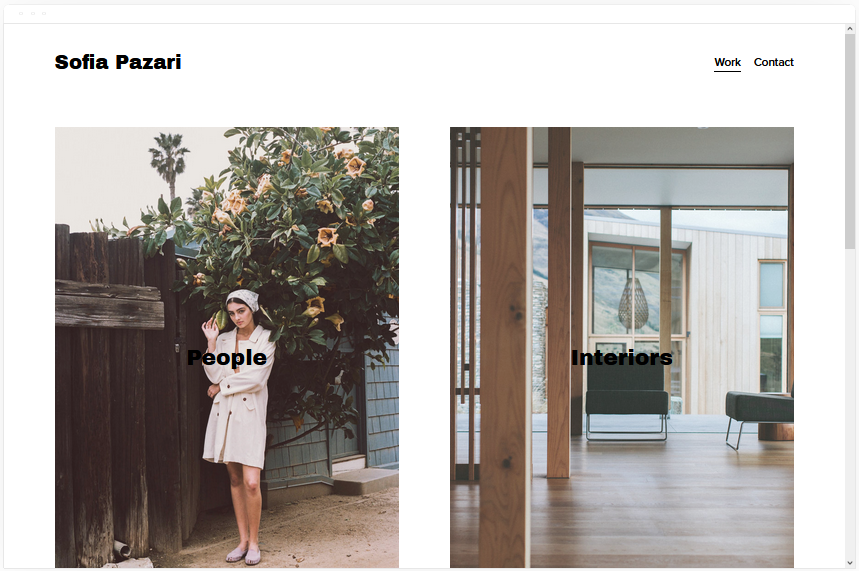 Sofia Pazari Highlights:
This is a very clean website with two great images that can be showcased at the top.
This is perfect for those visiting from a mobile as all content is minimalist.
The menu is in the top right corner of the website.
The template is easy to customize and allows for quick and easy maintenance.
This is a perfect template for those that want to rank on Google and other search engines with a minimalist and quick loading design. This can improve not only how much traffic gets to your website, but their experience on your site. A better experience and fewer people that will bounce and not return to your website.

When the customer lands on your site they are presented with two large images that can link to different pages on your website. The clean and beautiful design is very attractive and can allow you to focus the attention of the audience on the main images.

The simple menu is located on the top-right of the screen. This can help with navigation across your website. Finally, the website design is easy to create and maintain. Therefore, you can spend more time on your website creating content rather than managing the finer details of your website's functionality.
Mojave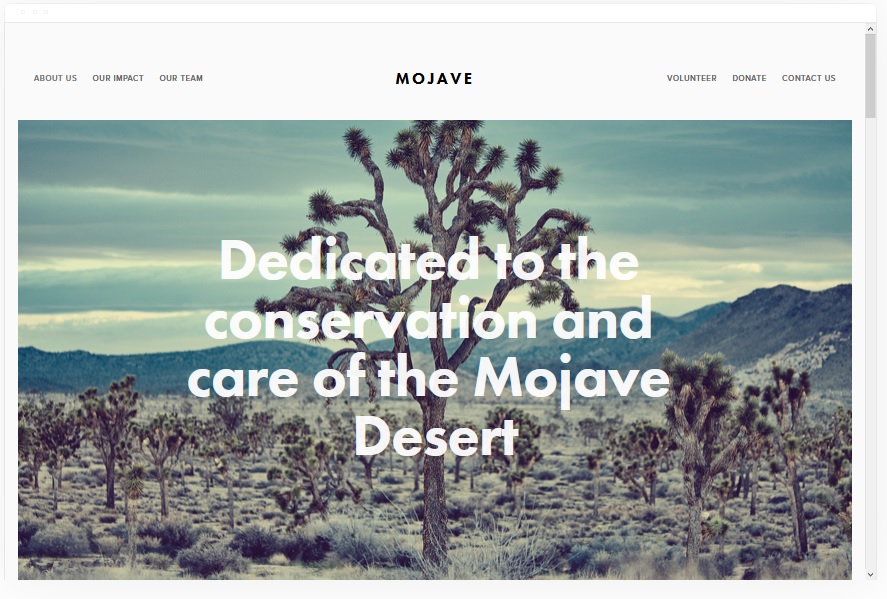 Mojave Highlights:
A striking appearance that is very visually impressive.
You can add videos and images to your website with ease.
Add share buttons to increase your social media reach.
Fast loading times can help you improve your website's ranking on search engines.
Mojave is one of the top options when it comes to choosing a template on Squarespace. There are lots of features that make it perfect for fashion blogging including the ease that you can change the colors of the design and how you can add portfolio pages to your website. The template also includes easy to add video and image sections that can really add visual appeal to your website.

The scrolling effect is smooth and user-friendly, even when the visitor is on a mobile device. And there are perfect ways to move your customers on during their journey with you thanks to embedded call-to-actions that can be used on the website.

To add interest across your site there are banners. These can include images and videos to make them more engaging with the audience. Those with some technical skills can also add share buttons to lots of different elements including banners, blog posts, events, galleries, cover, layout and more. Therefore, you can reach a wider and larger audience with ease.
Hayden – Agency Squarespace Template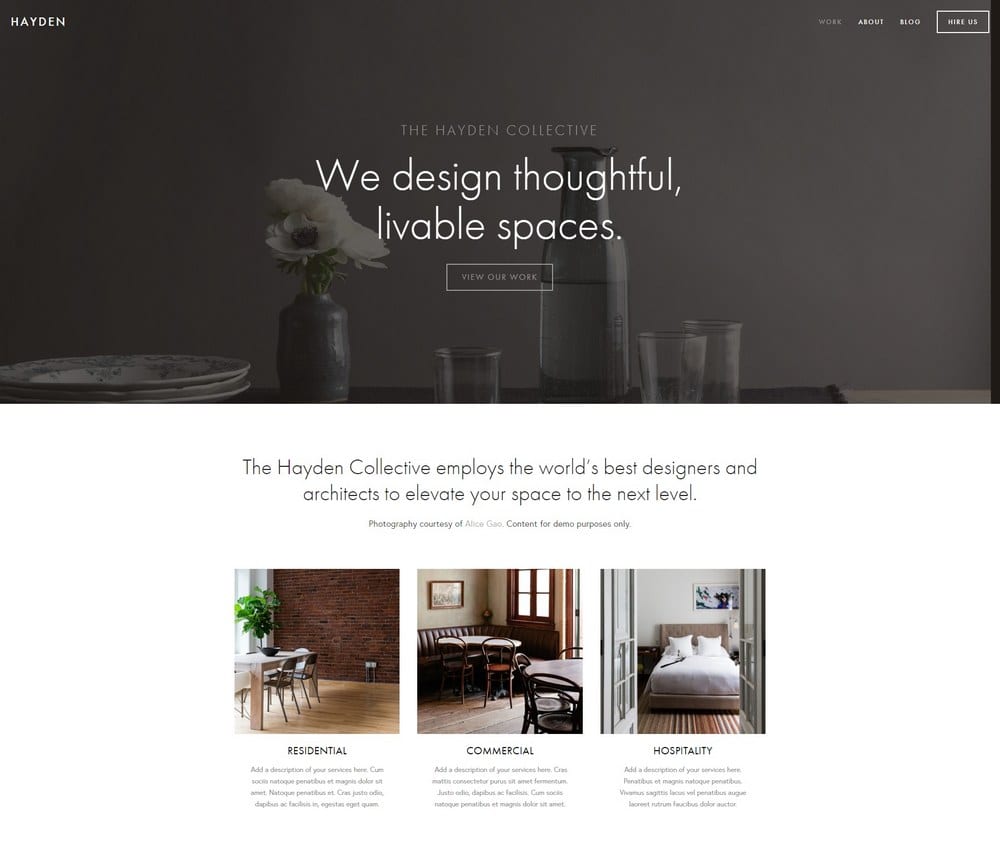 Hayden Highlights:
An easy to customize template that is perfect for the fashion industry.
You can sell tickets or digital products with ease.
There is a perfect blogging section to publish your content on.
Quick to load pages helps with user experiences and your rank on Google.
Hayden was specifically designed for professional appeal. This can be used for many different niches, but there is a more corporate feel to the website's design. The template though does come with several features that can help bloggers make the most of their content and attract audiences to their website. The blog is easy to use and can have videos and images added to it with ease.

In addition, there are ways that you can showcase previous events that you've attended and perhaps even fashion shows or designer lines that you would like to use.

Hayden's design is what makes it so appealing. It has a great design with a menu that is located in the top right of the website. Therefore, navigation around your website is effortless for the visitor.
Myhra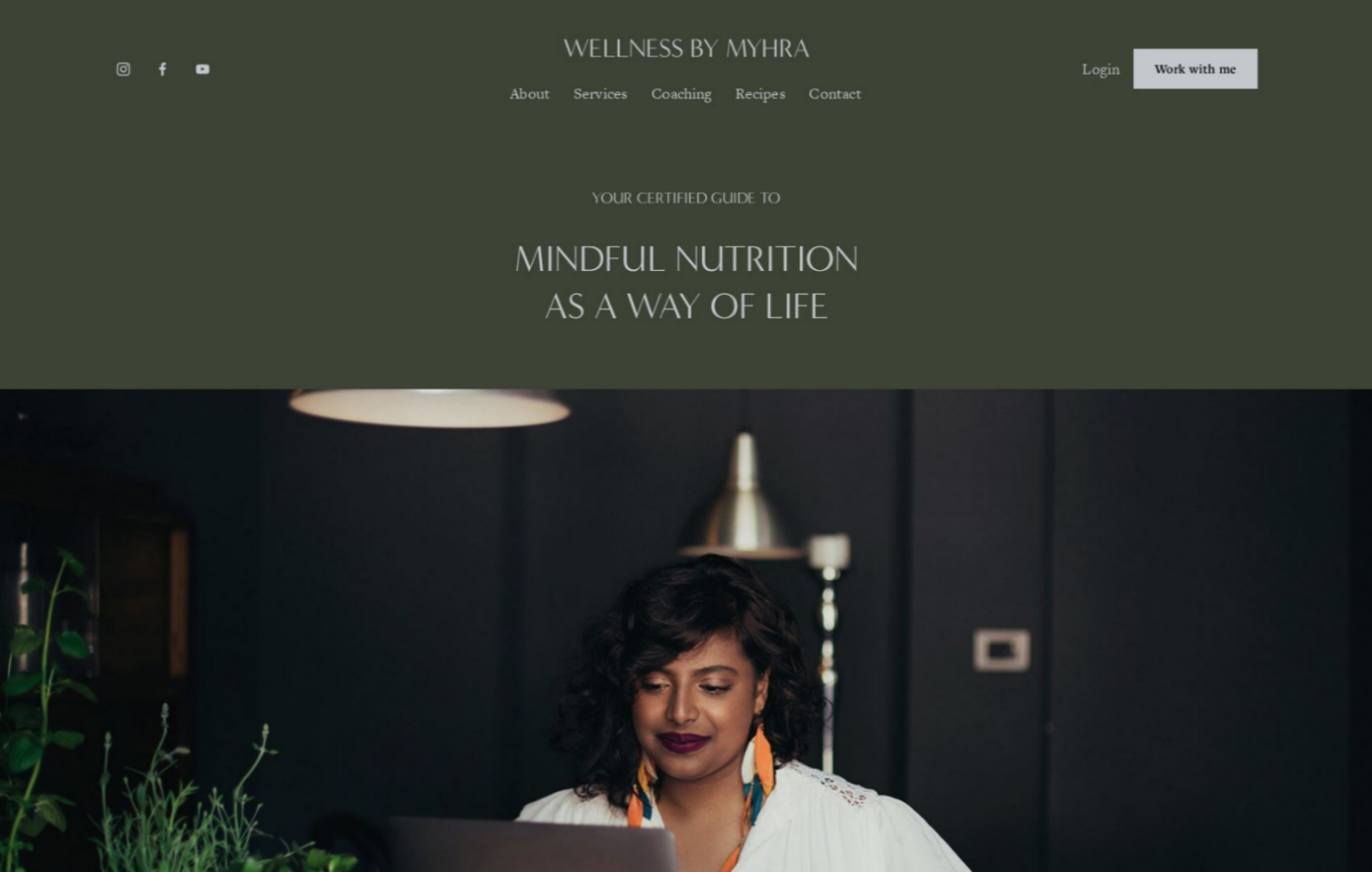 Myhra Highlights:
A very underrated template that can help you promote your brand.
You can build a brand through your blog for more traffic.
Add a diverse range of revenue streams for your blog.
Customized for better ranking on Google and other sites.
Myhra is one of the top options when it comes to building a website on Squarespace, but it is very underrated. There is no reason why it should be left out, it has numerous features that make it a great choice for any brand that wants to blog.

The template's blogging section allows you to create content about fashion and more. This can also grow your brand with extra traffic. Those sites that blog more can have more traffic and higher levels of revenue. There are also diverse revenue streams that you can add to your website that can help you.
Final Word: Which of these is the 10 Best Squarespace Template for a Fashion Blog
If you're looking for the best Squarespace template for a fashion blog then you've got plenty of choices. Above are ten options for you to consider. Which one will you choose? Let us know in the comments.