When you're in business, you need to have one of the best Squarespace templates for business. They can help you find new clients/customers for your business and help you improve revenues.
What Makes the best Squarespace Templates for Business?
Many aspects make a design one of the best Squarespace templates for business. For instance, you want to have a template that can convert traffic on your website into inquiries and leads. There are many ways that you can do this through media, lead magnets, downloads, and more. The more leads that you get, the more sales that you can make and improve revenues.
At the same time, you need to improve traffic. Traffic can be generated through a template that ranks high on Google. The higher you rank, the more traffic that you generate with ease. In addition, you will need to have a fast loading time. For every second that it takes to load your website, you can lose 7% of your revenue.
There are other features that you might want as well. For instance, you might want a portfolio, blog, or appointment setting.
So what are the best Squarespace Templates for Business? Here are ten options for you to try.
Bedford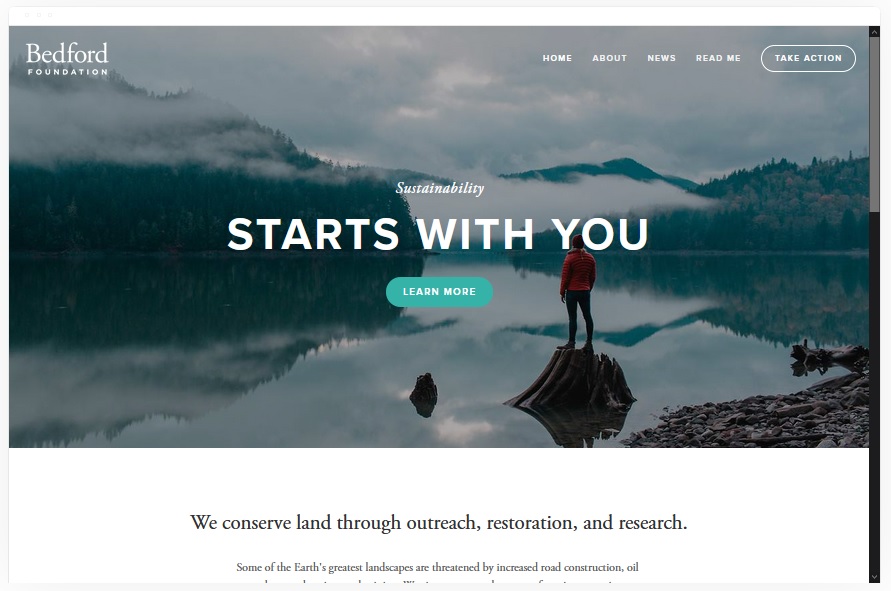 Bedford Highlights:
Improve your website ranking on Google and other search engines.
Great eCommerce functionality.
Add videos and images to promote your brand.
Add a banner.
Bedford is one of the top templates that you can use to promote your brand online. You can include lots of different features on your website to build a great website that can help you promote a brand. This template can be used to sell services, products, digital products, and more. This allows you to build a revenue stream from your website.

The template has lots of great design features that make it perfect for brands in any niche. The design is awe-inspiring and will impress guests. The template also features a great sidebar navigation option and scrolling index pages.

In addition, you can add all kinds of media to your website. This can include any images and videos that you might have. These can promote your work with ease and help you draw the attention of your audience. The template also includes banners that can include these images/videos plus some call-to-action buttons.
Bailard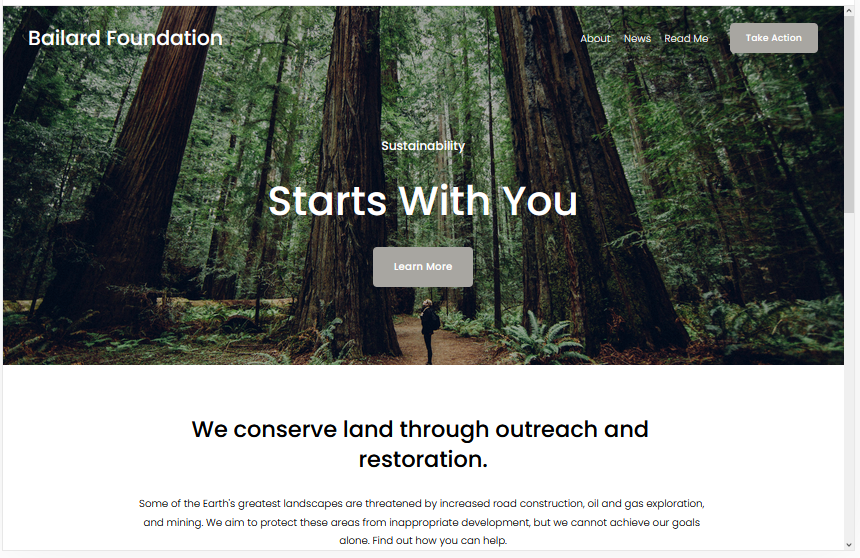 Bailard Highlights:
Can be used for any business niche.
Two call-to-actions.
Produce a fast-loading website.
A very popular template.
Bailard is a top-performing and popular template that is available for Squarespace users. There are two perfectly located call-to-action buttons that are on the homepage. One of the buttons can be located in the center of the hero image which can help you direct your website visitors to any other page on your website. There is another button that can be located in the upper right corner, near the menu.

To help you with your site's ranking, there is a chance for you to have a fast-loading website with this template. This can include lazy loading of images. This is important because it delays the loading of the images until they are needed on the website, these are the images that are located below the fold on the website.

The template has a bold, minimalist design that is perfect. This can help you rank on Google and you can also improve your website's speed which can add more traffic to your site.
Harris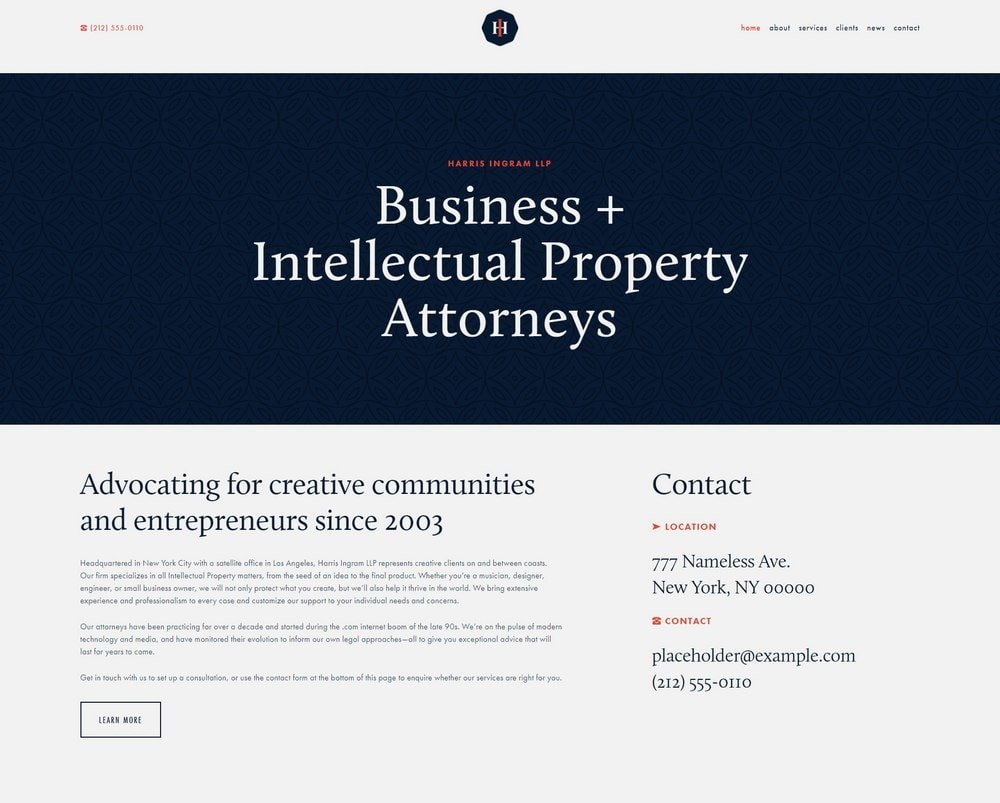 Harris Highlights:
A minimalist design.
Fast-loading to support SEO.
Great for ranking on search engines.
Used for many niches.
Harris is a great website that can take your website to the next level and allow you to build a great business. It is a minimalist template that allows you to build a brand in any niche. Some of the niches that have used this template include bloggers, consultants, service providers, and more. However, it can also be used within other niches like eCommerce and more.

There is a beautiful header that is perfectly placed that can be used to help your brand. There are other ways that you can customize the website to improve the branding and add a touch of professionalism to your website. There are better options for navigation, including a menu at the top right corner of the template design. This is perfectly located for helping customers find content on your website.

The template includes lots of inner pages that you can add to your website. You're able to add about, services, projects, and more.
Sofia Rey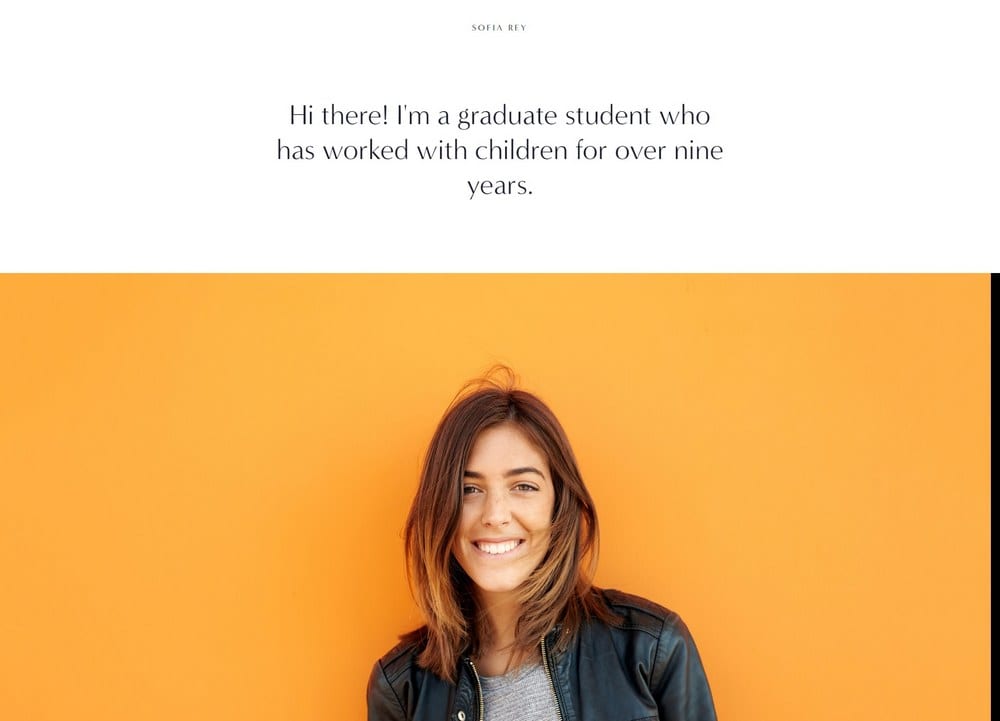 Sofia Rey Highlights:
Promote your brand.
Link to your social media profiles with ease.
Contact forms can be added to your website with ease.
Add reviews to grow trust.
This Sofia Rey template is perfect for small businesses or freelancers who want to showcase their work on an attractive website. The template allows you to have a selling platform that is easy to customise with grid blocks and simple sections that are perfect for numerous brands. The template has lots of different sections that can be used for your website's performance including areas to list skills, reviews, contact information, and more.

The template can also come with a beautiful resume section. Within this area, you can add all the information about you that can help readers find out why you are a perfect supplier. For instance, you can include information about qualifications, talents, awards, and more.

The template has a vibrant, sleek, and professional appearance that is going to build trust with your audience. In addition, there is a design ethic that makes it impressive. There is also great navigational support for your website. This allows your audience to find their way around your website with ease.
Avenue Template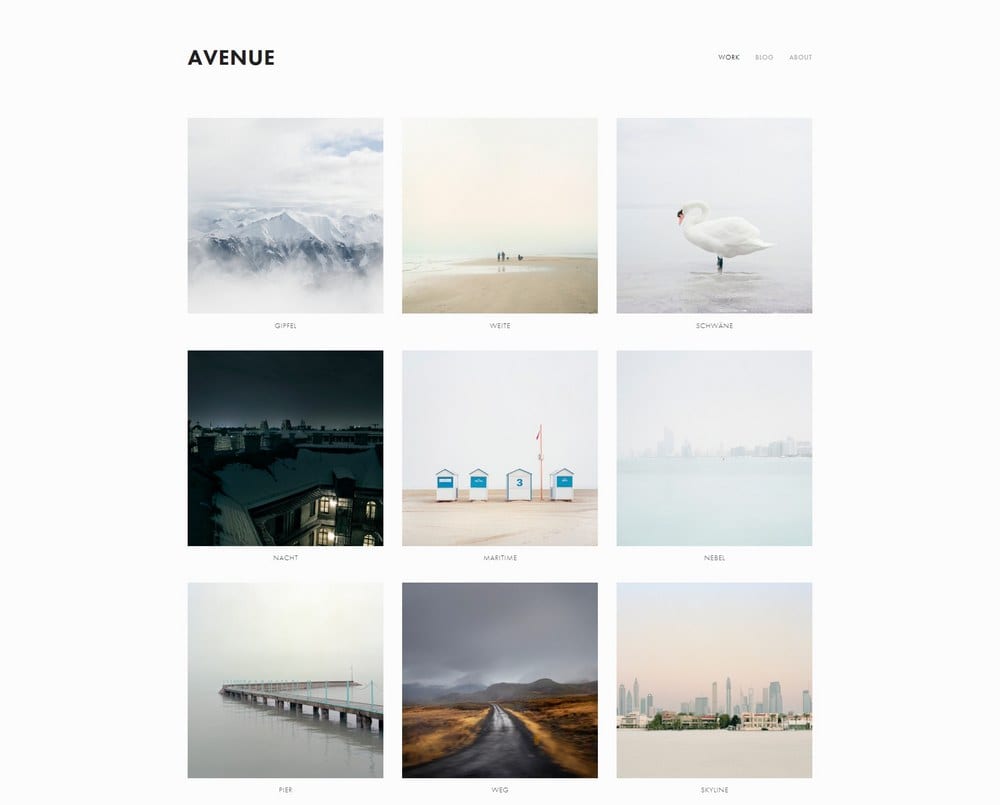 Avenue Highlights:
A minimalist template.
Grid-based layout.
Describe your products in great detail.
High ranking potential.
Avenue is one of the best templates available for those who want to have a professional template that can help you sell services and other products. It is a minimalist template that is great for loading and ranking high on Google and other search engines. Avenue is considered one of the most minimalist templates available. And it has been known for converting more of an audience to customers/clients.

The template is really easy to customize. You don't need to have any experience in website building to get used to this template. A few minutes and any changes can be done and you're able to spend more time with your clients.

All pages can include videos and images to help them look more aesthetically pleasing.
Myhra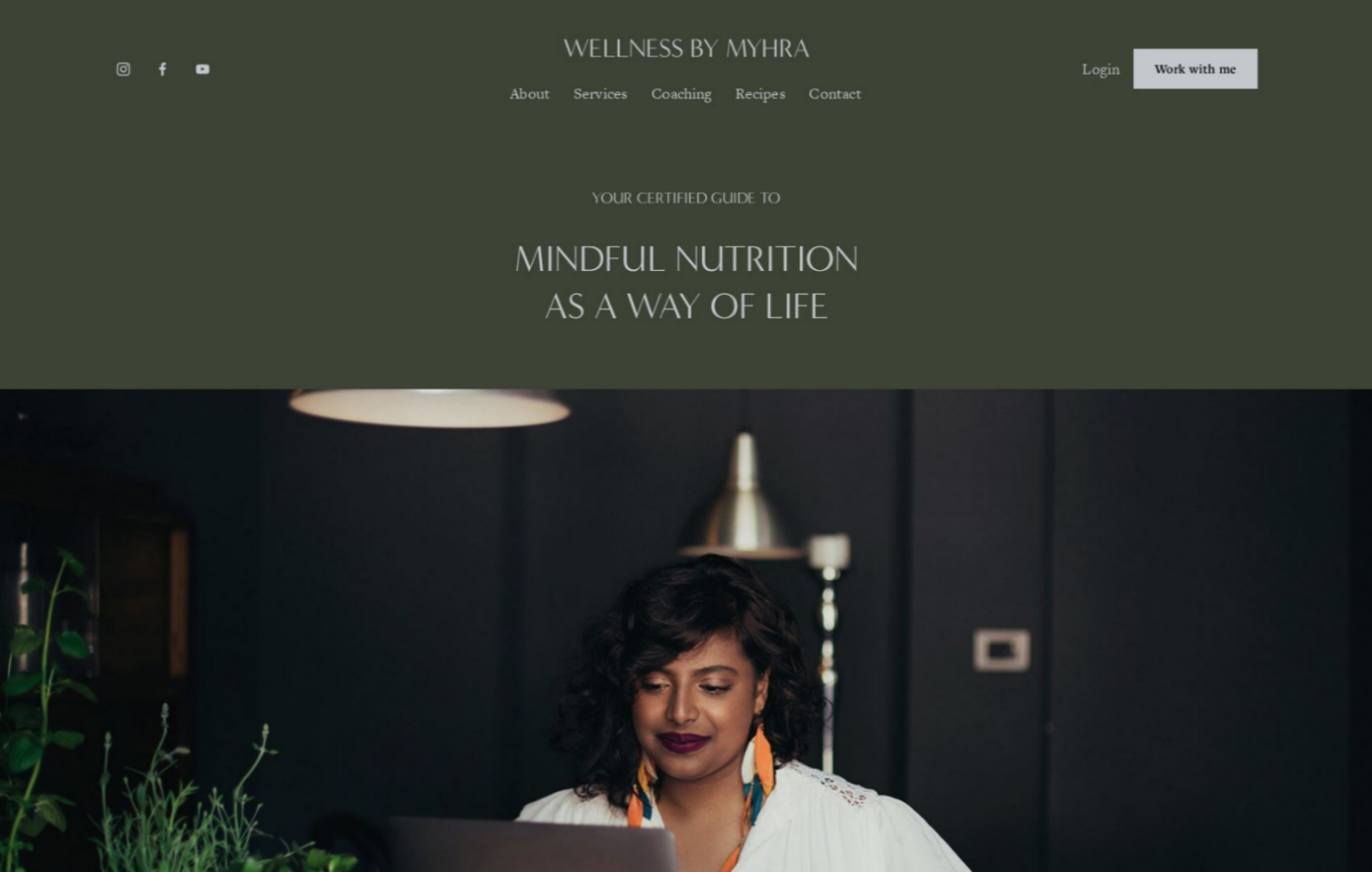 Myhra Highlights:
A great template for many niches.
Grow your business with ease.
Include different revenue streams with eCommerce.
Easy to customize and use.
Myhra is one of the best templates on offer but it is often very overlooked by other business users. It has a lot of features that are available for your business to create a store or services page to help with interactions and engagement with your audience. This template allows you to sell merchandise or products if you would like to as well. This template has been used to offer services, online courses, events, and more.

You can advertise your website which can include building a good blog. A good blog can help you add more leads with more than 15 blog posts per month expected to help you grow your leads by 70%.
Skye Template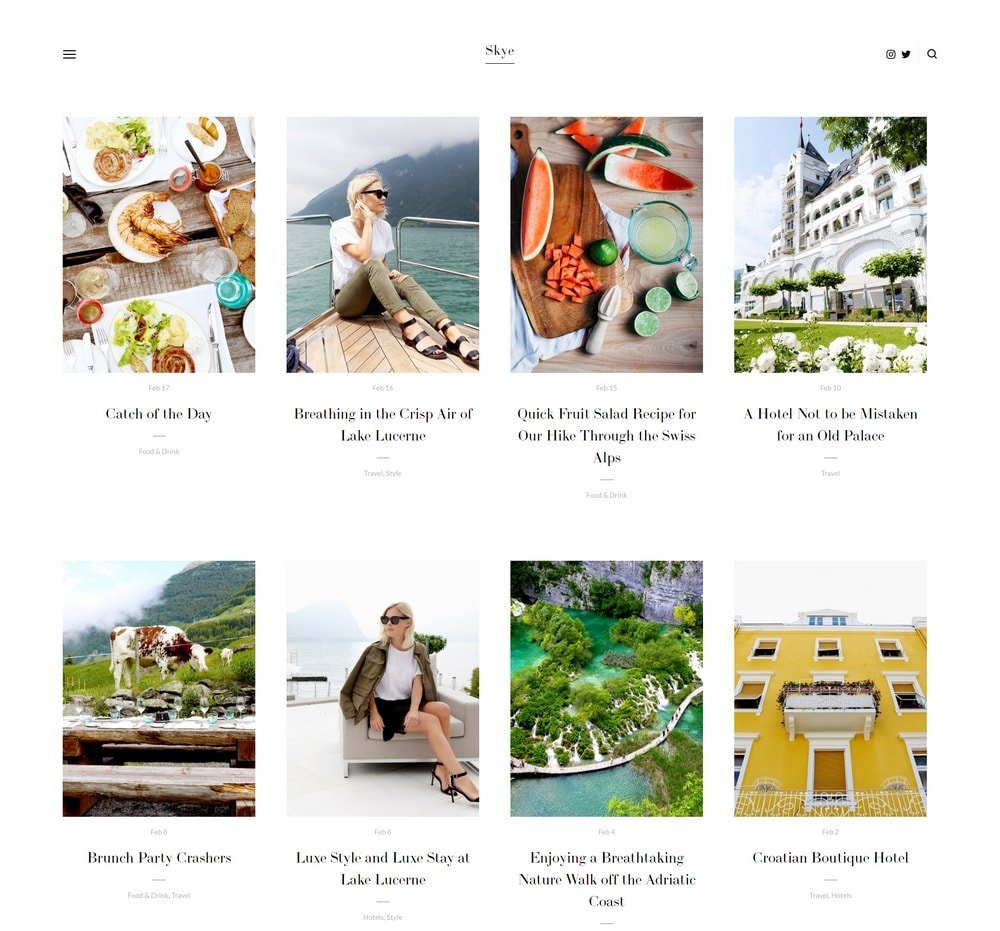 Skye Highlights:
One of the top Squarespace designs.
Great for images and videos.
Perfect for blogging.
Easy to use and customize.
Skye is one of the best templates that is used by numerous brands across the world. This can include bloggers, small brands and service individuals. It is perfect for those who understand the importance of blogging because this platform allows you to create the content that you need to get found online. The template is known for being a perfect platform for selling digital products and also for you to find new leads. The visual aspects of this template are perfect and you can add videos and images to your website with ease.

There are lots of perfect features for this template to help you be found. There is a fullscreen mode that allows you to focus the attention of the visitors on where you need them to focus. The design is also easy to edit and change. The template is also fast-loading, helping with conversions, and can also be viewed on all devices, including mobiles.
Almar Template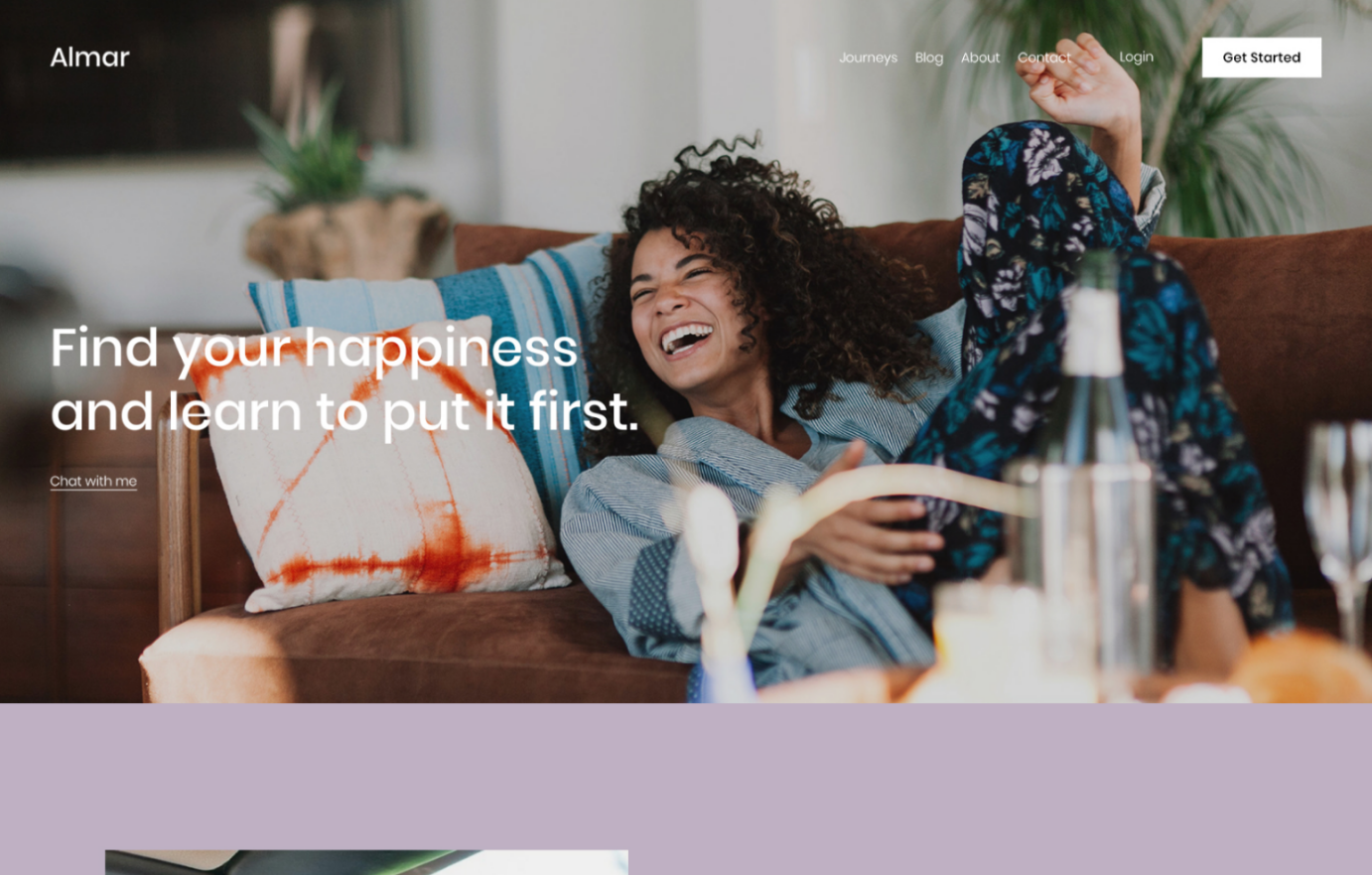 Almar Highlights:
Good for social media links.
Suitable for large and small catalogs.
Call-to-actions can be embedded in your website.
Fast-loading website.
Almar is one of the best templates for those who want a clean, aesthetically pleasing template. As soon as you start to use the template, you can make just a few changes and you can have a website ready to publish. This template is perfect for selling services or products with ease if you have a small catalog.

The template has lots of call-to-actions. These can be used for your website's booking system. There are also links to your popular products, special offers, and an appointment booking system.

Almar is great for those who are looking to get their site to rank high and load quickly.
Carson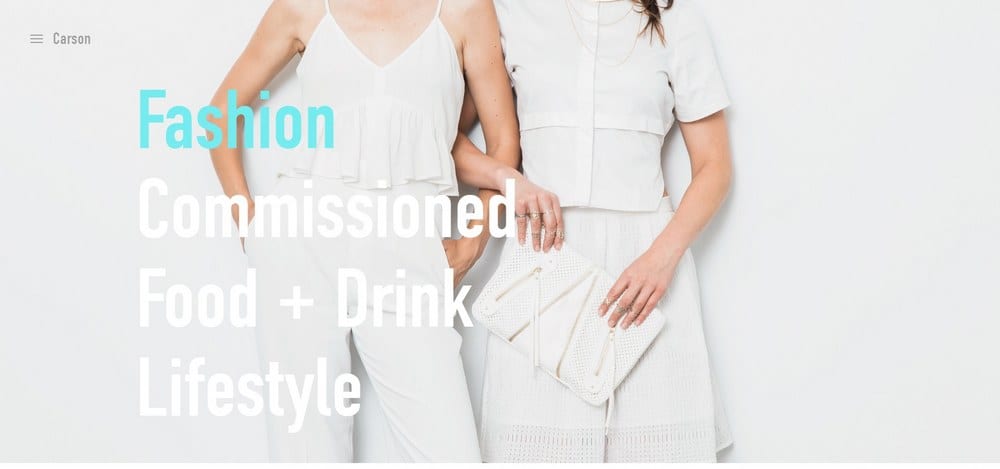 Carson Highlights:
Create an engaging website.
Changeable background image.
Hidden menu for navigation.
Promote your projects.
This is one of the more unusual Squarespace templates available for Squarespace. There is a unique design that is part of the template's appeal. The template doesn't have a scrolling layout as you would expect. Instead, this is a static homepage. However, this can allow you to highlight the best pages on your website.

This template uses a changing background image. When a customer hovers their mouse pointer over a link on the page, the background image changes. The benefit is that this template's style can help you reduce the bounce rate on your website.

The website can be used to promote your current and past projects with ease. And you can build a brand with ease, getting more engagement, leads, and sales with all the pages.

To help with navigation on your website, you can add a hidden menu too. This can link to all other pages. The theme is highly adaptive for a lot of niches, styles, and more.
Hayden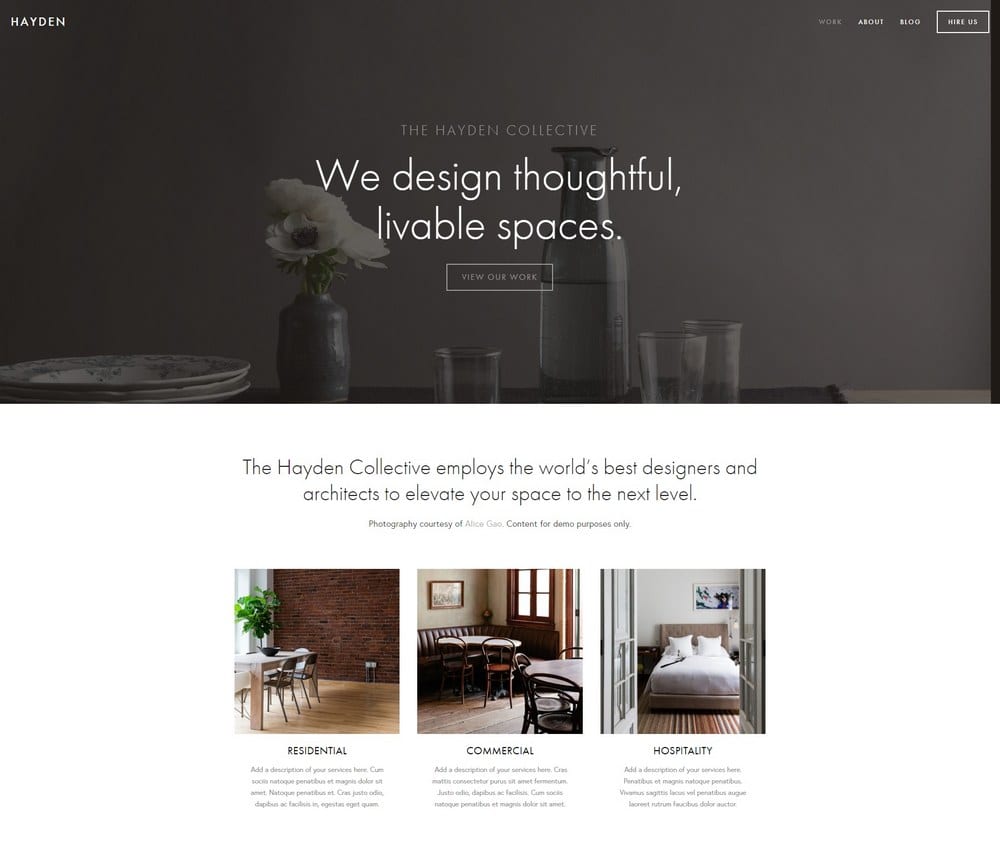 Hayden Highlights:
Sticky navigation bar.
Has eCommerce functions.
Easy to customize.
A great blogging section.
Hayden is one of the top templates for businesses with a professional design that is perfect for service-based businesses. The template was designed for lots of different businesses with professional services, accountancy, marketing, design agencies, and more available to use this template with ease. There are lots of features that can be added to your website. There is a blog that can help you improve the traffic levels to your website.

In addition, some areas can help you to showcase your previous events like there are portfolio pages that can showcase your past projects. In addition, there is an appointment system that can be integrated into your website.

The beautiful design of Hayden is one of the big selling points of this template. The menu for the template is located at the top-right of the website. Navigation is made so easy thanks to this. And the menu is sticky, therefore, you can allow the audience to move around the website with ease.
Selecting the Ideal Squarespace Template for Business
Understanding Your Business Needs

Before choosing a template, it's essential to understand your business's specific needs.
Consider the nature of your products or services, your target audience, and the kind of user experience you want to provide.
A clear understanding of these factors will guide you in selecting a template that not only looks good but also aligns perfectly with your business objectives.
Analyzing Template Features

Each Squarespace template comes with its own set of features and design elements. Evaluate these features in the context of your business requirements.
Look for templates that offer the functionalities you need, such as gallery layouts for portfolios, blogging capabilities for content-focused sites, or e-commerce features for online stores.
Prioritizing Ease of Use

While aesthetics are important, the ease of use and navigation of your website should be a top priority.
Choose a template that offers a user-friendly interface, both for you as the site manager and for your visitors.
A template that is easy to navigate and update will ensure a better experience for your users and less hassle for you in maintaining the site.
Advanced Features of Squarespace Templates for Business
Enhanced Customization Options

Squarespace templates offer a wide range of customization options to tailor your site to your brand's identity.
Users can modify layouts, color schemes, and fonts to create a unique online presence. This level of customization ensures that businesses can differentiate themselves in a competitive digital landscape.
Integrated Marketing Tools

Squarespace provides integrated marketing tools to help businesses grow their audience and engage with customers.
Features like email campaign integration, social media connectivity, and SEO tools are essential for expanding online visibility. These tools are crucial for businesses looking to enhance their digital marketing efforts.
Robust Security and Support

Security is a top priority for any business website, and Squarespace templates are designed with this in mind. They offer secure hosting, automatic updates, and SSL certificates to protect your site and visitors.
Additionally, Squarespace provides reliable customer support, ensuring assistance is available whenever needed.

Conclusion: 10 Best Squarespace Templates for Business
Are you looking for the best Squarespace templates for business? Above are some of the best options that you can have for your website. Which one will you use?