Squarespace is one of the top online website hosting and building platforms that you can use. There are dozens of website templates on Squarespace and most of these are premium. However, there are a few free Squarespace templates that you can use for free.
Why use Free Squarespace Templates?
There are numerous reasons why you might want to use one of the best free Squarespace templates. One might be cost. If you're building a personal blog for a small family project or school project, then you might want to consider using a free Squarespace template to build your website to save on costs.
Or you might prefer a free template due to a limited budget and you have to choose between different costs in the business. A free template is a great way to cut costs as many templates might be free for you, but that doesn't mean that they have fewer functions. Sometimes, there are just as many functions on your Squarespace templates.
Getting a free template doesn't mean that you can't use a premium template later on. You can always change the design of your website with ease.
So, what are the best free Squarespace templates? Here are some of the options that you can use.
Bailard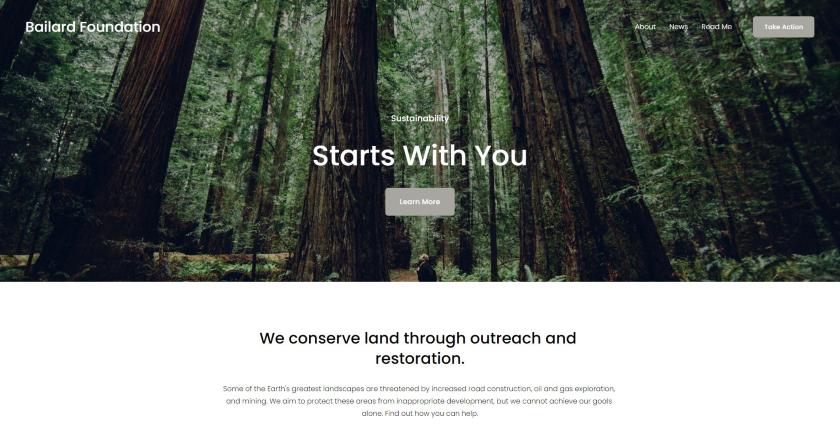 Bailard Highlights:
There are two 'call to actions' that can help you direct the traffic on your website to important pages.
Can be used by bloggers, service-based businesses and small eCommerce businesses.
Perfect for loading at fast speeds that includes lazy loading.
One of most highly used templates.
Bailard is one of the most popular Squarespace templates and it probably would be even if it was a premium template. There are two 'call to action' buttons on the homepage. One is centered on a high-quality hero image. And there is another one in the upper right corner of the menu. These buttons can direct the customer to important pages on your website.

To help with ranking on your website, you can utilize lazy loading of your images. This can be very important for those sites that want to have a heavy focus on visuals. This affects the images that are located below the fold, they are lot loaded until the user scrolls down that far.

The template has a bold design, which is minimalistic, that helps with ranking. The minimal design also allows you to build a strong message on your website and get it noticed better.
Tremont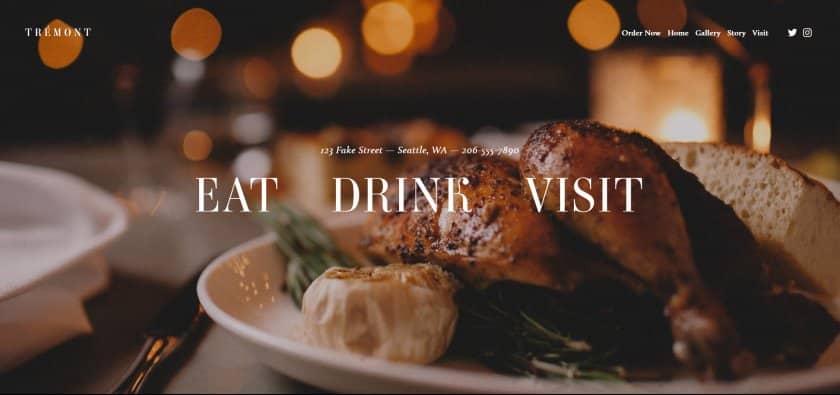 Tremont Highlights:
A fast website that can help with ranking on Google and other search engines.
Integration with ChowNow can help your food business take online orders.
Can have multiple 'call to action's that can lead to numerous pages on your website.
A responsive template that looks great on all devices and browsers.
Tremont template is a very popular template on Squarespace and it has been for a long time. It is the most perfect template for numerous brands that operate in the food niche. There is a full-bleed image design that is perfect for a static homepage that can feature dozens of high-quality images for your business. Each of these images can then include multiple 'call to actions' that can lead to other pages on your website.

The template can be used to showcase your brand with ease and it's perfect for the restaurant industry with the option of ChowNow integration. This makes taking online orders easier for your site. And therefore, you can also use this template for online sales for a takeaway/food delivery business.

The site is perfect for mobile viewing. It is responsive and fast so it improves your website's performance on search engines. It can also help with conversions.
Alameda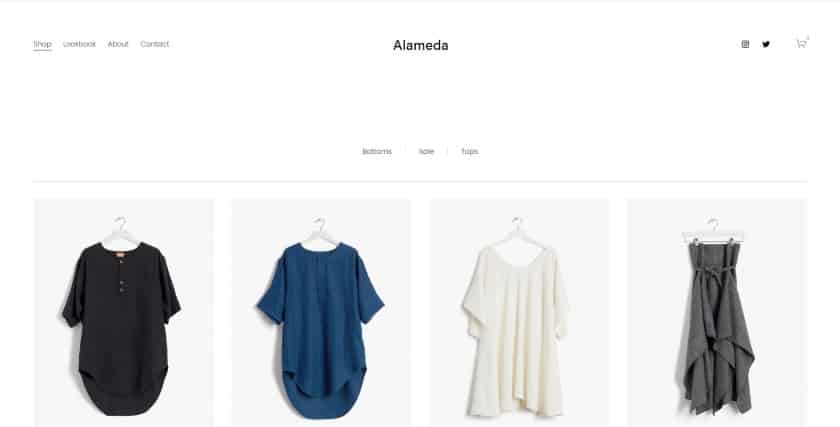 Alameda Highlights:
Lots of options to improve your website's speed and performance.
'Quick view' options that allow customers to see a product on the same page.
Cross-selling features on your website that help improves order values.
Lazy loading features that can speed up the performance of your website.
Alameda is a great template that has been built for version 7.1 of Squarespace. This is also a free Squarespace template that is perfect for lots of different niches, including eCommerce websites that allow you to sell products or services online. This template can help you sell multiple products on your website including lots of featured products that are located on the front page of your website.

In addition, to the great features that are included to help you sell, there are lots of features to help your website rank on Google. This is really important because your website should have at least 70% of your website's traffic come from search engines. To help you rank this template is fast. There are lazy loading features that prevent products and images to load on the website until they're needed.

There are also options to help you sell more. For instance, there are 'Quick View' options that allow customers to view more details about the product without leaving the page they're on. In addition, you can cross-sell on your template with a 'you might also like' section.
Suffolk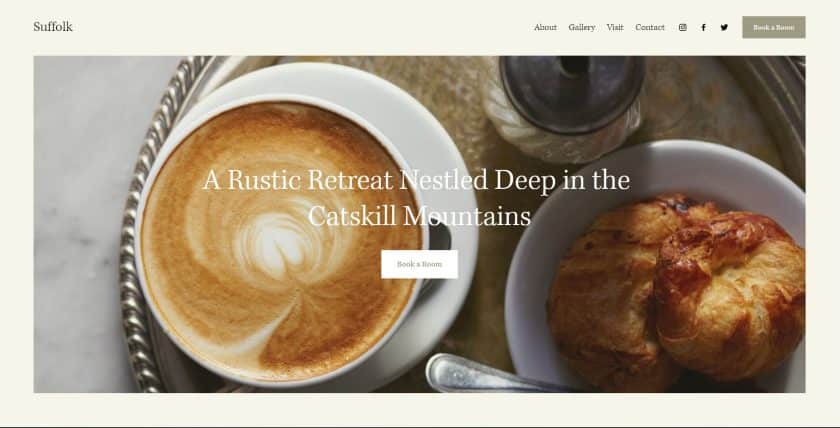 Suffolk Highlights:
One of the best free Squarespace templates that is available for the service industry.
Appointment setting functionality on the website that can help you build sales.
A sticky menu that allows the menu items to scroll down the page with the user.
A fully customizable template that can help you build a branded website.
Suffolk is one of the best free Squarespace templates that you can use if you're offering services to your audience. It has a clean, traditional design that customers will recognize and trust instinctively. It is the perfect design for hotels, rentals, salons, restaurants, mechanics and more. The homepage is clean and has a boxed style that showcases a hero image and two 'call to action' buttons.

The template has a sticky menu that's perfect for customers to navigate across your website. The sticky menu will stay at the top of the page as the visitor scrolls down the website. This will prevent them from bouncing off your website. The template is also a great option for those that offer appointments. This can help you get leads and sales without having to pay for a more premium template.

The template is fully customizable. Therefore, you can change the design of the look of the template to fit around your brand. This can be important as it builds trust. This can build your website's performance so it sells more and you get customers to come back time and time again. The only thing that this template does not have is a default map or calendar.
Elliott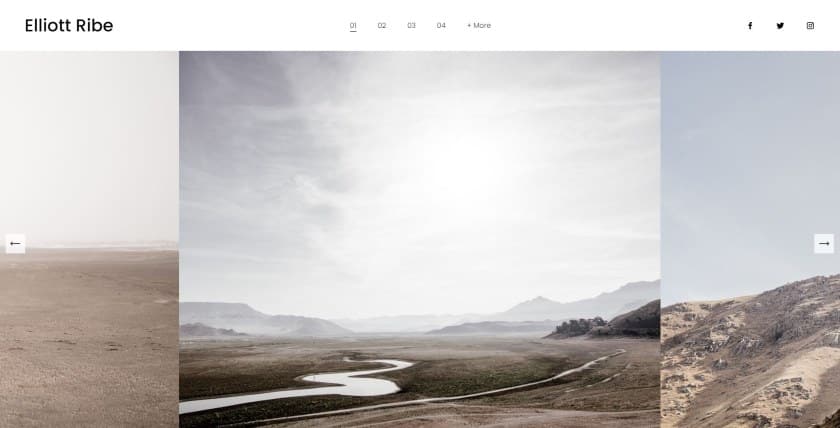 Elliott Highlights:
Fast loading website template that can help you rank on search engines with ease.
Easy to customize and use, perfect for those with no technical skills.
Lots of inner pages you can use.
Use visual aspects to help you build your website's appeal.
Elliot is one of the top-performing Squarespace templates that can help you build a website within minutes. This is a visually impressive free Squarespace template that can help you build a successful website. The template has a minimal, but bold design that can help you focus the attention of the audience as well as rank highly on Google and improve your search rankings on search engines.

The main focus of the homepage is going to be the slideshow gallery. These are horizontal high-quality images that can invite visitors to see more content through call-to-actions. When the customer clicks on this, you can send the customer through to templates.

There are lots of pages that you can use on your website. There's a fantastic 'about us' page, additional pages and they are visually focused.

Elliot is a great choice if you want something that will load quickly and rank high. It's easy to customize and those who don't have much technical skills can easily use this app.
Bryant Hill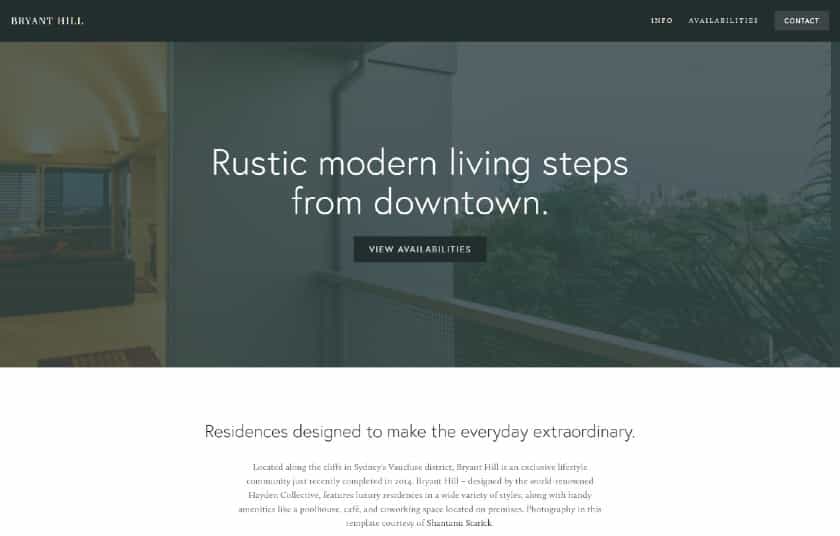 Bryant Hill Highlights:
Is one of the best options for professional business websites.
Good navigational links allow customers to find all the content they want.
Great for ranking on search engines and helps with conversions.
Integrate your website with email marketing, social media and other Squarespace plugins.
Bryant Hill is one of the top options for those who want to have professional business websites. There is a default scroll back menu that is perfect for those who want to improve the navigation on the website. Good navigation is paramount for indexing and ranking of your website on search engines like Google.

The bold, clean look of the template is perfect for showcasing numerous services, products, designs or even properties. There is also great functionality on the template with a sidebar that can display all the content you want to promote.

You can also take advantage of email marketing and social media with integration with both. There are also lots of Squarespace plugins that can be added to the template that can make it very versatile.

For those who want to show off lots of images on the website there is a grid-style gallery. This is perfect for products, rental properties and other services.
Farro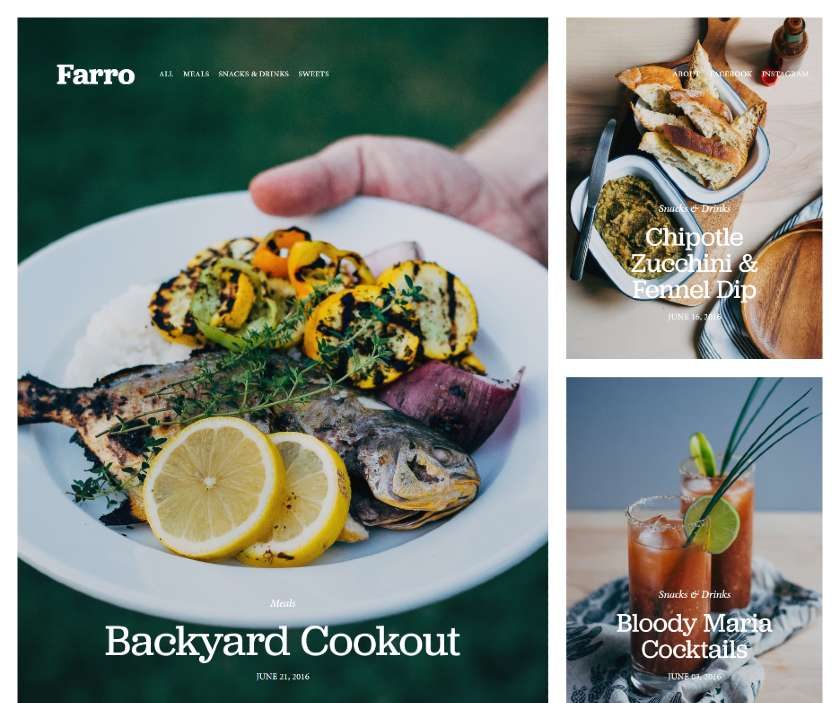 Farro Highlights:
An older, but very popular template on Squarespace.
Turn your website into a store with ease.
Heavily focused on visually impressive images.
Easy to use and get your website to load fast.
This template is one of the best free templates for Squarespace if you want to have your website as a platform for blogging, especially those who want to use lots of visuals within the blog. There is a beautiful and awe-inspiring magazine-style design that is great for showcasing lots of images. The clean and minimalistic layout is perfect for attracting the attention of your website's visitors and getting them to read the content you would like them to.

The design of the template is also great for your website to rank on Google and other search engines. The design is also perfect for speed. This can improve the user's experience on your website with ease and can lead to more revenue being generated whether this is through sponsored content, merchandise or your website's affiliate links.

The template can also be used as an eCommerce platform. You can add a shopping cart to your website. The only problem with this template is that this is one of the older templates on this list. Therefore, Squarespace might remove it from publication. However, at the moment it is still available and one of the best options for bloggers looking to build a great website on a budget.
Moksha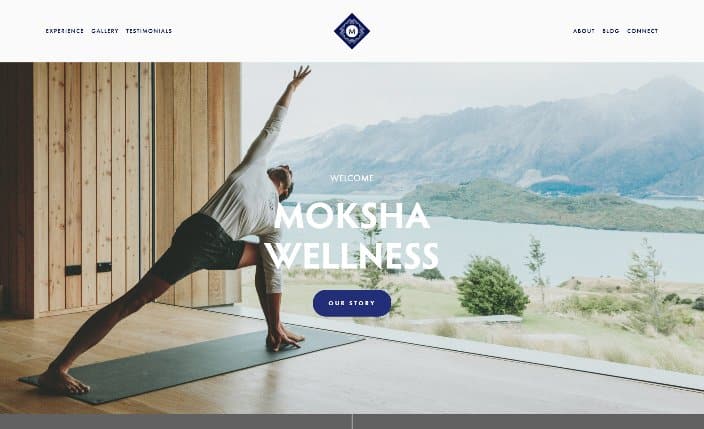 Moksha Highlights:
An easy to use template that's perfect for your brand whether you're a service industry based business.
Parallax loading for an excellent website experience for audiences.
Hero image and messages on your page.
Fantastic design for improving the experience of your customers on your website.
This parallax-style website template is really good for those within the service-based business though it can be used by almost all niches as it is very versatile. It has a full-width hero image that can really set the tone and branding of your website. The website template has a split menu that includes a centered logo that is at the top. This creates a lot of white space. There is also a front-and-center message that includes a 'call to action' button to move visitors onto the next part of the journey.

The parallax loading is perfect for speed and website ranking. Therefore, while you have a free Squarespace template, you can still build a website that gets lots of traffic. To help with the ranking, ensure that you're using image compression. This will improve the website's performance.

The template has lots of great options to help you improve your site's rank with ease.
Impact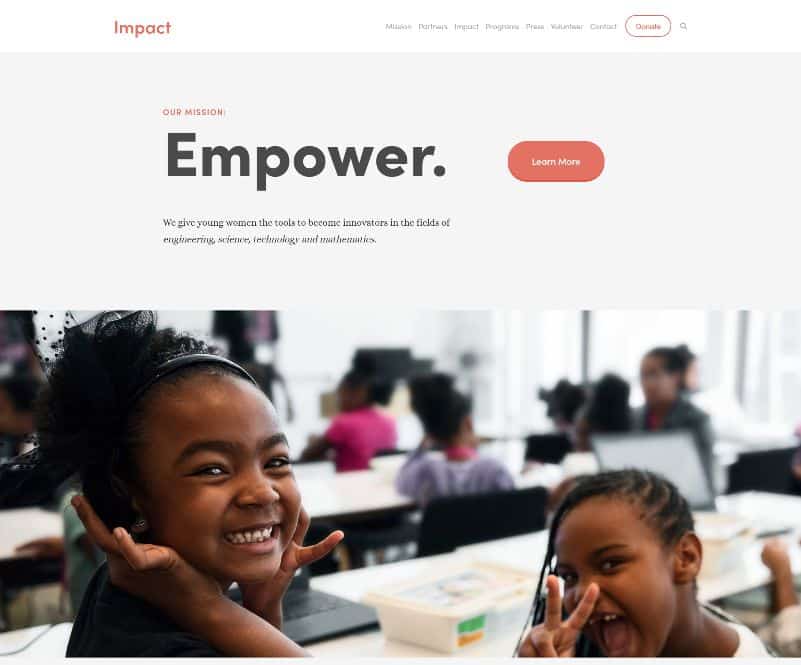 Impact Highlights:
Versatile website template that is great for your brand.
Improve your website's performance with great speed and ranking potential.
A high visibility hero image to improve the attraction of your website.
Call to actions to move customers through your business' sales process.
Impact is one of the top designs for Squarespace because it is so flexible. The website template is perfect for those who are a social impact business. The parallax loading of the website design can create depth for your website as the user scrolls down the page. Impact is a website template that is from the Brine family of templates, there are more than 40 designs in this group. All of them have a similar layout.

This template is no different that includes a horizontal navigation menu that is situated at the top. The logo and name of your site can be at the top to the left or center of the page. Your template can also have a hero image or large banner at the top of the website's design.

This template is perfect for grabbing the attention of your audience. With a 'call to action' as the attention-grabber, you can also improve the revenue of your website with ease. You're also able to add or remove blocks from the design to manage the website's performance. The template is also flexible, therefore, you can build it for a better website that matches your brand.
Hester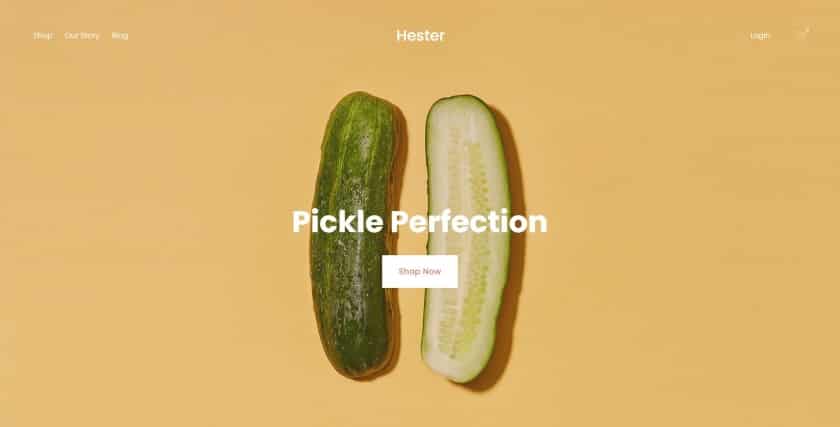 Hester Highlights:
Use a hero image that can take over the whole of your front page.
Use this template as an eCommerce site, blog or a showcase of projects.
Easy to customize and rank on Google and other search engines.
No technical skill required.
Hester is a great free template that is perfect for those who want a free eCommerce template for their Squarespace website. It is also a great portfolio template that allows you to showcase lots of images on your website of your products/services. The clean and minimalist design is perfect for loading speeds and ranking on Google and other search engines.

You can choose to showcase your business with a great colorful hero image. This can take over the whole home page. You can also use this to brand your website and showcase exactly what your brand is about.

Hester is a great template for ranking on Google. The more traffic you will get to your website, the better the revenue you will generate. The template is also good at improving conversions.
Final Word: The 10 Best Free Squarespace Templates
When it comes to getting your website started on Squarespace, you might want to reduce costs to begin with. Therefore, you will want to be using one of the best free Squarespace templates. Here's a list of the best and most popular that can get your website started. Which template will you use?