When it comes to choosing and buying a Squarespace theme, there are lots of options. You can buy one that is on the Squarespace store or you can buy a third-party option. Regardless, there are lots of considerations.
In this article, we look at eight things that you need to check before picking and buying a Squarespace theme. Then you can choose a theme that is best for your business. In addition, we highlight two themes that we think are great options for any niche on the platform.
Price
The first factor is going to be price. There are going to be lots of issues here. You want to make sure that you have a Squarespace theme priced within the budget that you have. Third-party Squarespace themes are often expensive. Those on Squarespace aren't there.
However, there are some considerations as well. A high price usually means there are more functions or support with the theme. Therefore, a more expensive theme might offer you long-term savings.
Squarespace Version
Some Squarespace themes don't work with the latest version of Squarespace. Others work with the latest version, but there are gaps in the coding. Therefore, you need to be sure that you are building a website with a theme that is going to work with your Squarespace version.
The biggest challenge here is not that you have a 7.1 theme that won't work with 7.0. All 7.1 themes should work with 7.0, but not all 7.0 themes will work with 7.1. Therefore check with the theme developer or Squarespace support to ensure you're getting a theme that will work for you.
Page Load Times and Core Web Vitals
Page loading times and the core web vitals are essential if you would like to have a working website. Page load times are vital for search ranking. Loading times can affect revenues, with every second costing you 7% of your revenue. The average website online loads in about 8-11 seconds. Therefore, some website owners are losing up to 77% of their websites.
There are numerous ways that you can improve loading times. For example, you can ensure that any images that you have on the website are optimized for loading. Optimization can be done through RIOT, a free software tool that compresses and optimizes content.
In addition, you can run scans on your website, and check what the core web vitals are like for the website. Though this can be hard because it is challenging for you to swap between different themes. What you could do is test the demo site of the template, this would allow you to assess what the core vitals are like.
Site Type Focus
Another key factor is to choose a theme or template based on the niche. We've got dozens of articles that can help, with some of the articles specifically talking about the best themes for therapists, bakers, authors, or even personal sites. We also have some articles that discuss the best Squarespace templates for speed, SEO, or even mobile devices.
So you have to choose a template that is perfect in those respects.
Some of the reasons why these lists are created are because the features and designs of the theme can align it better with the functions/needs of the niche. For example, travel bloggers will want to have a theme that has lots of image space and writing space for blogs. They will also need to have a theme that is perfect for SEO.
Those that are YouTubers might need something where the videos are much more prominent on the page.
So it depends on your specific needs as to what is going to be the best template for you.
Font Choice and Options
Font choice and the options available are so important for your website. Audiences make an instant decision about your branding and values based on what fonts and styling you use on your website. That is why it is important to choose the right font for you. There are some general considerations of what fonts represent you can use as a guide.
For instance, Serif Fonts is a typeface that contains projecting features at the end of strokes, making them easier to read over long distances. Their design is more complicated, and therefore more expensive in print, most book text is printed in serif fonts. They are also used more in digital marketing campaigns because they can be read quicker. They can also be perceived as sophisticated.
Slab Serif fonts are not traditional and feature thick serifs and square/rectangular ends, rather than curved or swirled ones. They look bold and grounded. It is often perceived as being rather masculine, but they can be very versatile, having been used for more than 100 years.
Monospace fonts are designed for an even pattern of characters on a page, which is very pleasing to the reader. These are best for typewriters and computer terminals because they produce text with even word spacing. However, they don't do well when you need to emphasize certain words within a text.
Image Location and Size
Another important consideration that you need to have is the image's location and size. A picture that can represent 1000 words is no understatement. Images portray ideas and messages much easier than the written word and research has shown that images can help sell products much easier.
Therefore, you want to make sure that you have images in the right location on your website. They shouldn't be hidden, away from potential use of your website for selling.
Nor should they be in a position that will, effectively, pay no use to the sales but also slow down your website's loading time.
There are several different images to consider from the background, main sliders, product images, and more. Be sure to check them all out before you use them.
Custom Page Support/404 Customization
Believe it or not, there are always going to be some problems with 404 errors. You will also need to create custom pages, most likely, to get the best from your online platform. That is why it is important to check that any Squarespace template you use can support these.
A custom 404 can help you have a way to get customers and clients to the right location on your website. Most 404 errors are caused by incorrect web addresses entered or the page no longer existing. However, you can easily get around this with the customization of the 404 page.
In addition, you will need to have a custom page for landing pages and more.
Mobile Function
All templates that are used must be mobile-friendly. Mobile traffic now represents more than half of all internet traffic. The templates with the best mobile functions will help you to rank higher on search engines, especially for mobile users, because mobile functions are calculated in the ranking, and there are different rankings for mobile and desktop searches.
In addition, the usage of your mobile version of the website will play a part in whether someone will purchase from you. If you don't have a website that performs well on a mobile device, then you're going to struggle to retain the audience on your website.
If a mobile website doesn't load within six seconds, what tends to happen is that customers will quit your website after this. If they're in a low Wi-Fi or bad 4G/5G area, the site will take longer to load.
Therefore, the easier your website is to load on Squarespace, the better it is for your traffic.
Two Excellent Themes
So here are two excellent Squarespace themes that you might want to consider for your next website-building project.
Bedford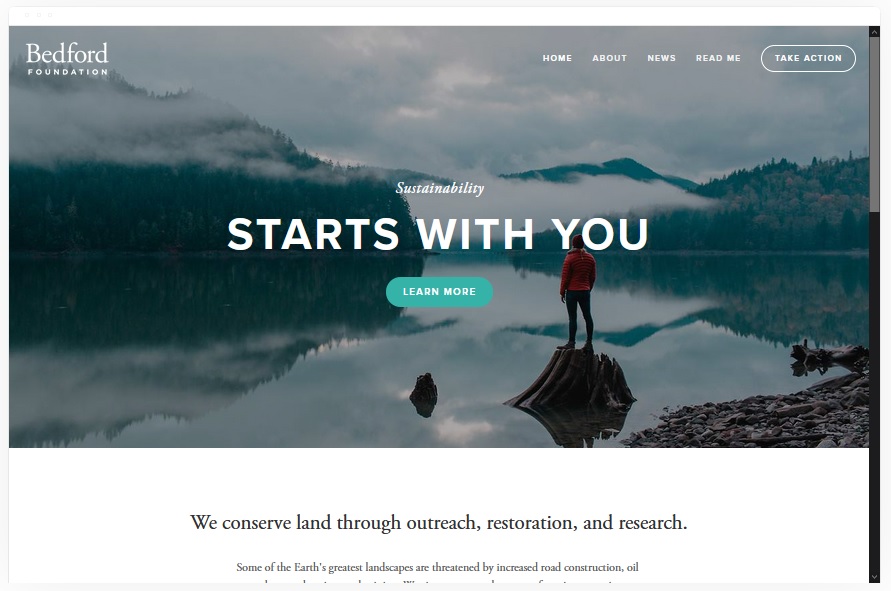 Bedford Highlights:
Often listed as one of the best options for Squarespace websites.
It has a simple portfolio or project feature.
Use sidebar navigation for easier moving around the website.
Add a call-to-action on each banner.
Bedford has been used by numerous website owners across a wide variety of niches that allow you to showcase projects and past work with ease and with some of the best images around. You can add lots of features to your website, these allow you to earn more from your website and improve the performance. For example, Bedford can be used as an online shop with eCommerce functionality.

You're also able to create engaging banners to promote your brand. Each banner can have an excellent call-to-action button embedded in them. Then there's the ability to add lots of images and videos to your website. There is also excellent sidebar navigation.
Meriden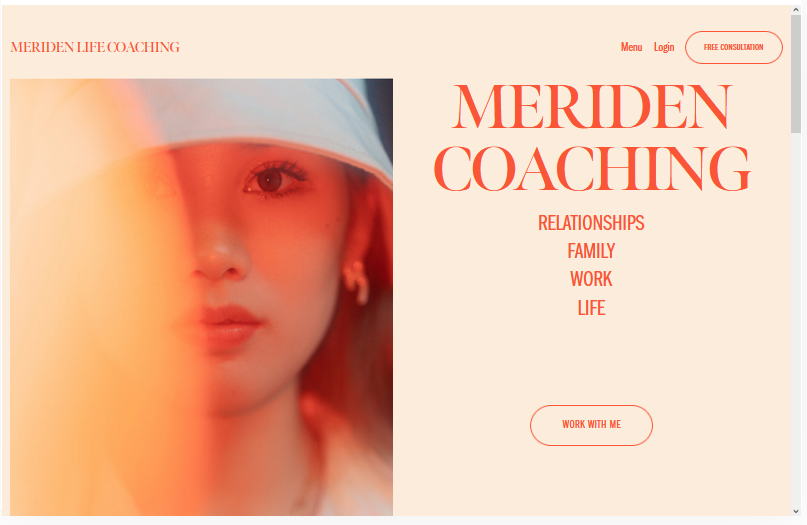 Meriden Highlights:
Can be included in courses and podcasting
Allows for memberships through your website.
Has Squarespace scheduling been built into the design?
Customization to suit your specific business and niche.
If you're looking for a great template that will help your brand grow, then this template will help. You can take memberships, courses, podcasting, blogging, and influencer content seriously. With the integration of Squarespace scheduling, you can take both free and paid consultations and more.
Final Word: 8 Things to Check Before Picking and Buying a Squarespace Theme
Above are eight things you need to check before you pick and buy a Squarespace theme. These are simple elements, but they are so easy to miss on your website's theme purchase.