Yes, you can dropship with Squarespace. Keep reading to learn how.
Dropshipping is one of the big eCommerce business models that has often made people successful. There are numerous reasons for this: it is cheap to get involved in, it is easier to manage and you can make changes without needing to overhaul the entire business. However, Squarespace is not well-known for being one of the best dropshipping platforms.
In this article, we will look at if you can dropship with Squarespace and what are the possible top tips for getting the best from your business.
What is Dropshipping?
Dropshipping is an eCommerce model where you are selling products on your website. However, instead of doing the fulfillment yourself, there is a third party (the merchant) that fulfills the order on your behalf.
As the seller, you take all the money. The merchant bills you for the products, packaging, and even the shipping. The difference between what the customer has paid you and what you are charged is your profit.
What are the Advantages of Dropshipping?
There are numerous advantages of dropshipping over other eCommerce options. For example, there are lower costs. All you need is the website costs. No other costs for products are made until an order is made, which is after you've got the payment from the customer.
In addition, it is relatively quick to make changes to adapt to the latest trends that are happening. For instance, when the Covid-19 pandemic happened, dropshippers were the first to be able to get facemasks out to the public because they didn't need to order the stock, it was being made by manufacturers who sold the stock through their networks of dropshippers.
Another benefit is that you can reduce the need for additional spaces. There is no need to have a stock room or staff to help fulfill orders. Therefore, a dropshipping business can be run from home, on a laptop. Costs reduced can include space, staff, and insurance.
Disadvantages of Dropshipping
Of course, there are also disadvantages of dropshipping. However, these can often be overcome with ease. One of the most negative aspects is quality control. You are completely reliant on your suppliers. If they don't have good quality, your reputation is ruined.
Another issue might be delivery times. A lot of products sold via dropshipping are made in China and shipped from there. Therefore, shipping can sometimes be three to four weeks. Many customers aren't willing to wait this long.
Then there are sustainability issues.
That being said, merchants are selling via dropshipping using local businesses. For example, there are fashion brands that will supply products to customers and sell through dropshipping sites.
Can you Dropship with Squarespace?
Yes. It is relatively simple for you to dropship on Squarespace. There are two options if you want to go down this route. The first is to use Printful, the second is to use Spocket. Spocket is for those that want to scale their dropshipping business, whereas Printful is for those that want customized products or are new to the industry.
Top Tips for Dropshipping
So if you've decided that you would like to give dropshipping a go and would like to try Squarespace as the platform, you will need to utilize some of the best tips to ensure you have every chance of success. Here are some of the top tips for you to be successful.
Use a Good Template
The first thing to consider is that you will need a good template. There are many different types of templates that you could try to use. For one, you could use an eCommerce template. Or you could try a fast Squarespace template.
It depends on what you're specifically looking for with your Squarespace website. However, you need to choose something that will work on mobile devices as well. More than half of web traffic is now via mobile devices, so not having a mobile-friendly design can ruin your chances of success.
Check Profit Margins
When selecting price points for your products you need to think of the profit margins for the business. There are lots of things to consider, but you want to aim for products where you can earn about 40% to 70% profit. So if the product costs $10 for you to purchase, then you need to charge somewhere between $14 and $17.
Charging more than this can lead to lower sales. And while you might have more sales with a lower price, say at a 10% profit margin, you might not get enough money to earn a decent living.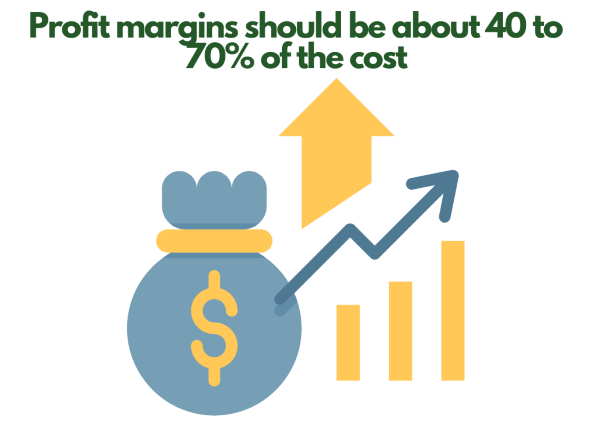 Stick With Trends
Be sure that you're sticking with the latest trends in products. Trends can be checked through lots of different tools like Google Trends and other options online. Sticking with trends allows you to have products on your website that are in high demand.
You need to also remove products from your website that don't trend at all. If there are products with no sales lately, just remove them. Too many products on your website can sometimes look too busy and be confusing for customers.
Email Marketing
Email marketing is one of the best ways that you can sell online. For every $1 that you spend on your email marketing campaigns, you will earn about $44 in revenue. Therefore, you can improve your website's revenues very quickly. Some email marketing services cost about $10 a month, which means that you can earn about $440 a month, just by email marketing.
However, this is not an exact science and you need to consider some best practices. For instance, sending emails at the right time, having something of value to share, and having emails personalized.
Regular Sales
Lots of potential new customers will not purchase on your website unless there is a deal. So having regular sales on your website can help you attract new customers. Once you've got a new customer for your website, then you can collect their email and market to them again about other products.
Once they've bought from you, they will likely want to purchase again, especially if they've had good service. Therefore, you can improve your revenues in the long term by getting customers to purchase from you for less in the first place.
There are numerous sales that you can have including:
Holidays
Post holidays
Anniversaries
Check Supplier for Quality and Speed
Always check your suppliers for how fast they can deliver products to you before listing them on the website. In addition, you should also consider the quality of the products. If you're not willing to buy and use the product, then you should not sell the product.
Most suppliers will tend to offer you test orders. It might also include adding your branding to your website. Therefore, you can see what the customer gets from you.
Social Media
Social media plays a significant part in the sales process online. What you want to do is to encourage people to engage with you on social media. There are numerous options here. For instance, you can use videos and product promotion.
Remember that social media is not going to be a great sales platform. Only about 1% of all online sales happen on social media. But it can be a great way for you to introduce customers to your brand. Aim to spend about $10 a month on Facebook to grow your audience, using a specific target audience.
Video Adverts on the Website and Social Media
Want to grow your audience and convert customers? Then you need to add videos of your products. Printful can help you create these, without you needing to buy the product yourself. Videos can help you convert more people because people react better to videos.
Videos can be added to your website's product pages and used on social media. You can also include them in your email marketing campaigns to help you get the most from your campaigns.
Great Numerous Dropshipping Businesses
While one can sometimes make you loads of money, you might need to have numerous dropshipping business websites for you to create niche websites that can deal with specific products. The more websites that you have, the more potential revenue that you can have.
In addition, the more websites that you have, the more potential you have for selling a successful business. Many owners make their money not from their businesses, but from selling their businesses in the long term. If you can get your business ranking high, with lots of revenue, you can make millions from selling a business.
SEO is Important
It is also important to ensure that you have good SEO for your website. SEO is about using the right keywords and ranking elements to get your website to rank higher on Google and other search engines.
You should spend at least two hours a week on your website's SEO. It can be really powerful to do outreach programs and campaigns to bring in new internal links.
Final Word: Can you Dropship with Squarespace?
Can you dropship with Squarespace? Yes. There are limits, but it is possible. What is important is that you get the system in place to make sure that you're successful.