When you are starting a magazine website you are going to want to choose a great template. You'll need a great visual appearance to your website whether it's a large hero image or lots of smaller images across your store to highlight your blog articles.
An engaging website is essential and social proof will help get visitors to engage with your brand. You can use call-to-action buttons to help you get visitors to stay in contact by joining your mailing list.
In this article, are ten great potential options for you to consider.
Why Do You Need a Squarespace Magazine Template?
A magazine template will enable you to showcase either a key image to immediately show your visitors what your magazine is about, or you might prefer a few images on the homepage to advertise a range of your magazine articles.
You'll also want to have a fast website that helps with your search engine ranking. A website that is easy to navigate will also help your website visitors find all the magazine articles they're looking for. You can use one or more call-to-action buttons to encourage visitors to read more articles and sign up for your mailing list.
There are lots of great options for Squarespace magazine templates, here are ten great, potential options.
Carson – Portfolio Squarespace Template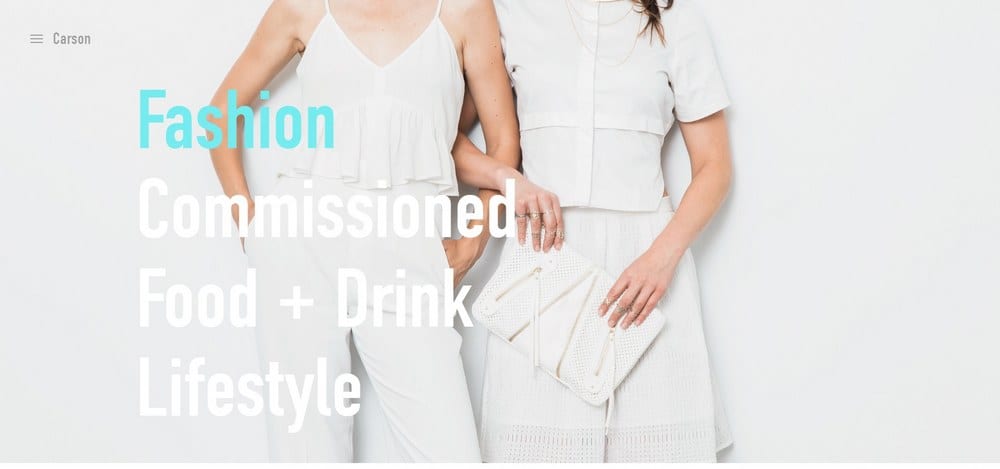 Carson – Portfolio Squarespace Template Highlights:
A unique, interactive portfolio design.
A hidden menu that can link to pages.
Include a contact page, about us page, etc.
Can be displayed on any device.
With this portfolio-style template, the background image changes as the cursor moves over a link which is great for engagement. There's a hidden menu to aid visitor navigation. Page options include a contact page, an about us page, and services. You do not need to be a developer or have coding knowledge for this template. This template is fast and you can rank highly on Google and other search engines with this theme.
Avenue – Portfolio Squarespace Template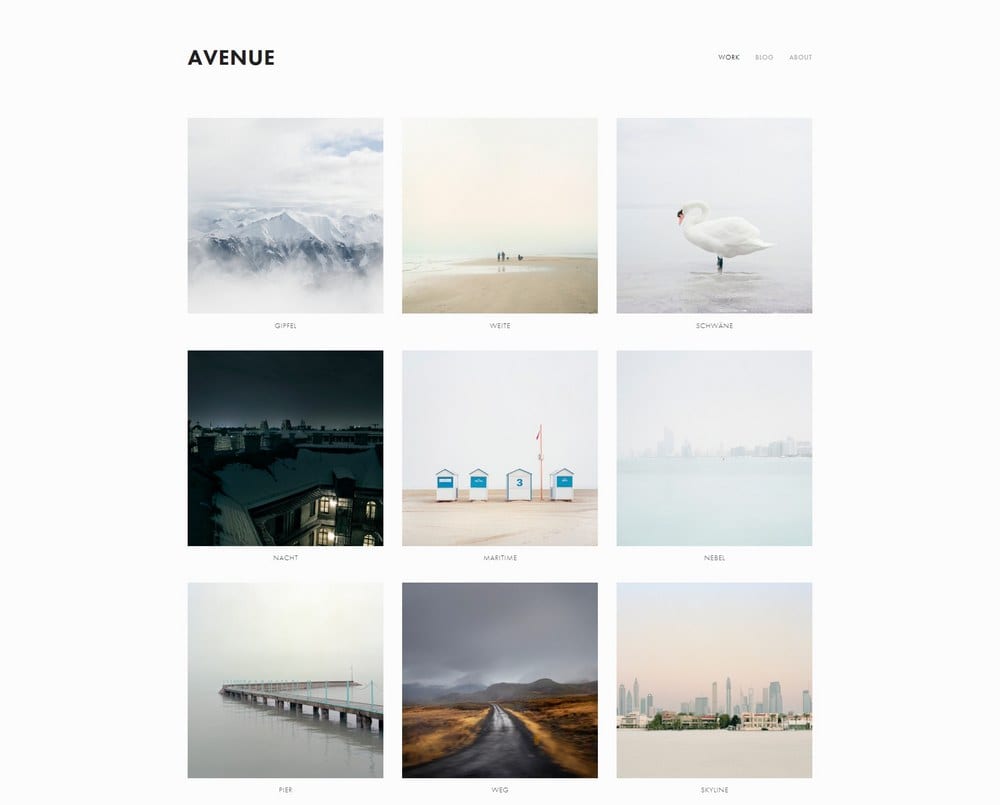 Avenue – Portfolio Squarespace Template Highlights:
A great minimalist portfolio template.
eCommerce functionalities.
Fast loading times.
A basic portfolio design.
This minimalist, portfolio template will help you showcase your magazine articles with a grid-based layout. This fast website will help you rank well on search engines. The design is basic and this template is easy to use. There are eCommerce functions too.
Wells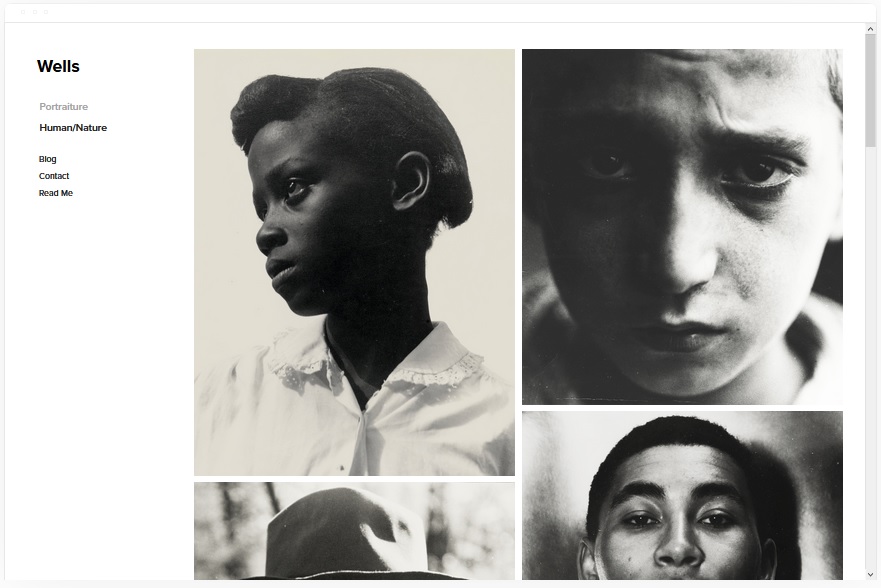 Wells Highlights:
Include images in a portfolio style.
Add videos and embed the URL to keep your website fast.
Have eCommerce capabilities.
Direct guests to your social media profiles with ease.
This is a great template design for portfolio style for your magazine. You can add free images from Unsplash, sell merchandise online, and also include videos to increase engagement. To upload videos you can embed the URL into the website page so you don't slow down your website with the video. This is a very easy template to maintain.
Ventura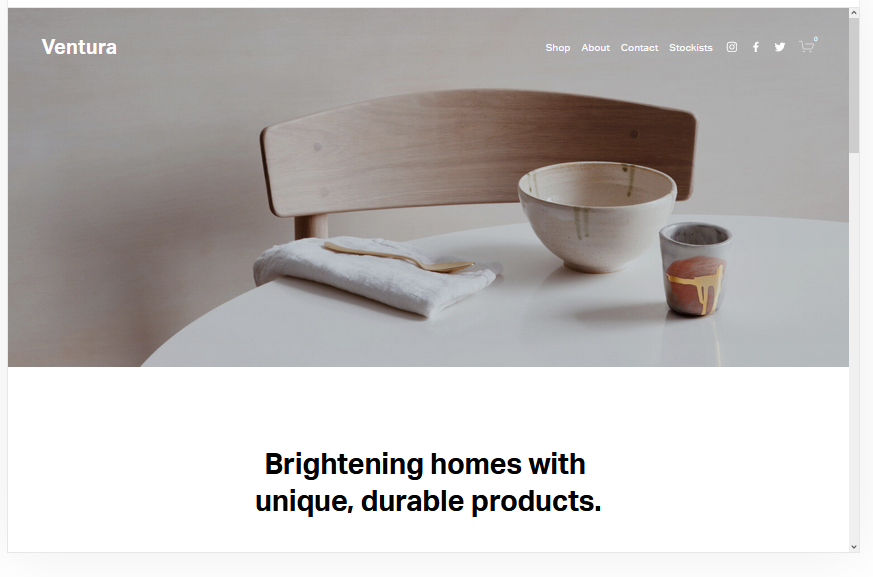 Ventura Highlights:
One of the easiest templates to use.
Lots of new pages that you can create.
Add a blog to your magazine website.
Minimalist and clean design.
This is an easy template to use that has a clean and minimalist design. You can add a blog and a mailing list feature to grow subscribers. Other pages that you can include are an about us page, shop, contact page, etc. You can also rank highly on Google and other search engines.

Those who are looking to use this template can really get their website speed to be good. Therefore, your magazine can rank for keywords very easily and get your website to be on the first page of Google. However, you will need to also get some inbound linking and write lots of content.
Ready – Freelancer Squarespace Template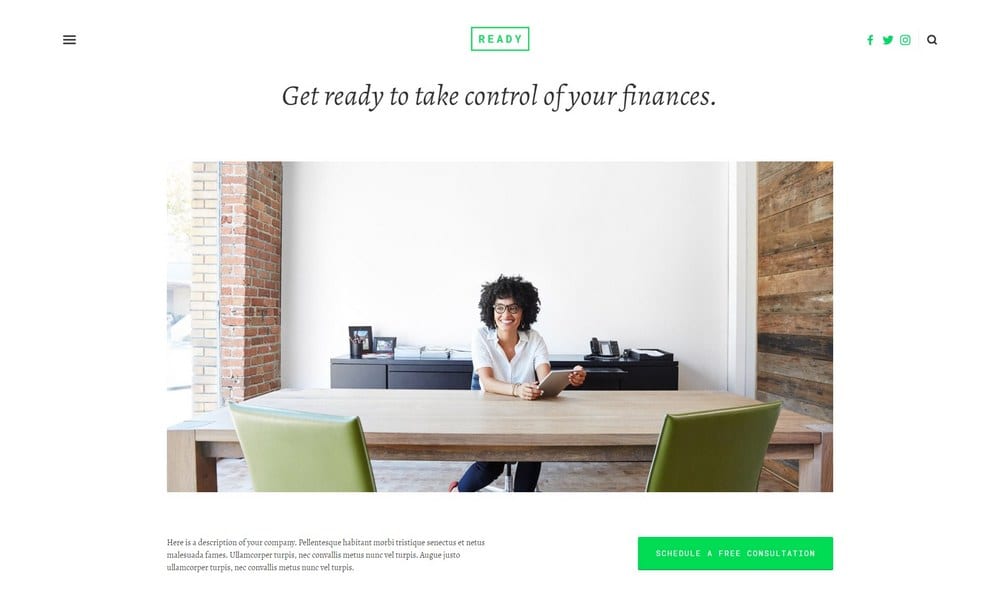 Ready Highlights:
Build your website's position online.
Allows for a call to action button.
Great navigational options.
Display high-quality images.
This is an aesthetically pleasing website with great potential for a magazine. It has a clean and minimalist design so offers great loading times to support your ranking on search engines. You can also link to social media to connect with your audience and add call-to-action buttons to help with this too. You can include lots of high-quality images. You can monetize your magazine too. This template is easy to navigate for your visitors with a hidden menu on the left-hand side of the page which will only appear when clicked on.
Bedford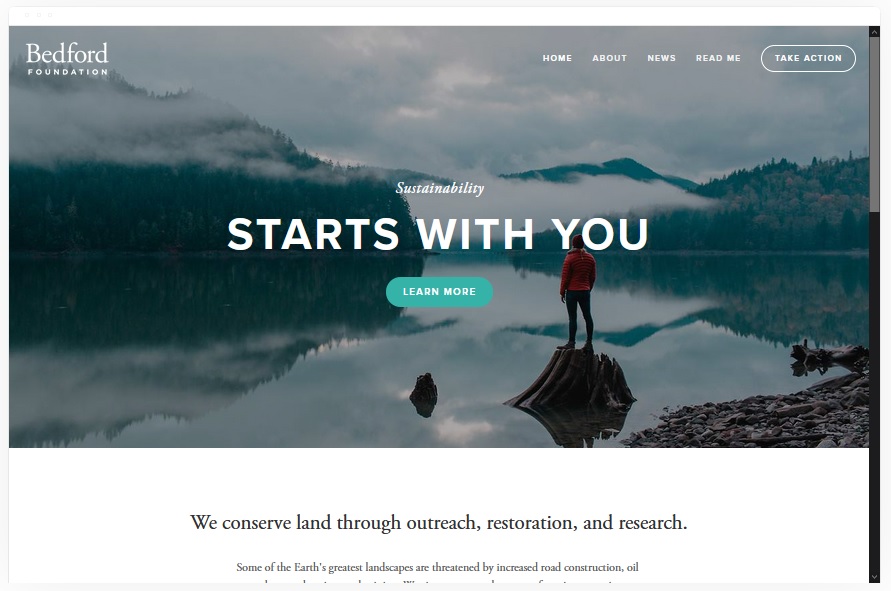 Bedford Highlights:
A fast-loading template, helping you to rank high on Google.
Sidebar navigation and scrolling index page.
Publish high-quality videos to attract audiences.
Add calls to action for customer engagement.
This magazine template will enable you to add a revenue stream by selling merchandise for your brand. You can also have a blog which is great for SEO (search engine optimization) and growing customer engagement. You can customize the banners to align them with your branding.

The pages are fast loading and this website offers a great customer experience. Visitors to your website will be able to navigate it with ease thanks to the sidebar navigation and scrolling index page.

You can also add call-to-action buttons to encourage website visitors to join your mailing list or read further blog content. High-quality videos added to your magazine template will help promote your magazine and your content.
Sofia Rey – Freelancer Squarespace Template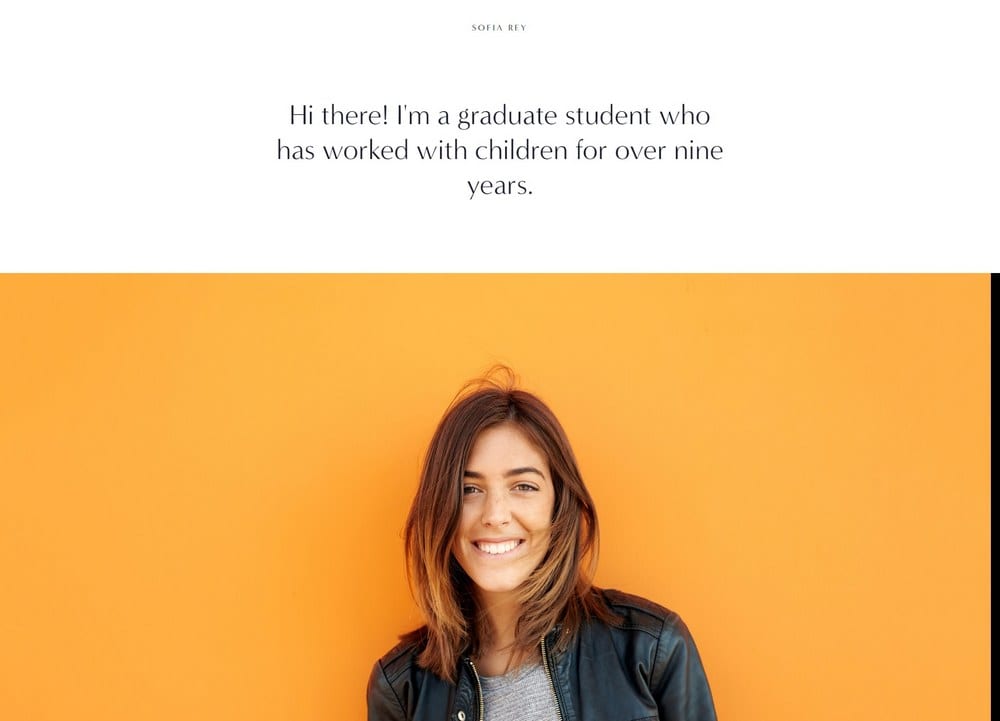 Sofia Rey Highlights:
Vibrant, sleek, and professional design.
Showcase reviews on a reviews page.
Great navigational support.
Add links to profiles on social media.
You can use this template to promote your magazine and connect with social media brands There is also an integrated contact form and a reviews section. There are lots of page options and revenue options as well. This template is sleek and vibrant, it would suit a fashion magazine. The simple menu will help visitors to navigate your site and you can link to social media accounts. This is a great Squarespace template for engaging your audience.
Native
Native Highlights:
A great option for a magazine with a prominent blog.
Build a strong brand and get more engagement.
Clean and modern style, including rounded thumbnails.
Have a location map on all your blogs.
Native is a great option when you want to have a blogging template with social media integration. Social media is perfect for travel bloggers with their audience. The template is used by numerous brands to showcase great images. The main page of the website design has a scrolling design that is clean and modern.

You're able to showcase all your work with ease through galleries. These can include rounded thumbnails which can look impressive on your website. The template includes a location for every blog entry. Therefore, you can not just tell people where you've been but also show them on a map. This can be a great option for making more revenue from your website.
Farro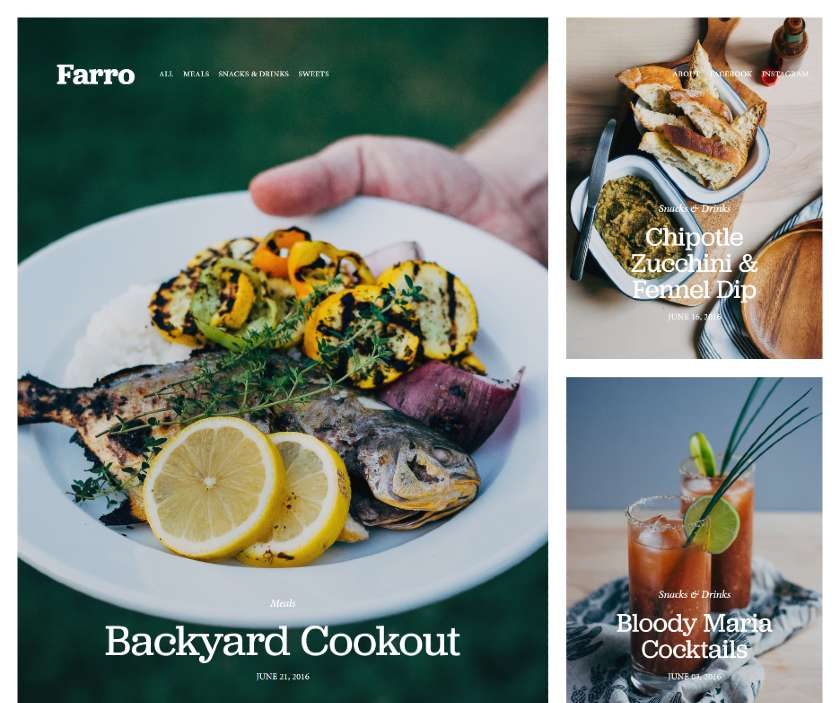 Farro Highlights:
Awe-inspiring magazine-style design.
A great platform for blogging.
Clean and minimalistic layout.
Showcase lots of images.
A nice-looking template that is older but still very popular and it's free too. It's a great option for a blog and showcasing images. This template is easy to use and fast loading, so ideal for ranking well on Google and other search engines. It is in a magazine style so ideal for a magazine website with a minimalistic look and lots of white.

You can add sponsored content and there are eCommerce capabilities for selling merchandise. It is possible to include a shopping cart. This is a great option but it is an older template so it might be discontinued sometime.
Moksha
Moksha Highlights:
Full-width hero image for interesting backdrops.
Split menu with a centered logo at the top.
Call-to-action button to get audiences to take action on your website.
Parallax loading is perfect for speed and website ranking.
This is a great template for a wellness and health magazine with a parallax loading style that is very versatile and good for website speed and fast loading. The hero image will display your main image beautifully to set the tone for your magazine. There is a lot of white space. The call to action button is ideal for getting visitors to your magazine to sign up for your mailing list. There's a split menu with a centered logo at the top. There are lots of options for ranking well with this template.
Top Qualities of Squarespace Magazine Templates
Customizable Design Options

Squarespace Magazine Templates offer extensive customizable design options. Users can tailor layouts, fonts, and color schemes to match their brand identity. This flexibility ensures that each website can have a unique and personalized look.
Responsive and Mobile-Friendly

These templates are designed to be fully responsive and mobile-friendly. They automatically adjust to different screen sizes, providing an optimal viewing experience on smartphones, tablets, and desktops. This feature is crucial for reaching a wider audience in today's mobile-centric world.
Integrated SEO Tools

Squarespace Magazine Templates come with integrated SEO tools. These tools help in optimizing content for search engines, improving visibility and ranking. They are user-friendly and essential for driving organic traffic to the website.
Things to Consider When Using Squarespace Magazine Templates
Content Structure and Hierarchy

When using Squarespace Magazine Templates, it's important to consider the structure and hierarchy of content.
A well-organized site with clear categories and easy navigation enhances user experience. Thoughtful arrangement of articles and sections ensures readers find what they're looking for quickly.
Visual Consistency Across the Site

Maintaining visual consistency is key for a professional appearance. This involves using a coherent color scheme, consistent typography, and uniform image styles throughout the site.
Consistency helps in building brand identity and makes the site more visually appealing.
Loading Speed and Performance

The loading speed and overall performance of the website are crucial. High-resolution images and complex features can slow down the site, negatively impacting user experience.
Balancing aesthetic appeal with optimal performance is essential for retaining visitors and improving engagement.

Conclusion: 10 Best Squarespace Magazine Template
If you are planning on setting up a magazine website then you need to have a great website template that enables you to feature all your articles and images. In this article, there are 10 great options. Which one will you choose?