Some of the most visited websites online are news sites. Why? Because we are always looking for the latest news and gossip to keep informed and discuss with others. So if you want to get lots of traffic with a website business, a news site is a great idea. So we are looking at the best Squarespace News template options available.
What are you Looking for in a Squarespace News Template?
There are numerous features that you want to look for when you need to build a Squarespace News website. For one, you want something that allows you to build a range of stories that feature and drive user engagement. News stories are just like blogs, so any blogging template will be perfect for the role.
Another factor is that you want to have ways that you can monetize the content on your website. There are some options, such as having a membership website, where some articles are free, but customers might have to pay for access to other news articles on the website, or deeper analysis. In the USA and UK, some newspapers are adopting this option.
A third factor is that you want to make sure that you have a website that can rank well on Google and other search engines. A good news website gets 90%+ of its traffic from Google. So you need fast indexing, quick loading times, and perfect keyword positioning on your template to make sure that you can rank before your competitors.
You might also want to consider using other techniques like email marketing and social media to help you build a brand.
So what is a good Squarespace news template? Here are some of the options for you to consider.

Carson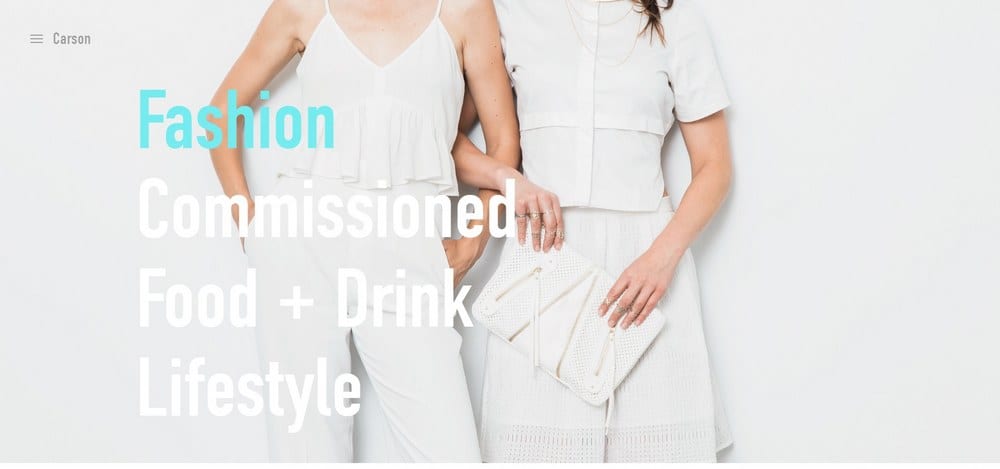 Carson Highlights
One of the more unusual Squarespace templates that you can have for your website.
The static background has an automatically changing background image.
Easy to build and customize your website.
Aided navigation with the hidden menu.

Carson is a Squarespace news template with one of the most unique designs for any website. The static homepage can change the background image depending on what the user's mouse icon is hovering over. Therefore, you can feature media images very prominently on your website and grab attention.

To help with navigation, there is also a hidden menu. The blogging aspect is very easy to do on the platform, and customization to suit branding can be done in just a few minutes.
Avenue Template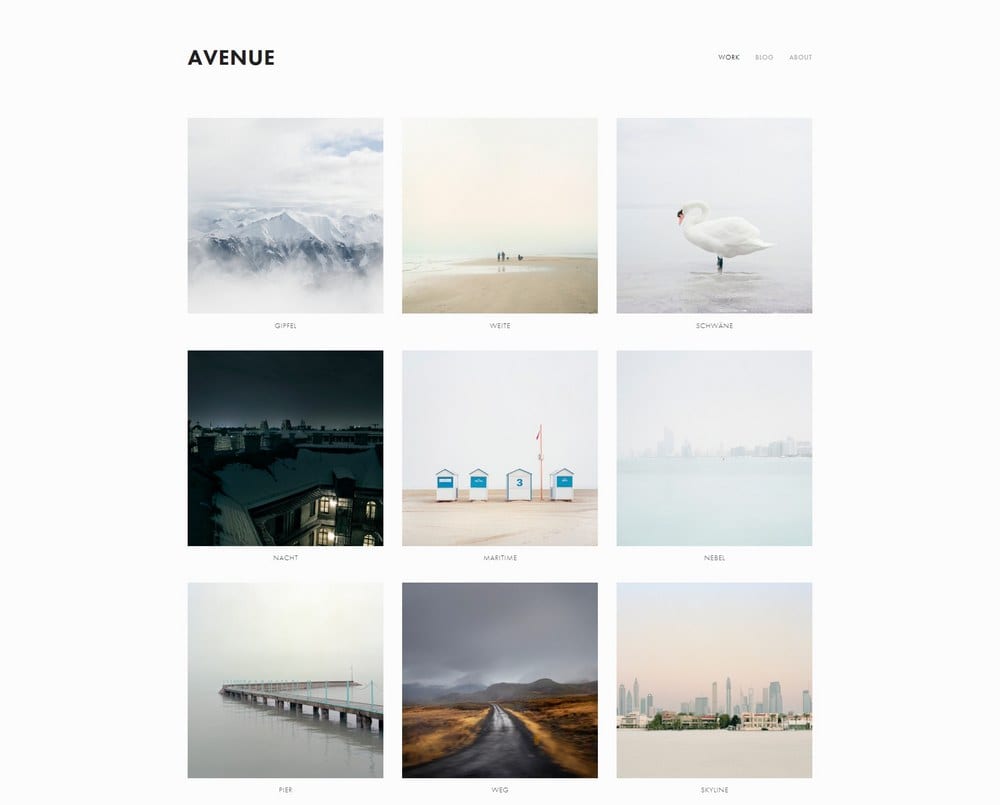 Avenue Highlights:
One of the most professional templates with minimalist features.
Known to be highly converting.
You can easily customize the template for your specific needs.
Add videos and images to every page and blog post.

Avenue is a minimalist template, which is perfect for creating a site that centers on your content. It is really easy to customize, and therefore you don't need to hire a Squarespace expert to help you build your website.

The loading time is excellent on speed and ranking. Therefore, you can build a strong engagement on your website as well as create a website that will rank high. The higher you rank the more traffic you will generate.

There are also options for you to add videos, images, and monetization options.
Myhra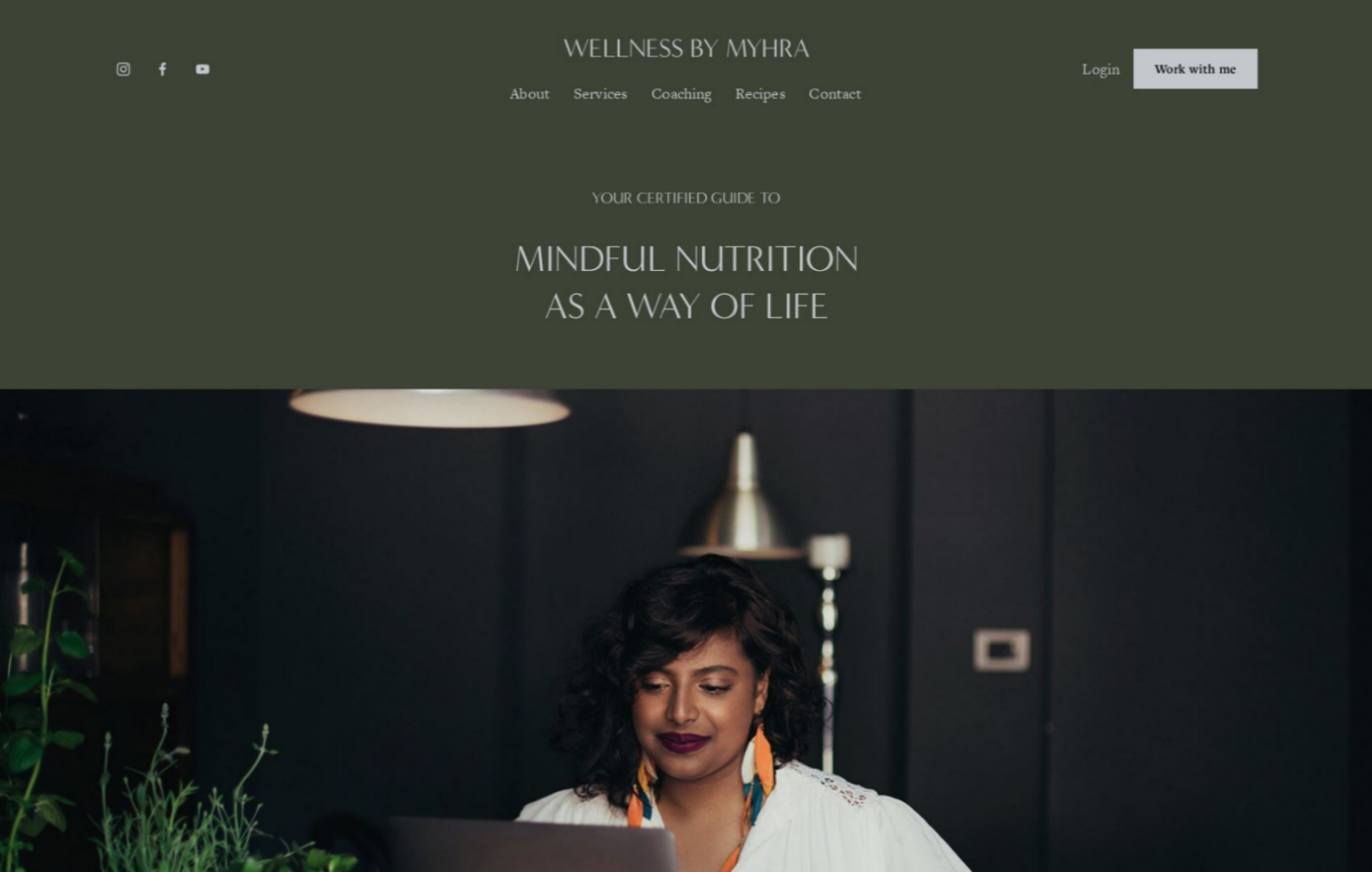 Myhra Highlights:
Sell lots of merchandise, services, or memberships with ease.
Offer lots of online courses, events, and news stories.
The blog is really easy to set up and use.
This is one of the top Squarespace templates for any niche.

This is one of the most perfect templates that you can use for business, eCommerce, or even as a news website. Numerous features can help your audience find the stories they need to read then. And there are premium options to help you monetize the website by selling products, subscriptions, services, and more.

The blog features on the template are excellent, and you can find lots of ways to make your stories interesting.
Skye Template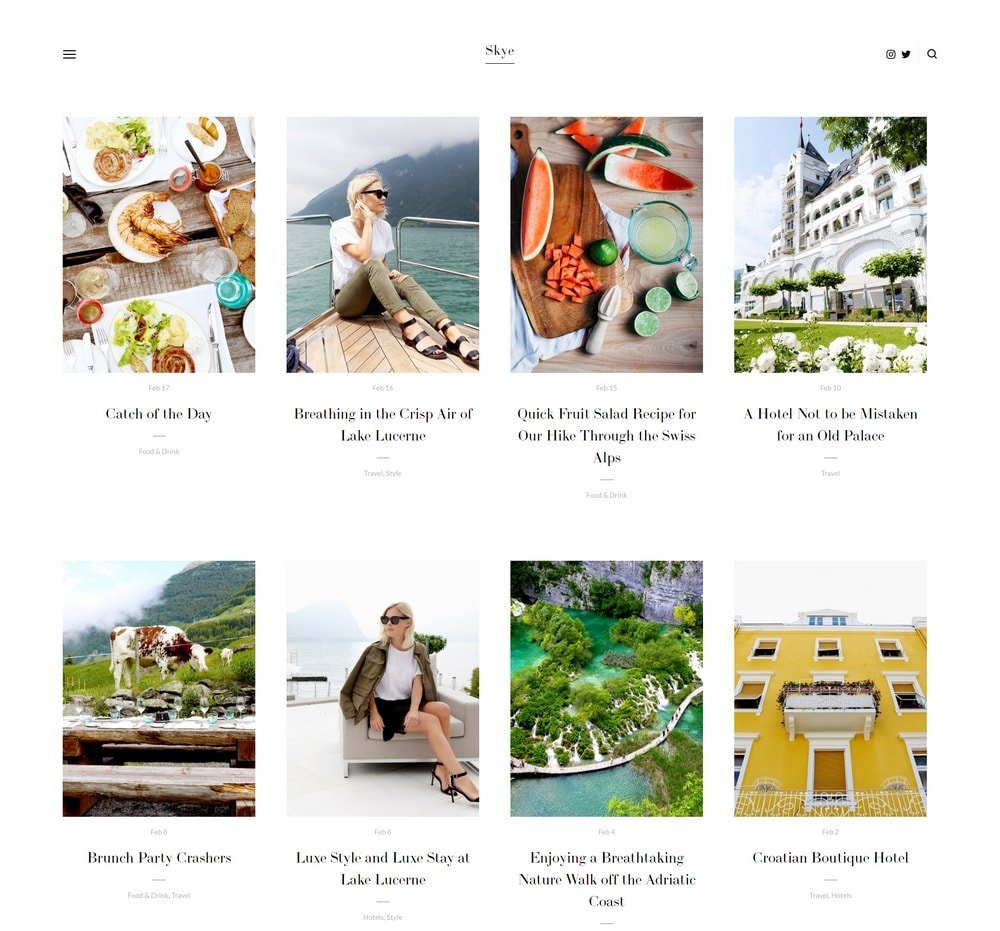 Skye Highlights:
This template has been used by numerous brands across the world.
It is one of the best templates for delivering news stories to readers.
Very fast loading on all devices.
Great platform for monetization of news.

Skye is known as one of the best business and blogging websites available on Squarespace. The template can be used for nearly any niche and you can create a blog that will match your news brand with ease, helping you to reach a larger audience that improves your brand's traffic levels. Each blog post can have images and videos added to them, helping you to bring a story to life.

The template also comes with monetization options, allowing you to make more money on your website.
Hester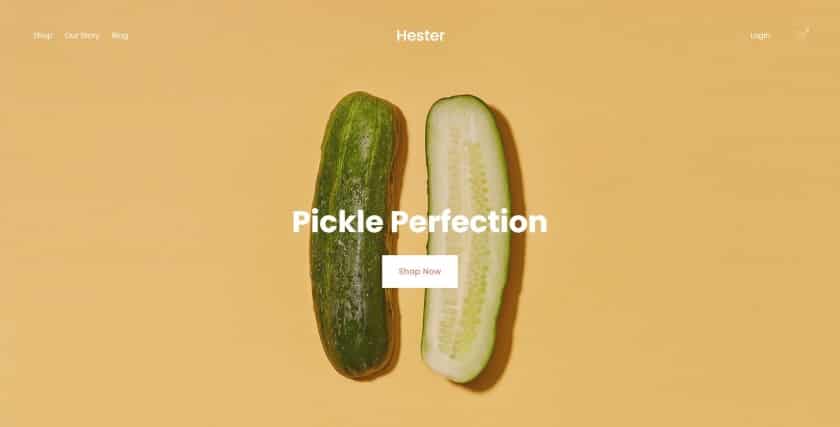 Hester Highlights:
There is a range of modern and fun styles included.
You can create a blog and monetization options with ease.
There are a variety of page options from blogs to about us.
Subscribe visitors to a mailing list with a signup form.

Hester is one of the best templates for those looking to have a more modern or light-hearted nature. It can be more aligned with readers of the younger generation. But it is also a great template for those who are looking to customize their website into a news site. You can change the colors, images, videos, and text. You can make them bold and stand out, directing the attention of the audience to specific stories you want.

There are lots of different page options you can use. And the blog is perfect for building an audience. A few articles a day, and you can bring in a steady number of new visitors to subscribe to the mailing list, a feature that is included with the template.
Suffolk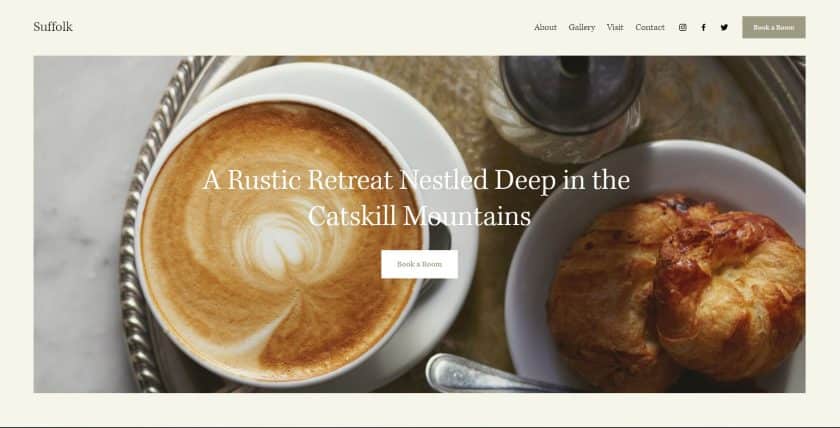 Suffolk Highlights:
This is a suitable template for numerous news niches.
Monetize your content with products, affiliate marketing, membership, and services.
There are two call-to-actions on the front page.
Add a sticky menu to help navigate across your website.

While known for being an eCommerce template for numerous niches, Suffolk is also a perfect Squarespace template for news sites. You can display a hero image on the homepage, within a clean box. And then you can add two call-to-actions that can help direct audiences to the latest news.

To help with navigation there is a great set of menu options. With the fast loading speed and the great background features, this template can rank high on Google and other search engines.
Ready – Freelancer Squarespace Template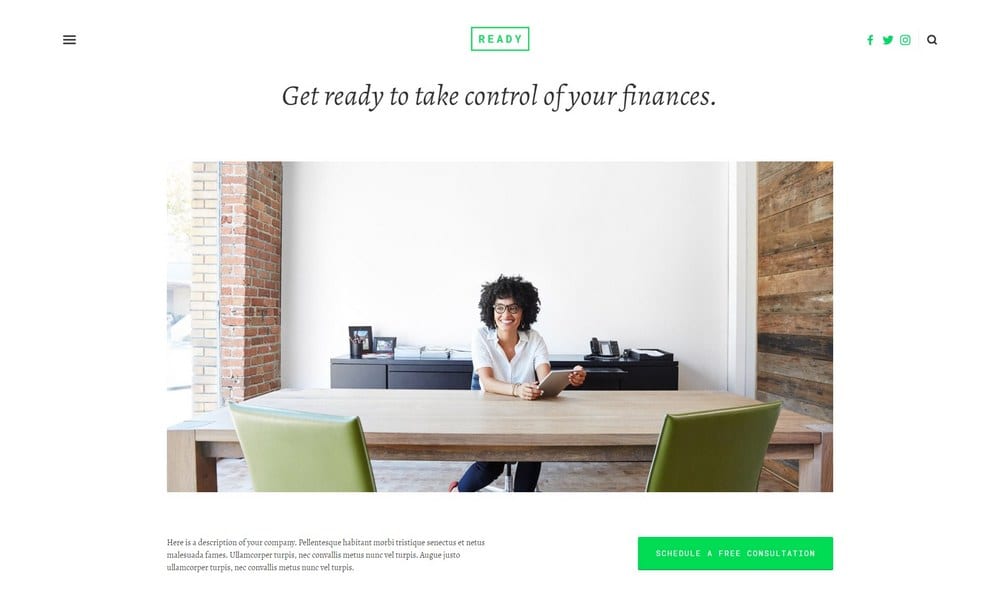 Ready – Freelancer Squarespace Template Highlights:
Connect to social media platforms for visitors to stay connected.
Add a call-to-action button to get more visitors to subscribe to the email.
The theme is fast to load.
The sleek minimalist design helps to focus the attention on the news.

Portfolio websites are a great option for those website builders looking to create a news site.
Ready is a great choice with the sleek, minimalist theme that has a white background and that grid of news stories at the front. It is perfect for showcasing the latest news stories that you've published.

There is a hidden menu on the left-hand side to help navigate across your website. And there are ways to add a call-to-action button for getting people to connect with you. Social media buttons can also be added.
Momentum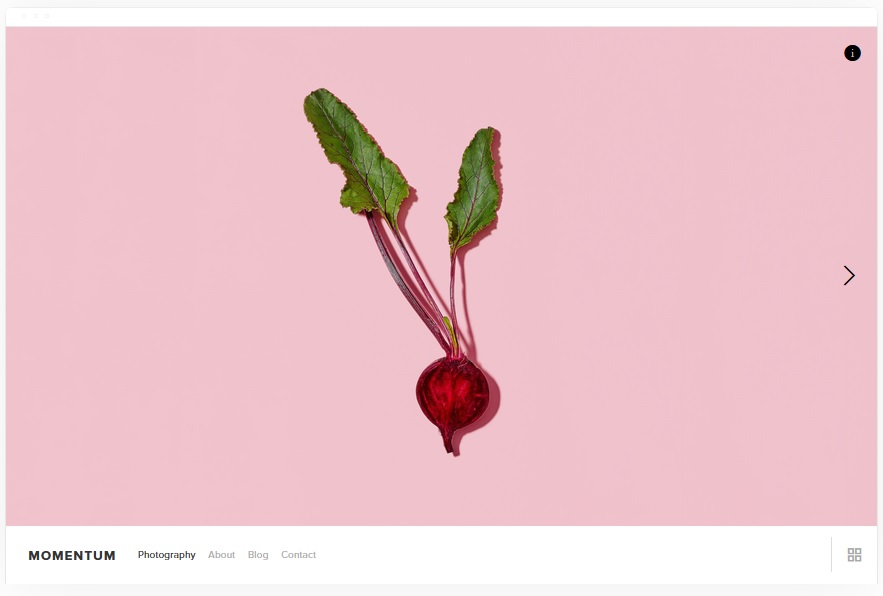 Momentum Highlights:
Highly suitable for specialist news websites.
This has one of the most striking image sets.
Adds a dedicated blogging page.
There is a full-page slideshow to display the news prominently on your website.
Momentum is an eCommerce template that can help you sell. But it is also one of the best
blogging platforms that you will be able to use. There is a full-screen slideshow that can be used to showcase the latest news stories that you're featuring.

There is also a dedicated news page, where the latest stories can be displayed. The template can also be monetized, allowing you to earn while you spread the news.
Alameda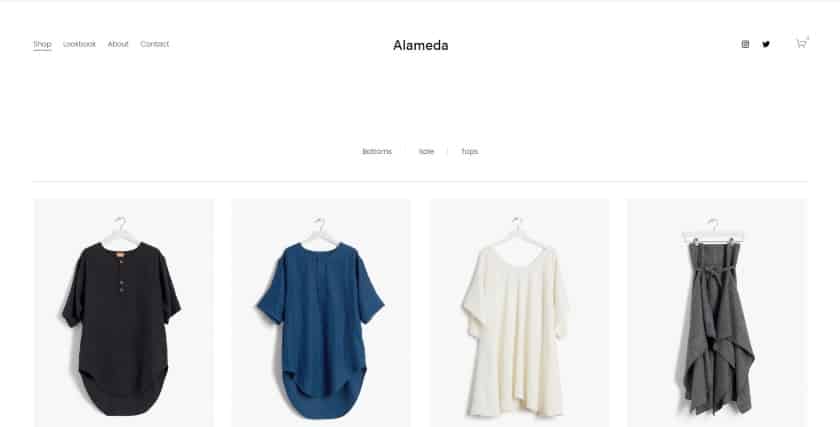 Alameda Highlights:
There are quick-view options for merchandise across your website.
The lazy loading times are there to support your website's speed.
The template is fully customizable.
The clean white background is perfect for focusing efforts on the news.
This template works for numerous website niches. This can include main news stories, specialists, and more. The template is also perfect for those that want to monetize their content or sell products to fund their site.

To help with loading times, this template utilizes lazy loading times. Therefore, images aren't loaded until they're required, something that will improve loading times and ranking on Google.
Sofia Rey – Freelancer Squarespace Template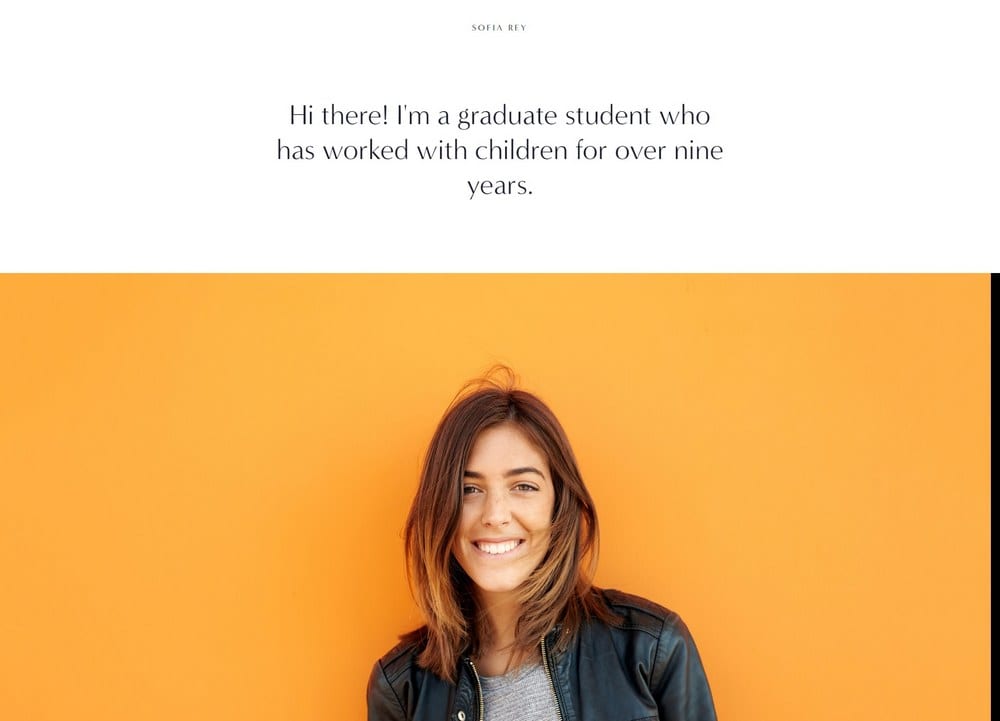 Sofia Rey – Freelancer Squarespace Template Highlights
This is a fully customizable theme.
A perfect template for spreading news within a niche or general news.
Add social media buttons to encourage engagement.
The contact page is really easy to edit.

Sofia Rey template is the perfect template for those who are looking to create a news website with style. The template is perfect for those who are also looking to monetize their content with ease.

There are plenty of options for getting subscribers and customers. There are also ways that you can build a strong reputation with a trust factor. There are also social media buttons that you can use and add to your website.
Final Word: Squarespace News Template Option
Above are the best Squarespace News template options that you can use for your website. Squarespace is a great option for you. You just need to ensure that you choose the template, from the list above, that will suit your niche the best.