Squarespace is not well-known for being an eCommerce website. However, that doesn't mean that it doesn't have the features and functionality to be an eCommerce website. There are plans specifically designed for retailers. Therefore, if you want an eCommerce website, then Squarespace could be a good option for you. But what are the best Squarespace retail templates? In this article, we explore some of the options.
What are you Looking for in a Squarespace Retail Template?
As a Squarespace retail website owner you're going to be looking for specific things within your template to make sure that your visitors become customers. There are several areas that you need to focus on prominence, user experience, traffic, and longevity.
For prominence, you're looking for how the products and services on your website are appearing. Are they there so that the customer can see what they want, click on the product, and check out the details. Are these products hard to find or does it take some work to get the product information? The harder it is, the less success you will have.
The user experience is about how good the experience is for the user on your website. This is a wide area and one that you need to be constantly thinking about. Navigation across your website, loading times, and even the checkout experience is covered in this section.
Traffic is about how much traffic you can generate from the template. With Squarespace websites, you can get improved SEO, fast loading, and also elements to improve keyword density and other aspects to help you grow traffic on your website.
Finally, you have longevity. The most successful eCommerce Squarespace websites are those that can bring customers back. So you want to subscribe visitors to email, get them connected on social media, and have excellent branding. These features can often be found on these templates.
So what are the best Squarespace retail templates? Here are some of the options for you.

Avenue Template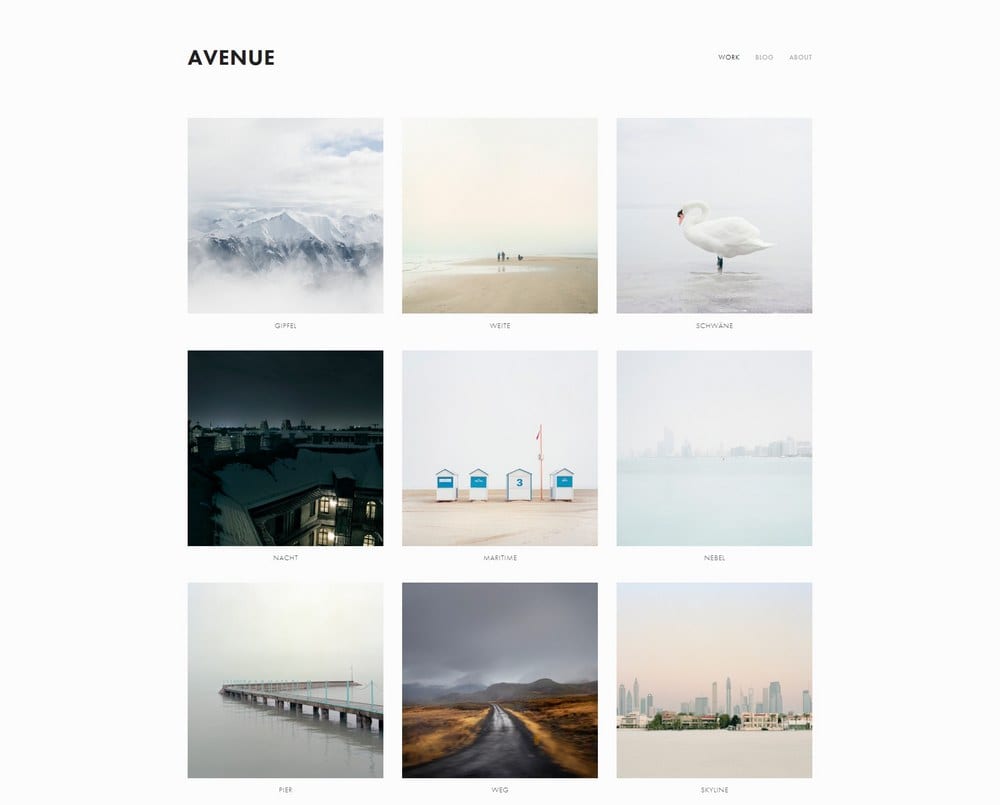 Avenue Highlights:
This is a professional template that has a minimalist appearance.
Converts more visitors than other Squarespace templates.
Can be very easy to customize.
All pages on the template can include videos and images.

Avenue is a professional website with a minimalist look. Therefore, it is perfect for fast loading times that improve ranking on Google and other search engines. The template doesn't lack features, however. You can add videos and images, which can help improve conversions by up to 80%.

And there are additional ways that you can add product descriptions to your merchandise to help you convert more of your audience.
Almar Template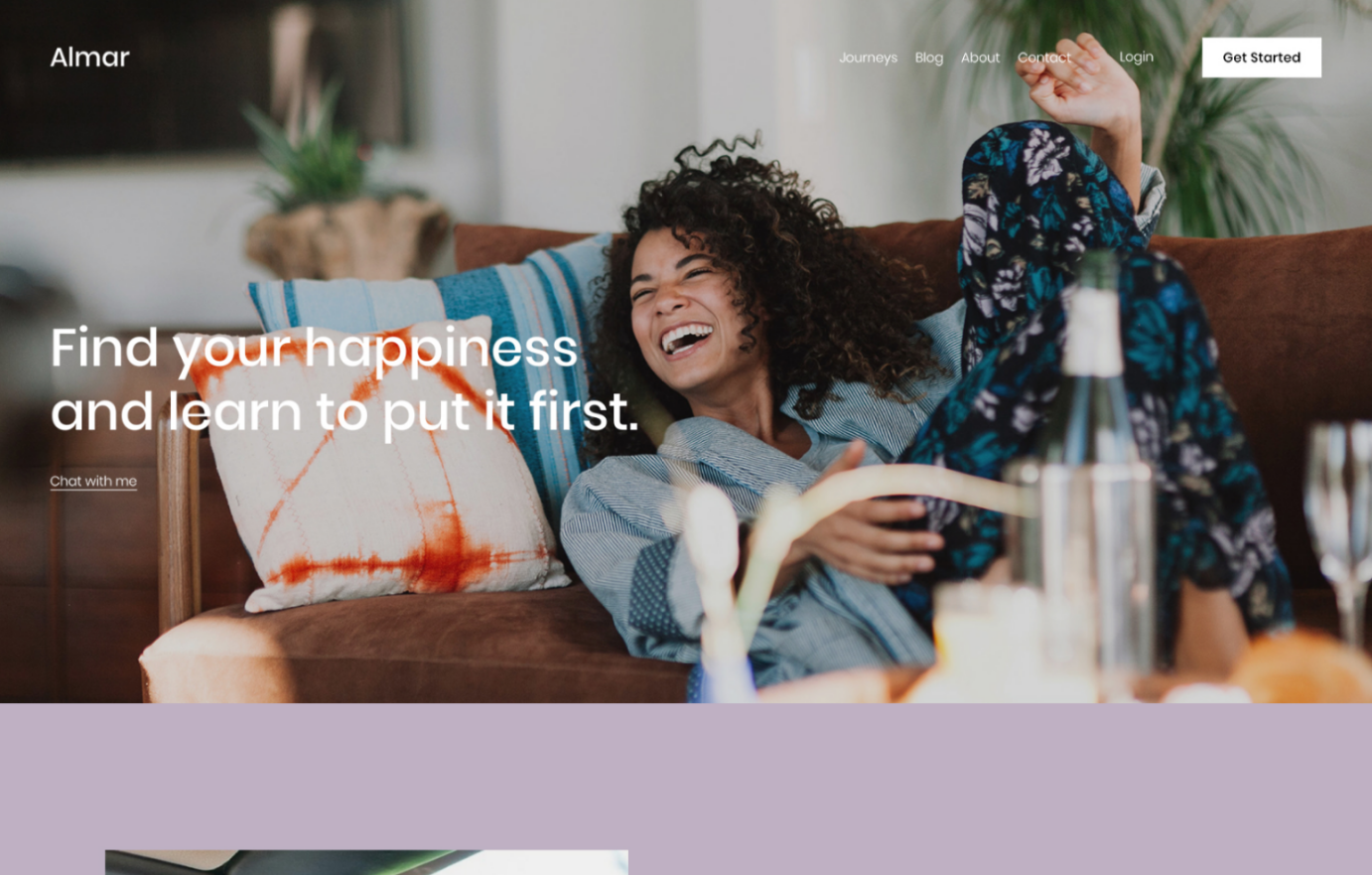 Almar Highlights:
Ranks really well on Google and other search engines.
Very simple to edit, allowing for a website to be built quickly.
There are numerous options for call-to-actions.
Can include a booking system.

Almar is a clean, aesthetically pleasing template that allows you to build a website with only a few minor adjustments to the stock images/text before you can start. The template is perfect for products and services, with eCommerce capabilities that help you maintain a smaller shop.

There is a call-to-action that can allow you to take bookings, subscribe visitors to a mailing list, or contact you for more information on a product. There are also ways to add FOMO and other elements to your products, improving conversions.

Keep in contact with customers as well through social media links.
Bedford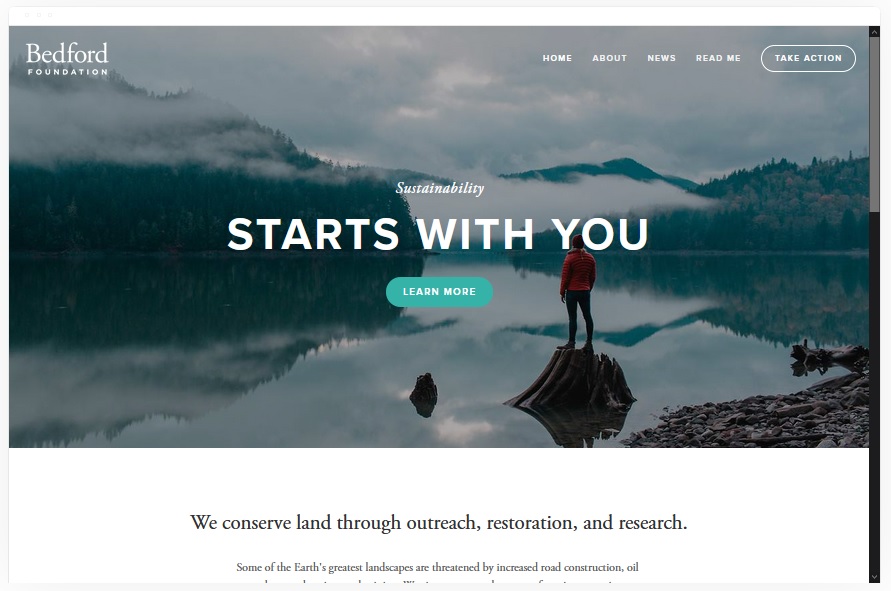 Bedford Highlights:
Easy template to build a great eCommerce website on.
Build a revenue stream with ease.
Great navigation options for your audience.
Help keep in contact with visitors through email marketing.

Bedford is a very popular template that can help you promote your business online with lots of unique features to add to your website. You can sell lots of business services or products, take payments and have a steady stream of revenue from your website. The navigation across the website is made easy thanks to the sidebar navigation and the scrolling index page.

All products can have images and videos added to them, to help conversions of popular and need-to-sell products. And with the call-to-action buttons added to your website, you can get customers to subscribe to your mailing list or contact you on social media.
Myhra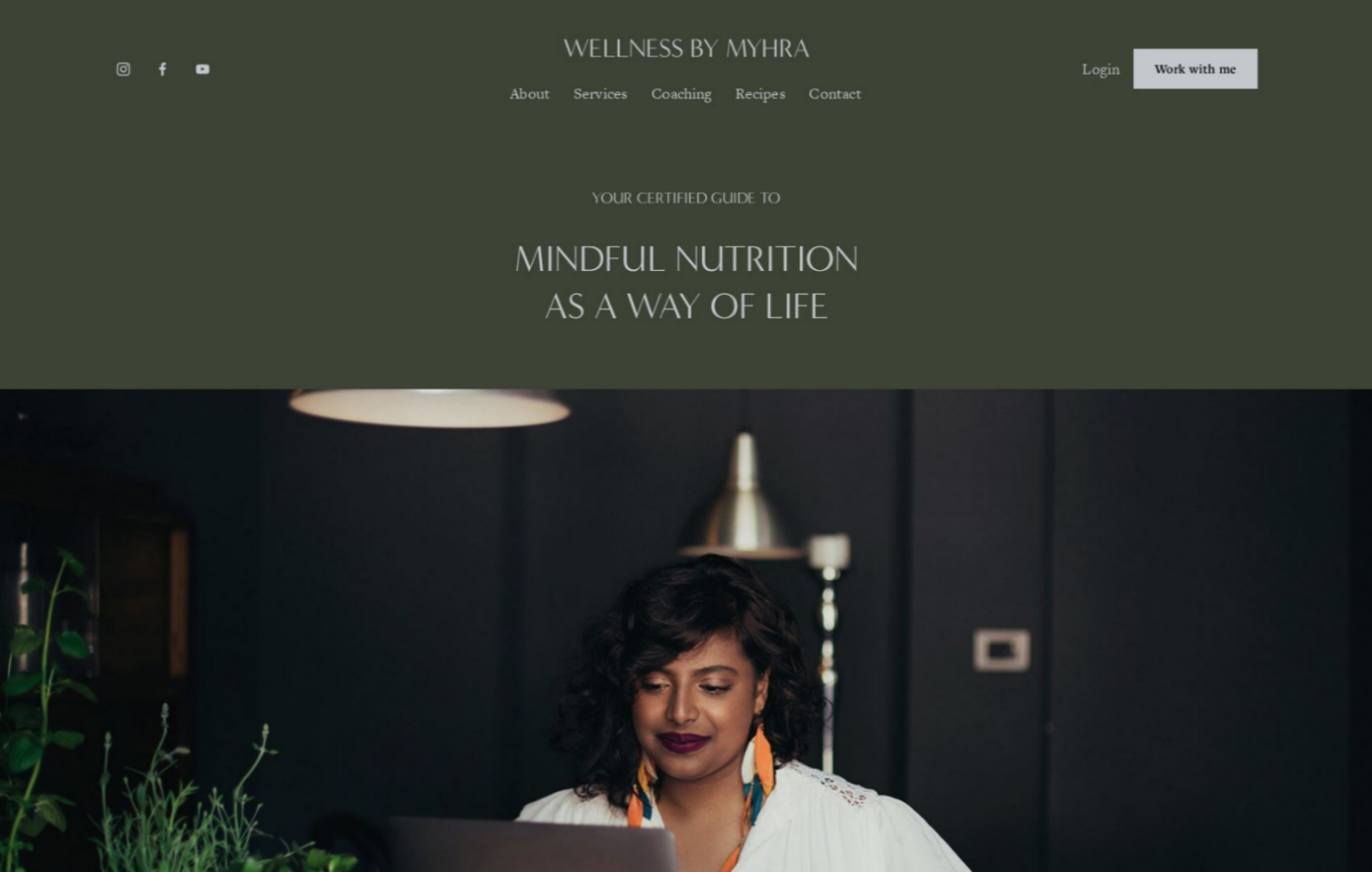 Myhra Highlights:
Sell products on your website.
Offer services, online courses, events, and more.
Added blog to improve marketing efforts.
One of the best templates on offer.

Myhra is a fantastic template that is perfect for eCommerce websites. Numerous features can help your website users to navigate around the site and engage with your brand. There are plenty of perfect options to help you sell products whether they are products, services, courses, or events.

And to help with marketing you can use a blog. Blogging at least 15 times a month can help you increase sales by about 70%. You can also add videos and images to your website with ease.
Harris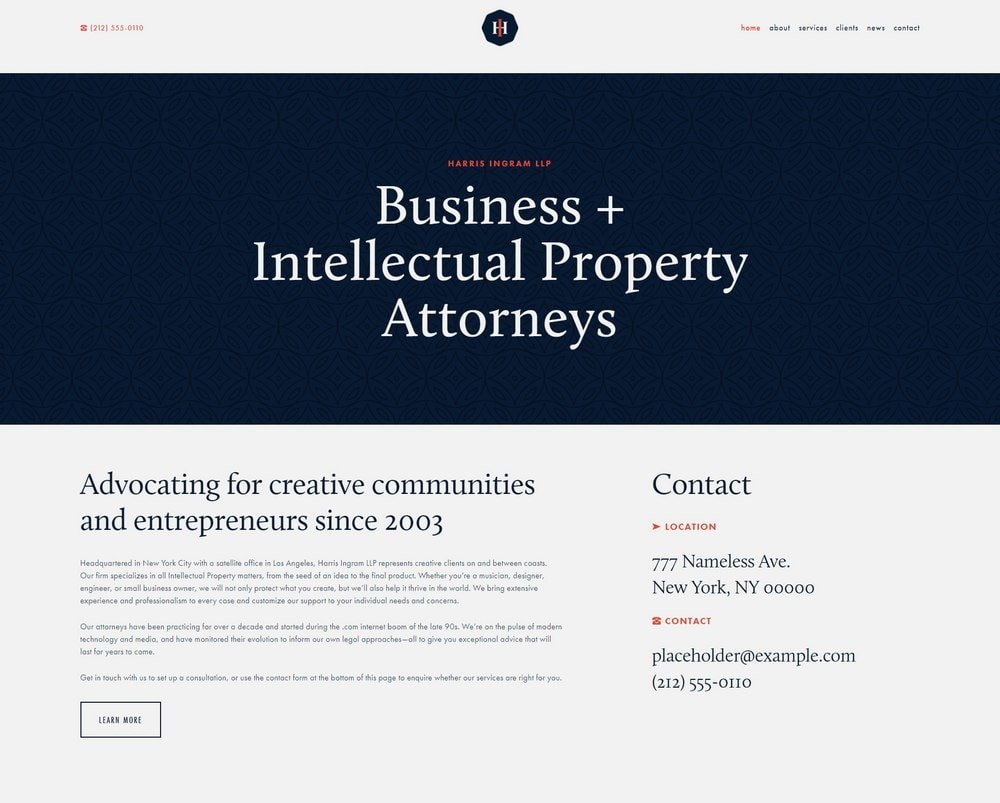 Harris Highlights:
A highly attractive minimalist template that helps you to load pages quickly.
Perfect for ranking high on Google and other search engines.
The template is really easy to customize.
There are lots of options for other pages.

Harris is a minimalist business template that can help you sell products online. The eCommerce options with this template are perfect with easy navigation and other features to improve the user experience on your website.

The template includes numerous pages that can help improve the overall branding of your website. For example, you can have pages dedicated to your blog, about us, services, projects, and more.

And with the beautiful header, this template certainly stands out.
Kent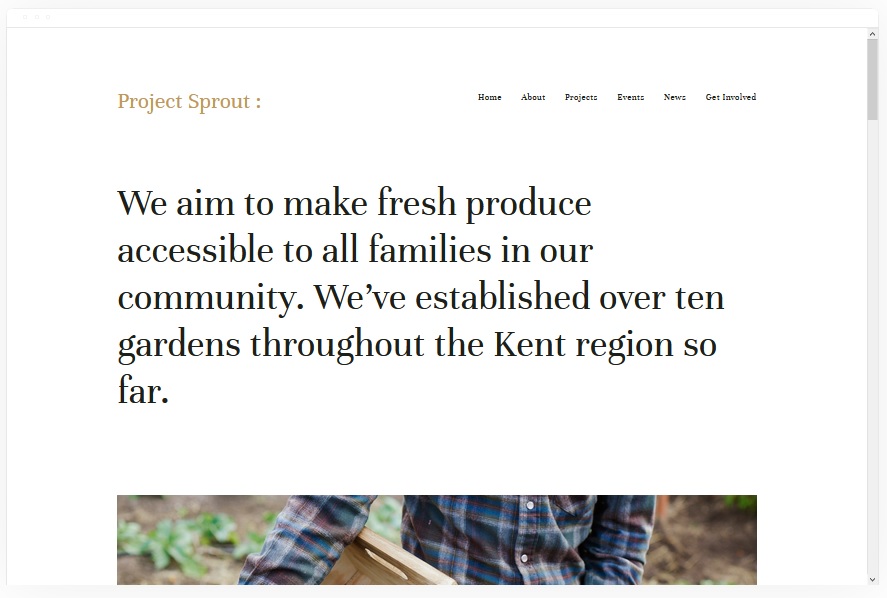 Kent Highlights:
One of the most populated templates, with an attractive design.
The template is perfect for ranking on Google and other search engines.
There are video options, with videos being hosted on YouTube.
You can take payments for products.

Kent is one of the most popular templates on Squarespace. Part of this is because it is suited perfectly for selling products online. You can easily upload your products and images to the template and then improve conversions with simple videos. Videos are hosted on YouTube, so your website's speed is not affected.

The attractive design is also a lure. The design and speed of the site will help you rank high on Google and other search engines. While visitors will be greeted with attention-grabbing headlines that will direct them to the best products on your website.
Wells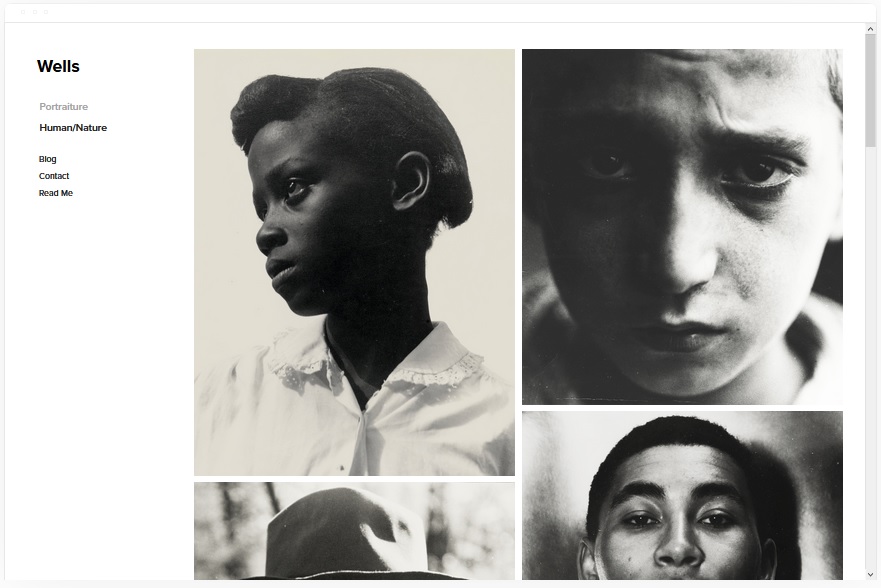 Wells Highlights:
Wells is one of the best templates to showcase high-resolution images.
You can sell products, events, appointments, or lessons.
Upload videos to your Squarespace eCommerce website with ease.
You can add lots of images across your website.

Wells is a great option for those who want a perfect eCommerce store. You can link images to product pages and images can be delivered in high-resolution, perfect for showcasing your best products. You're able to add a variety of images, including artwork, portfolios, and videos.
You don't have to sell products with this eCommerce template. There are options to sell services, bookings, and more through your website.
Galapagos – eCommerce Squarespace Template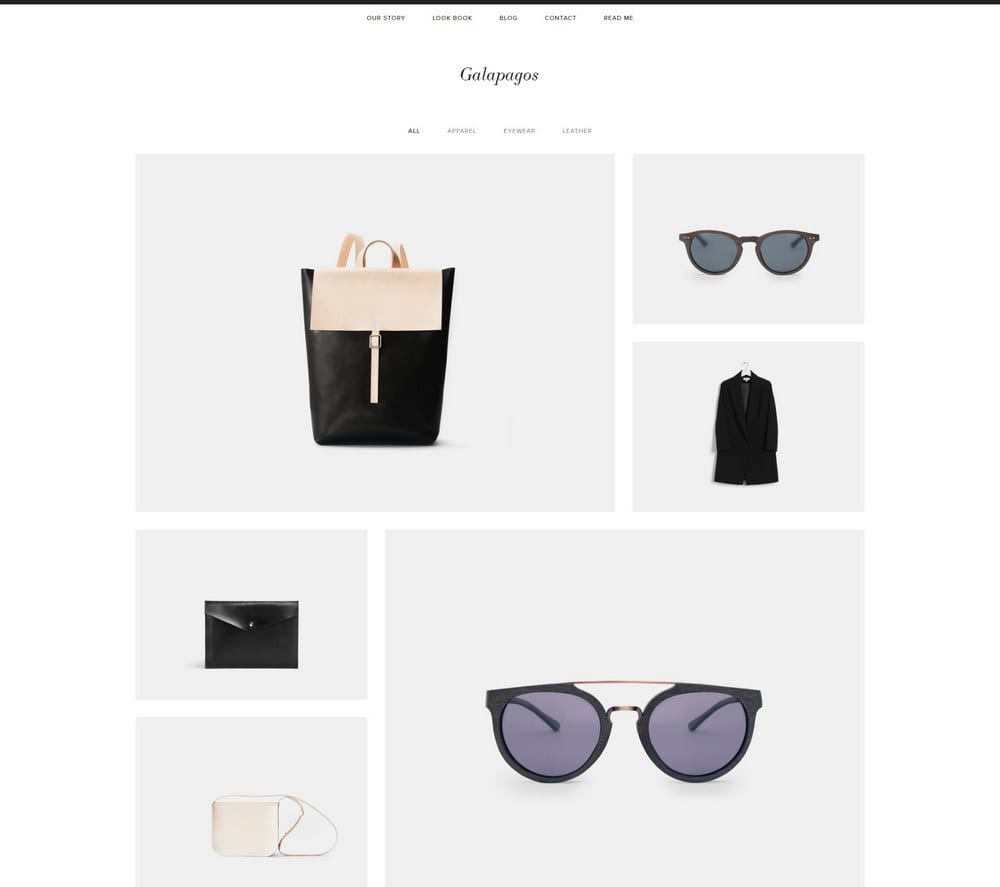 Galapagos – eCommerce Squarespace Template Highlights:
This is a minimal template that allows you to build a fast website.
There are quick view options for letting your customers see a product in more detail.
There is an integrated Squarespace shopping cart system for easy payments.
A top-performing eCommerce template for Squarespace.

This is one of the most dedicated templates for the eCommerce space and therefore, the sleek, sophisticated, and minimalist template is one that you should consider. It can rank high on Google search results and performs perfectly across other search engines. This is partly because the template loads fast.

Numerous features include a quick view option and others that improve the user's experience. And the easy navigational options across the template allow your audience to find what they want quickly.
Alameda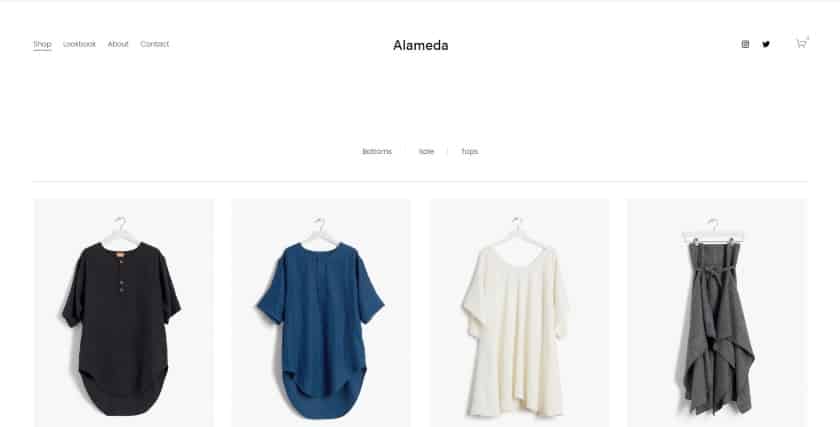 Alameda Highlights:
Alameda is perfect for brands with a small product catalog.
Designed with the latest conversion features.
There is a recommended product option to highlight the best products.
Lazy loading improves loading times and search position.

Alameda is a great option for those website owners who want to sell on Squarespace but want to have a small catalog. The up-to-date features are excellent at being perfect user experiences and top-performing SEO features for your website. The quick view options allow audiences to look at a product in more detail, without moving from their browsing page.

The template is quick to load, with lazy loading. Therefore, this template has the potential to rank very high on Google and convert more of your visitors.
Final Word: Squarespace Retail Templates
Above are the 10 best Squarespace retail templates that you can use on your website. These templates are perfect for numerous brands and can be used quickly and efficiently, without you having to rely on a Squarespace developer. So which template will you use?