If you are planning to set up a new website for your salon then you will want to use one of the best Squarespace template options. A great template will keep visitors on your webpage and encourage them to explore your website and find out more about your salon.
In this article, we share with you ten great salon template options for your new Squarespace salon website.
Why Choose One of the Best Squarespace Salon Template Options?
You are going to want a great template to showcase your salon. The first thing people will see is your images so you might want a large hero-style image to attract attention or lots of smaller images of luxury salon pictures. You can also create galleries of your portfolio.
You must choose a fast-loading Squarespace template to help with search engine ranking. You'll also want a template that works well on all devices including mobiles. A good menu option will help your website visitors to navigate your website. Other functions can enhance your website like call-to-action buttons and buttons for social sharing.
A blog is essential for reaching a wider audience and for ranking well on Google and other search engines. You will need to make sure you have a great SEO (search engine optimization) strategy and need to also make sure you post at least fifteen posts per month with the right keywords and keyword density etc.
If you're looking for a salon website, then you might want to have a scheduling system. With Squarespace, you can benefit from the Squarespace scheduling system. This allows your customers to book appointments at your business. You can also use eCommerce features to take payment for the appointments, so you are never out of pocket if the customer decides not to attend the appointment.
You might also wish to have eCommerce options for your salon so you can sell your salon products online to increase your revenue. You might partner with some salon supplies and wish to sell these from your website. You might even want to look into dropshipping or affiliate marketing.
So which of the Squarespace salon templates will you choose to use for your new Squarespace salon website?
Harbor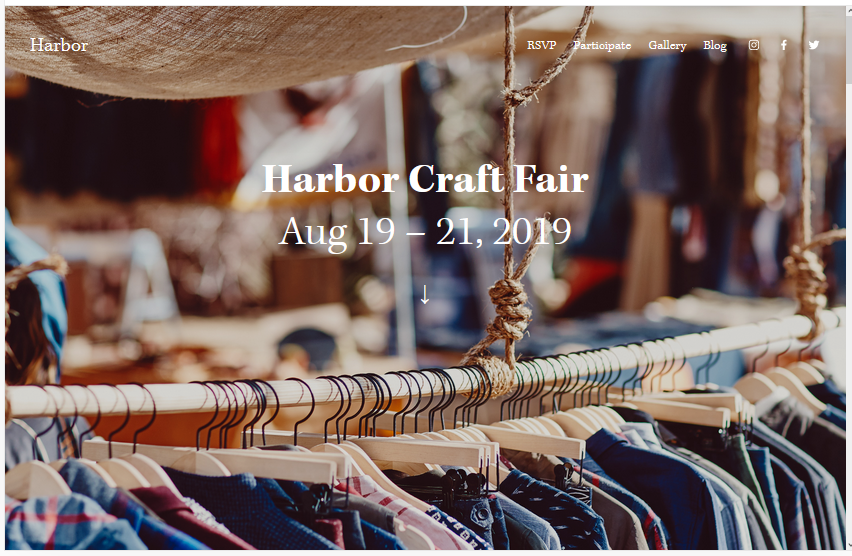 Harbor Highlights:
A beautiful background image.
Top-right menu bar.
Showcase your projects.
A fast-loading template.
This aesthetically pleasing template has a beautiful background image. It works well on all devices, including mobiles, and is a fast template perfect for ranking on Google and other search engines. There is a simple navigation with a menu bar in the top right. You can also include a call to action.
Ventura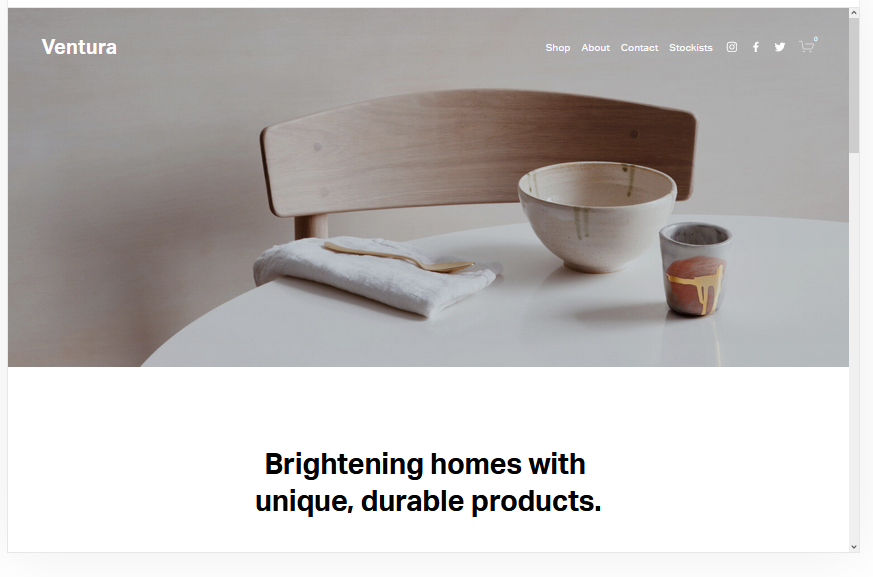 Ventura Highlights:
Lots of pages that you can add.
A clean and minimalist design.
Rank high on Google and other search engines.
Add high-quality images that can build trust
This is a great template with a minimal and clean design. You can rank highly on Google and other search engines. You can add lots of information on pages like contact, about, shop, homepages, and lots of great images. There is a sign-up aspect to help people sign up for your mailing list.

Carson – Portfolio Squarespace Template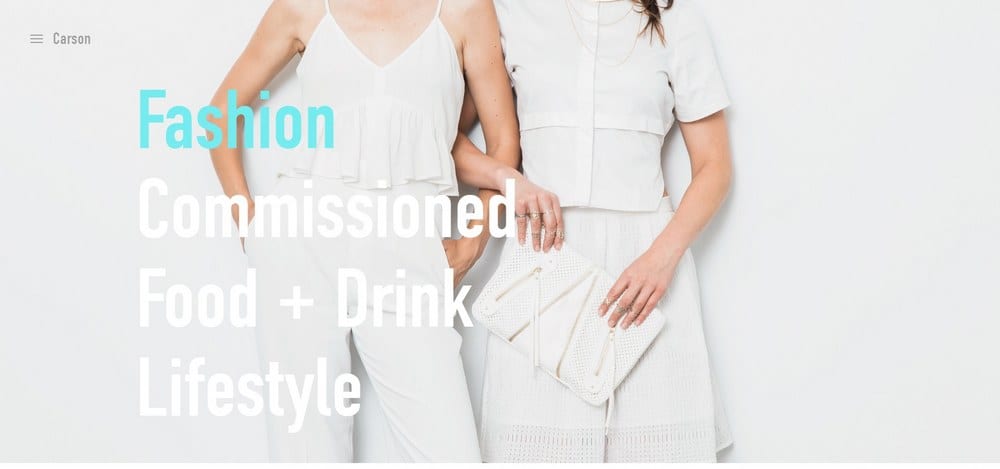 Carson Highlights:
An easy template to use.
Changing background to engage customers.
Hidden menu to aid navigation across your site.
Page options include contact, about, services, project, etc. pages.
This is a great template to help you produce an engaging website with a background image that changes as the website visitor's cursor hovers over a link. This is a very straightforward template to customize and maintain. It works well on all devices as well. There is hidden menu navigation and you can include a variety of pages like contact, about, services, project pages, etc.

Bedford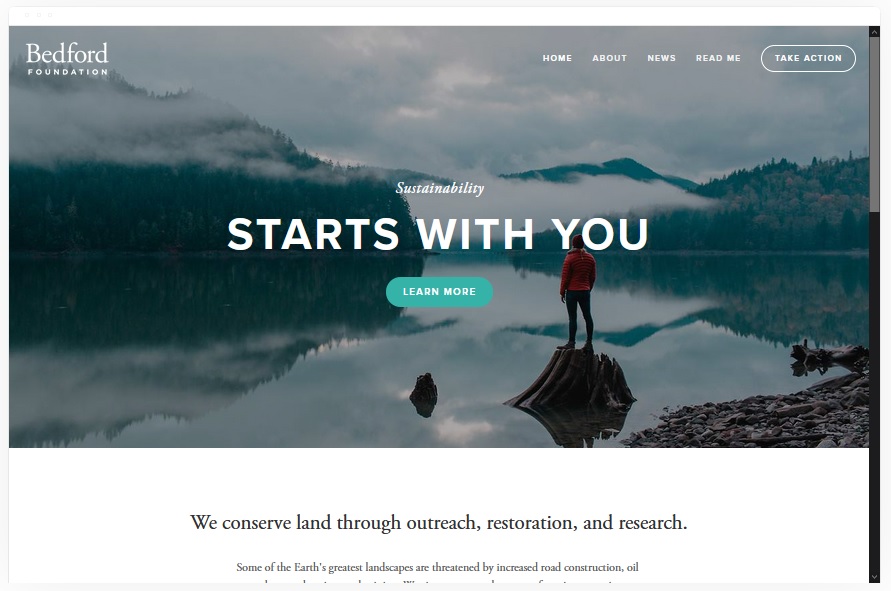 Bedford Highlights:
Lots of features included.
Easy website navigation with sidebar.
Features for promoting projects.
Every page can have images and videos added.
With this template, you can add lots of useful features, including eCommerce. This is particularly helpful if you would like to sell your salon products online as well as in your salon. You can include both images and videos on every page. There's the opportunity for a project page to showcase the latest projects in your salon. You can also add banners to promote your salon and each banner can have a call to action added. There is a sidebar navigation of your store to make it easy for your customers to move across your store.
Jasper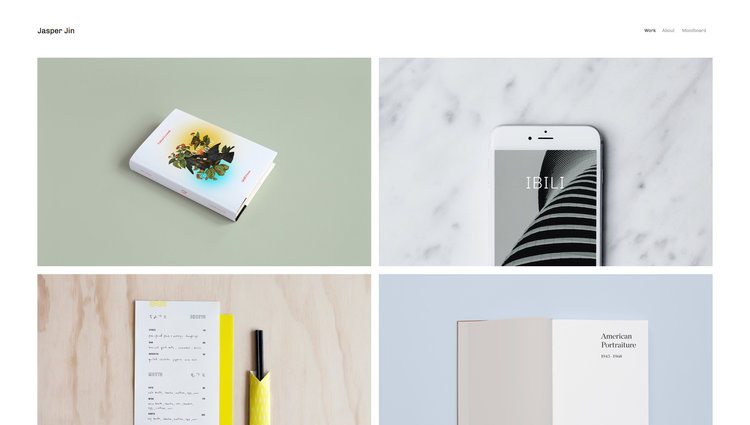 Jasper Highlights:
Fast loading times.
Professional homepage appearance.
include animations to engage customers.
create and promote project pages

This professional-looking template is easy to maintain with lots of great features. You can add photos to the grid-based design perhaps to show before and after pictures from your salon. Blogging will help you tell stories about your salon. You can also include animations to engage your web visitors. You will also have the potential to rank well on Google and other search engines on this template due to the fast loading times.

You can also add scaling fonts in page headers. You can increase your storytelling options by creating and promoting project pages. Perhaps if you are expanding your salon or are working with a new brand of beauty products.

Skye – Modern Blog Squarespace Template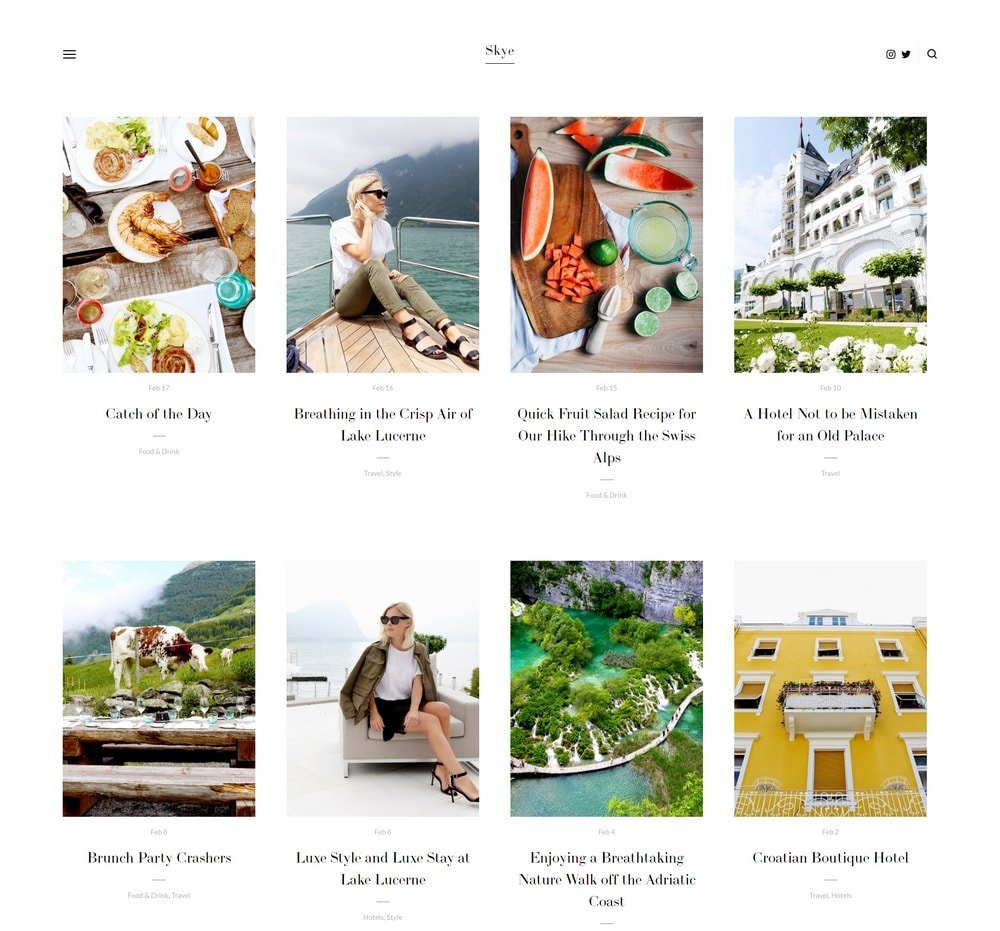 Skye Highlights:
Used by numerous brands worldwide.
A great option for blogging.
A lot of visual appeal with a variety of media.
Full-screen mode to help focus the attention of the audience.
This is a popular modern design that is visually very impressive. It is a great choice for blogging about your salon and will help you rank on Google and other search engines with ease. There are lots of opportunities for images and other media like videos which can be very engaging to your clients. The full-screen mode can also focus the visitors' attention. This template is very easy to use with a simple page design.
Sofia Pazari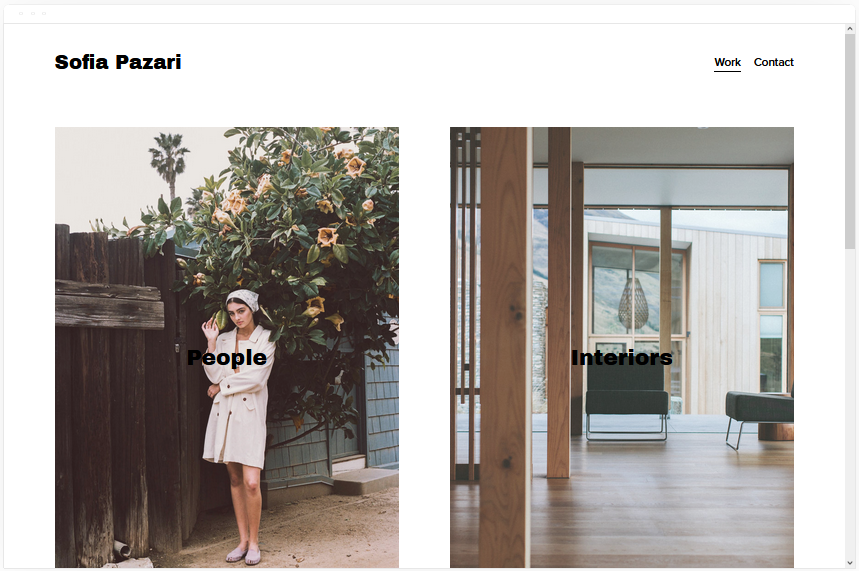 Sofia Pazari Highlights:
Perfect for ranking on search engines.
Showcase two core images that link to other pages.
Place a simple menu located in the top right corner.
Lots of page options.
This is a clean and aesthetically pleasing website that will enable you to showcase two large core pictures from your salon. These images can link to other pages, like services or products. It has a minimalist design that is easy to customize. There's a menu in the top right corner of the template that will help your customers navigate your website. This template will work well on all devices. It will also rank well on Google and other search engines.
Wycoff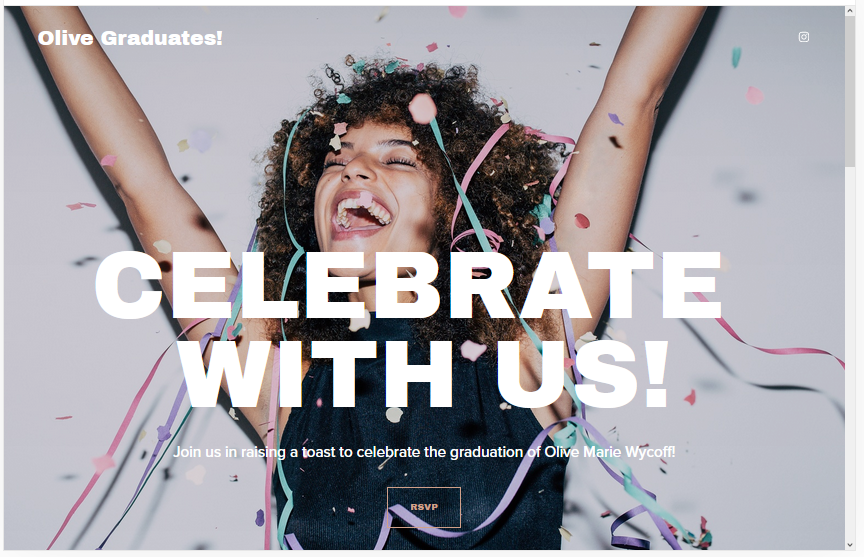 Wycoff Highlights:
Minimal, one-page Squarespace template.
Displays well on all devices.
Include lots of images.
Add call-to-actions to your website.
This template is a one page, minimalist website template that makes it very easy to manage. There's lots of space to add images of your salon and before and after images. This is a high-performance template that displays well on all devices, including mobiles. You can add a call to action button to encourage website visitors to visit other pages.
Crosby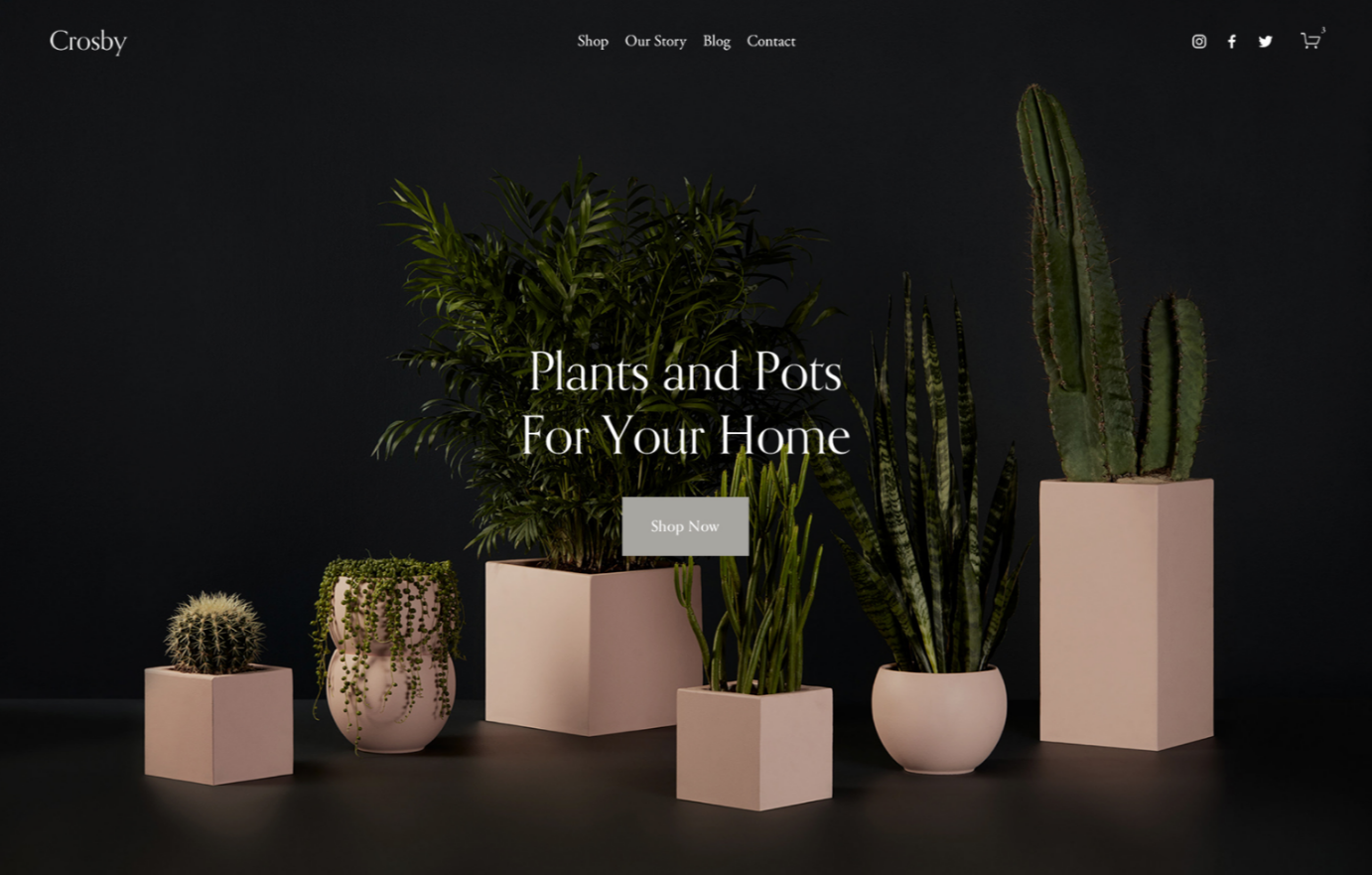 Crosby Highlights:
Aesthetically pleasing website design.
Customize with ease.
ECommerce capabilities.
A fast website template to help with search engine ranking.
This template has a darker tone which might suit your salon colors and the colors can also be
altered. You can link to your blog posts with ease. This template will offer you a fast-loading website which will enhance your web visitor experience. There are eCommerce options for you to sell salon products. This is an aesthetically pleasing design. You can link categories on pages and also link blog posts to keep your website visitors engaged. You can include lots of information areas.
Hester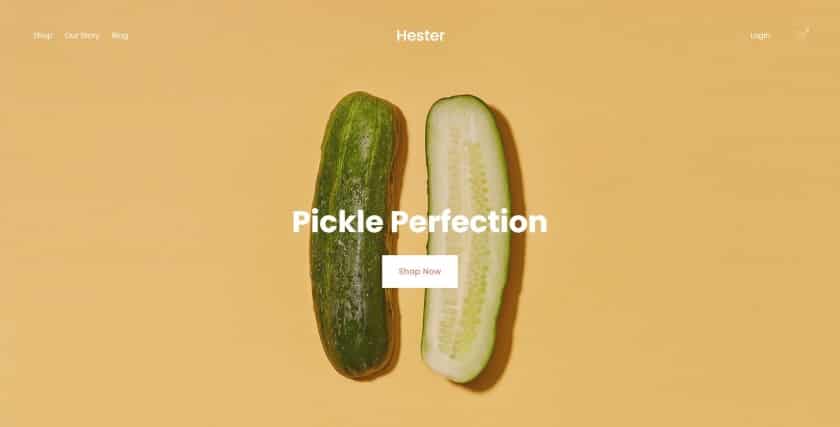 Hester Highlights:
A fun and modern template.
Perfect for eCommerce.
Add a 'shop now' button.
Features to help you build a mailing list.
This template offers both blogging options and eCommerce so you can sell products available in your salon on your website as well. The shop now button will also help to encourage sales. You can also add an about us page to let people know about your salon staff. You can also subscribe visitors to your mailing list so you can keep in contact with them and send special offers. Hester is a fun and modern template with styles that can be customized to suit your brand.
Unique Features of the Squarespace Salon Template
Customization Ease

Squarespace salon templates offer remarkable customization flexibility. Users can easily modify colors, fonts, and layouts to match their brand identity. This adaptability ensures that even with a common template, each salon's website can have a unique and personalized look.
Integrated Functionality

Templates come with built-in features crucial for salon businesses, such as appointment booking systems, contact forms, and service listings. These functionalities streamline the user experience, making it convenient for clients to interact with the salon online.
Responsive Design

All templates are optimized for mobile devices, ensuring that your website looks great and functions smoothly across all platforms. This responsiveness is vital as a significant portion of clients access salon websites via smartphones.
Things to Consider When Choosing a Squarespace Salon Template
User Experience

A key factor in selecting a template is the user experience it offers. It should be intuitive, easy to navigate, and visually appealing to ensure clients can find information and book services without hassle. A cluttered or confusing layout can deter potential customers.
Brand Alignment

The chosen template must align with the salon's brand image and principles. Whether the brand is luxurious, minimalist, or vibrant, the website should reflect these qualities to create a consistent brand experience. This alignment helps in building trust and recognition among clients.
Feature Suitability

Evaluate the specific features each template offers and how they cater to the salon's needs. Essential features might include appointment booking, service listings, and e-commerce capabilities for product sales. The right mix of features can significantly enhance operational efficiency and client satisfaction.

Conclusion: 10 Best Squarespace Salon Template Options
When you wish to set up a website for your salon you will want to choose one of the best templates for salons. In this article, we showcase 10 great options. Which one will you choose?