When you are setting up a travel website you are going to want to have a great template that showcases all your amazing high-quality photographs of your travel destinations. There are lots of options for travel templates. You might want a large hero photo to give a feel of what your travel brand is all about. Or, you might want to set up your website a magazine style with photos set up in grids and perhaps linking to your blog posts.
In this article, we share with you the ten best Squarespace travel website templates for you to take a look at.
Why Choose One of the 10 Best Squarespace Travel Website Templates?
A blog is really important for your Squarespace travel website. This is where you showcase all the amazing places people can travel to. Some of these templates add a location image for the blog posts as well. You might also want to include videos to increase engagement and add social media links for social proof.
There are different template layouts so your design template depends on your personal preference. Do you have a key image you would like to showcase or would you like to display several images in a grid-based style? Call-to-action buttons are great for connecting to further blog posts or for requesting email sign-up to keep in contact with visitors to your website.
So, take a look at the options below for the 10 Best Squarespace Travel Website Templates.
Ready – Freelancer Squarespace Template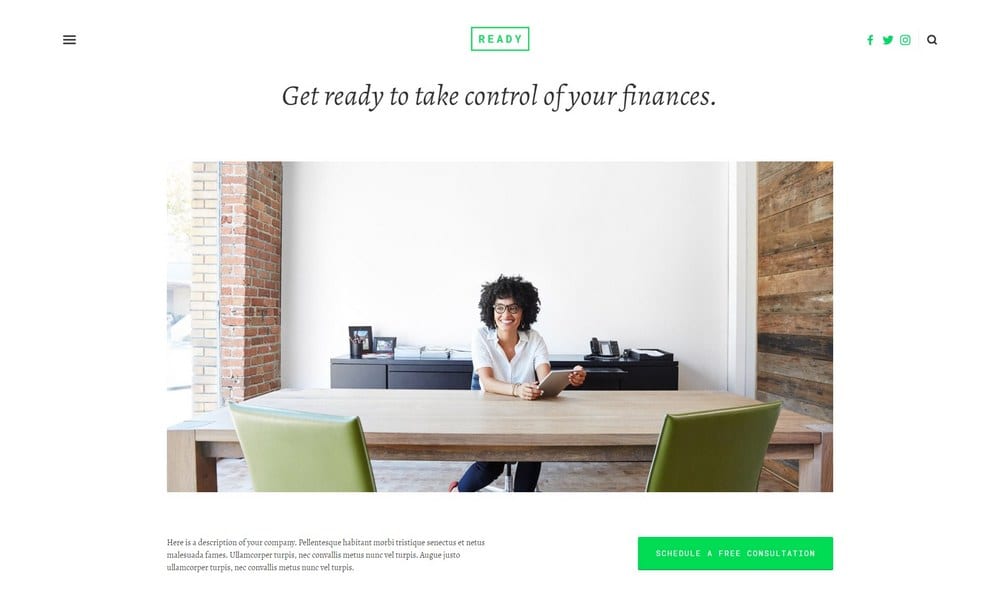 Ready – Freelancer Squarespace Template Highlights:
A sophisticated and stylish look.
Showcase high-quality images.
Use a call to action button for inquiries.
The menu is hidden on the left-hand side.
This is a great minimalist and stylish template for impressing visitors to your blog. This template is ideal for showcasing all your travel photographs with a white background. It has a fast loading time and will therefore rank well on Google and other search engines. You can also link your social media accounts and include a call to action button for inquiries or direct visitors to other articles. The navigational options will help your visitors move around with a hidden menu on the left-hand side that slides out.

Skye – Modern Blog Squarespace Template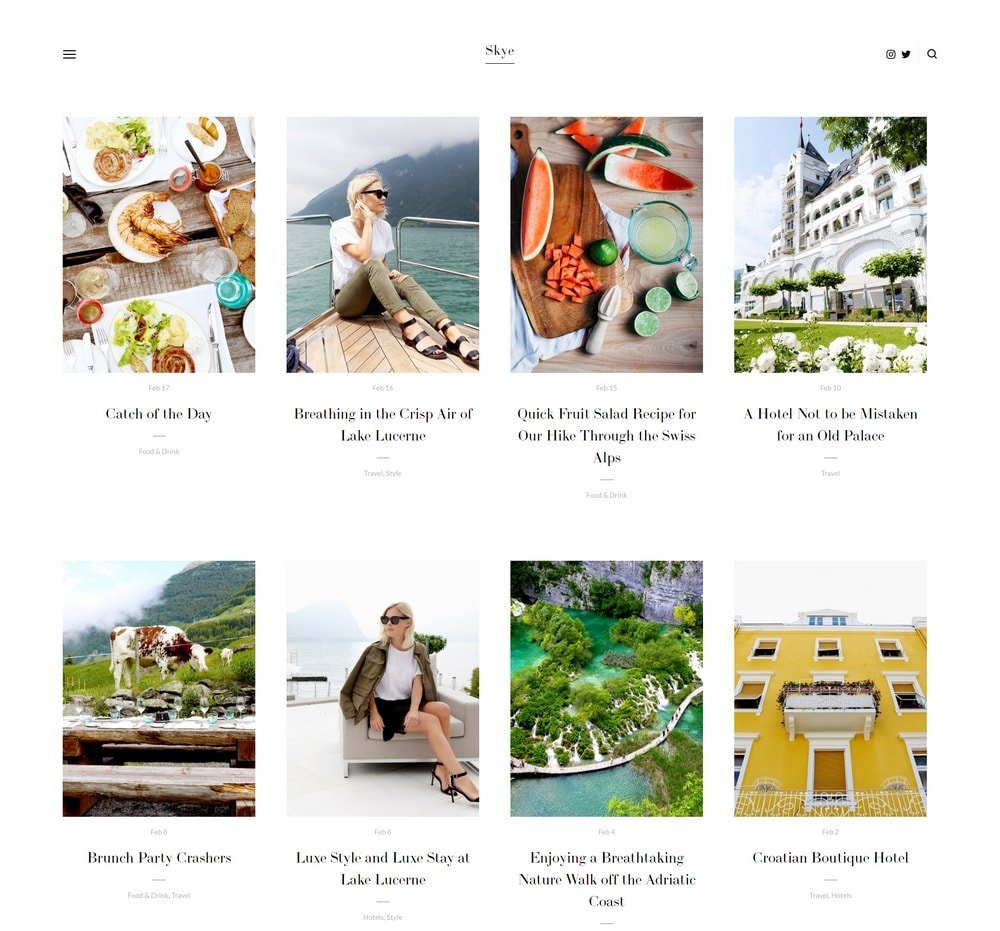 Skye – Modern Blog Squarespace Template Highlights:
Perfect for showcasing photos on your blog posts.
A minimalist design.
Has numerous features.
An easy-to-update grid-based design.
This modern, minimalist template is great for a travel website and is a great option for showcasing your travel photography in a grid-based layout. Being mobile responsive, your website will work well on any device. There's a full-screen design and this template is easy to update and edit. The navigation of the website is great with a slide-out left-hand side menu when the visitor clicks on the menu item. The template is also fast and works well on any device, so will help you rank on search engines.
Jasper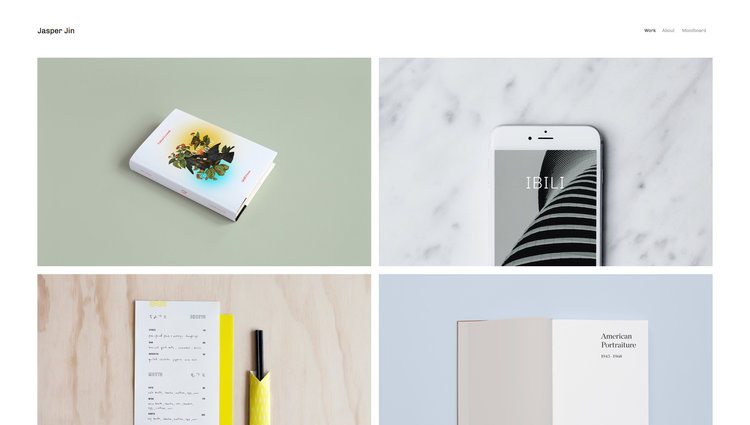 Jasper Highlights:
A simple template.
Include animations that will engage your audience.
Scaling fonts that can be used within the page headers.
Fast-loading pages.
This simple template is ideal for a variety of media, including travel photos, and is easy to maintain. The design is grid-based which helps it to load fast and rank well. You can include animations to engage your audience and keep them on your website. Scaling fonts can be used with page headers. Similar blog posts can be kept in one place.
Rally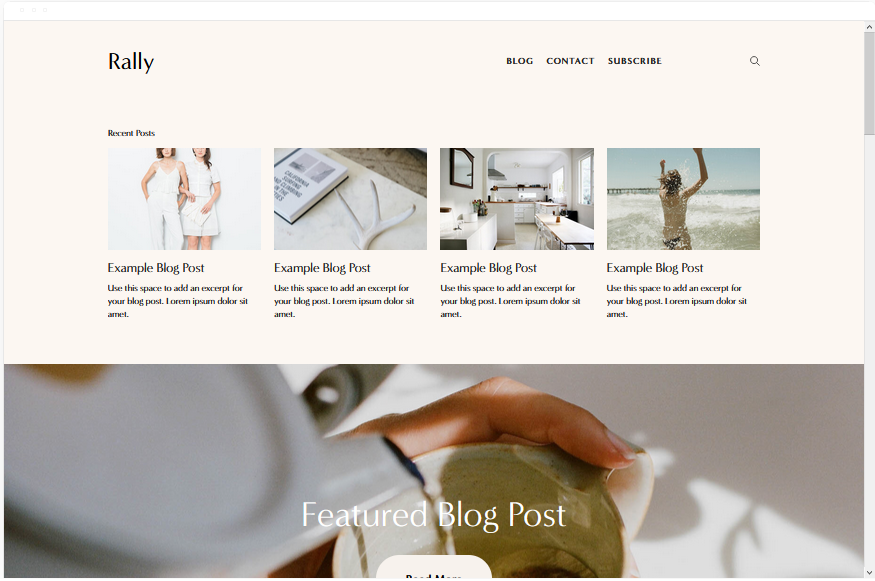 Rally Highlights:
Optimize your loading time.
Smooth scrolling animation.
Add social media buttons.
A perfect blogging platform.
With this template, you can have a great travel website with blog posts to entertain your audience and attract visitors with a good SEO (search engine optimization) strategy. You can optimize your loading times which will help you reduce bounce rates and improve your revenues. There is a smooth scrolling animation in the design element.

There's also great animation across the website with a great menu option. You can include social media buttons to connect to your social accounts. Load times on this template are also fast, allowing for better ranking.
Mojave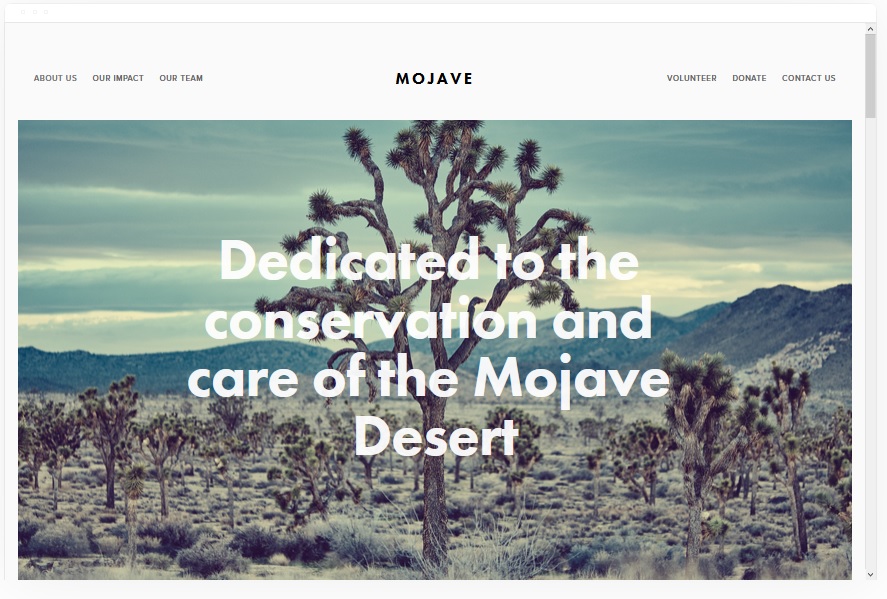 Mojave Highlights:
Good design and a pleasant experience.
Include 'call to action' buttons.
Banner options improve visual appeal.
Add a social share button with some technical skills.
This template has a striking experience so you can attract the attention of your audience and engage them with your images and videos. You can add a call to action button to encourage website visitors to sign up for your mailing list and stay in contact with you. There are banner options and if you have technical skills you can add social share buttons. This fast-loading template will help you rank well on Google and other search engines. It is also an ideal template for blogging.
Kent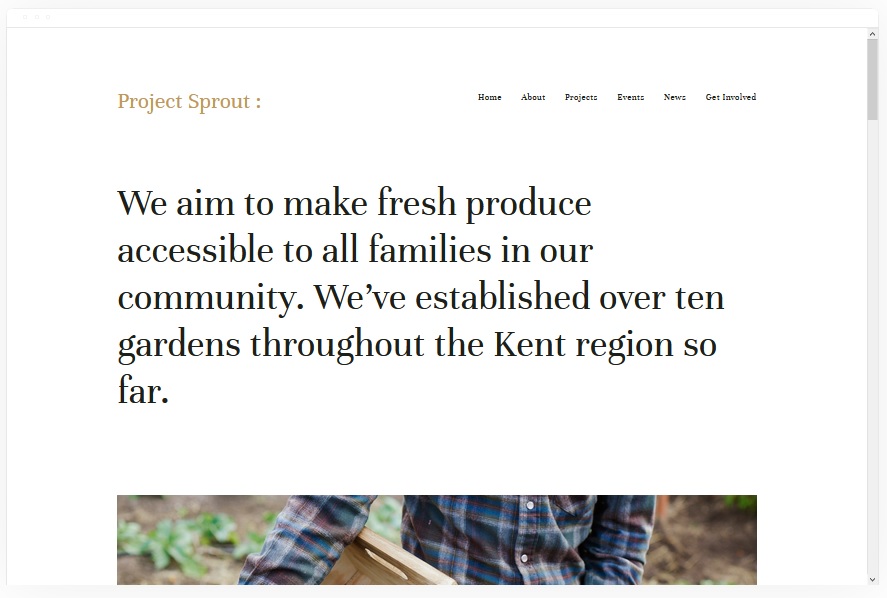 Kent Highlights:
Attractive and clean.
Perfect for lots of different media.
Include the cover, blog, event, album, and other pages.
A popular template that is clean and attractive. You can add videos to increase engagement with your travel brand. It is possible to use eCommerce functions to sell merchandise or offer affiliate sales. With this template, you will be able to rank well on Google and other search engines. You can focus on your blog content and showcase your travel destinations with ease. You can also create different pages, including blogs, albums, and events. This could be useful if you are hosting a travel fair for example.
Sofia Pazari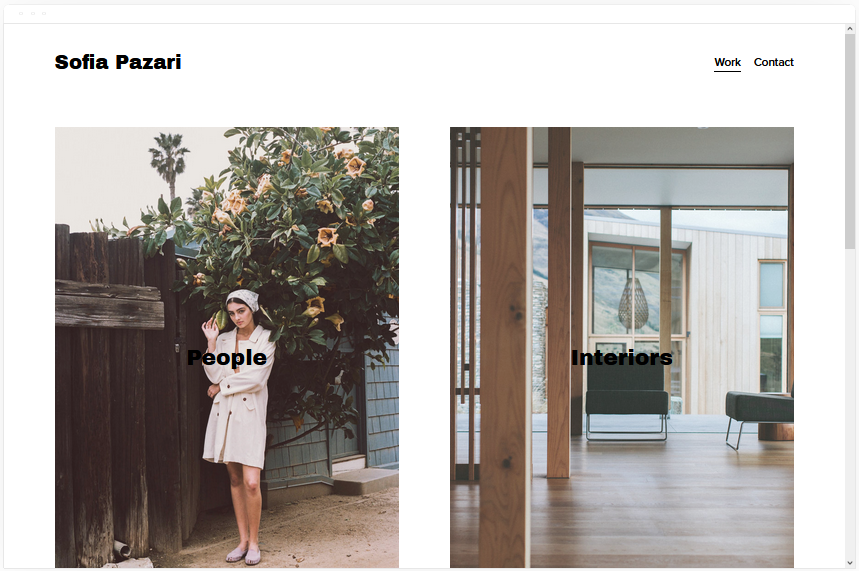 Sofia Pazari Highlights:
A minimalist design.
Clear white page with two images.
A simple menu is located in the top right-hand corner.
Lots of page options.
This clean website has two main images that you can link to other pages so ideal for linking to recent blog posts. You can make your travel images prominent in the minimalist design. The menu is simple and at the top right-hand side of the website. This template is easy to customize with text and images. This template is great for brands that want to rank well on Google and other search engines. There are lots of page options.
Native
Native Highlights:
Integrate your website with social media profiles.
Clean, modern scrolling style.
Add media with a rounded thumbnail.
Include a blog location.
You can use this modern template to create a portfolio for your travel website with gallery functions. Images can be added with a rounded thumbnail which offers a modern look, it also has a scrolling design. It's also a great website for blogging and includes a blog location. It can be optimized for research engines with the fastest loading times. You can also integrate this template with your social media functions which is a great way to connect with your website visitors.
Hayden – Agency Squarespace Template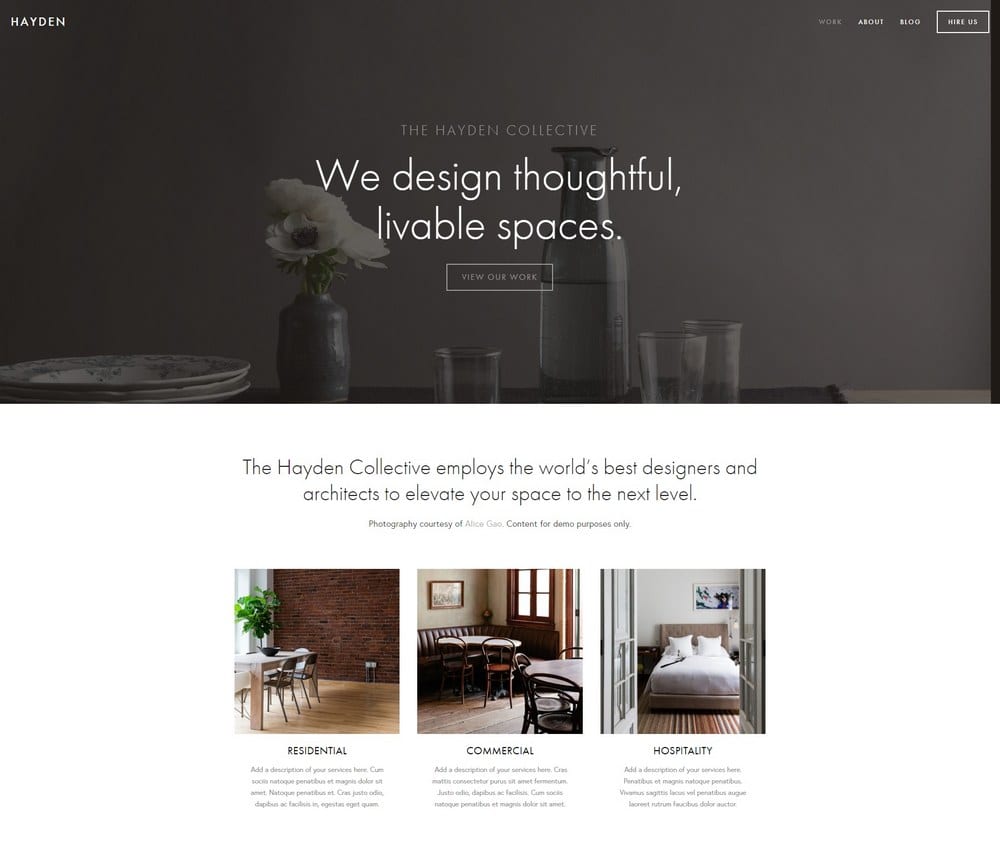 Hayden Highlights:
Portfolio and gallery areas.
A beautiful design.
The menu is located at the top right of the website.
Great blogging functions.
This template is ideal for a blog, especially if you have a good blogging strategy of posting at least 15 blog posts a month. You can also sell merchandise or affiliate marketing with ease. There's sticky navigation for easy movement across your store. This template is also easy to customize. You can showcase your travel images in the portfolio gallery areas. There's a sticky menu on the top right corner of the template and great navigation for this template.
Galapagos – eCommerce Squarespace Template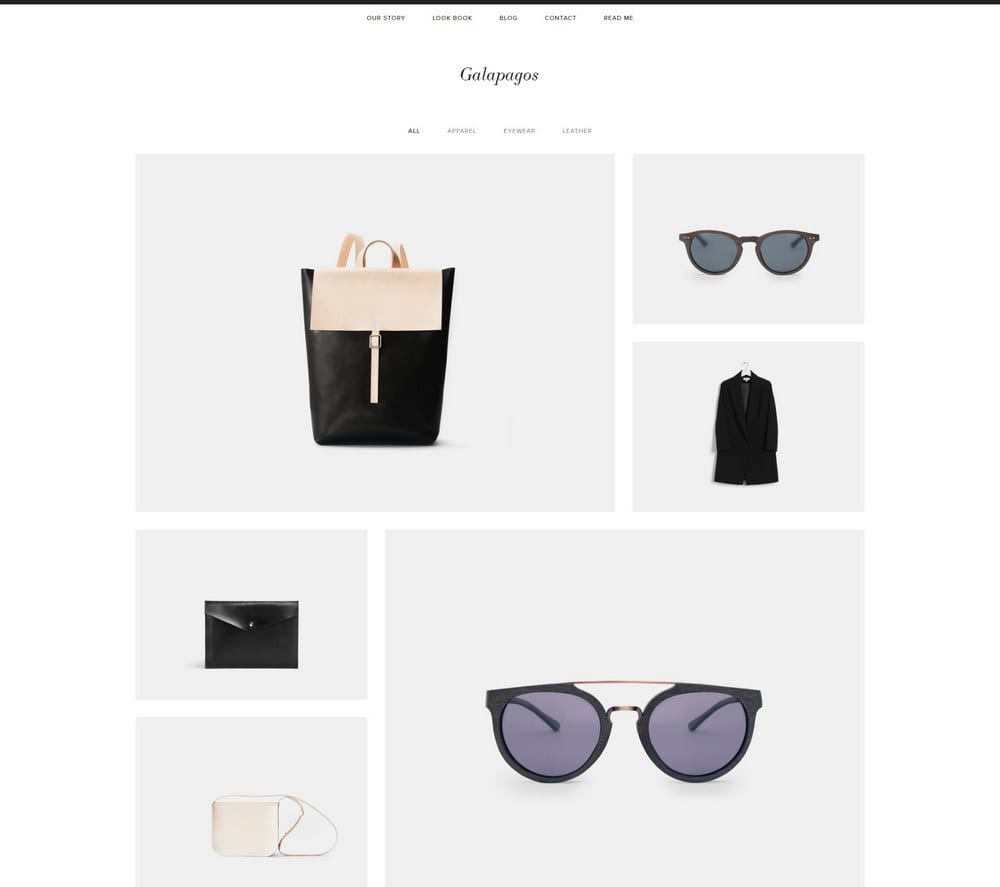 Galapagos – eCommerce Squarespace Template Highlights:
A modern and exciting eCommerce template.
Build extra trust with your audience.
Loads quickly across all devices.
Minimalist design ethics.
This modern and sleek template with a sophisticated look, is ideal for a travel website. You can add eCommerce to your travel store by integrating with the Squarespace shopping cart system. There are trust-building elements. You will also have a fast and responsive website with this design that works well on all devices.
Enhancing Your Travel Website's Appeal Through Squarespace Templates
Visual Impact and User Experience

Travel websites must captivate visitors instantly. Selecting a template with striking visuals and a seamless user experience is crucial.
Templates should blend aesthetic appeal with functionality, ensuring easy navigation and a memorable first impression. Consider templates that offer dynamic galleries and interactive elements to showcase destinations vividly.
Optimization for Conversion

Your website's goal is to convert visitors into clients. Templates optimized for the conversion feature well-placed call-to-actions, clear messaging, and intuitive layout.
Look for designs that guide visitors effortlessly toward booking inquiries, contact forms, or service details. This strategic placement can significantly boost your conversion rates.
Responsive and Mobile-Friendly Design

In today's mobile-first world, a travel website must perform flawlessly across devices. Choose templates that are responsive and mobile-friendly.
This ensures your site adapts to various screen sizes, providing an optimal viewing experience for all users. A mobile-responsive design is not just a convenience; it's a necessity for reaching a broader audience.
Streamlining Travel Website Management Through Squarespace Templates
Ease of Customization

Flexibility in customization allows you to align the website with your brand identity.
Templates should offer easy-to-use customization options, including color schemes, font choices, and layout adjustments. This flexibility enables you to create a unique and personalized online presence without needing extensive technical skills.
Integrated Booking Systems

For travel and hospitality businesses, integrating booking systems into your website is vital. Select templates that support or include booking functionalities.
This integration simplifies the reservation process for your clients and streamlines your management tasks, making it a win-win for both parties.
Support and Resources

Access to support and resources can significantly ease website management.
Choose templates from providers who offer comprehensive support, be it through tutorials, customer service, or community forums. This assistance can be invaluable, especially when customizing and updating your site.

Conclusion: 10 Best Squarespace Travel Website Templates
When you are planning to start up a travel website you're going to want to choose a great template. You'll want it to display great, high-quality images and have a blog post to showcase all the amazing locations on your travel website. In this article, we showcase the 10 best Squarespace travel website templates, which one will you choose?