Are you looking to have a high performing Squarespace template? Then you need one of the fastest Squarespace templates. One of these will help you generate more leads, rank higher and have more traffic.
Why use One of the Fastest Squarespace Templates?
There are many reasons why you might want to use one of the fastest Squarespace templates. One is ranking on search engines. Research has shown that the faster your loading times for the website, the higher you will be ranked on Google and other search engines.
Another reason is because of the financial benefits. For every second it takes to load your website, you will lose 7% of your revenue. Most websites load within about 7-11 seconds, which means that some businesses can be losing about 77% of their possible income. Just by decreasing their load times to the recommended four seconds, then some brands can double their income with no other effort.
So what are the fastest Squarespace templates? Here are some of the options that you can use to get those top speeds.
Jasper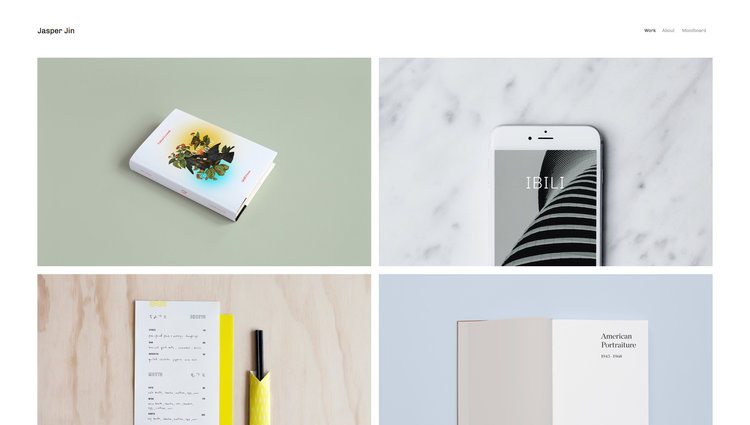 Jasper Highlights:
An easy to customize template.
Use lots of different media types within design.
Tell emotional stories to get audiences engaged.
Convert more audiences with fast loading pages.
Jasper is one of the most simple templates for Squarespace and that is what gives it its speed. The template can be used for numerous niches but is often used as a base for blogging and eCommerce. And it excels in these areas. The actual template is built using grid-blocks, these are easy to customize and can help you reduce the time that it takes for you to build, publish and maintain content on your website.

The front page of the template is perfect for displaying core products and services that you offer. And you can use lots of different media types within the content to make it standout from the crowd.

The front page can also include animations that will engage your audience. This can reduce the bounce rate and improve audience retention in the long term. And if you offer projects, then there are some portfolio pages that you can utilize for your website.
Native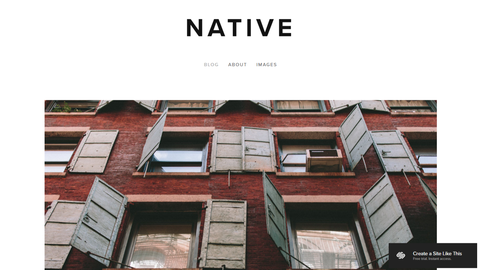 Native Highlights:
This is a great blogging template.
Optimized for faster loading times to help you rank.
Can be integrated with social media.
Has portfolio and gallery functions.
Native is one of the best options if you want to integrate your website with social media profiles that you have. Social media is a perfect outlet for many modern firms and having it connected to your website is vital for success. This template has been used by many different niches, including travel bloggers, photographers, food critics and more. The main page of the template is a scrolling design that works well with the clean, modern style.

Within the galleries of your website, you can add media that can be set into a rounded thumbnail. This looks impressive and modern and is sure to impress.

All blog entries on your website can also include a blog location. This is where the post was written or something about the location.
Hayden – Agency Squarespace Template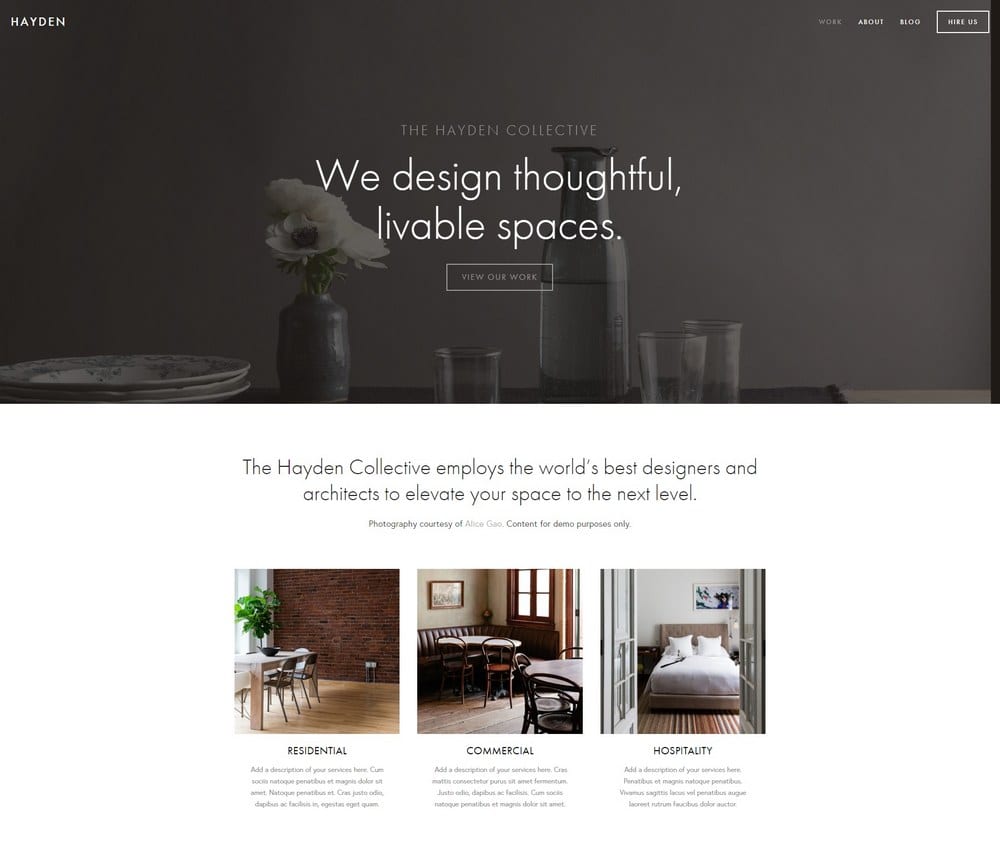 Hayden Highlights:
An easy to customize template for corporate businesses.
Sticky navigation for easier movement across your website.
Sell tickets and services with ease.
Perfect blogging section.
Hayden was specifically designed for corporate and service-based industries. And the design reflects this with ease. It has that professional element to it that makes it one of the best options for business-to-business brands who are looking to appear like a corporate entity.

There are lots of areas of this template that are perfect for your brand. For instance, there are portfolio and gallery areas where you can showcase your past work. You can also add a booking system that allows you to have appointments booked with your team.

Taking orders for services and payments is also really important and can be done with Hayden. Though one of the best features has to be the blogging aspect. With blogging, you can increase the rank of your website with ease. Just publish at least 15 blog posts per month and you're likely to see a 70% increase in the number of leads you will generate.

Another great thing about Hayden is that it is a beautiful design. The menu is located at the top right of the website. This makes navigation around your website effortless. The menu is also sticky, so it will remain visible, even after the audience member has scrolled down the page.
Skye – Modern Blog Squarespace Template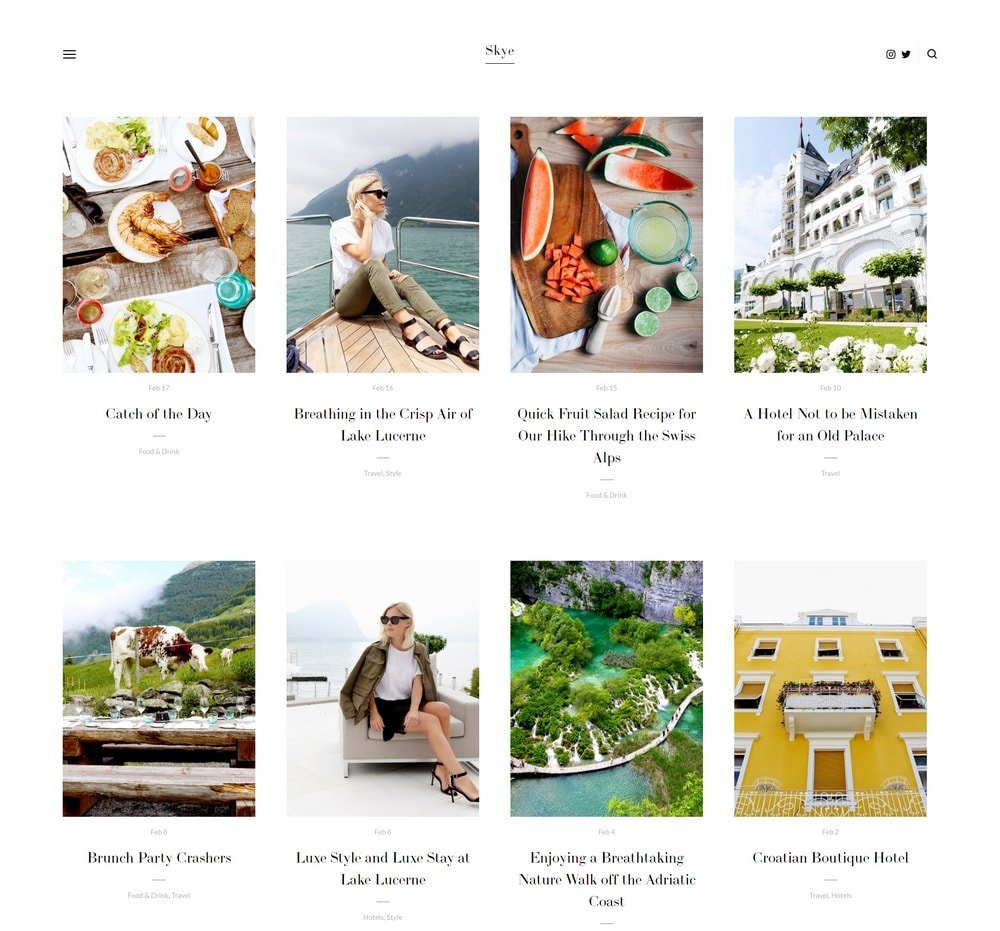 Skye Highlights:
A perfect blogging template with a modern design.
Visually impressive design and showcases media well.
Mobile responsive template.
Grid-based content blocks for easier building and management.
Skye is one of the better Squarespace templates that you can use for blogging. It has been used by food bloggers, travel bloggers and tech bloggers lots of times, not to mention the other blogging niches that have used this template. Visitors will be impressed by the design that has been minimized to ensure that there is limited coding. This can improve your website's speed and improve ranking.

There are lots of ways and features that can improve your website. This can include a fullscreen design that can also be grid-based. This makes designing so much easier and you can spend more time on your business rather than on your website. There is a great slide-out from the left side of the screen.

The template also includes numerous ways that you can improve your revenue streams. This can include merchandise, dropshipping, affiliate links and sponsored content.
Galapagos – eCommerce Squarespace Template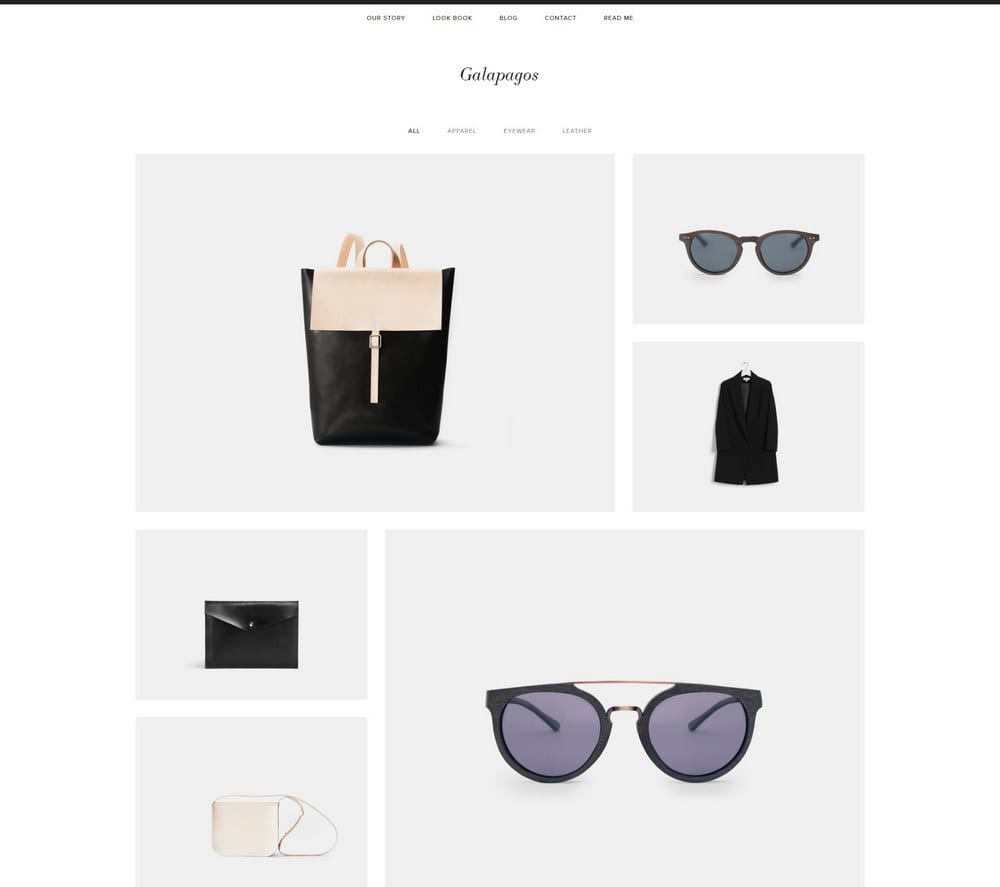 Galapagos – eCommerce Squarespace Template Highlights:
This is one of the best eCommerce templates for Squarespace.
There is an inbuilt quick look feature on your website.
There are elements to help you build trust with your audience.
A fast and responsive design.
If you're looking for a modern and exciting eCommerce template, then you should be looking at Galapagos. It has a modern, sleek and sophisticated look that is impressive and can help you build extra trust with your audience. The higher the trust factor that you have with your website, the more money that the audience will spend on your website.

The template has been completed with minimalist design ethics. Therefore, it has been designed to load quickly across all devices with ease.

Despite being a minimal theme, it hasn't been limited in features. Some of the functions that you can add to your website include a quick view of the shop pages. This opens up more details of a product, in a popup, when the customer clicks on the option. This enhances the experience of your customer. The template can also integrate with the Squarespace shopping cart system that allows you to take payments with ease.
Almar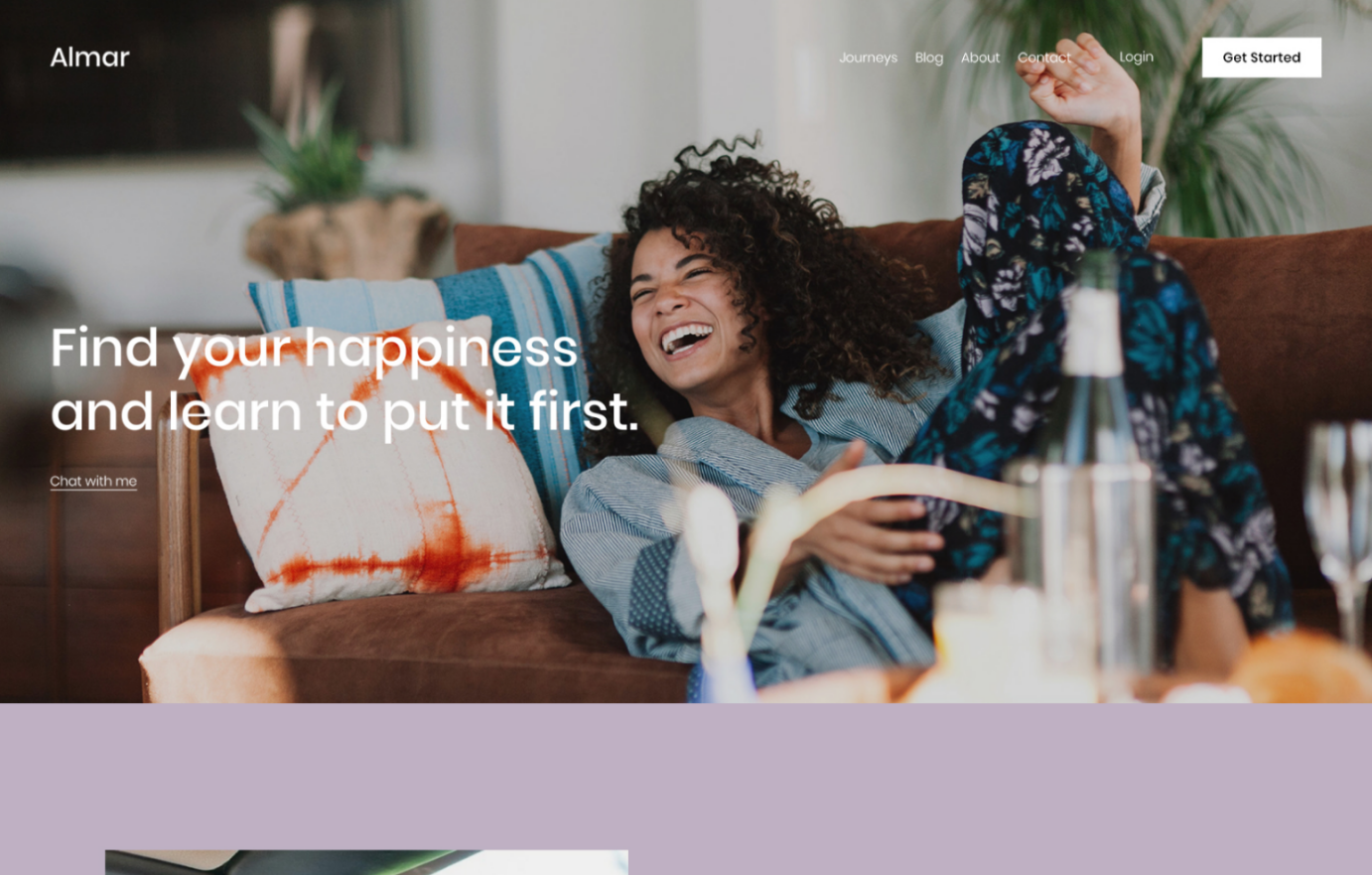 Almar Highlights:
One of the fastest loading website templates.
Can help you rank your website across search engines.
Great for sites with either small or large catalogs.
Can be displayed on mobiles or desktops.
Almar is one of the cleanest and easiest templates that you can use on Squarespace. It has a ready-made design that can allow you to build a website within just a few minutes. From your website, you will be able to sell products, services, conduct affiliate marketing and more. In addition, the template allows you to earn revenue from your website.

If you're an eCommerce brand or want to sell merchandising against your other factors, then you be rest assured that this template can support you. There is no limit, large or small, to the number of products that you can add to your website.

To help with conversions, there are lots of calls to action that you can add to your website. The user can click on these to move to the next step in the purchasing journey. This can be very important because you can link your pages to numerous different areas across your website.

Almar is also an effective template for loading times and ranking on Google.
Tremont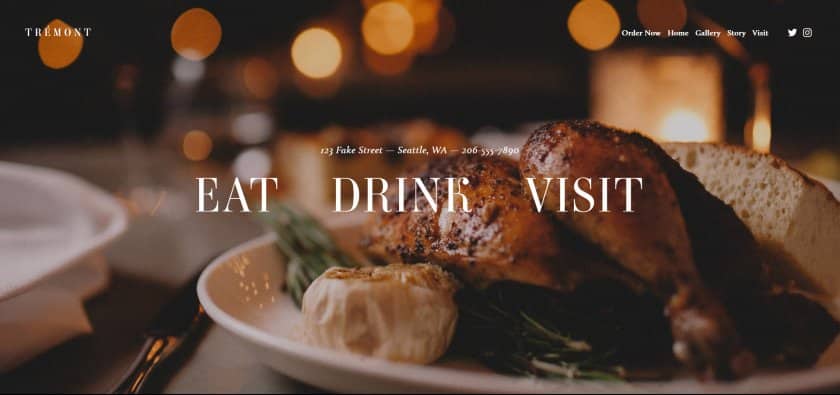 Tremont Highlights:
This is a fast website that can rank high on Google.
Integrate your template with ChowNow.
Use multiple call-to-action buttons on your website.
A highly responsive template.
Tremont is a template that has become very popular for food businesses that host their website on Squarespace. It is the most perfect template for numerous niches as well. There are large images that can be added to the front page of the website and then there are other elements that can be added to the design of the website. The images are perfect for the static nature of the front page.

The template can be used to showcase your brand with ease. You can add apps like Chow Now and Squarespace scheduling to add more functionality to your website and increase the potential revenue that you can get from your website.

The template is perfect for viewing on mobile devices. Therefore, customers can use your store or website with ease while they are on the go. The site is also fast, allowing for better bounce rates and improved ranking on Google.
Bryant Hill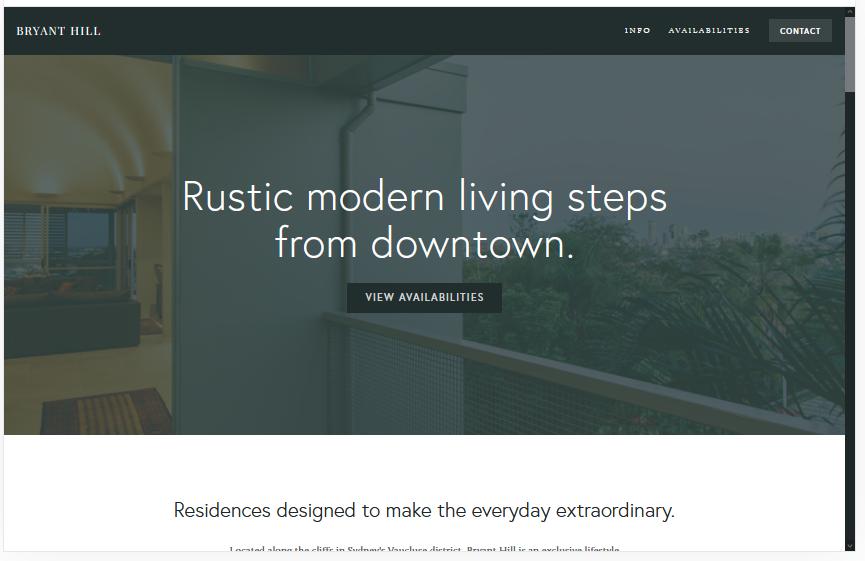 Bryant Hill Highlights:
Great for professional businesses on your website.
Good navigational links for your website.
Integrate the website with email marketing.
Rank your website high on Google.
Bryant Hill is a top option for a professional business website. There is a scrolling page design that allows you to modernize the look and feel of your website. In addition, you can add more functions and improve the user's experience by adding good navigation to your website with a modern menu.

The bold, clean look is highly impressive and can be used to showcase your brand whatever you're selling whether it is services, products, designs, previous work or more. The template can also make use of the sidebar that can help you connect audiences with the rest of your website.

The template can be integrated with email marketing and social media platforms with ease. Therefore, you can start to sell to your audience over a longer period and this can help you earn more revenue from your business.

The template utilizes lots of great elements to make your website more aesthetically pleasing. For instance, you can add images, videos and audio to your website.
Suffolk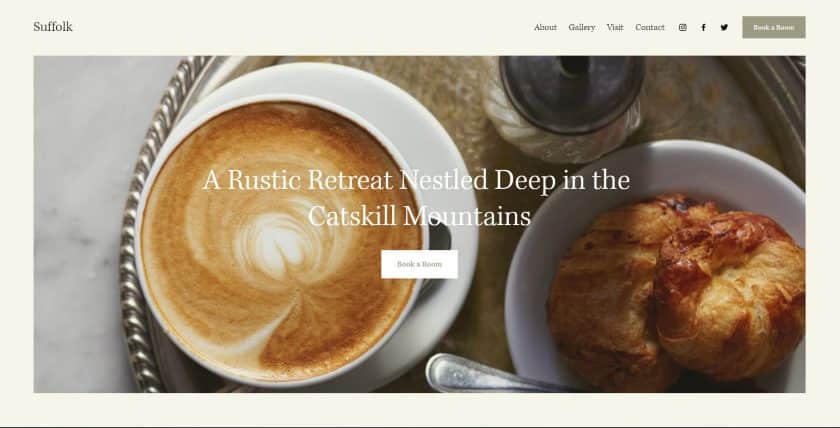 Suffolk Highlights:
A highly popular template that is used on Squarespace.
Appointment setting functions are allowed on the template.
There is a sticky menu for better on-site navigation.
Customize your template with ease.
Suffolk is one of the top options when it comes to building a website that can sell your services to the internet. There is a clean, traditional design that can help customers to recognize your brand and trust you more. There are many niches that can use this template with ease. For instance, it can be used by hotels, salons, rentals, restaurants and more. The home page looks great and can be customized with ease.

To help with navigation there is a sticky menu that showcases smooth animations. The sticky menu will stay at the top of the page as the user scrolls down the page. This helps audiences move around your website, and it can also prevent them from leaving your website. The longer they are on your website, the more likely they are to convert.

This template is easy to convert. You can change the look of the template with ease, allowing the final design to fit more closely with your brand.
Elliott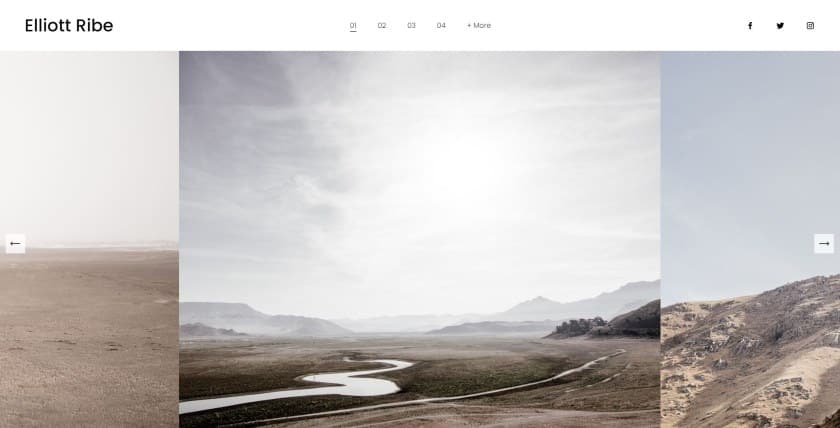 Elliott Highlights:
Elliot is a fast loading website.
Ranks high on Google and other search engines.
Can be viewed from any device.
Highly visual aspect.
Elliot is one of the top-performing Squarespace templates that can help you build more of a following for your website across lots of different channels. It takes just a few minutes for you to build a website with the template and then you can spend more time working on your clients. The template has lots of features to make it more aesthetically pleasing and mobile-friendly. The template can also rank high on Google.

The main focus of the template is the slideshow gallery on the homepage. These are horizontal images that you add that can display core messages, top quality products and more. You can also enhance their value by adding call to action buttons.

There are numerous pages that you can add to your website. This includes the about us, services and more pages.
Final Word: What are the 10 Fastest Squarespace Templates
If you're looking for one of the fastest Squarespace templates, above are ten options. Which one will you choose? Let us know in the comments below.