Are you looking for a website that will take your brand to the next level? Then you need to start looking at the interactive Squarespace templates.
What makes the Best Interactive Squarespace Templates?
Numerous things can help you make the best interactive Squarespace templates. For instance, you can build a website that has the background image change. Or you can add new features as your website's call-to-action buttons. There can also be videos, audio and more added to your website.
Numerous interactions can be added to any website. The problem is that you have to make sure that your website doesn't perform badly because of this. High-powered content like this can add bulky code to a website that can lower speed. Therefore, you need templates that can perform well.
Speed is an important aspect. For every second that it takes to load your website, you will lose 7% of your revenue. Interactive websites can sometimes take 11 seconds to load, which means you're losing 77% of your potential revenue.
So what are the best interactive Squarespace templates? Here is a list of the 10 best possible options.
Kent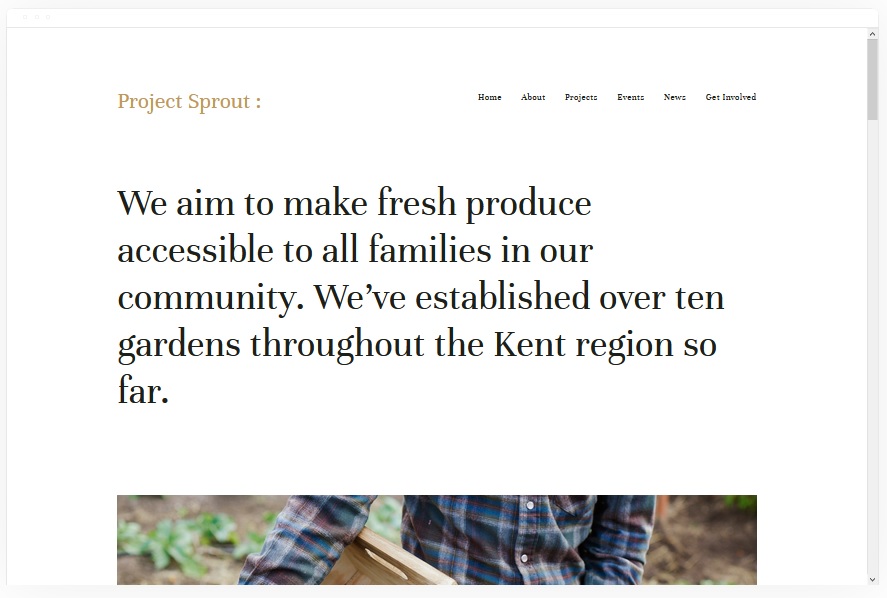 Kent Highlights:
One of the top options for media.
Add videos to showcase branding.
Sell products and services from your website.
Get your website to rank high on Google.
Kent is one of the top options when it comes to building your website and getting it to look attractive and clean. You can add a spotlight and showcase why you're a quality provider with high-quality media included on your website. You can use portfolio pages that allow you to add videos and images that can showcase the best that you have to offer and grab the attention of your audience. The template can handle all kinds of media including video, images and more.

There are also different types of pages that you can host on your website. This can include cover, blog, event, album, and more. You can also sell direct from your website, allowing you to earn revenue from your website.

This is a great option for those new to website building too.
Bedford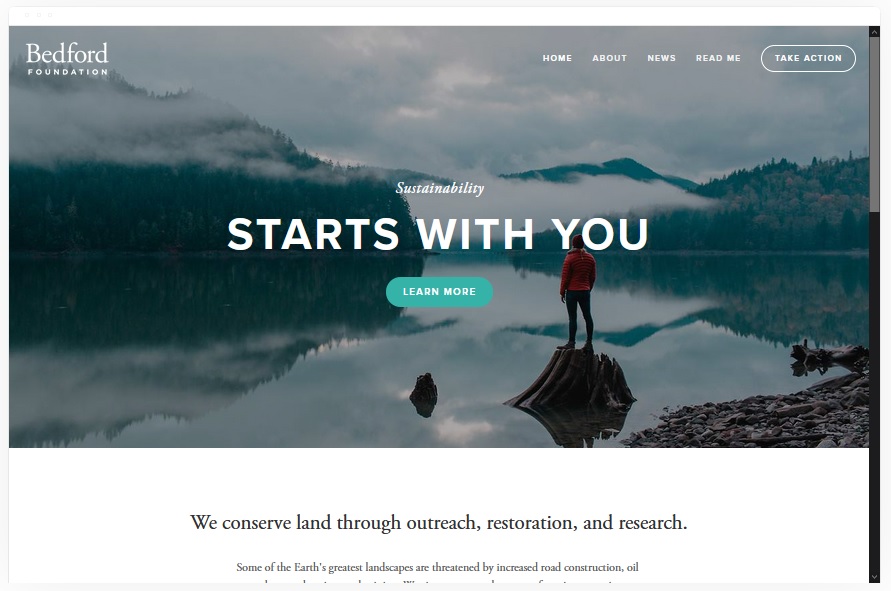 Bedford Highlights:
Can sell your products direct from your website.
Add videos and images in a portfolio.
Create banners and more on your website.
Improve your website's rank on search engines.
This template is very versatile and works for all kinds of niches from nonprofits to real estate businesses. Therefore, if you're looking for a website that can promote your website with ease, then this is a good choice. The template has lots of good features such as a portfolio to showcase your latest work. The template also includes a sidebar navigation options for easier movement between pages.

This template can help with selling your products, services and more online. Therefore, you can build a clear revenue stream that allows you to build a better business online.

All the pages that are on this website can include great images and videos. This can help you promote your past work and your skills/ability. And you can add banners with images/videos that can help you to promote your website and work. The template allows you to add a clear call to action to each banner.
Rally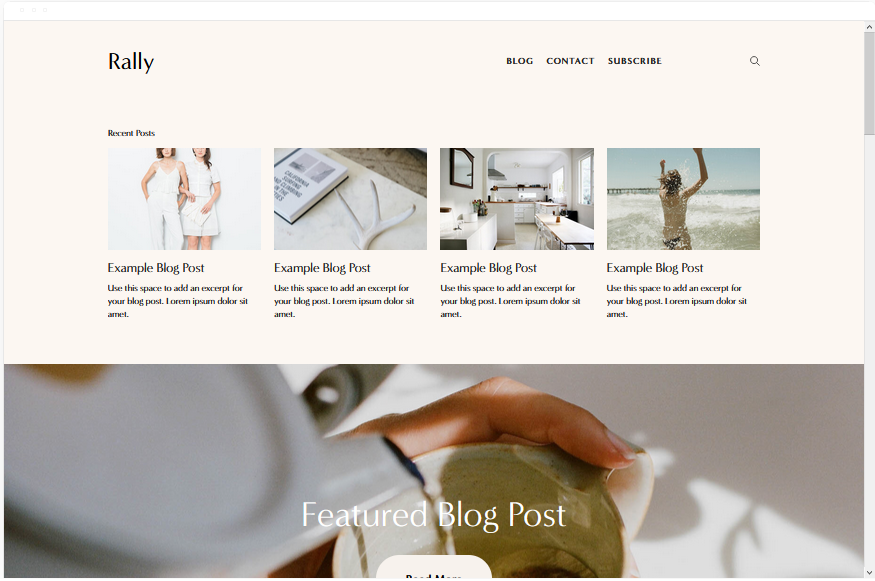 Rally Highlights:
Optimized for speed.
A perfect blogging platform for your business.
Smooth scrolling pages and animations.
The template is perfect for numerous niches.
Rally is a streamlined template that allows you to showcase the best text and imagery for your website. It has a great look to it that allows you to have the best designs that will impress guests and help you to convert them into the next part of the purchasing path. There is a simple menu that is located at the top right of the screen. Next to this menu, there is a space for all your social media links.

The template is perfect for showcasing your written blog posts. You can add images, videos and audio to your blog posts with ease. This can be really important because blog posts are a great way for you to build your website's rank on Google.

Rally has a good scrolling on the pages. This smooth experience helps to improve the user's interaction with your website and can help you convert more of the audience.
Wells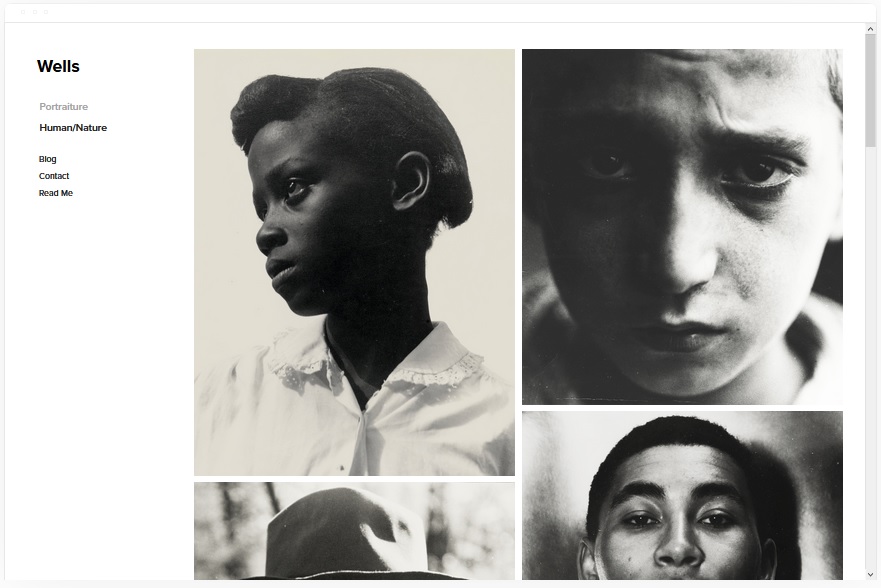 Wells Highlights:
Showcase your portfolio with ease.
Sell your products and services directly online.
Increase the value of your content with video.
Create lots of great content on your website.
Wells is one of the best designs for those that want to show off lots of graphical work. It is perfect for numerous niches like travel bloggers, food bloggers, and more. It is a really easy template to work with. It takes very little time to build a website and less time to maintain your designs. And you can use your finished website to promote your brand with ease. Add informative, interactive elements like videos, images and more to your website to make them more convinced of your skill.

The template has a great eCommerce capability. Therefore, you can sell products and services online with ease. In addition, you're able to sell tickets or get appointments for your business by adding the feature to your Squarespace website.

To help you sell more of your website's culture and improve trust, you can upload videos to your website. This can be done by copying the URL of the video into your website's design. Squarespace will do the rest for you. The same process can be used with images.

To help with engaging audiences, you can connect your website to social media accounts through several systems.
.
Mojave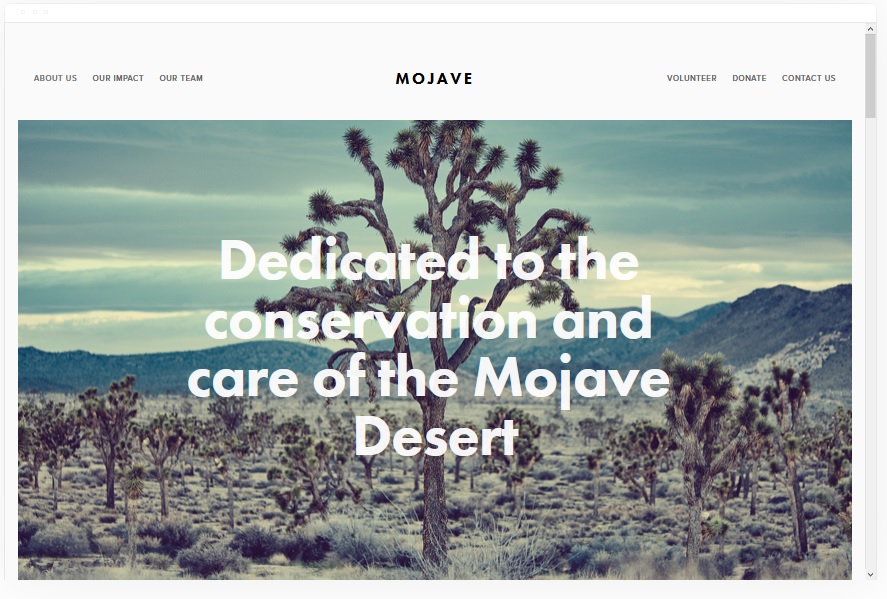 Mojave Highlights:
A strikingly attractive Squarespace template.
Add videos and images to your website's design.
Add share buttons to get more social media engagement.
Fast loading template.
Mojave is a fantastic template that allows you to produce great website with videos and images to sell more for your brand. It has a great scrolling effect with the design and the perfect call-to-actions that can help move customers to the next purchasing stage. You can build revenue with your website with ease. A banner can also be added to your pages so that your website can have more ways to attract audiences. All the pages and the banners can have images and videos added to them to make them more interactive.

Those that have technical skills can also add share buttons to the pages of the website. Share buttons can be included on numerous pages including blogs, homepage, portfolio and more. The share buttons can then share your content to platforms like Facebook and Twitter.

Mojave has a striking appearance that looks awesome. It is perfect for any niche, including those that have a creative element to them. The white background can be changed if you would like to.
Hayden – Agency Squarespace Template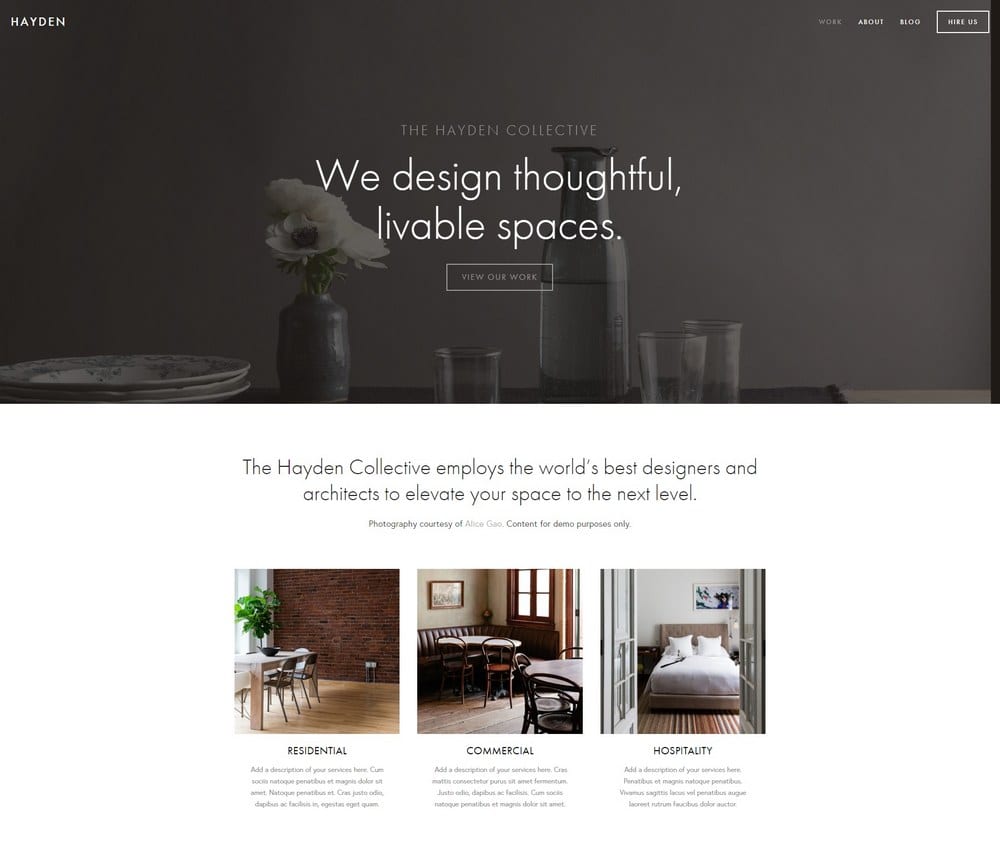 Hayden Highlights:
Really easy to customize template.
Sticky navigation bar for better consumer experiences.
Sell tickets and book appointments.
Perfect blogging experience for you.
Hayden is a strikingly beautiful template that can be used for almost any niche. However, it was specifically designed for the corporate and service industry and so it is probably better for this area. However, it is versatile, so can be changed for your needs.

The template comes with lots of features to help you sell. For one, there is a blog that can help you improve the traffic levels of your website. Blogs can have images and videos added to them to make them more convincing and to add power to stories/advice that you're providing.

The template allows you to make appointments automatically. And there is a sticky menu that makes navigation across your website much easier. You can also connect your template to social media accounts for higher levels of engagement across all your platforms.
Native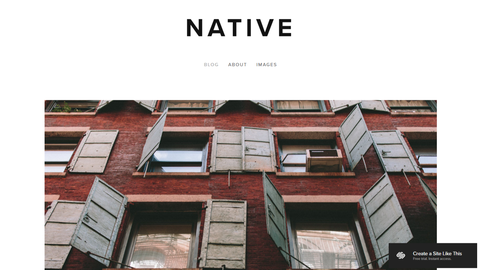 Native Highlights:
The perfect blogging platform for Squarespace users.
Showcase your work with images.
Optimized for speed.
Integrate your website with social media accounts.
Native is one of the top options when you want to integrate your website with social media accounts in your brand's name. Therefore, you can build a single brand identity that can help with selling on your website with excellent alignment that encourages trust.

This template is often used by brands that want to showcase a lot of imagery like food bloggers, travel bloggers, artists and more. Therefore, you can expect that there are a lot of imagery functions on the website. For instance, all images in galleries can be made to look rounded. This is a great modern look for your website.

If you are a blogger and want to showcase where you've been or what you're talking about, then you can add locations to each blog entry. This can be really interesting and allows your audience to follow you around. Other features can help you interact with audiences more.
Jasper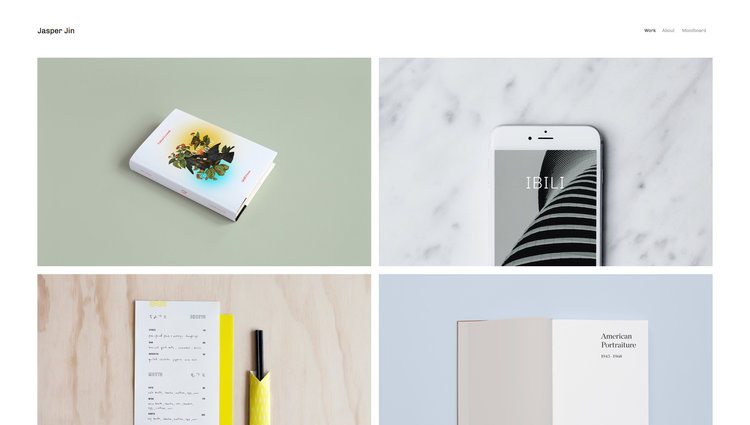 Jasper Highlights:
Easy to maintain website.
Add lots of different media to your website.
Grid-based design for better ranking and customization.
Tell emotional stories to get more engagement.
Jasper is one of the simplest templates that you can use on Squarespace. It is the perfect template for those that want to have a blog on their website. The fast-loading and the blogging can help you rank higher on Google and other search engines. The template is also good for those who've never managed a website before with simple grid-based designs that are perfect for editing just a small section of the website. Therefore, you can spend more time managing your business and not just your website.

The design of the home page can include animations that can help you engage your audience. This allows you to keep the audience interested in your content for longer. And with scaling fonts, you can make the website content easier to read for audiences.

The template can also showcase your past work with portfolio pages. These can include videos, images and audio of your work. When customers see these, they can see what you're capable of.
Tremont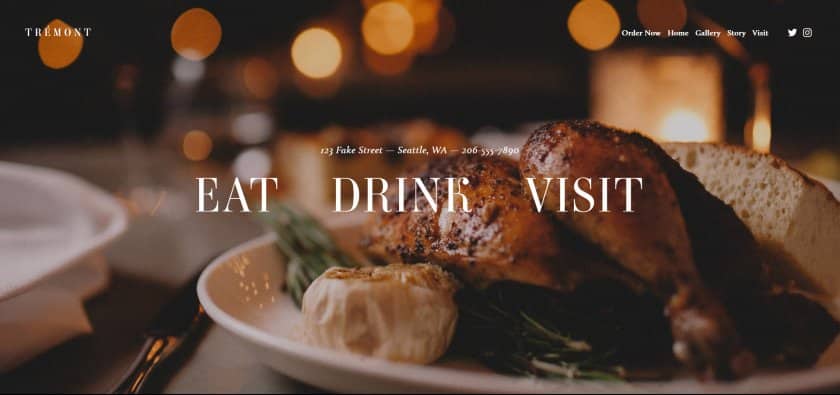 Tremont Highlights:
This is a fast loading website to help you rank on Google.
Integrates with several third-party apps.
Use call-to-actions on your website.
Responsive template for better mobile viewing.
Tremont is one of the best templates for those that are working within the food industry and it is very popular in this niche. There are lots of ways that you can showcase large images on your website to promote your services and more. There is a simple few things that can be added to your site to make it more professional and look exciting on your website.

The image on the front page is perfect for a static homepage. And you can add more images to add more context to your website.

The template can be used to showcase a menu, service list and more. It is also perfect for numerous niches. The template can also be integrated with numerous apps like Squarespace scheduling and ChowNow.

The template can be viewed perfectly on mobile devices. It can also allow your customers to show while on the move. There site's speed also helps you to tank your website with ease.
Avenue – Portfolio Squarespace Template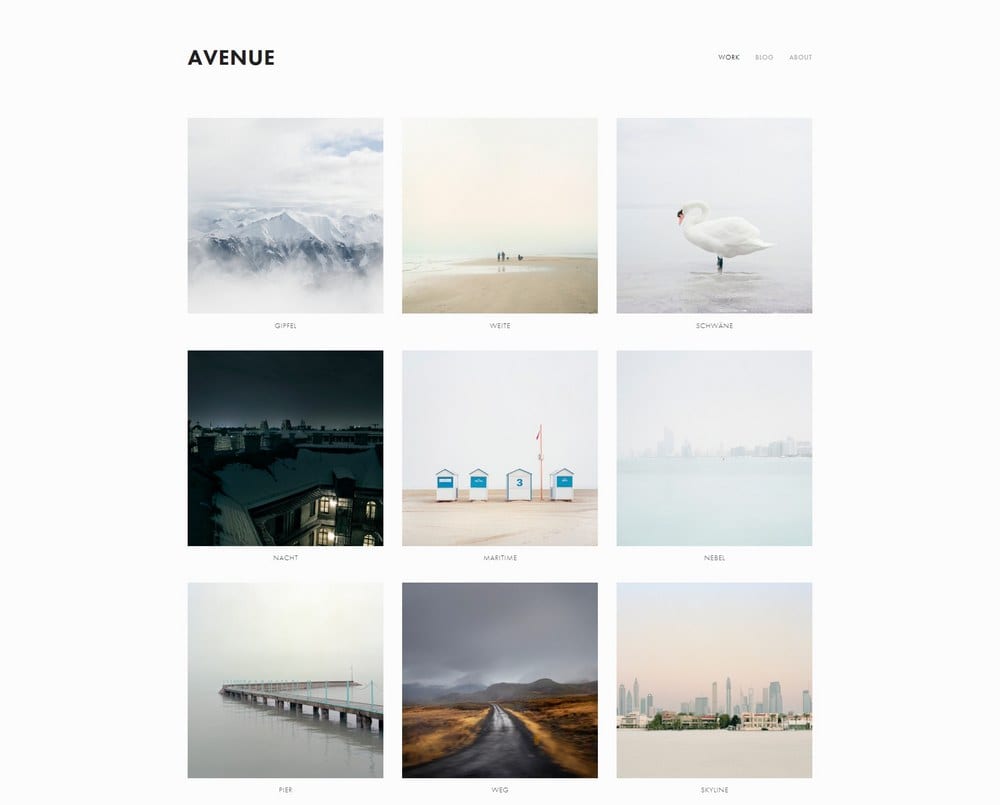 Avenue Highlights:
A minimalist template that is perfect for loading times.
Perfect for selling all kinds of products.
High ranking potential for the template.
Easy to customize template.
Minimalism is one of the best website building trends of recent years. There are several reasons for this. One is because it allows websites to rank high due to limited coding and optimized coding. Another reason is the speed, minimalist websites are often faster than others on the market.

Therefore, a template like Avenue, which is minimalist is often high on the list of the best Squarespace templates. It can really help you sell products and services with ease and you don't need any technical skills to get started.

The templates rely on grid-based layouts and editing. This can showcase numerous elements on the website as well as showcase your products with ease. You can also add pages for each digital product that you would like. These pages can include any media you would like.
Final Word: The 10 Best Interactive Squarespace Templates
Are you looking for one of the best Interactive Squarespace templates? Then above are some of the options for your website. Which one will you install? Let us know in the comments below.