Bakeries are popular small food stores that are frequently visited by locals and sometimes tourists. Most don't have a website, but there are so many advantages to having a business. For one, in a competitive market, a website can act as a great marketing tool to improve your foot traffic and orders. You can also take orders online and fulfill them either with customers coming in or delivery. So in this article, we will look at the best options for a Squarespace bakery template.
Why use a Squarespace Bakery Template?
There are numerous reasons why you should consider using a Squarespace bakery template. For one, it can act as a great way for you to market your business. Most customers expect any small or large business to have a website. On the website, they can find information such as opening times, what you sell, and information about how to get there.
However, you can also use a Squarespace Bakery template to act as a sales portal.
Customers can place their order online, you can take payments, prepare their order, and then give it to them as they come or arrange a delivery. You can also organize specialized products such as wedding treats or other food items that can offer huge profit margins that can improve your website's revenues.
Another advantage is that you can look at your business statistics. How many people are looking for your business, how many people are visiting the website, and who is ordering? Then you can make interesting decisions about ways to grow your business, such as implementing new email marketing campaigns, etc.
Another benefit that you can have is that you can find new sales avenues. A website can act as an online store, but you can connect that store to social media, email marketing, YouTube, and other channels to grow awareness of what you have and build a following that will order from you constantly. Many brands find that by improving their retention by just 5%, they can improve profitability by 95%.
So what are the best Squarespace bakery template options for your small business? Here are ten of the best options.

Tremont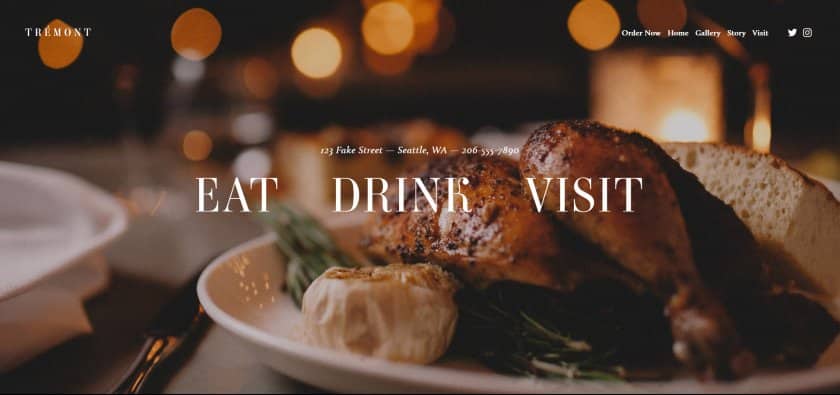 Tremont Highlights:
One of the fastest Squarespace templates, helping you to rank online.
Take orders online with integration with ChowNow.
Have numerous calls to action on your website.
The responsive template works across devices.
Tremont is a very popular Squarespace template. It has been around for a long time and will continue to be used for a long time too. It is perfect for numerous brands working in the food niche. There are options for the full-bleed image design, perfect for showcasing what you have on offer.

You can also add multiple call-to-actions to get customers to make orders on your website. While the template is heavy on images, it has been designed to be highly responsive.
Alameda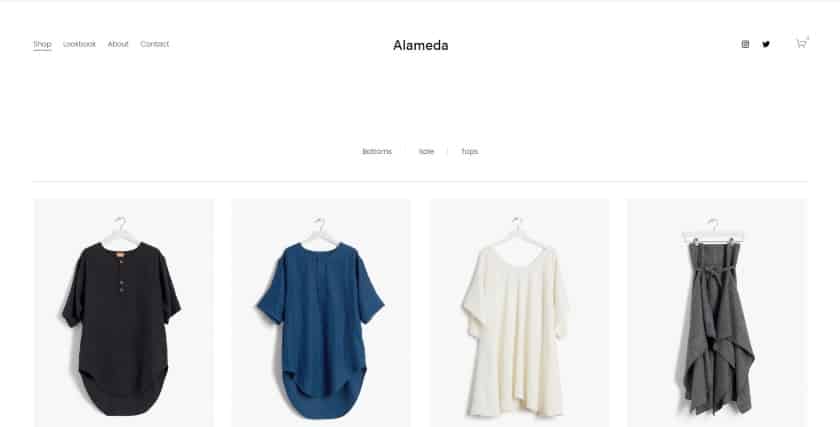 Alameda Highlights:
There are lots of settings to improve performance and speed
Quick view options allow customers to take a closer look at a product.
Cross-selling features help to improve the average order values on the website.
Lazy loading features improve website loading times.
Alameda is one of the top templates that has been built for Squarespace 7.1. It is a free Squarespace template that allows you to incorporate eCommerce features to help you sell your bakery items online.

Numerous features are there to help you rank on your website, which is great because about 7 out of 10 visitors will come from Google or another search engine. To help you rank, the website will perform fast.

There are lots of options to improve user experiences, including 'Quick View'. There are also cross-selling opportunities that can help to improve the average cart value on the website.
Suffolk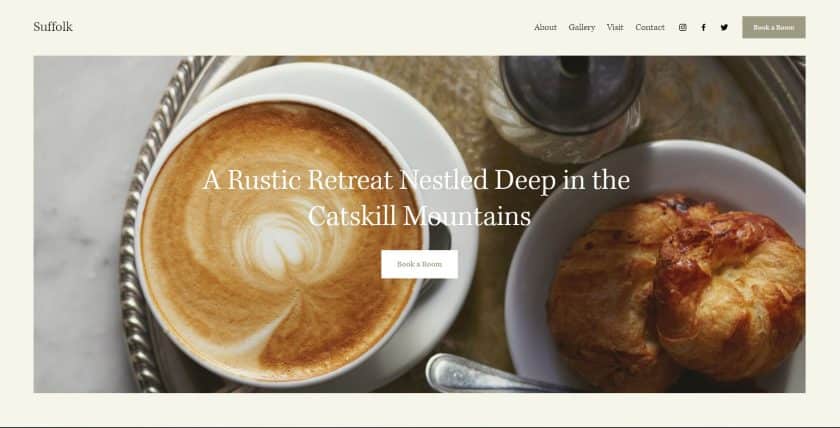 Suffolk Highlights:
Is one of the top Squarespace templates that is available for any industry.
Appointment setting functionality, which can be used for collection times.
A sticky menu to improve user experience.
It is a fully customizable template to build a specific brand for you.
Suffolk is one of the best Squarespace templates that you can use. It is a clean, traditional design that customers will recognize and trust almost immediately. It is perfect for numerous food niches as well as others such as travel and more.

The template has a sticky menu, it is perfect for customers to find their content across the website. It is also a great template for Squarespace scheduling, which is a fantastic tool for when you want customers to book a collection time.

The template is completely customizable. Therefore, make the template exactly how you would like it to appear to meet your brand requirements.
Impact – Education Squarespace Template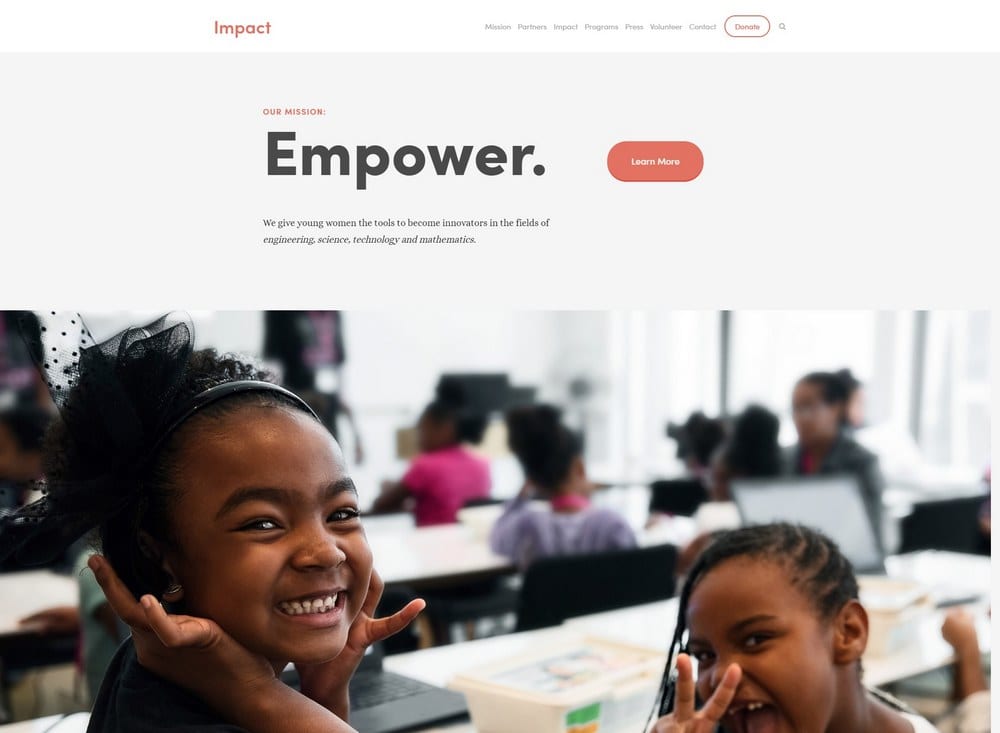 Impact – Education Squarespace Template Highlights:
A clean-coded template loads fast.
There are lots of calls to action to help capture vital data.
Sleek design that will tell customers more about you.
Easily customizable.
Modern website designs are perfect for small businesses, especially bakeries. This one is perfect to help you have a fast-loading website that will convert. While Impact was built for the education arena, it is perfect for food niches.

There are well-crafted sections that appear directly under the main header. The header section can include lots of critical information that is perfect for setting customer and user expectations and building your brand.

The template is also very easy to customize, allowing you to build a strong branded website
Mojave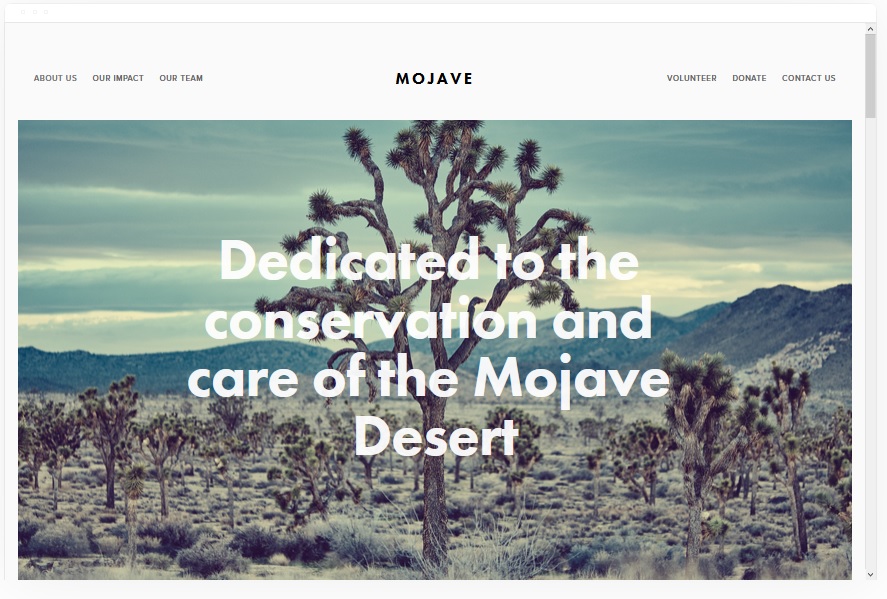 Mojave Highlights:
With some technical skills, this one allows you to add share buttons to the content.
One of the most striking appearances to draw in the website's audience.
Add videos and images to the website's banners.
A fast-loading template that can improve search engine ranking.
Mojave is one of the best Squarespace templates with a fantastic blog and eCommerce abilities. You can add a fantastic scrolling effect that can keep audiences engaged and reading your website. You're also able to add call-to-action and other elements to make customers take action on your website such as subscribing to a mailing list or buying a product.

The template includes functions such as adding share buttons to pages on the website. Or you can create a blog, event, gallery, or product page with ease. And there are ways that you can get more shares of your content on social media.
Galapagos – eCommerce Squarespace Template

Galapagos – eCommerce Squarespace Template Highlights:
One of the top eCommerce options available on the list.
Apply a quick look at the website with ease.
Improve trust factors to help increase conversions.
Fast and responsive design, perfect for ranking on search engines.
Galapagos is a modern eCommerce website that allows you to have a modern, sleek, and sophisticated website. You can build meaningful relationships with your customers that can help you build trust and improve sales.

Numerous features are common on eCommerce websites. For example, there is the 'Quick View' option that allows customers to see the product in more detail before they go to the product page.

There is also an integrated Squarespace shopping cart system. Therefore, you can take payments on your website.
Bedford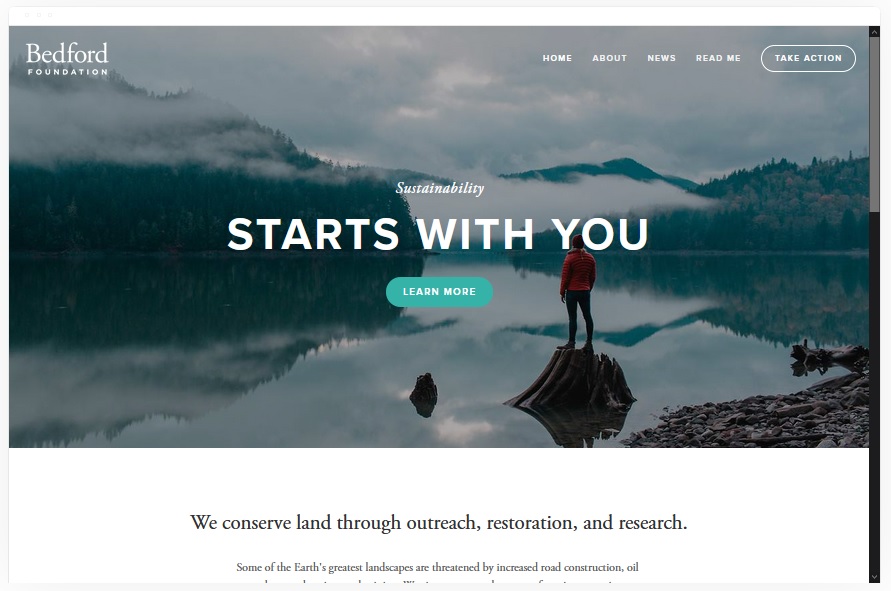 Bedford Highlights:
Add a revenue stream to your website.
Add videos to promote your brand on all pages and banners.
Customize the banners to align them with the brand.
Quick loading of website pages.
Bedford is one of the best Squarespace templates. It is considered perfect for numerous niches and can be used for agencies, food blogs, travel blogs, and more. Numerous elements can support the growth of your website. One aspect is the sidebar navigation.

The template can also be used to sell products online. Therefore, you can have a great revenue stream and perfect processing.

The template can support full banners. You can add images and videos to your website.
Jasper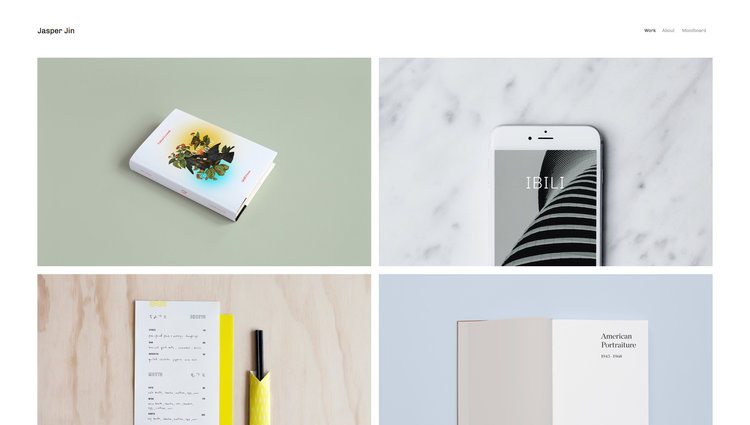 Jasper Highlights:
Jasper is an easy-to-use website template that can feature lots of media types.
Use a grid-based design for easy building.
Tell emotional stories to engage audiences.
Rank easily on Google with speed and other search engines.
Jasper is a simple template that is considered very easy. You can use it for sales, blogging, brand awareness, and other purposes. You can use the improved loading times to help your website rank higher on Google and other search engines. You can also use the front page to help you rank higher and display all your key products, services, and features.

You can add animations and engage audiences to keep them on your website for longer.
There are also project and product pages that can help you keep your website organized.
Native
Native Highlights:
Display the location based on the blog post.
Round thumbnails for a more engaging look.
Build-in social media functionality.
Scrolling design that looks awesome.
Native is one of the best Squarespace templates for numerous uses. It has a clean design that is perfect for numerous niches. You can use images on any page or blog post and build engaging content on your website. There are also ways to add revenue streams to your pages.
All images can be displayed in a gallery, to keep everything organized. There are also options to have more attractive thumbnail images.
Crosby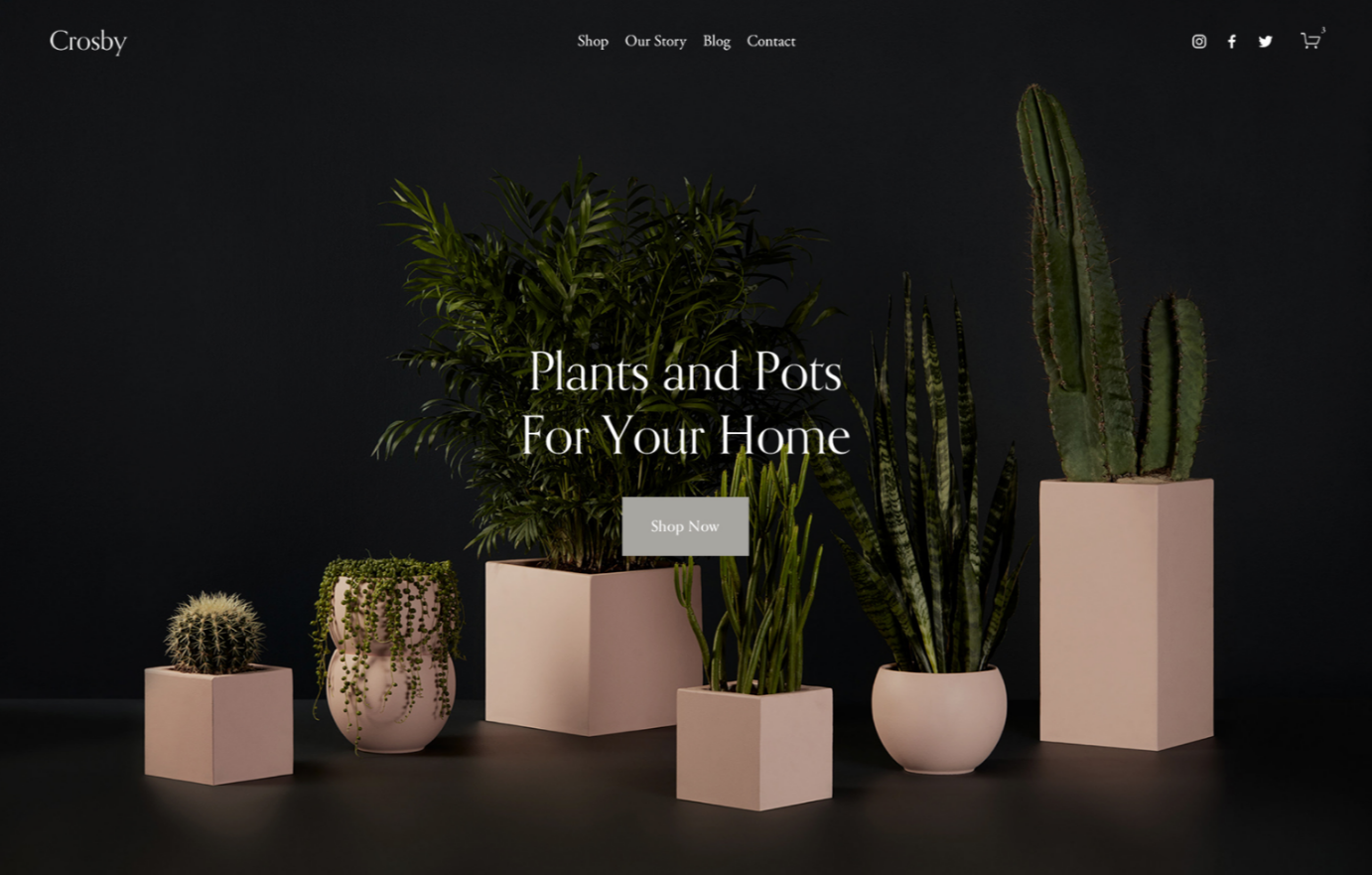 Crosby Highlights:
A darker template from others
A fast-loading template
Have an overview of the entire website
Link to your blog post.
This is a darker template than some of the others so your website will look very different but you can easily change the colors. This will give you a modern look at your bakery store. You can link to a blog and have an eCommerce section. This will also help you rank well on Google and other search engines.
Evaluating Squarespace Bakery Templates
Functionality and Features

When selecting a Squarespace template for a bakery website, it's crucial to assess the template's functionality.
Consider essential features like online ordering, menu display, and showcasing special promotions.
A template should not only be visually appealing but also cater to your specific business needs.
User Experience and Design

The user experience is paramount. A good bakery website template should offer a seamless navigation experience, ensuring that customers can easily find what they're looking for.
Pay attention to layout, color schemes, and font choices, as these elements significantly impact the overall user experience.
Customization and Branding

Customization is key in making a template align with your bakery's brand identity.
Look for templates that offer flexibility in terms of colors, fonts, and layout adjustments. This allows you to infuse your unique brand personality into the website, making it stand out in a crowded online space.
Selecting the Right Squarespace Bakery Template
Mobile Responsiveness

In today's digital age, ensuring your bakery website is mobile-responsive is non-negotiable.
A template that adapts well to different screen sizes will provide a better experience for users accessing your site via smartphones or tablets.
Visual Appeal and Imagery

The visual appeal of your bakery website can entice customers. Choose a template that allows for high-quality imagery and has a visually pleasing design. This will help showcase your products effectively and attractively.
E-commerce Capabilities

If your bakery offers online ordering, ensure the template supports e-commerce functionalities.
Look for features like shopping cart integration, secure payment gateways, and an intuitive product listing layout to facilitate online sales.

Conclusion: 10 Best Squarespace Bakery Templates
Above are 10 great options for you to use when you're looking for the Squarespace Bakery template for your website. Which one of the customizable templates will you use?