Are you looking for one of the best Squarespace template for artists? In this article, we look at which of the best templates on Squarespace are available for artists.
What are you Looking for in the Squarespace Templates for Artists?
There are several things that you're wanting when looking for the Squarespace template for artists. You want a template that is easy to maintain. You want to spend less time managing your website and more time on your work.
Another thing that you want is something that will display your work well. You need a good website loading speed too. For every second it takes your website to load, the more money you'll lose in sales.
You might also want something that is going to rank better on Google and other search engines. The higher your rank the more traffic you will get and the more sales you can make.
So what is the best Squarespace template for artists? Here are ten options.
Bedford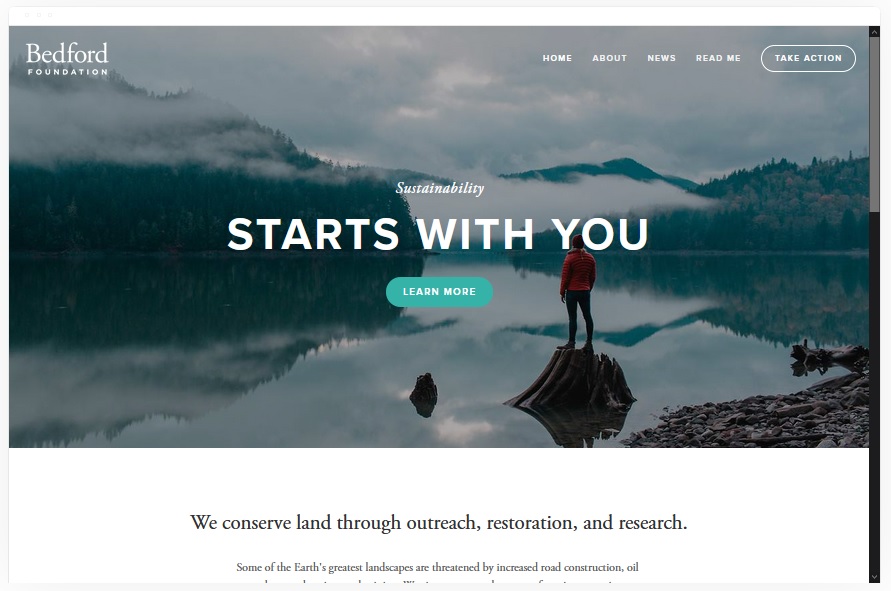 Bedford Highlights:
Perfect for selling artwork on your website and ensuring a revenue stream.
Add videos and images to promote your creative work.
Create banners on your website to showcase more to your audience.
Improve the loading times of your website with ease.
This is a great option if you're looking for a website that can help you sell your artwork. This template allows you to promote exhibits, manage patron expectations and also sell work to those visiting your website. The template also has a great navigation and scrolling index page for a better experience for your audiences.

The template can help you sell more art online. By taking orders online you can find a clear revenue stream and ensure that you are making profit from your work. It also helps you save time from having to create invoices manually.

All pages can have the best images and videos. This can help you promote your work and creative designs with ease. You're also able to add banners with additional images/videos to help you promote a website and the contents. Each banner can have a call to action as well.
Kent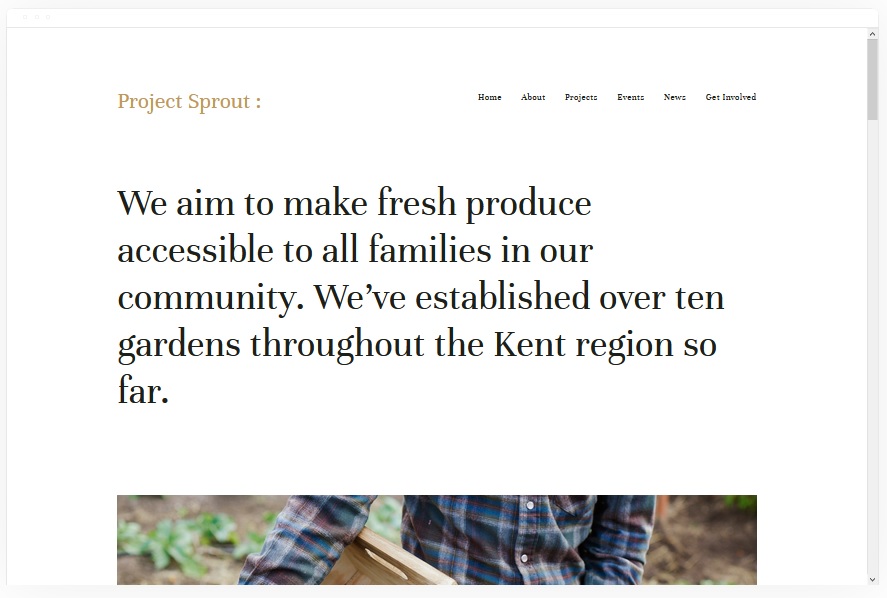 Kent Highlights:
Kent is a perfect template for showcasing images to your audience.
You can add videos of your paintings and activities with ease.
You can sell artwork direct from your website.
You can rank your website with ease.
Kent is an easy template that allows you to build an attractive and clean website that can be encouraging to audiences. You can really put a spotlight on your creative work. There are portfolio pages that you can use to showcase work on your website. In addition, this template is perfect for images, videos and other media types.

There are also different types of pages that you can build on your website. For instance, you can build a cover, blog, event, album, and more. You can also sell your artwork direct from your website. This is a really big benefit to you.
Ready – Freelancer Squarespace Template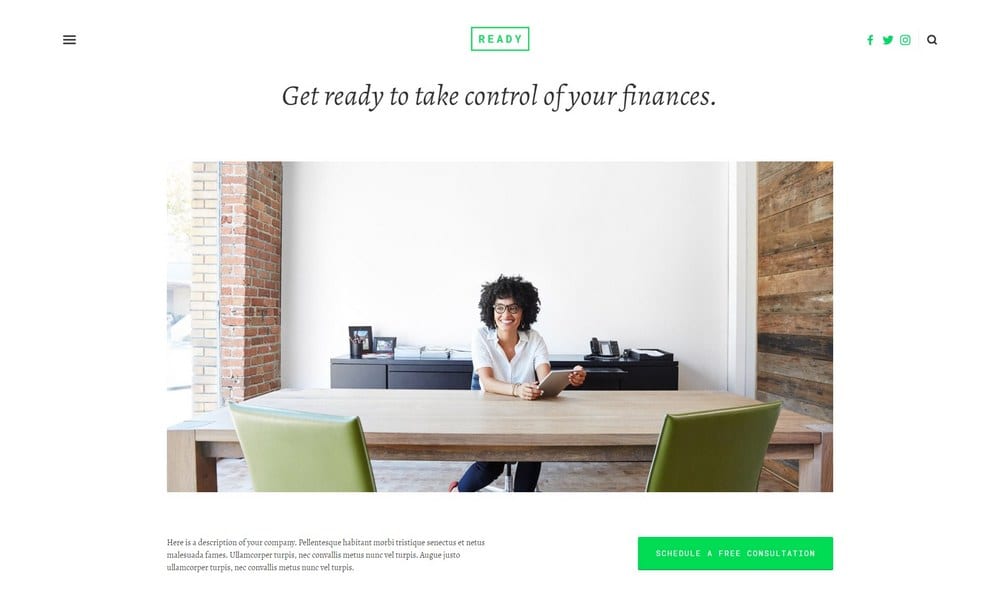 Ready Highlights:
This is an elegant, professional and minimalist template.
The white background provides a distraction-free background for your business' website.
Portray professionalism with ease.
Speedy website for more traffic.
When you're an artist, you need to showcase your work in a simple template. This is one of the best to do that with a minimalist design that allows the focus to be on your website. It has been designed for numerous niches, but it is perfect for creative arts.

The template allows you to utilize call-to-action buttons that can help you get sales and queries about your work. There is also a scheduling system that can help you manage your time better. This is an automated system.

There is a great website navigation system that can help audiences to find their way around your website.
Sofia Rey – Freelancer Squarespace Template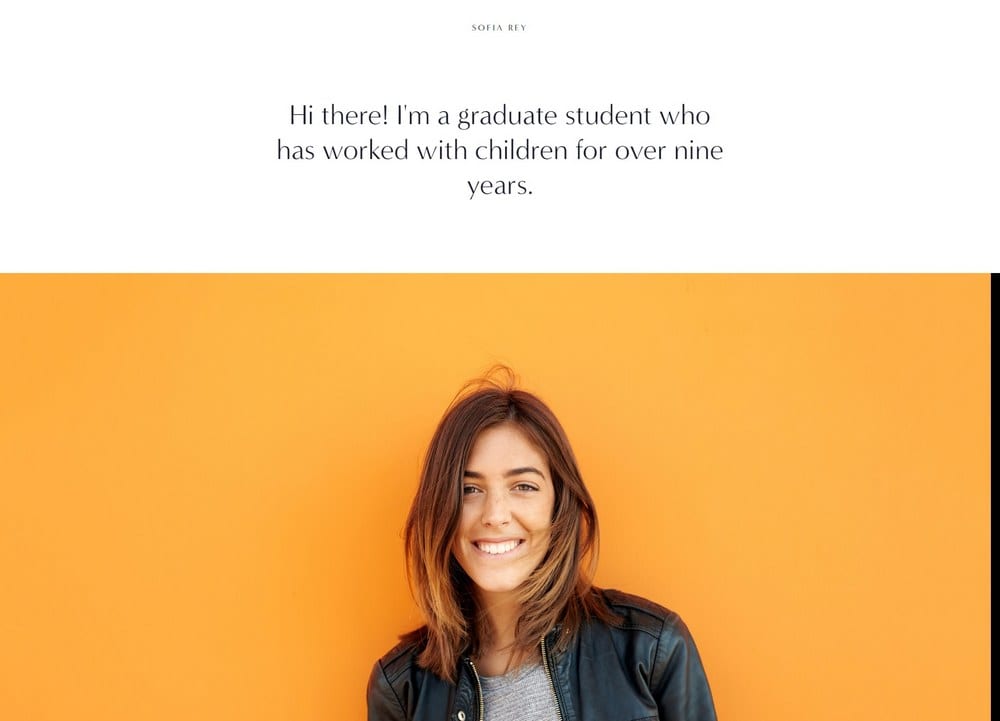 Sofia Rey Highlights:
Easy to use template that is perfect for one-man bands.
Use it to showcase your work with ease.
Tell customers about what you've done in the past.
Simple design.
Sofia Rey is a great option for artists because you can showcase your work with ease. The template allows you to bring everything together from showcasing your work to giving audiences a way to contact you when they want to buy a piece or commission something from you.

There is great navigational support that allows your audience to find lots of content on your website. For instance, customers should be able to find pages for your skills, services, reviews and how to contact you. The menu is located at the top right of the screen. You can also have social media links to your profiles located near this to help create engagement with audiences.

The template is also vibrant, sleek and professional. It can help add professionalism to your work that can help you sell more.
Avenue – Portfolio Squarespace Template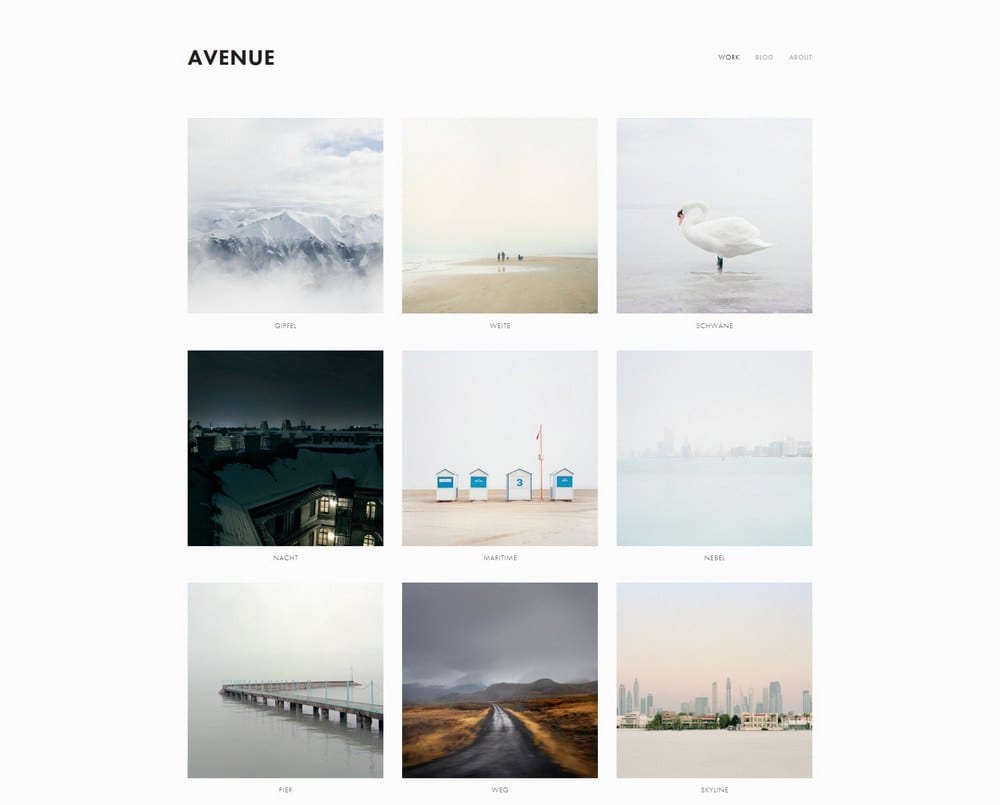 Avenue Highlights:
A quick loading website design.
Improved ranking potential for your website.
Add pages for each piece of work.
Grid-based design for easier building of a website.
Avenue is one of the top minimalist portfolio websites. Therefore, it's perfect for those who are artists and want a good website. It can be used to promote your past pieces by giving each of the creative artwork pieces you have to be displayed on their own page. This can also help you rank your website higher.

The attention of this to your artwork can help you build your website's reputation and your own skill. On each piece of artwork you can include lots of details about what you were thinking when creating and more.

The template allows you to build revenues for your brand. You can sell artwork direct from your website or you can sell services.

The template is very fast and can rank high on Google with ease.
Wells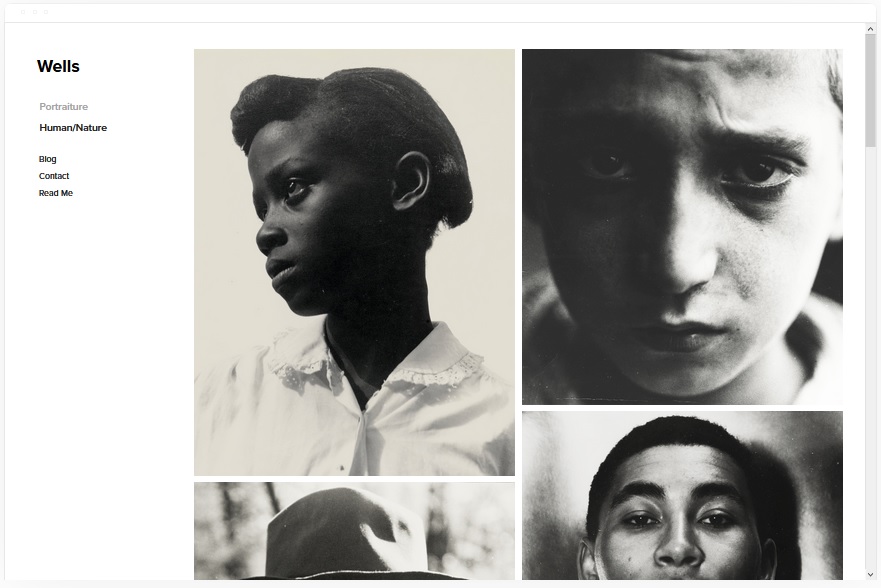 Wells Highlights:
A great design for showcasing your portfolio.
Sell your work online with ease to help you earn a living.
Upload videos to showcase you completing work.
You can use free images to help you populate your website.
Wells has one of the best designs when you want to have a website to showcase your creative artwork. It is perfect for artists because it is so easy to work with. It doesn't take too long to maintain or use the website template to build your brand. The template can be used for adding more information about you with new videos, images, artwork, text and more. Some elements allow you to create a portfolio.

You can also upload lots of videos to your website. This can be done URLs you can add direct to your website. All you need to do is copy the URL into your website's design. Squarespace will do the rest.

In addition, you can connect your audience to your social media profiles by integrating them with your website.
Rally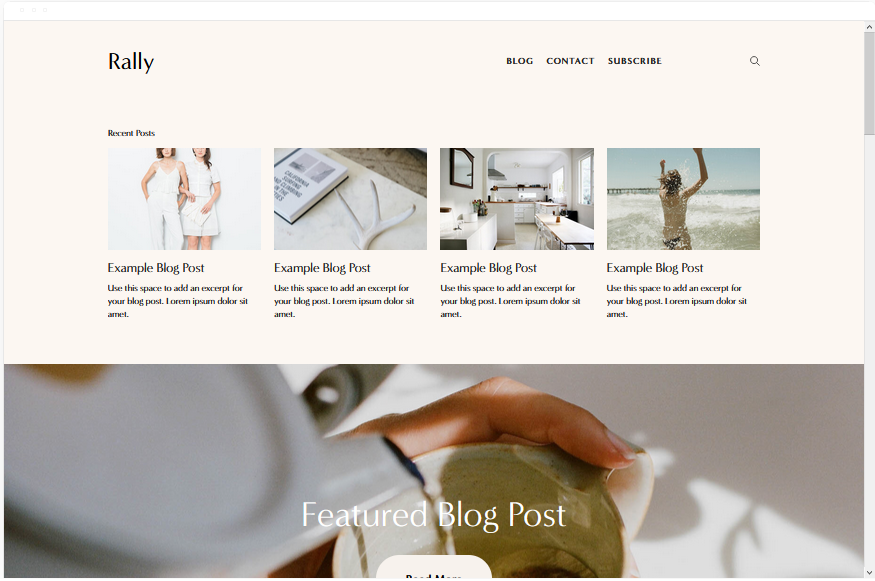 Rally Highlights:
Optimized for loading on browsers with any device.
Can list lots of your artwork with ease.
Smooth scrolling that allows for better customer experiences.
Perfect for lots of niches.
Rally is a streamlined website that allows you to showcase your work in an alluring design that is very professional. The simplified design has a great menu that is located in the top right corner. Next to the menu, there is space for the integration of your social media profiles.

The template is perfect for showcasing your blog posts. Each blog post can be there to promote your artwork or just your brand. You can highlight lots of things about your brand and then also use the blog posts to link back to your work.

Rally's scrolling animation is excellent. It will improve your user's experience on the website.
Harbor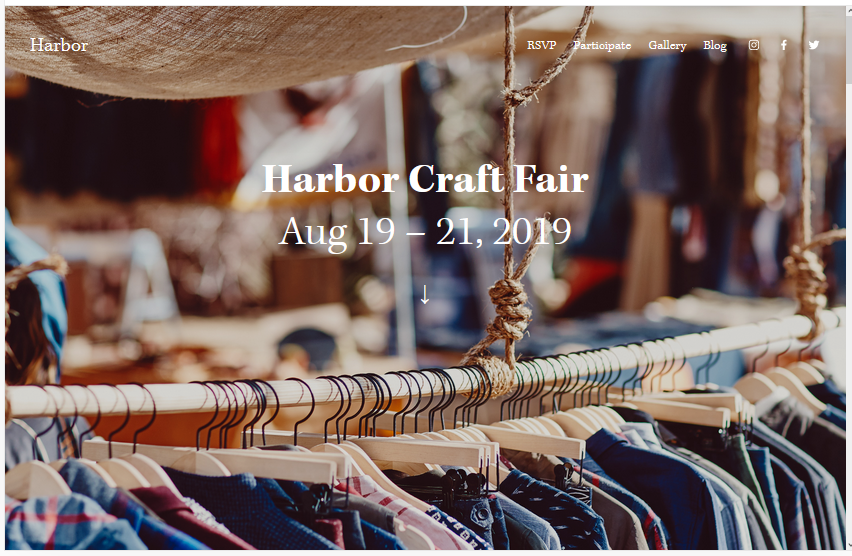 Harbor Highlights:
An aesthetically pleasing design to promote artwork.
A simple menu structure for better user experiences.
Works across mobiles, desktops and other devices.
Perfect for ranking on numerous search engines including Google.
Harbor is one of the top templates that can be utilized across niches that can help you create a perfect website for showcasing artwork. There is a beautiful background image that has a simple top-right menu bar. This menu can help customers to find their way around your website. The template is also so simple to use, that a website can be ready within minutes.

The template allows you to showcase your past projects and connect with audiences with ease. You can use the front page to advertise your work. Then you can add features that allow you to say why audiences should speak to you about commissioning some artwork.

The template is fast loading and ranks well on Google and other search engines. This is one of the easiest designs to customise.
Carson – Portfolio Squarespace Template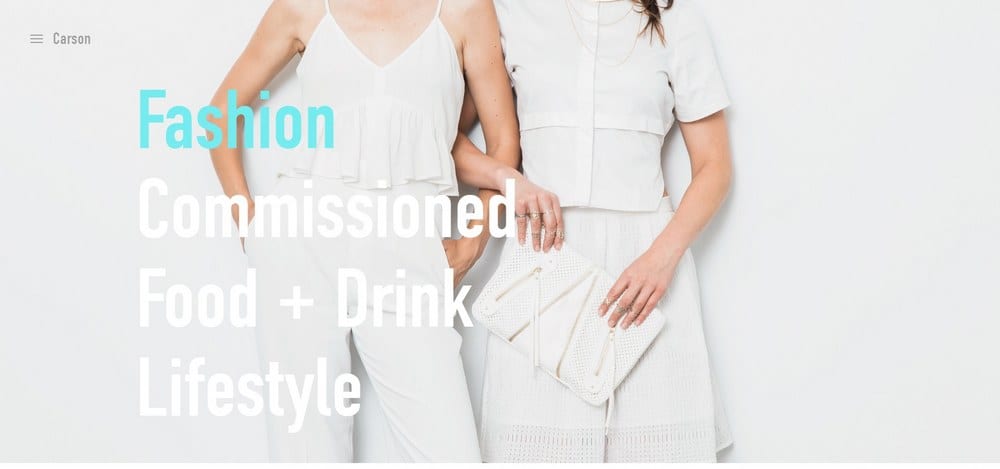 Carson Highlights:
A unique template that can be easily used.
A changeable background image that is perfect for branding.
A hidden menu that can be used to navigate across your site.
More engaging content for your website.
This is one of the most unusual Squarespace templates available for your website. Its unique design is based on the fact that your website's background image will change when your customer hovers over a link on the page.

The benefit of this template is that you can reduce the bounce rate on your website, without increasing costs. The customer will notice the change and you can be sure that they will stick around longer. It might also help you to build a better website with higher levels of engagement/revenues.

The website can be used to build a portfolio that you can use to promote your past and current artwork. This template also includes a hidden menu that can have linked-to pages across your website. Pages on your website that can be built include the contact, about and services pages.
Mojave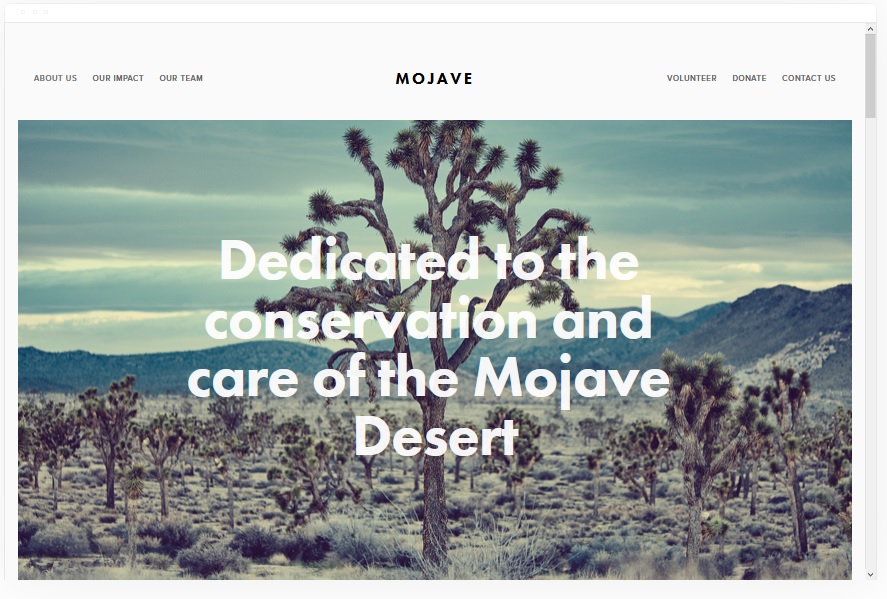 Mojave Highlights:
This has a striking appearance to impress guests.
Add videos and images to your website.
Add banners to your website.
Faster loading times on your website.
Mojave is a great option for those who want to build a fantastic portfolio for artwork. It only takes seconds to build and style. There are options for you to use videos and images to help you sell your artwork with ease.

There is a great scrolling effect for the template. And this can include lots of call-to-actions to get your visitors to speak to you. This could be about buying an artwork piece or commissioning something from you.

Those who have technical skills can also add share buttons to their website. This can include share buttons on blog posts, events, galleries, portfolios, cover, layout, index, product pages and more. This can help your audience to support you further through social media and extra landing pages.

Mojave has a striking appearance. It is perfect for any style of artwork that you produce. It can also be used as an eCommerce platform, allowing you to take payments online with ease.
Final Word: Which is the Best Squarespace Template for Artists?
If you're an artist, then you need to have a good platform to help you sell your artwork. Whether you're looking to do this online or offline, a good website is vital above are ten of the best Squarespace templates for artists to consider. Which one will you use?