In today's modern world, everyone needs to have a website, including therapists. So if you want one of the best Squarespace templates for therapists, then you need to look at the list here.
What Makes templates the best Squarespace Templates for Therapists?
There are numerous things to look for in the best Squarespace templates for therapists. The first thing that you need to consider is the design. There are lots of different styles that can be used within this industry and you can be sure that you need one that will display professionalism and help you get appointments.
Next, you need speed. A fast loading template is something that helps you to get the most from your traffic. About 7% of your audience will abandon your website for every second that it takes your website to load. Most website templates take between 8 and 11 seconds to load, but the ideal is about four seconds.
Another thing that you want to do is to have a website that has high ranking potential. The higher that you are ranked, the more traffic you will get.
So what is the best Squarespace Templates for Therapists? Here are ten options for you to try.
Ready – Freelancer Squarespace Template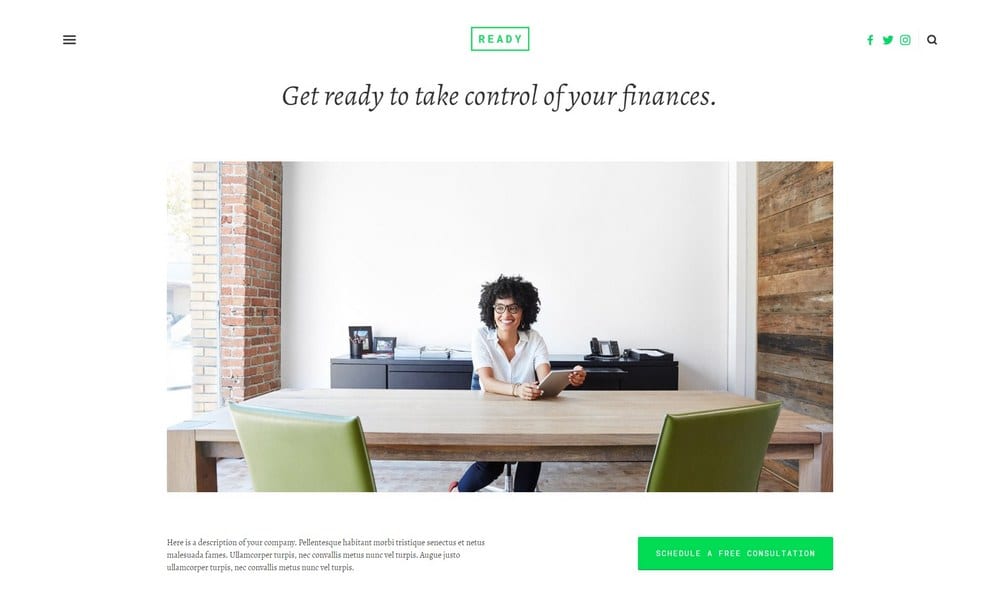 Ready – Freelancer Squarespace Template Highlights:
Inbuilt booking system for appointments
Minimalist design to support SEO.
Can add links to social media accounts.
Aesthetically pleasing design.
Ready is a great template to help you impress your therapy clients. You can choose images that should support your branding and help you get leads. The cool design of this template is perfect for helping you to project that professionalism that you want. The template allows you to showcase lots of images, videos and even books you've written that you want to promote.

The template allows you to add social proof to your website by showcasing reviews and more. The template is also perfect for loading and ranking on Google and other search engines.

To help with revenues you're able to bookings and appointments with ease. These can be automatically managed and all appointments can be merged with a third-party calendar app that you're already using. Therefore, you can make your business more easily managed.

The template is perfect for navigation. There is a hidden menu that is on the left-hand side of the screen. This will only appear when the user clicks on the icon to reveal it.
Skye – Modern Blog Squarespace Template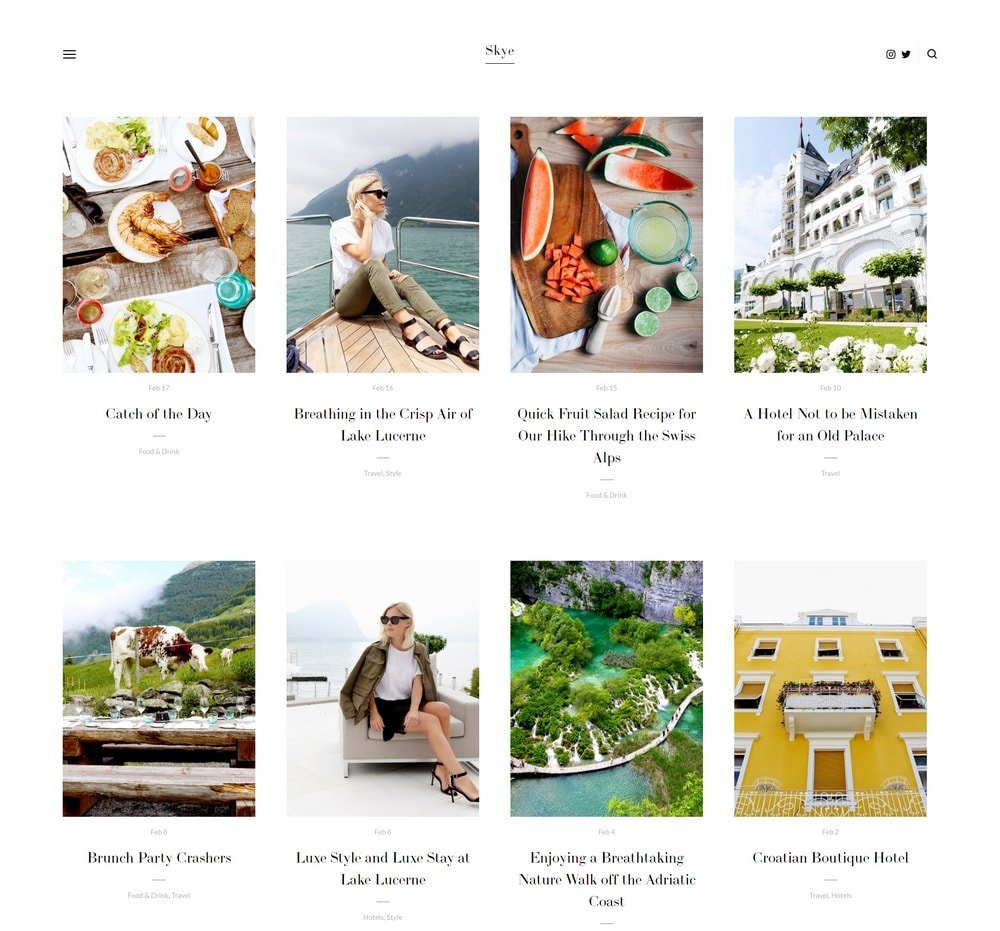 Skye – Modern Blog Squarespace Template Highlights:
A modern design to advertise your services through images.
Easy to view on mobile.
Great ranking abilities on search engines.
A scheduling system to book appointments.
Skye is one of the top options for Squarespace template and is used by numerous niches across the world from bloggers to professionals looking to showcase what they have to offer. The template likes to use lots of images on it, as this is a great way to boost your SEO presence and as a way to help audiences to trust you. Research has also shown that images on a page is a great way for your business and improve conversions, so a good image can be worth its investment.

Traditionally this template has been used by bloggers and professionals who want to create lots of advice lines. Being a therapist, this could be a great way to boost your ranking on search engines and also improve the traffic flow to your website. Research has shown that those that publish more than 15 blogs per month get 70% more traffic.

In addition, you can use this template to manage your appointments. Audiences can book appointments with you that can be automatically accepted and scheduled in.

The template is completely mobile friendly. Therefore, audiences can read your website with ease no matter what device they're using. And customers won't abandon your website at all.
Hayden – Agency Squarespace Template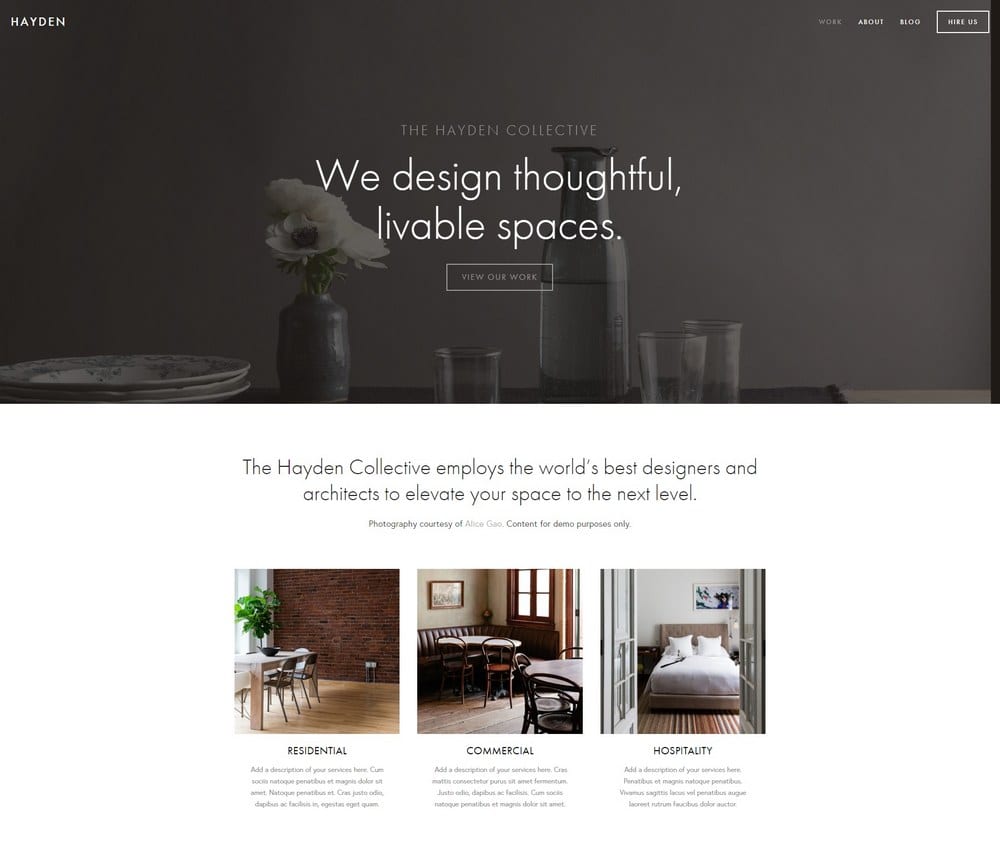 Hayden – Agency Squarespace Template Highlights:
Very easy to customize.
A sticky navigation bar.
The ability for eCommerce.
Blogging section.
Hayden has been specifically designed for brands like therapists and other service businesses. The professional design is perfect for covering all kinds of aspects of your business. While there is a stigma that this template is better suited for consultants, this is not true. The template comes with lots of features that can help you promote your brand. For instance, there are social media integration tactics that can help you build a good following.

There are also options for you to build a blog on your website. A blog can help convince audiences that you have the skills to help them. A good blog can also help you rank higher on Google and on other search engines for a wider variety of keywords. Therefore, traffic levels and inquiries can increase.

If you host events, you can also showcase previous ones that you've either hosted or attended. You can also showcase clients, services, case studies and more for your website. There is also a booking system that allows you to sell appointments or just take appoints for yourself.

The best aspect of your website will be the striking design of Hayden. There is a menu that is placed in the top right of the website. You can be sure that your audience can find their way around your website without a problem. This can be very beneficial as it can improve the bounce rate on your website. In addition, you can benefit from your website's sticky navigation. This means the menu will continue to display regardless of how far down the page the audience scrolls.
Almar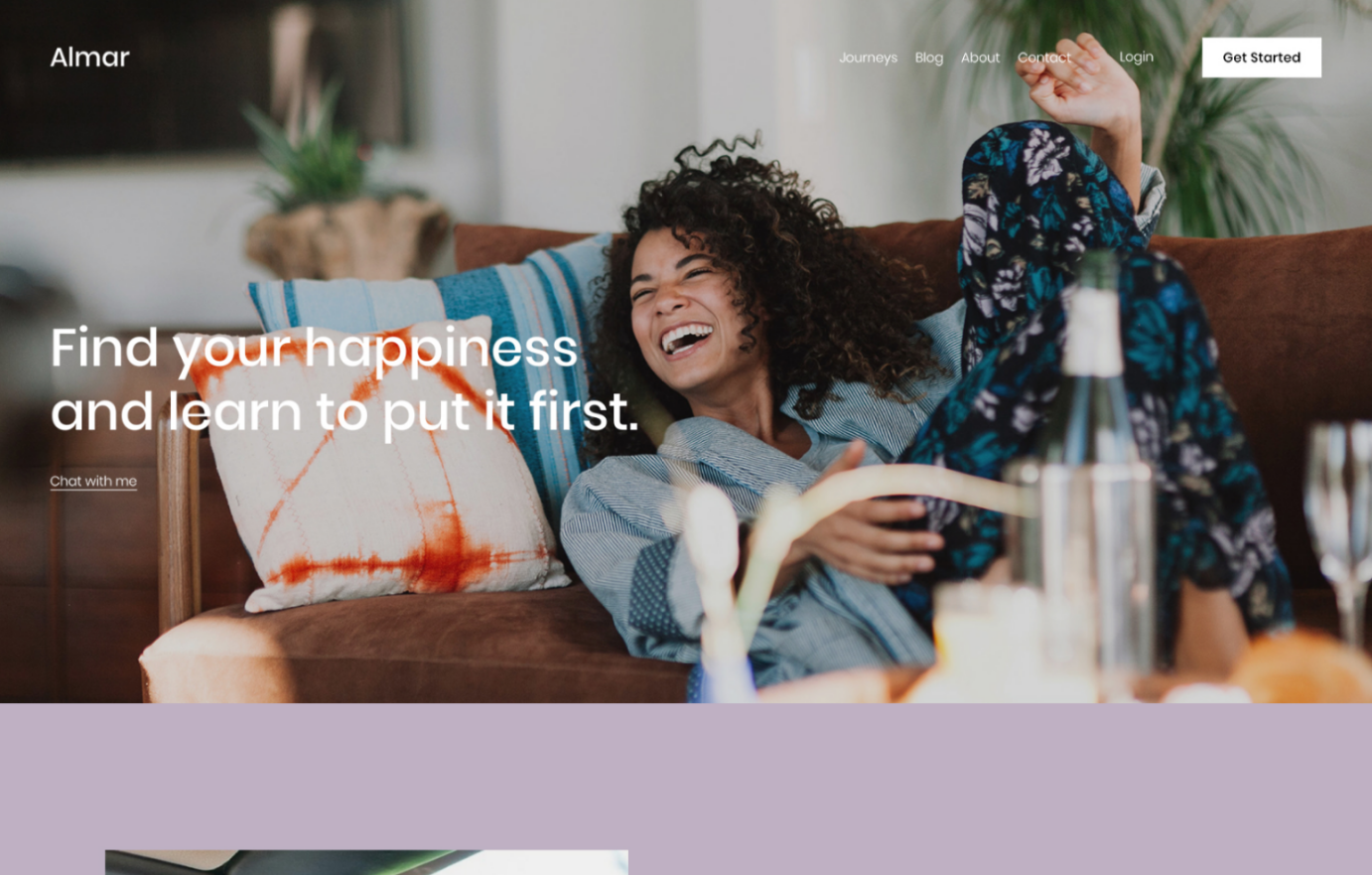 Almar Highlights:
Fast loading to improve your SEO.
Connect to your social media accounts.
Sell products related to your therapy services.
Add call-to-actions to encourage bookings.
Almar is a clean and modern template that is a great solution for those who are looking to take appointments on their website for their business, like a therapist. This template has a ready-made template design that allows you to build and publish a website within just a few hours. The ease at which the template can be maintained can also be a rewarding experience. Therefore, you can spend more time with your audience and clients rather than working on your website.

There are numerous ways that you can earn revenue on your website. For instance, you can build affiliate marketing links, sponsored content and sell merchandise if you can. This template can work with large or small catalogs with ease.

The template can handle a lot of call-to-actions. Therefore, you can link events or sessions that are available on your website. There are options that allow you to have an appointment system on your website.

Almar is an effective template with fast loading times. There is also a lot of potential to rank high on Google, so you can have more traffic to your website. You can also expect higher levels of conversion because you can benefit from faster loading times.
Wells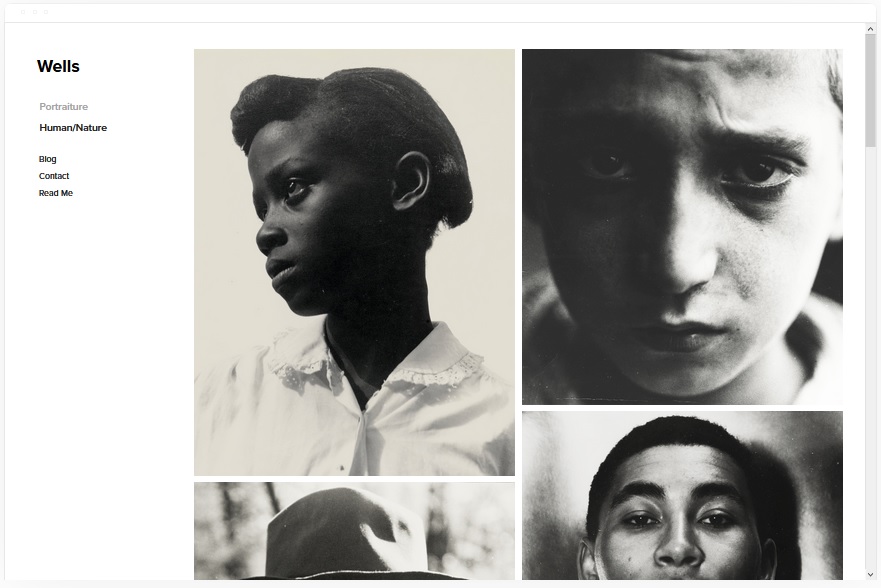 Wells Highlights:
A great design for converting audiences.
Display video content to demonstrate your services.
Use images to tell the story of your brand.
Add products as an additional revenue stream.
Wells is one of the top templates that is perfect for booking appointments and selling online. There are lots of places that are available on your website for your high-quality, professional images. Images can be linked to appointments and other features on your website. This can help you sell appointments and offer you a steady revenue stream for your business. You can improve your website's revenue with ease thanks to affiliate marketing, sponsorship and merchandise.

There are ways that you can also add images, videos and more to your website that can help you convert more. The template allows you to add products to your website and you can take payments direct.

Videos are one of the top ways to build social proof on your website. Therefore, you can use this template to promote videos. To add a video just add the URL of the video from YouTube to the page and the website's software will do the rest.
Carson – Portfolio Squarespace Template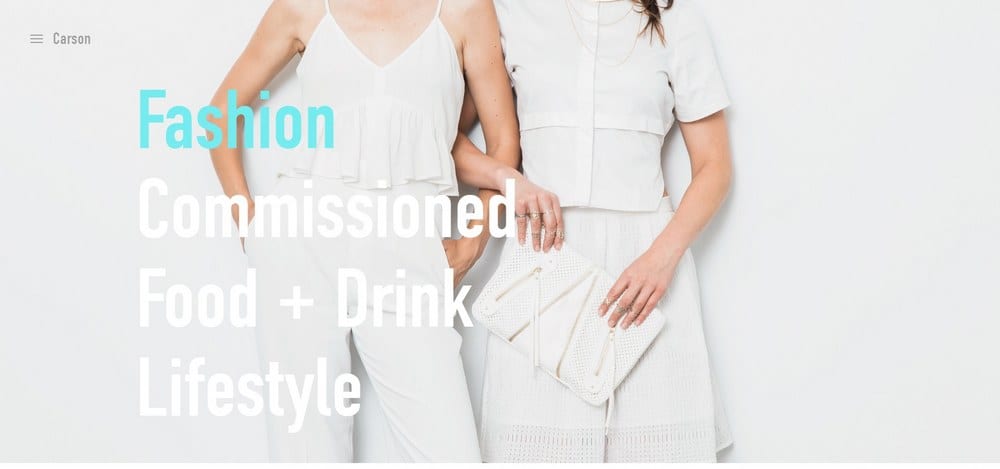 Carson – Portfolio Squarespace Template Highlights:
A static template with an interactive background.
Sell products direct on your website.
Appointments and bookings.
A hidden menu to improve navigation.
This is one of the more usual templates on Squarespace and it is a very interactive template. The unique design is perfect for static websites. The background image on the website can change based on the location of the user's mouse pointer. This creates a new engagement option that can lower bounce rates and impress visitors.

The template can be linked with appointments that allow you to take revenues and ensure your schedule is full. And you can have a revenue stream that doesn't need much engagement or involvement with you.

The website can also showcase your work within portfolio pages or you can link to other pages like clients, specialisms, about, contact and more.
Avenue – Portfolio Squarespace Template Template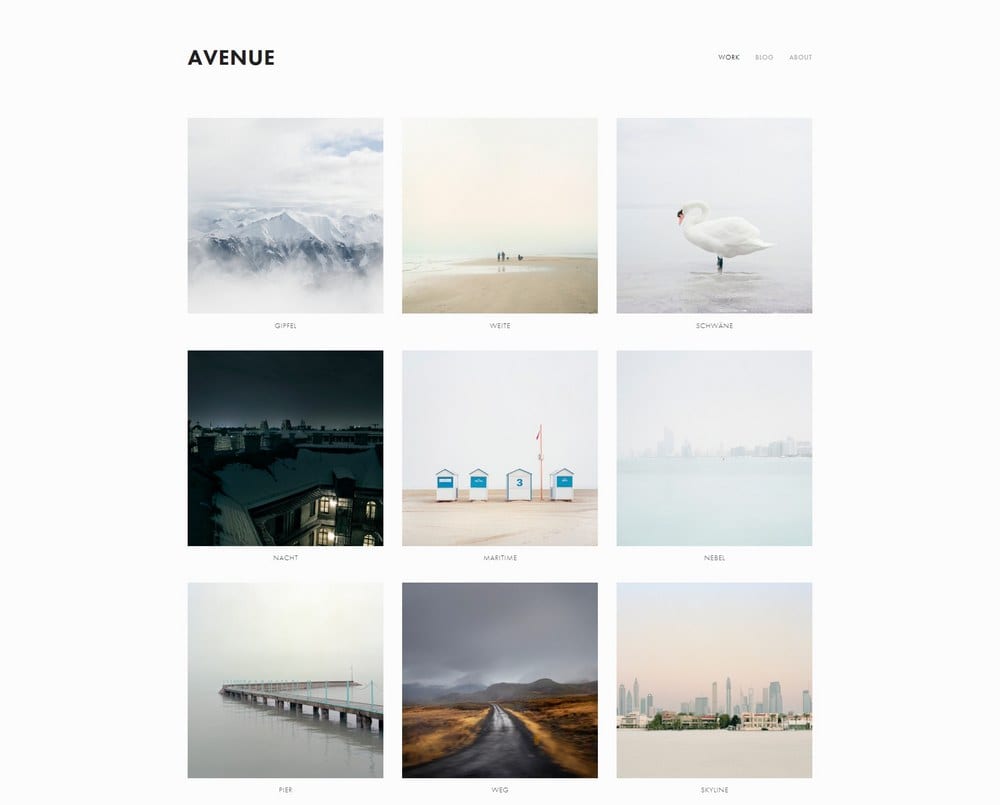 Avenue – Portfolio Squarespace Template Highlights:
Appointment booking with eCommerce features.
Describe your services.
Easy to design and maintain.
A fast website that will load quickly on any device.
This template is one of the best in the list for those that want a website template they can customize for your specific needs. It takes only a few seconds to add styles and features that help you build the website of your dreams. This is a minimalist template that is perfect for loading times and ranking. Minimalism is a style that has lower code in it, and there it looks simpler but it is a very popular trend. In addition to being liked by developers, it is loved by search engines and works well across devices.

This template can bring a lot of power to your website. You can link to your achievements, build strong relationships with your audience through social media and even collect appointments through a scheduling system. You can charge for these appointments at the booking space or you can request payment at another date.

The template's basic design looks professional and can really help you build trust with your audience. Changing the color on your website is really simple too.
Native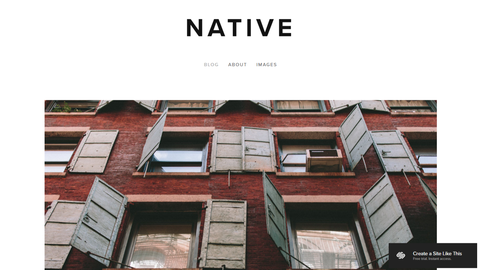 Native Highlights:
Images in rounded thumbnails to demonstrate your therapy services.
Social media integration.
A fast website with good loading speeds.
A great blogging platform to showcase your business.
Native is a great option for those that want to mix their professionalism with social media. Social media is a great way for building a stronger brand and attract more people to your brand. The template is perfect for those brands that want to also have a lot of photos or images on their website. While it is often used by bloggers, it has been used by professionals, like yourself, to showcase advice and support.

The main page of your website can have a scrolling design that is clean and modern. This is impressive and you can build a reputation for professionalism as result.

The template can also include a location for every blog entry that you write. Though this is an optional part of the blogging process. And you can sell products or services direct from your website.
Harbor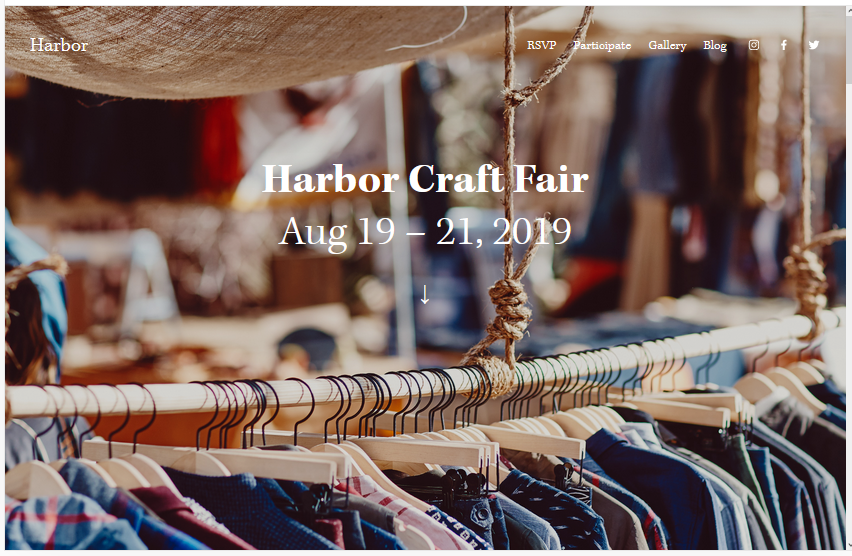 Harbor Highlights:
Built-in tools such as call-to-action buttons for appointments.
A simple menu.
Portfolio to showcase your services
A customizable design.
Harbor is a great template that can be used across niches. It makes the perfect option for numerous professional brands. There is a beautiful background image and there is a simple menu bar that can be used for navigation across your site.

The template allows you to showcase your work with clients. You can also use the front page as a massive advert for your website and services. The template can also be connected to your website's appointment system.

The template is fast loading and can rank quickly on Google. This makes it one of the best for your marketing.
Sofia Pazari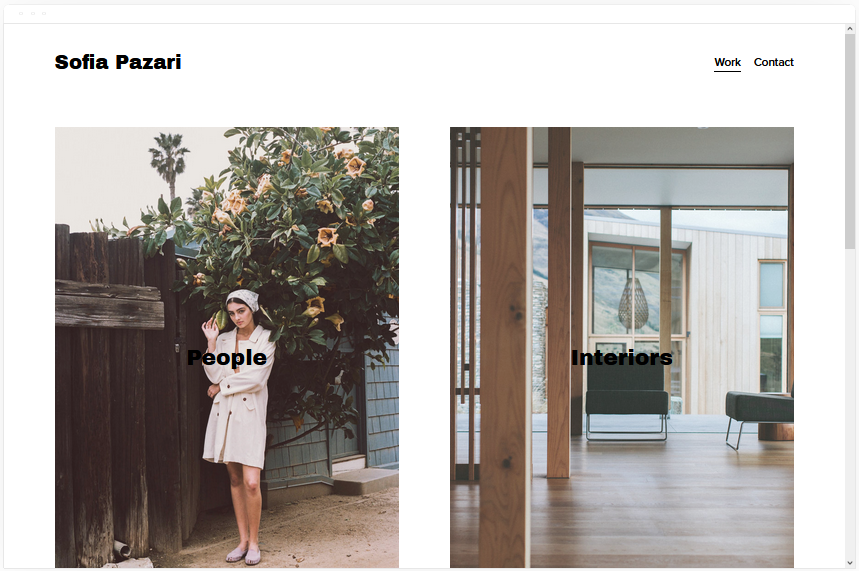 Sofia Pazari Highlights:
Two main images to highlight your therapy services.
Great for mobile visitors as a fast loading template.
Easy to customize template.
Minimalist design with a services page.
Sofia Pazaris is a great, easy to customize template that can help you get your brand online. The template is perfect for ranking across search engines with a minimalist design that is awe-inspiring and quick to load.

As soon as your audience land on the website, they are given a white page that has two images on it. These images are side by side. These can showcase your services or a link to your appointments page. There is also a simple menu that you can add to your website.

The clean design is perfect for numerous brands. It is simple to customize and allows you to spend more time with your clients and less time managing your website.
Final Word: Which is these 10 is the Best Squarespace Templates for Therapists?
Are you looking for one of the best Squarespace templates for therapists? There are ten great options for you above. Which one will you use? Let us know in the comments below.