Food blogs are some of the most popular blogs online. They can be a great way to share a passion and earn some extra income (or create a new full-time position for you). However, you will need to have a website for this to work and Squarespace is one of the best platforms. In this article, we explore the best Squarespace food blog templates for you to use.
What Use a Squarespace Food Blog Template
There are numerous reasons why you would want to use Squarespace for your Squarespace food blog platform. For one, Squarespace is one of the most advanced and flexible platforms that you can use. The platform can be used for simple blogging or a complex mix of content, merchandise, and other aspects that can improve revenue streams.
Squarespace food blog templates are also relatively easy to edit. Those without any experience can use the templates, insert their content and away they go with the blog. Therefore, you can focus on other important aspects of running your blog, from creating the content that will get your site ranked, having the best Squarespace SEO, and even marketing on other platforms like Facebook and Instagram.
Finally, with Squarespace, there is a simple payment option. Squarespace has set pricing that includes the template and features. There is no need to purchase the template and the hosting and you're not having to deal with two or three suppliers to get your blog operating.
So what are the best Squarespace food blog templates available? Here is a list of our top picks for your new venture.

Carson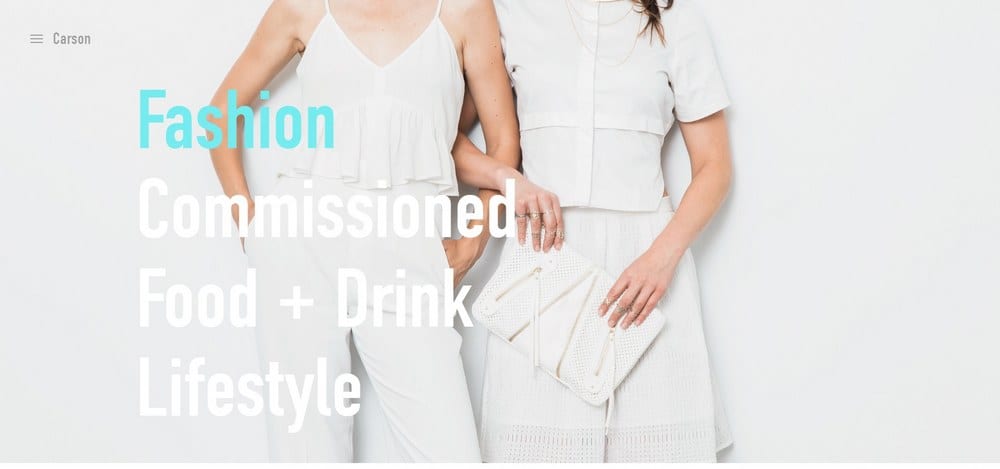 Carson Highlights
One of the more unique Squarespace templates that can be used with numerous niches.
There is a static background that can change with the cursor movement.
Can easily build a website with the template.
There is a hidden menu for better navigation.

Carson is a great Squarespace food blog template that will create a unique design for your new blog. There is a static homepage that allows you to highlight key pieces of content and social media links all in one place.

The background image on the template will change as the website user hovers over an image or text location to help create a new engaging website. There is also a hidden menu to aid navigation across your website. So you can highlight different types of food or areas of content.

You can use this template to showcase different niches.
Bedford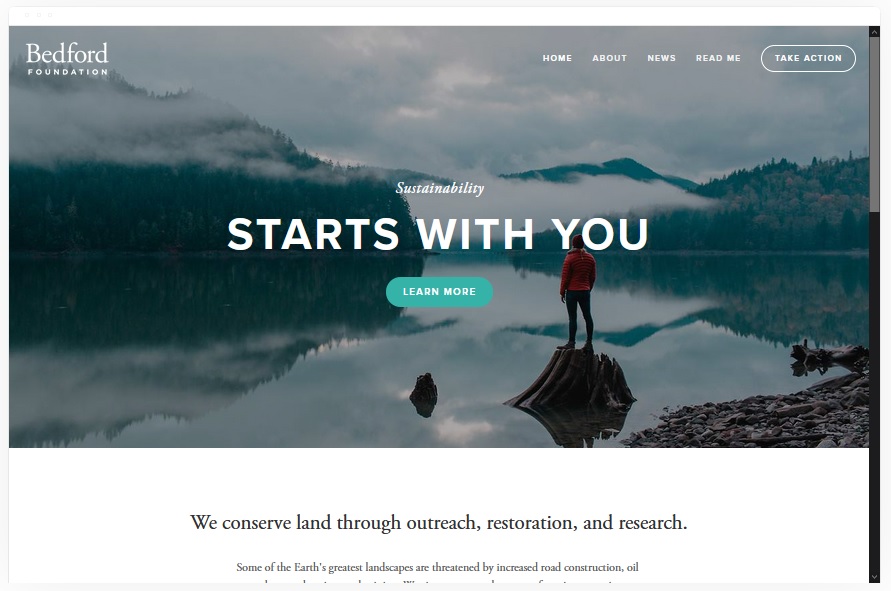 Bedford Highlights:
You can build a fantastic blog that will promote your business.
Build a strong revenue stream through lots of different options.
There is perfect navigation on your website.
Media can be added to make the blog look more attractive.

Bedford is one of the most popular templates in that you can promote your new food blog. There are lots of great online features that can build a great platform. Part of the features includes functions to help you sell products and services on your website. Perfect for when you want to take payments for sponsored content.

The template has sidebar navigation and a scrolling index page that allows users on the website
to navigate to all the areas of the website. You can include videos and photos on your website to attract a larger audience and convert more of them. There is a great call-to-action button that you can use to encourage a subscription to a mailing box.
Bailard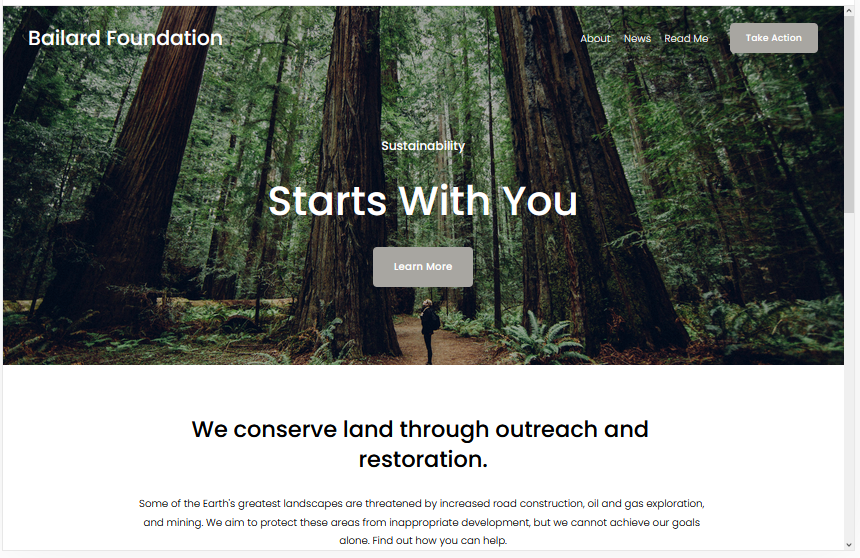 Bailard Highlights:
One of the best, top-performing, and most popular templates on Squarespace.
There is a hero image at the center of the page.
The images can be lazy-loaded with ease.
The template is known for being bold and minimalist.

This minimalist and bold template is a great option and very popular. There are two calls to action on the home page, right in the center of the design, a hero image that you can change within just a few seconds. You can direct visitors to the email sign-up to get in contact by clicking on the button at the center of the hero image. You can also have your website lazy load images to improve ranking and user experience.

The minimalist design also helps reduce loading times.
Sofia Rey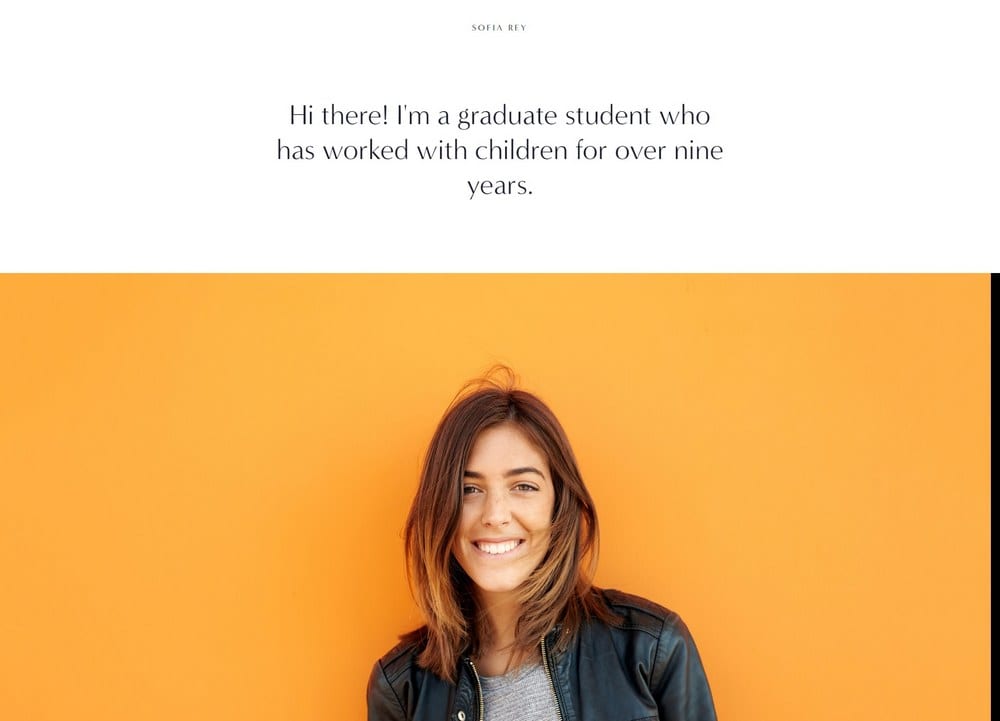 Sofia Rey Highlights:
Sofia Rey is a perfect template for small businesses.
You can list skills, reviews, ingredients, contact information, and more.
The template is really easy to customize.
Comes with a beautiful about me section.

Sofia Rey is one of the best templates for Squarespace small business owners and bloggers. The grid-based template looks great on almost any niche, including as a food blog. The vibrant and sleek website will open to look amazing with numerous features.

The template is fully customizable with some great eCommerce features, helping you to build a highly successful food blog. There are also ways that you can link to social media profiles and you can get reviews for your content with ease.

To help bring more fans to you and for them to learn about your talents there are resume sections, contact forms, and a great navigational system on the platform.
Kent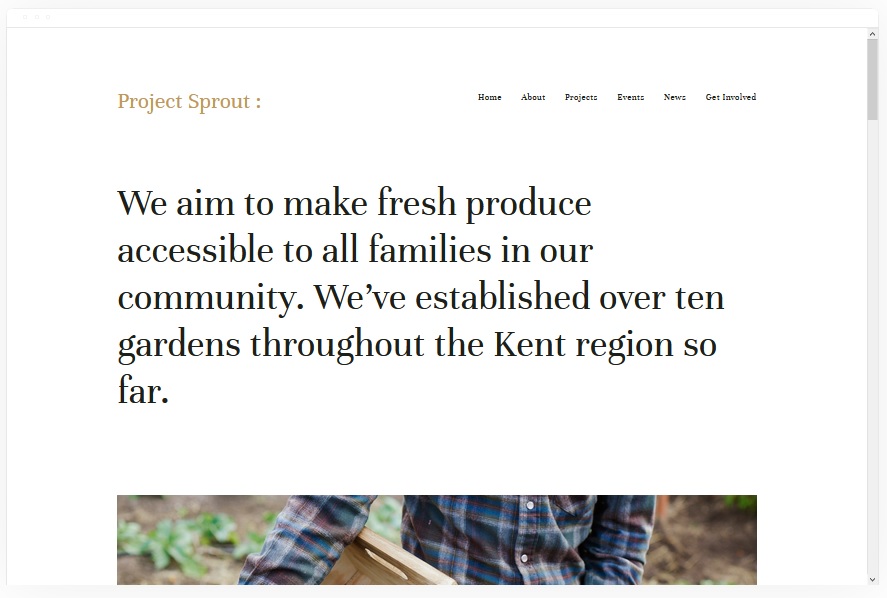 Kent Highlights:
This is one of the most popular templates with an attractive design.
The template is perfect for ranking on search engines like Google.
You can host videos on YouTube so your website speed is not affected.
You can take eCommerce payments on the platform.

Kent is a highly popular template that is used on Squarespace websites within many different niches. It does very well for those who are hosting videos on YouTube, have a blog, and want to use their website to generate more revenue through eCommerce. And despite all the additional functions that are added to the template, the speed of your website will not be slowed down.

The attractive design is perfect for numerous different niches, including a food blog. And with the added features, you can rank well on Google and other search engines.

There are lots of potential options that allow you to create attention-grabbing headlines and these can be applied to the product, and blog posts and attract audiences to other content too.
There are numerous page templates that you can use, including how you can design your blog, product pages, and even event pages. This template is ideal for eCommerce websites as well as blogging.
Ready – Freelancer Squarespace Template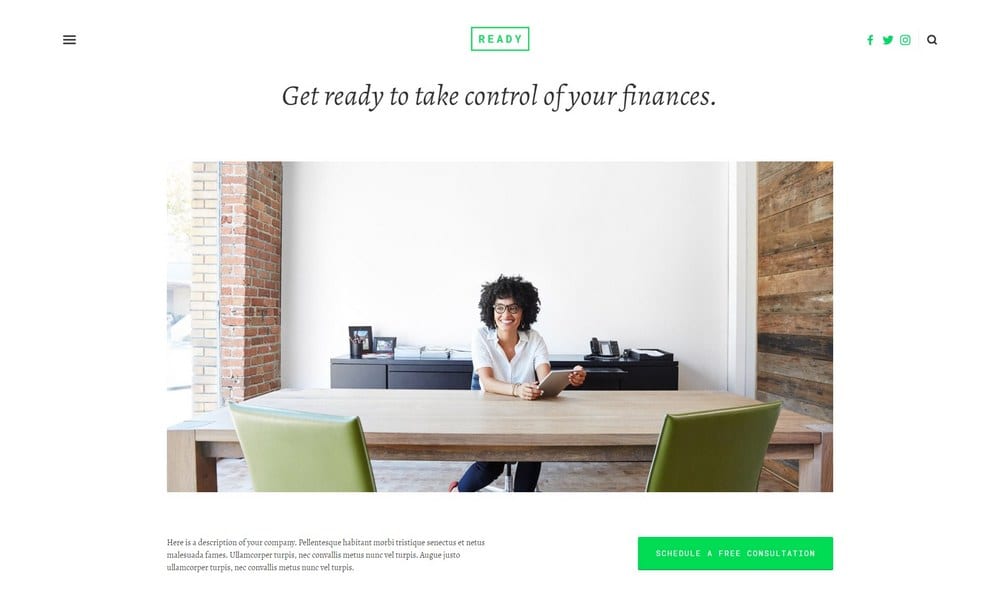 Ready – Freelancer Squarespace Template Highlights:
You can connect your social media accounts to your website.
Call-to-action button to receive contacts from your website visitors.
There is a fast loading time.
The minimalist theme is fast and sleek.

This is one of the most popular templates on Squarespace, where you can showcase your blog posts. The sleek, minimalist theme has a white background so you can showcase all the food on your website. There is a hidden menu on the left-hand side to help visitors to the website to navigate your website. You're also able to include a call-to-action button, to help with inquiries and connect to your customers across numerous platforms like social media.
The template is also perfect for taking bookings if you want to offer other services.
Myhra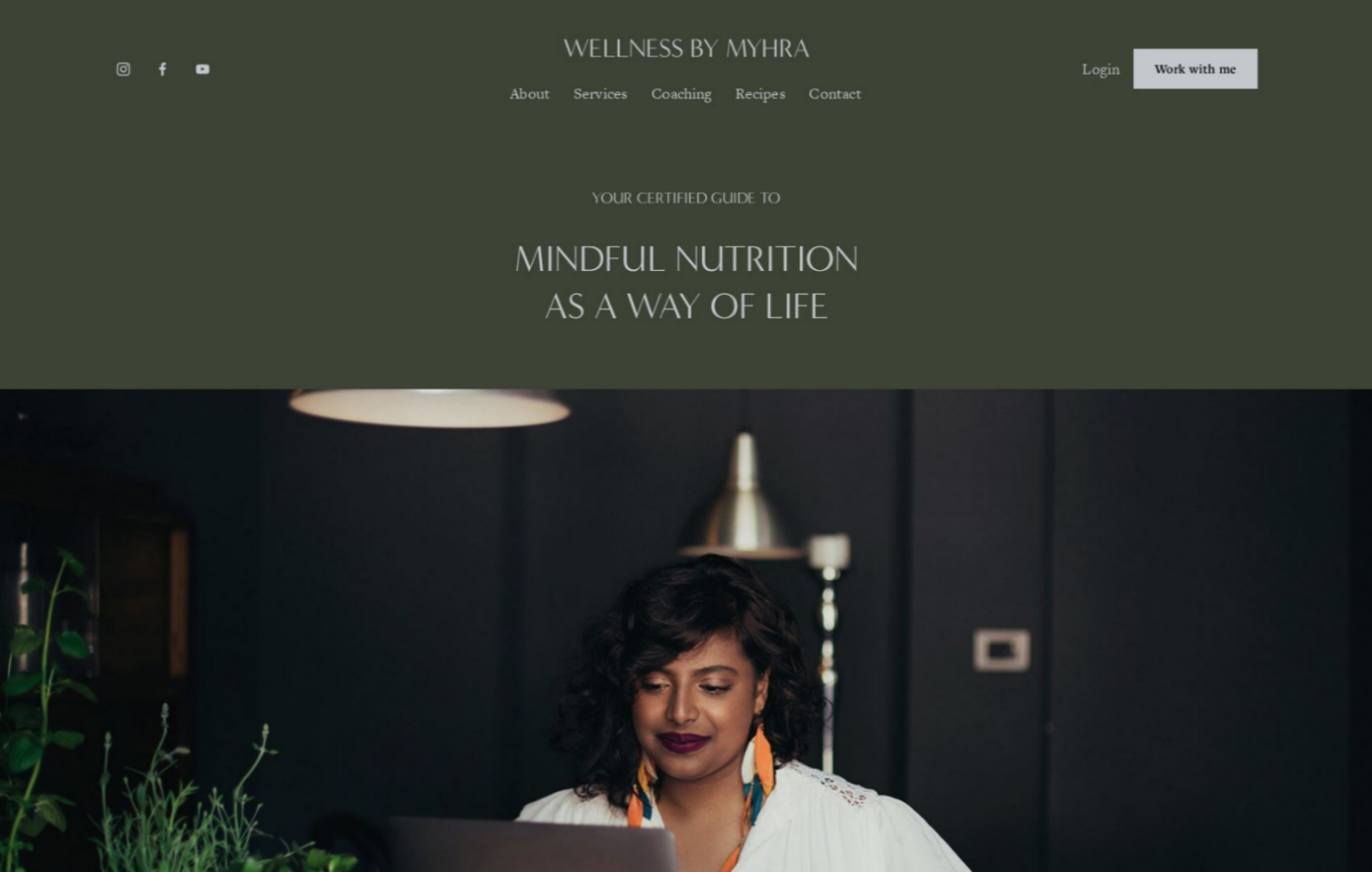 Myhra Highlights:
There are numerous engagement points on the website.
It comes with a great blogging section.
You can also customize the site so it ranks high on Google and other search engines.
There are numerous revenue streams on the platform.

Myhra is one of the top blogging templates for Squarespace. There is a perfect blogging section that can help you create lots of great content to help you share news and information with followers.

There are also engagement points and it can also be customized to help your blog rank on Google and other search engines. There are also great options for revenue diversification, such as selling products and other options.
Skye – Modern Blog Squarespace Template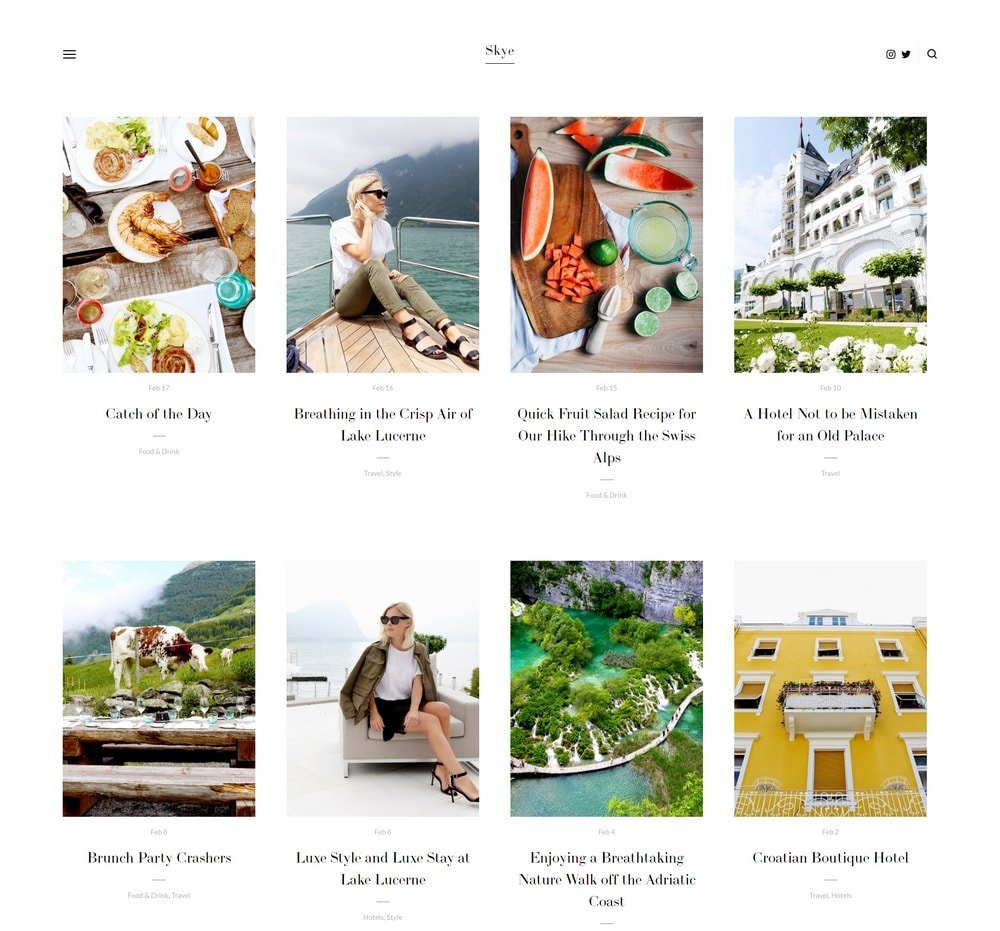 Skye – Modern Blog Squarespace Template Highlights:
The template is designed for blogging.
This is a minimalist Squarespace template, perfect for loading times.
Showcase recipe images in high-quality images.
A mobile-friendly website.

This is another fantastic blogging template for Squarespace websites. It allows you to center your whole brand on your blogging content. You can create interest with your brand's content whether you're writing about new foods, restaurants, or even recipes.

The template comes with numerous features, despite being a minimalist template. The website is also fast, allowing you to showcase top-quality images, which can help you to rank on search engines with ease.

The website will load fast, improving your bounce rates.
Momentum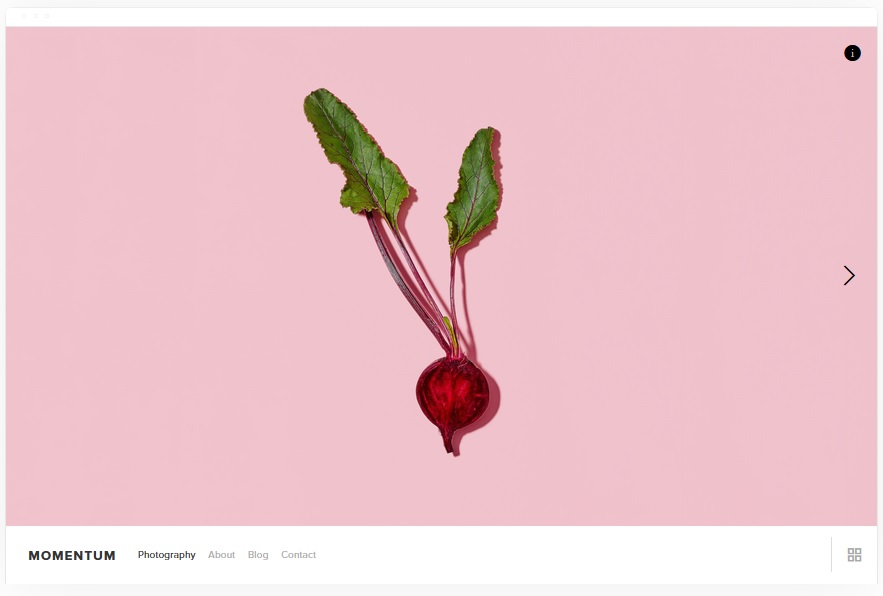 Momentum Highlights:
Momentum has lots of great blogging features included.
This is a perfect template for a food blog.
You can have an automatic transition of images.
You have a striking design that is perfect for customization.

Momentum is a showcase template that allows you to showcase your images as a slideshow. To highlight the blogs, you can just showcase your images and videos within the slideshow. You can also use the template to highlight more content on your blog and use it as a great blogging template.

The key to using this template is making sure that you can publish enough content. It takes about 15 blog posts per month to improve the reach of the blog. And the striking design will help you convert users into subscribers.
Wells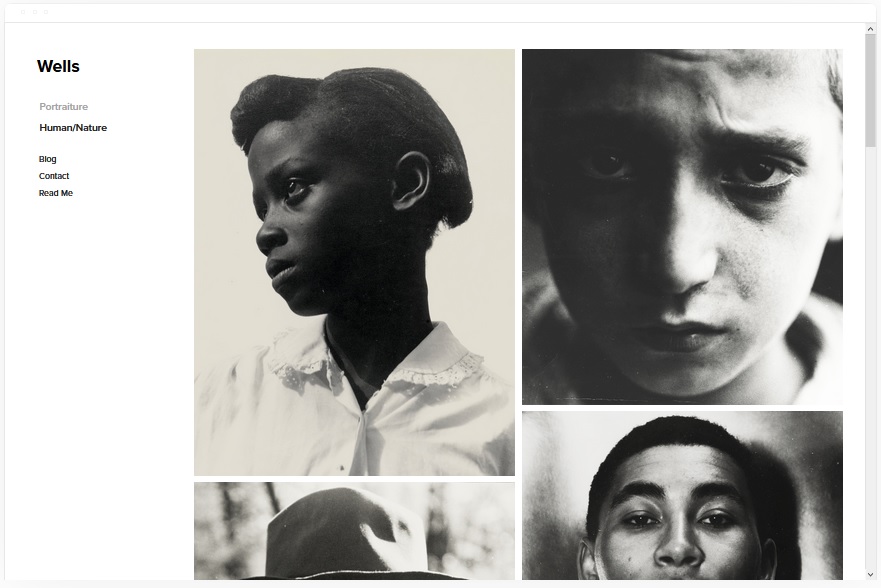 Wells Highlights:
One of the best Squarespace blogging templates.
You're able to use high-resolution images on your website.
This is one of the perfect options for also selling merchandise.
There are numerous features to help showcase video content.

Wells is a great template for showcasing high-quality images, attached to the blog. It can also work well for selling merchandise and service on your blog post. You can take payments with ease. You'll also be able to add videos with ease by adding the URL of the video from YouTube to the Squarespace website.

The Wells template is perfect for converting visitors with ease.

Final Word: Squarespace Food Blog Templates
Above are some of the best Squarespace food blog templates that you can use for your new venture. Which one of the templates will you use for your food blog? Let us know in the comments below.