A lifestyle blog is a great way to earn money. More than half of all content read online will be blog articles. Therefore you will want the best Squarespace template for a lifestyle blog.
What are you Looking for in the Best Squarespace Template for a Lifestyle Blog?
Numerous things should be in the best Squarespace template for a lifestyle blog, For one, you need something that can publish media to promote stories. You also need to have a template that will put your blog at the forefront of your marketing.
Speed will also be vital. For every second that it takes for your website to load, you will lose about 7% of your audience and potential revenues.
So which is the best Squarespace Template for a lifestyle blog? Here are ten possible options for you.
Skye – Modern Blog Squarespace Template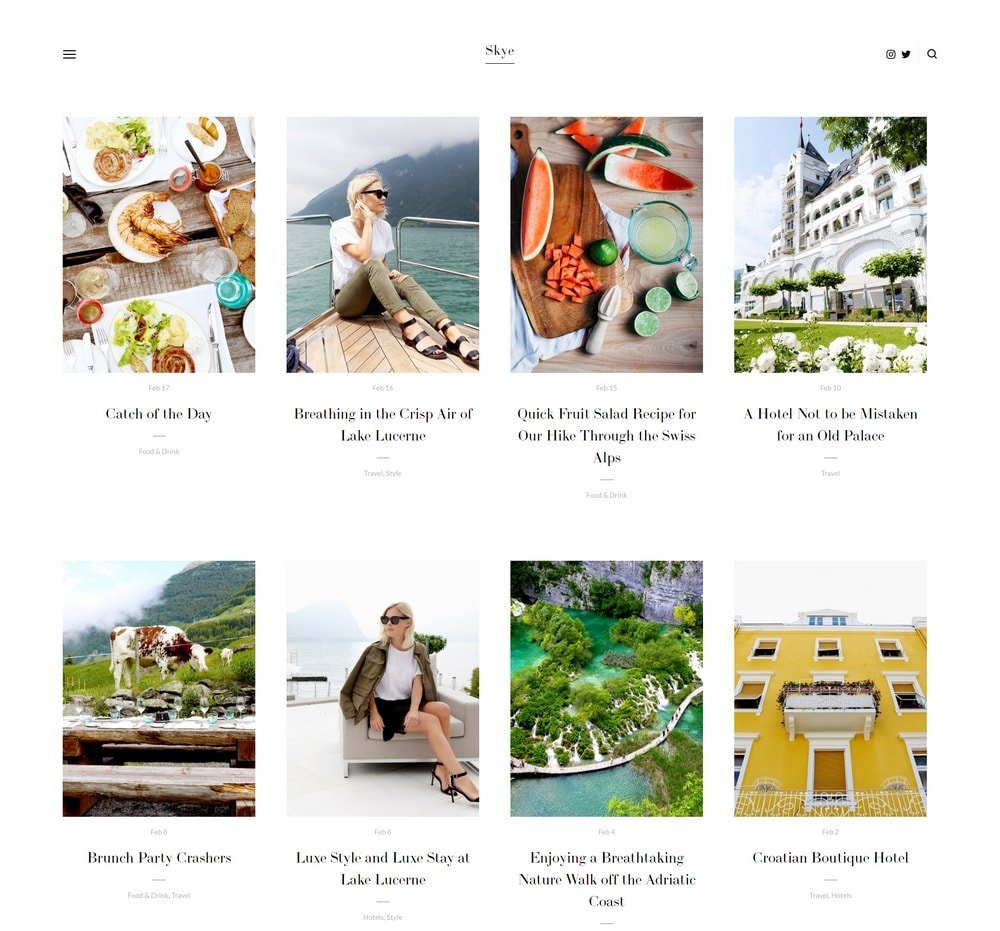 Skye Highlights:
Perfect for visual blogs like those in fashion, travel or lifestyle.
Easy to customise to make it more suitable for your brand.
Is highly mobile responsive, so can be viewed on any device.
A grid-based block design system that's easy to design.
Skye is one of the best Squarespace templates for blogging and it is perfect for those blogging who want to promote lots of images. You can also add videos to your content that will improve the appeal of your content if you would like. The template has been used by lifestyle, travel, food and other bloggers across the world. However, there is no reason why other brands can't use this template either.

The speed of this website template is perfect. And the editing is really good. You can have a customisation session completed within minutes and the fullscreen design will look impressive. You can spend more time on your content then.

To help with navigation, there is a slide-out left-hand side menu for those that are hidden until is needed.
Jasper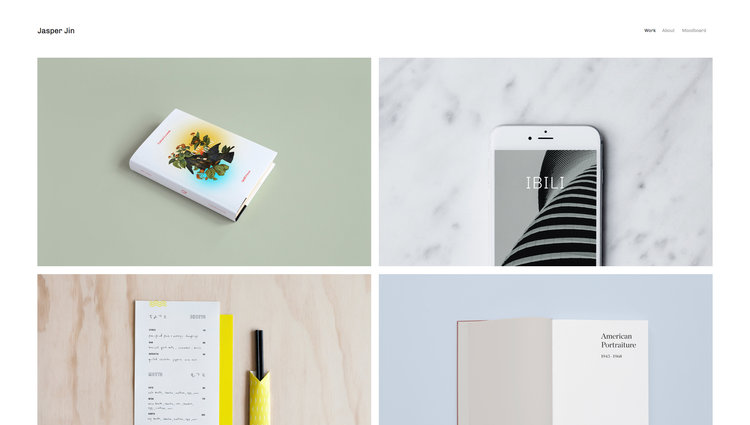 Jasper Highlights:
Easy to maintain and can feature lots of different media types.
There is a grid based design for better ranking and faster loading times.
You can tell emotional stories to get audiences engaged.
You can rank higher on Google and other search engines with ease.
Jasper is a simple template that is used by Squarespace users who want to publish a highly professional blog. The template allows for fast loading pages that can help you improve the user's experience on your website. In addition, you can expect your website's rank on Google to be higher.

The design of the homepage is really simple. You can include animations that will engage your audience and keep them on your website for longer. There are also scaling fonts that can be used within the page headers, that make your website easier for read.

The template indluces a project page, that can be great for you to showcase certain aspects of your lifestyle. And you can add all the blog posts about one aspect in one place. You're able to use the template to sell emotive stories to your readers.
Rally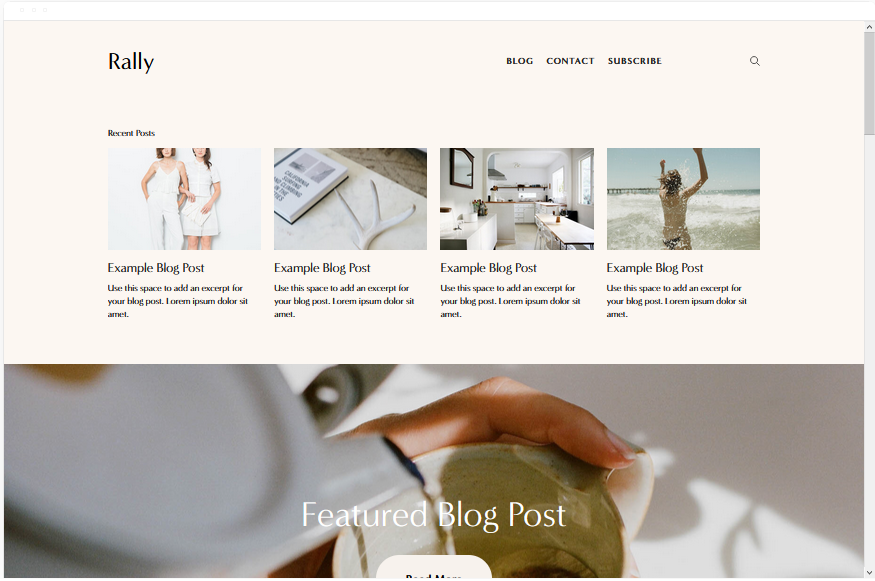 Rally Highlights:
Optimise loading times to reduce bounce rates and improve revenue.
List all your blog posts on your website to get audience to read more.
Impressive smooth scrolling animation.
Designed to help bloggers get their websites found on search engines.
Rally utilises perfect design elements to product a scrolling design for streamlined website. The template is perfect for content creators from any niche, but is going to be really useful for lifestyle bloggers. There is a perfect menu option that allows you to add navigational controls across your website and you can also use the social media buttons to connect your audience to your social accounts.

The template is a perfect blogging platform. And with the smooth scrolling action, readers will be able to enjoy your emotive stories with ease and have a good time on your website, an essential for bringing them back to read more on your website. The load times on this template are also fast, allowing for better ranking.
Mojave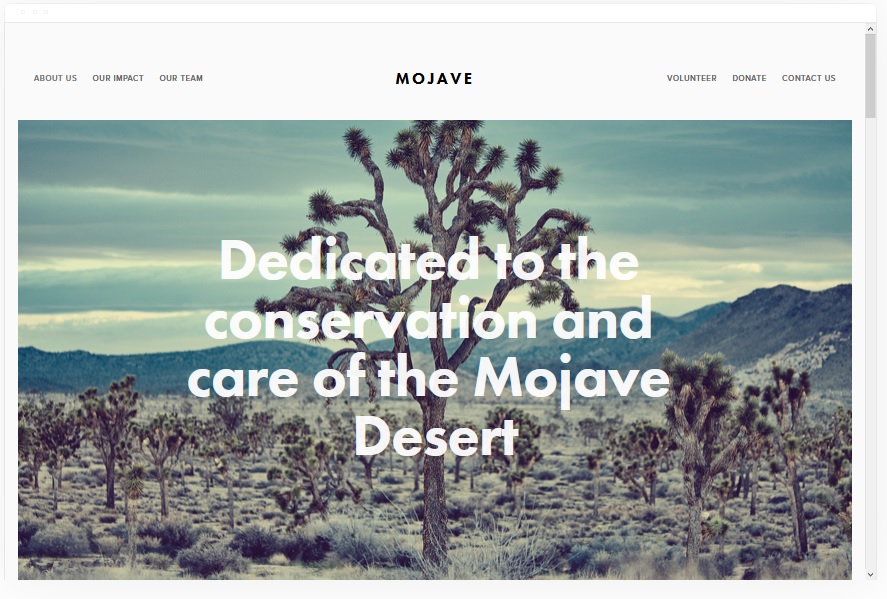 Mojave Highlights:
Technical skills required if you want to add social share buttons.
A striking appearance to draw the attention of the audience to the website.
Add videos and images to the banners on your website.
A fast loading template to rank higher on search engines.
Mojave is one of the top templates for those who want to create a blog for their website. You can attract audiences from across the world with a good design and pleasant experience on your website. There are plenty of options that allow you to improve your site's design. This can include 'call to action' buttons that can help you subscribe visitors to your email marketing list.

There are also banner options that improve the visual appeal of your website. You can add videos and images to your banners to make them look more visually appealing.

The template will also allow you to add a social share button. This needs to have some technical skills however.
Ventura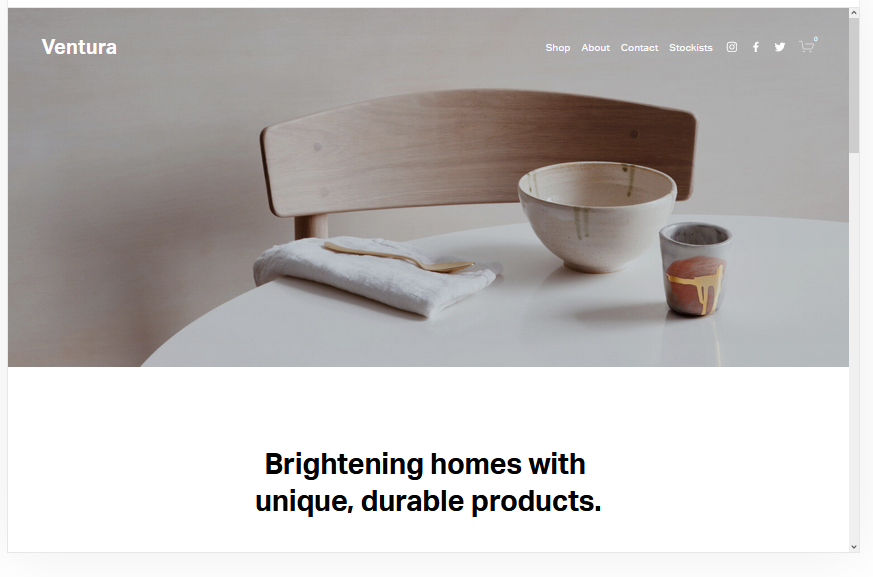 Ventura Highlights:
A great blogging platform features to enable eCommerce as well.
A minimalist and clean design.
A mailing list feature that can help you subscribe readers to you list.
You can rank high on Google and other search engines with ease.
Ventura is one of the easiest templates that you can use for your website. There are lots of new pages that you can create for your website that include contact, about, shop and homepage. There are always ways to add a blog to your website, which is going to be a vital part of your business.

The minimalist and clean design makes it a lovely website. This helps pages load quickly and improves ranking on Google. There is also a signup form, that can help you build a mailing list, brilliant for bringing visitors back to your store.
Ready – Freelancer Squarespace Template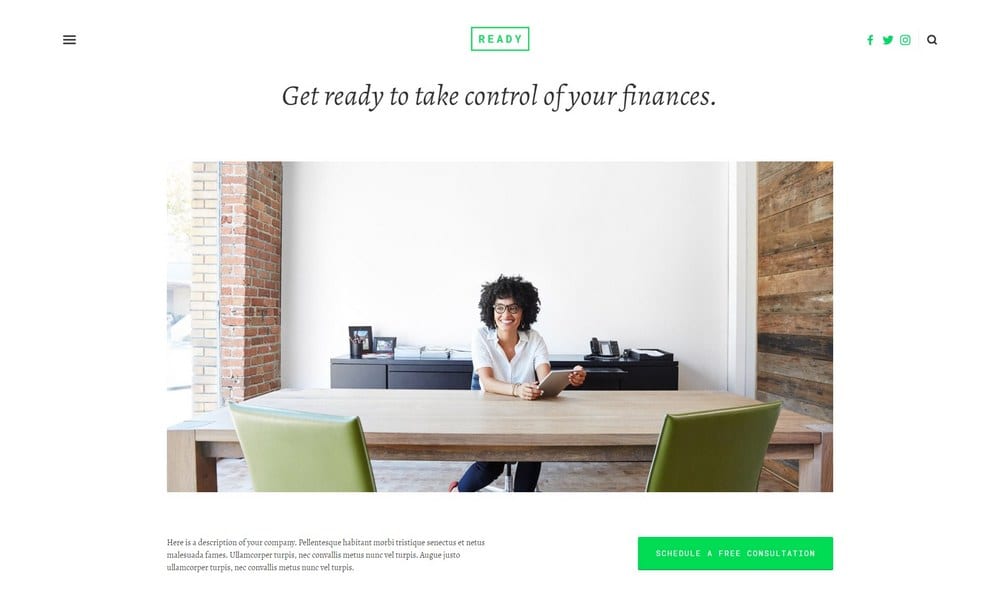 Ready Highlights:
Aesthetically pleasing design with the potential for lots of different niches.
Can be used with monetisation by adding freelancing services you can offer.
Loading times are reduced because of the clean, minimalist design.
Social media links can be added to help you build a better connection with audiences.
This template is one of the top options when it comes to building your website's position online and can really help you with your lifestyle blog. The white background is clear and offers you the chance to display high-quality images for your website. This helps you to portray a professional look to your website.

The template allows for a call to action button that can help you get appointments or increase mailing list numbers. Or you can sell your work with ease. You can also use the inbuilt scheduling system if you need to for your business.

There are lots of great navigational options as well. The menu is hidden on the left-hand side of the page. The menu will only appear when the customer clicks on an icon.
Bedford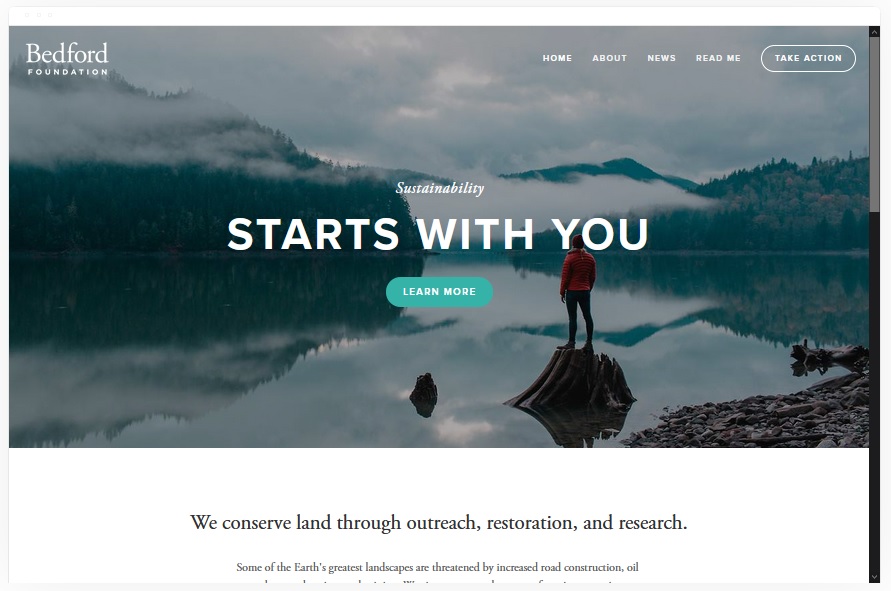 Bedford Highlights:
Can add a revenue stream to your website with merchandise sold from your website.
You can add videos to promote your brand and the content you have.
Customise banners to make them more aligned to your niche and branding.
There are fast loading website pages for improved user experiences.
Bedford is one of the top Squarespace templates that is for bloggers and is generally consider a great template for other niches. Numerous brands use this template because the fast loading, eCommerce features and other elements that can be implemented into the design. Another aspect is the sidebar navigation and scrolling index page that can help with user experiences.

This template can also be used to help you sell products online. This can offer you a new way to earn revenue and support your brand. And you're able to improve interaction/engagement on the website through high-quality videos being published on your pages/posts.

The template supports full banners. These can have images/videos on them to make them more interesting. You're also able to add calls to actions.
Sofia Rey – Freelancer Squarespace Template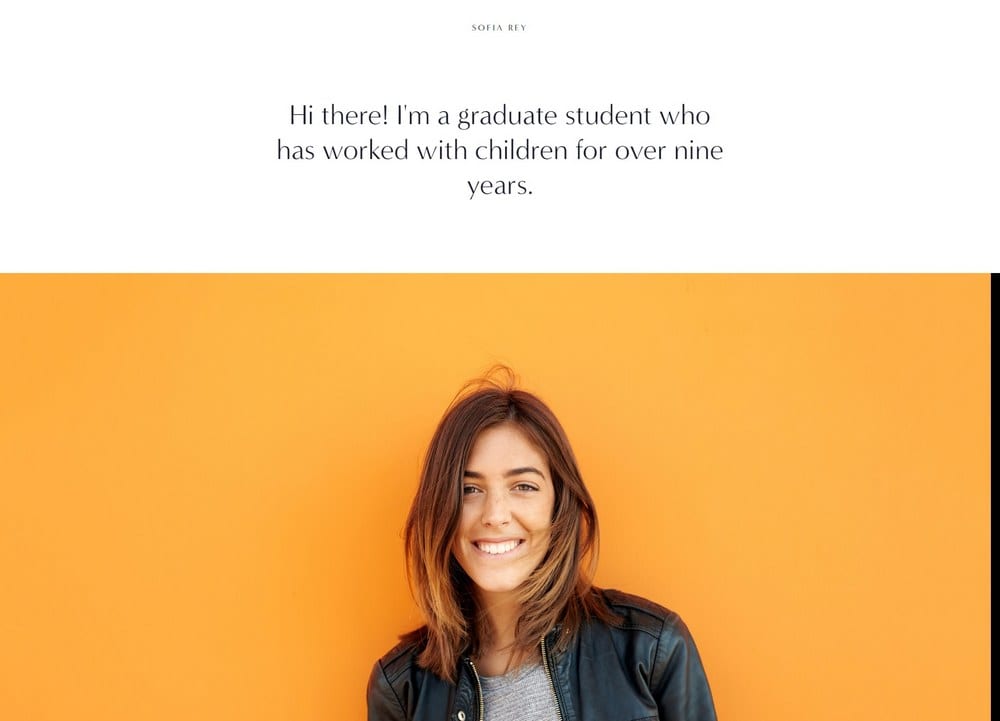 Sofia Rey Highlights:
Allows you to promote your personal brand to audiences, supporters and other brands.
Take your profile across the internet with connections to your social media brands.
Speak to your audience through a contact form that can be integrated with your website.
If you've got work you would like to demonstrate, you can use the reviews section to help.
Lifestyle blogging is a hard niche to be in. You need to find numerous ways to market your brand and this theme allows you to do this. You can bring pages that can showcase reviews, services, skills and more that can help you build more sponsors and revenue streams for your business.

The template has a vibrant, sleek and professional design that is perfect for a lifestyle blogger. The design can impress guests to your website as you describe your life and the stories behind it.

There is also a great navigational support on this website. There is a simple menu that is located in the top left of the screen. On the right of the screen there are places where you can add links to profits on social media. Therefore, you can continue to engage your audience with ease.
Hayden – Agency Squarespace Template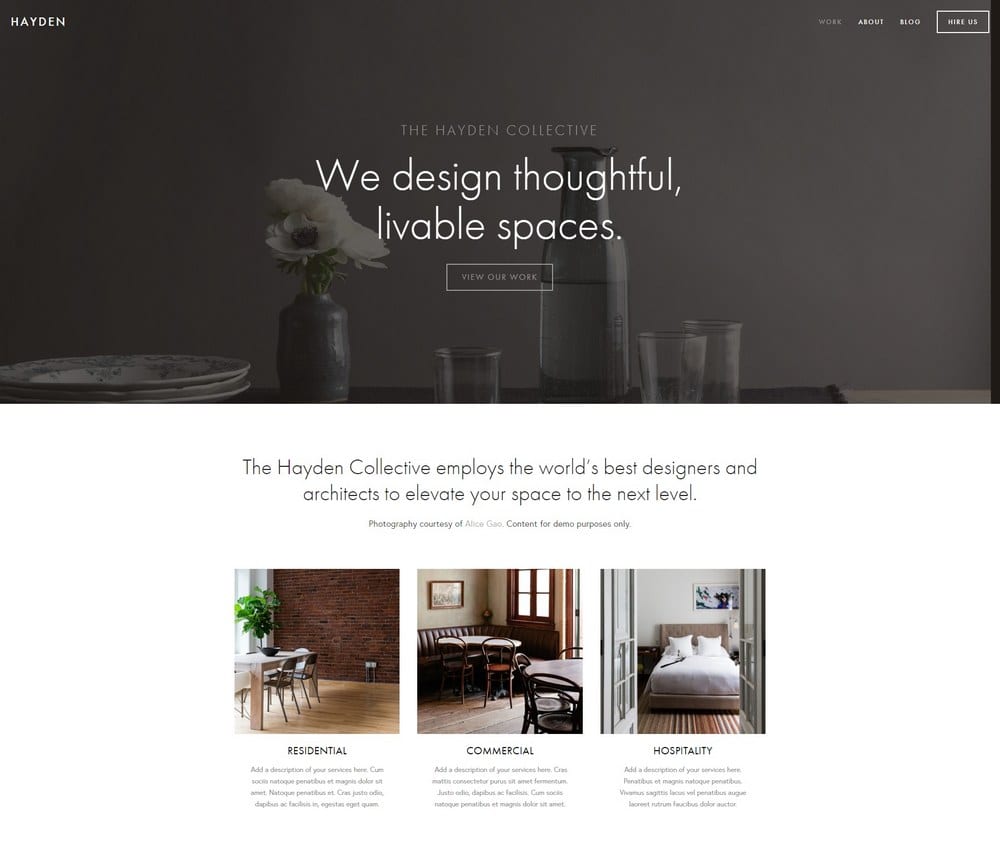 Hayden Highlights:
A customisable Squarespace template that is perfect for numerous blog niches.
Has a sticky navigation bar that can allow you to stay at the top of the website page.
There is an easy to use blogging section to create and publish new content to your website.
There is a sleek and professional design that will create a good impression with your guests.
Hayden has been specifically created for the design agencies. However the template has been known to be used by other niches, including those who would like to blog thanks the excellent blogging section that has been included within the template's design.

The modern and sleek Squarespace template can help you rank highly for any term that you need. There are also lots of different pages that you can add to your website such as services, clients, portfolio, case studies, galleries and more. Them template can also include a scheduling system to give you new ways to earn revenue.
Native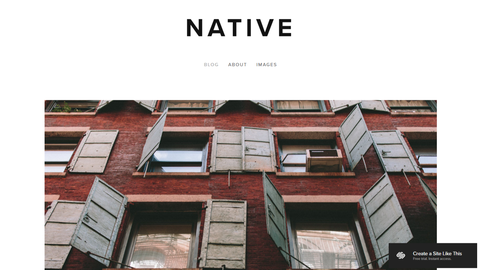 Native Highlights:
Display a location of where the blog post was written/is about.
Uses rounded thumbnails for a modern look.
Built-in social media functionality to help you engage more with audiences.
Scrolling design makes mobile users find it easier to use your website.
Native is one of the best blogging templates that you're able to use. There is a clean, scrolling page design that has been used by numerous niches including lifestyle, travel, food and more. The template allows you to utilise high-quality images that will can help you generate more interest in your articles. All images can also be displayed in galleries as well.

There is a great map feature as well, that is perfect for lifestyle bloggers as you can showcase where you've visited. You can also showcase the location on each blog entry. This is more for travel bloggers, but it can also work for lifestyle bloggers.

The template is fully optimised for mobile devices and can rank high on search engines.
Final Word: Which of these 10 is the Best Squarespace Template for a Lifestyle Blog?
If you're looking to use the best Squarespace template for a lifestyle blog, there are four options above. Which one will you use? Let us know in the comments below.