If you're an artist or freelancer for web design, then you might be looking to have a website that can host your portfolio. Therefore, you will want the best Squarespace template for a portfolio. This isn't as hard as you might think.
What is Included in the Best Squarespace Template for a Portfolio?
Besides the obvious, there are numerous things that you're looking for when you use the best Squarespace template for a portfolio. The first thing is that you want a website that will help you rank high on Google. The higher you rank, the more traffic that you will get.
In addition, you want speed. For every second that it takes for your website to load, you will lose rank on Google and 7% of your revenue. This can be a vital component of revenues.
So what is the best Squarespace template for a portfolio? Here are ten options that you might want to consider.
Carson – Portfolio Squarespace Template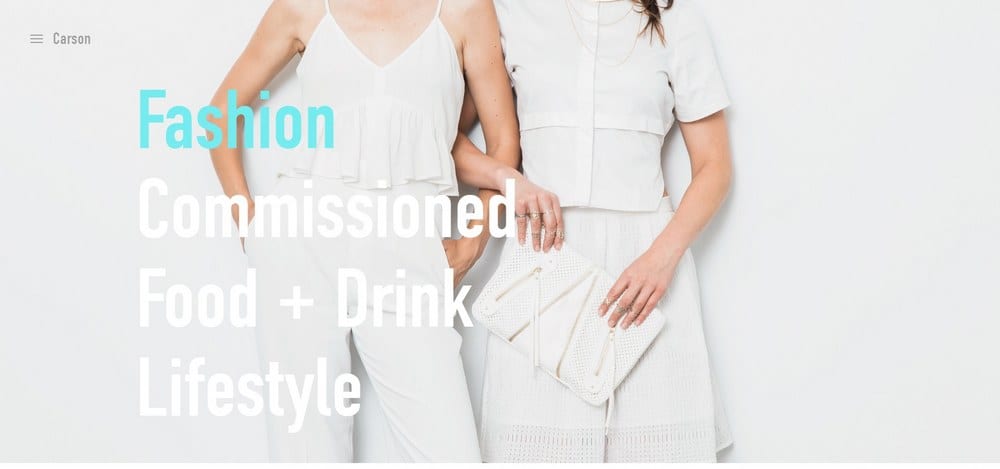 Carson Highlights:
A very unique template that can keep your audiences engaged.
Will change the background that is displayed depending on the location of the mouse pointer.
There is a hidden menu that can help with navigation.
Promote current and past projects.
This is one of the most unusual designs that can be used for your website. There is a unique element that means the background image will change depending on where the user's mouse pointer is on the website page. When it is hovering over a link, the background image will change. This can create an interesting and engaging website that reduces bounce rates and improves conversions.

The website can be used to promote your current and past projects on a portfolio page. There are also hidden menu options that can link across your website for better navigation. The hidden menu can include lots of different pages including contact, about and services page.

The theme is also highly adaptive, it can be used for numerous niches, styles and more.
Sofia Rey – Freelancer Squarespace Template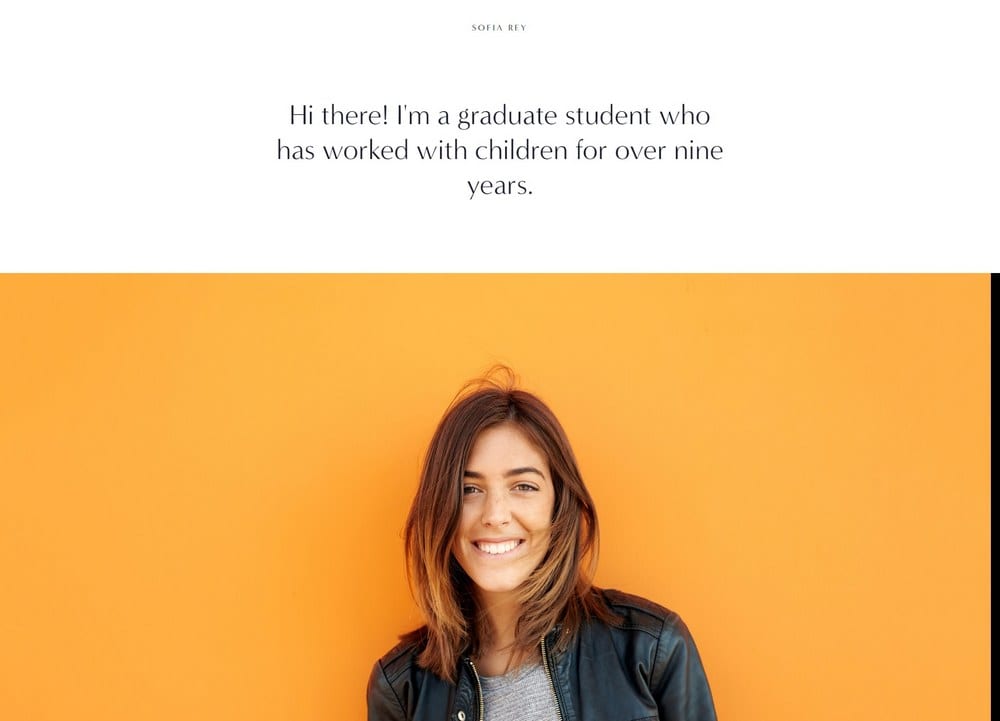 Sofia Rey Highlights:
You can promote your personal work to potential customers on this template.
You can connect your website to all your social media accounts.
There are contact forms that you can use so prospects can talk to you with ease.
You can showcase reviews that can help you build trust with your audience.
This is one of the best options if you're working as a freelancer. It allows you to market your work and brand with ease. The template also gives you a way to build a brand around your work with portfolio pages and more. Other pages can be added to your website with skills, services, reviews, and contact pages.

The template comes with a beautiful resume section that can help you sell your experience. You can include any training, experience and news about you and your work. This can be a good way for people to get in touch with you and hire you for their work.

The professional and sleek design is perfect for many people. And with a great navigational system on the template, you can be sure that potential customers can find what they want. If they want to contact you via social media, there are ways that you can integrate your accounts with your website template.
Sofia Pazari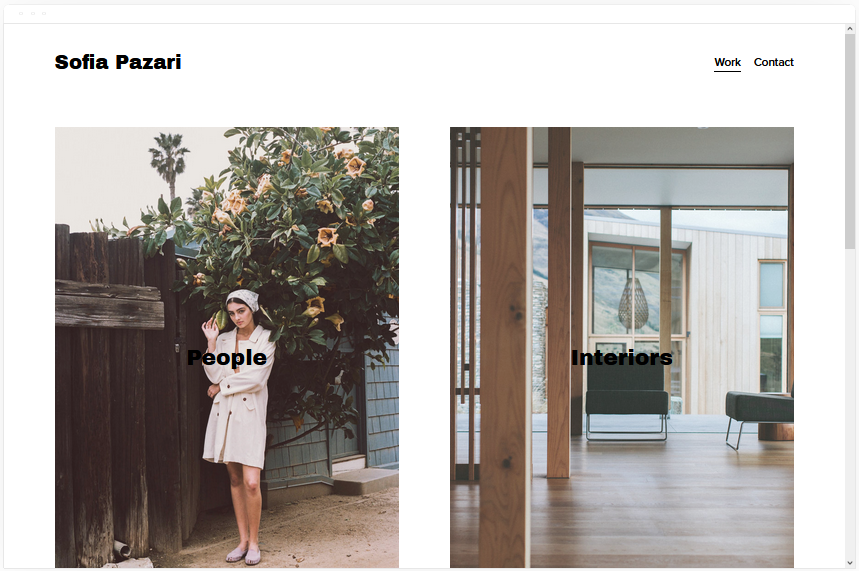 Sofia Pazari Highlights:
A very clean website design that includes two images on the front page.
Great for mobile visitors with fast loading times.
Menu is located in the top right corner of the website.
Text and images can be easily customized.
Sofia Pazari is a great option for those that want to have a portfolio website. It allows you to rank higher on Google and other search engines thanks to the speed and the way that content on the template can be optimized. Therefore, you can get more visitors to your website and even convert more of them.

As soon as customers land on your website, you can see two images that can lay side by side. These can showcase your services and your portfolio.

There is a simple menu that is located in the top right corner of the design. You can then direct visitors to your website with ease. You can include lots of different pages including about us, services, contact and more.

The clean design is perfect for numerous brands with options that can be customized. Therefore, this template is perfect for those who are new to building a website.
Mojave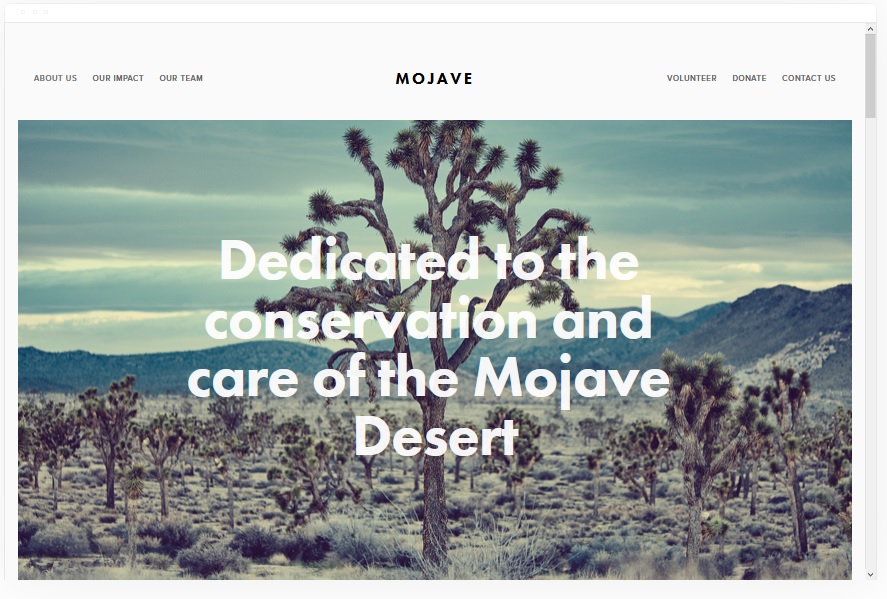 Mojave Highlights
A striking appearance to impress guests on your website.
Add videos and images to your entire website, even on banners.
Create share buttons to help you get more social media traffic.
A fast loading speed for your website to help with ranking and traffic.
This is one of the top apps if you're looking to utilize a lot of imagery on your website. The template is perfect to customize. Numerous customization can be applied with the background colors, style and even the ability to add features to your website like social share buttons that can help you attract more of an audience. The template is perfect for all images and videos.

The template has a perfect scrolling effect in the design and there are perfect call-to-action buttons that can help move your audience onto the next part of the purchasing journey. The template can have eCommerce functionality added to it.

The striking appearance looks very impressive. It is perfect for any niche and can help with conversions.
Bedford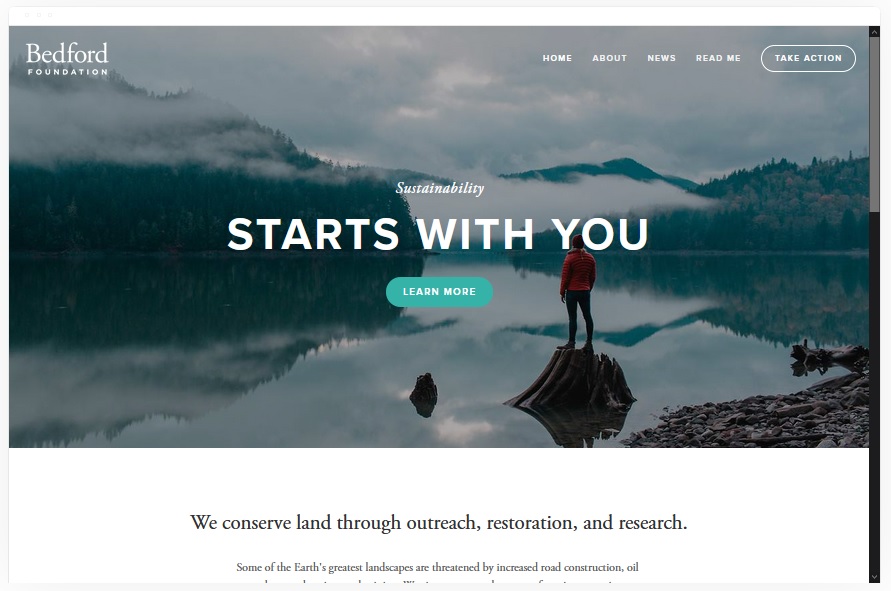 Bedford Highlights:
You're able to sell items from your portfolio with eCommerce options.
Add videos and images with ease.
You're able to create and promote banners on the website for branding.
You can rank your website high on search engines with fast loading times.
If you're looking for a Squarespace template that will allow you to showcase and promote your work, then this is one of the best options. Numerous features can help you get ahead of your competition with a portfolio to sell your skills and talents. Audiences can use the sidebar navigation and scrolling index page.

This template can allow you to sell directly online, which can save you time. Therefore, you can find a clear revenue stream to help support your business.

All the pages on this template can have great images and videos added to them. This can help you promote your work. In addition, you can create banners that have images and videos embedded within them. You can also use call-to-actions on each banner to help with the purchasing journey.
Rally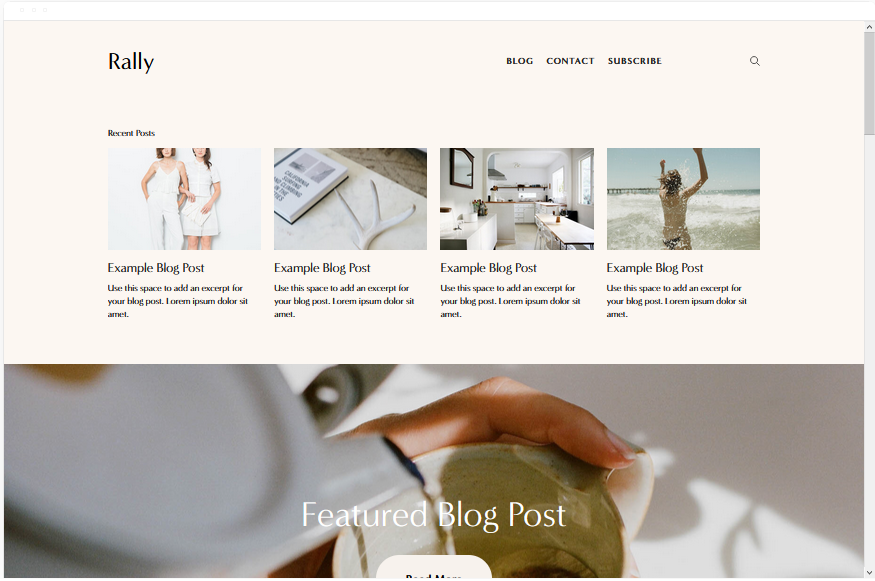 Rally Highlights:
Optimized for speed, so your website's loading times will be quick.
Perfect for blogging and showing your work off in a portfolio.
There is a smooth scrolling animation set for the template for improved customer experiences.
The template is perfect for numerous niches.
Rally is a highly streamlined website template that is perfect for those wanting a unique portfolio website. You can showcase text and images within an alluring design. The simplified design is perfect for those with limited technical skills learn how to create and maintain a high-quality website.

The website comes with a simple menu located in the top right corner of the page. Next to the menu, there is a space where you can place your social media links.

The template is perfect for creating and promoting work through blogs. Each blog can include your visual creations and you can add lots of links and texts to help promote that content. All blog posts can then be promoted with social media and SEO.

The Rally's scrolling animation is smooth that improves the user's experience. The template is also optimized for all devices, including mobiles.
Skye – Modern Blog Squarespace Template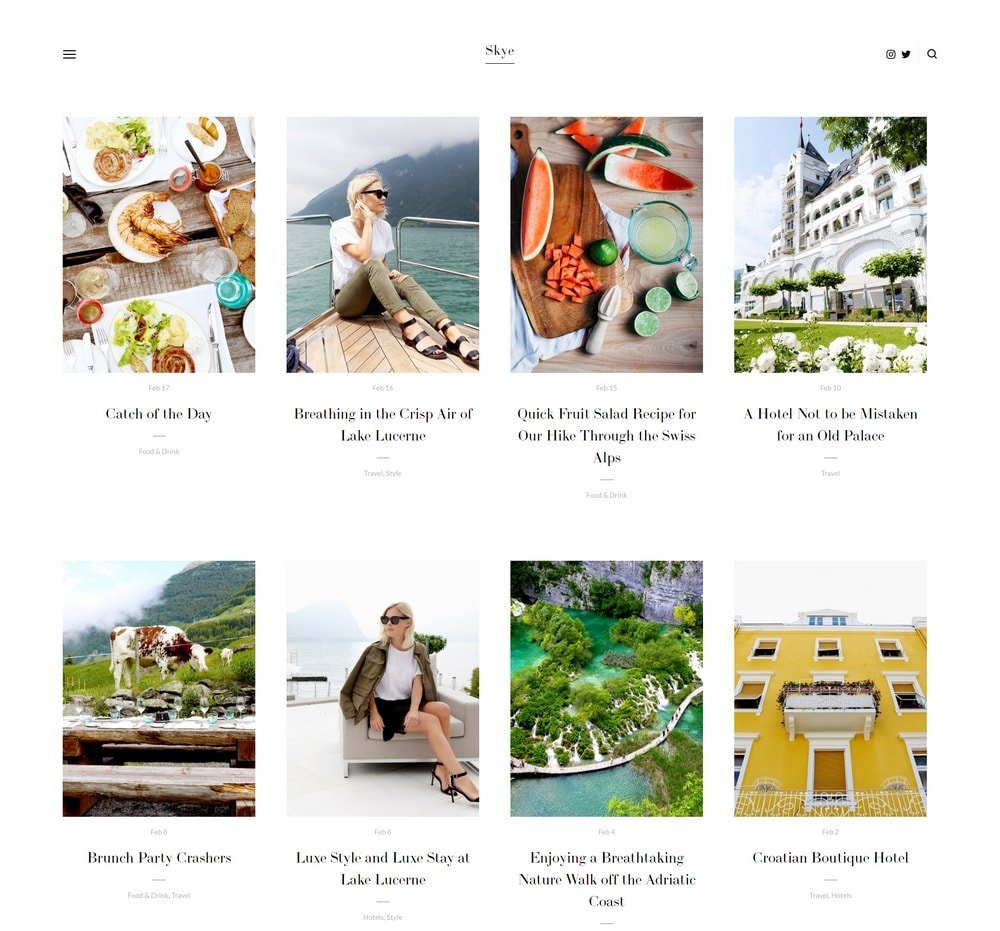 Skye Highlights:
A modern design that is perfect for those who are looking to advertise events/work with high-quality images.
The visual design is perfect for viewing content on mobiles.
High ranking potential, helping you to bring in more traffic to your website.
The scheduling system allows you to earn revenue through appointments.
Skye is considered one of the best Squarespace templates and is used within many different niches. However, if you're looking for a portfolio website, then this is certainly where Skye can excel. The template utilizes a block centric design structure that is easy to customize and helps you design a portfolio with ease. You can showcase all your work from the latest to the oldest with ease.

Skye is traditionally used by bloggers as well. And blogging is a great way to build awareness for your brand.

The template has numerous functions that make it one of the best on Squarespace. But its clean, modern and accessible design is what makes it stand out from the rest.
Wells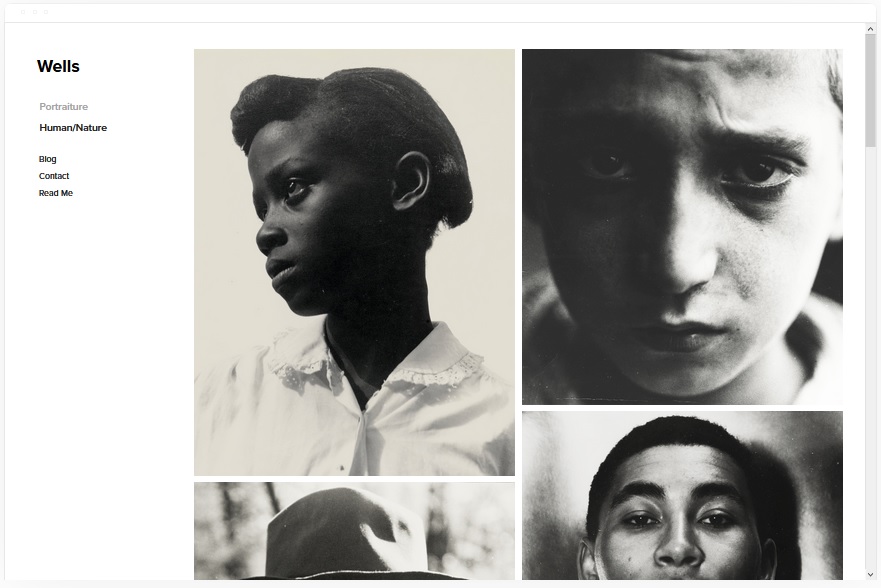 Wells Highlights:
This is one of the best designs on Squarespace for converting audiences.
Display a lot of visual content on your website to showcase your skills.
Create a better visual appeal with lots of different places to promote images.
Product options that allow you to sell products/services on your website.
Wells is one of the best templates for selling on Squarespace. So if you want to take your portfolio and make it into a revenue stream, then you can do so using this template with ease. The many benefits of this template start with the ability to add high-resolution images to your website. You can add these into a revenue stream with ease thanks to all the eCommerce features that are added to the template.

Videos are a great way for you to promote your brand too and this template has the features to help you add them to your website. All you need to do is add the YouTube URL link to your website and Squarespace website will do the rest for you.
Native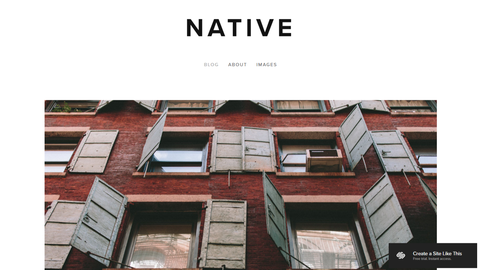 Native Highlights:
This is a great blogging platform that has everything you need to promote your work.
You can showcase your work in a portfolio with rounded thumbnails.
You can optimise your websites speed for higher levels of engagement with audiences.
Improved ranking for your website.
Native is a great option when you want to have a social media-ready template with all the integrations. Social media is brilliant for building a strong brand and this template can connect all your profiles to your website with ease. The template is used by all kinds of brands including travel bloggers, photographers and more. The main scrolling home page is clean and modern and so appeals to a wide audience.

To showcase your work, you can use galleries that can include rounded thumbnails. These can look impressive on your website.

The template also includes the chance to add a location for each blog entry. This can be useful for those who are travel bloggers or photographers.
Kent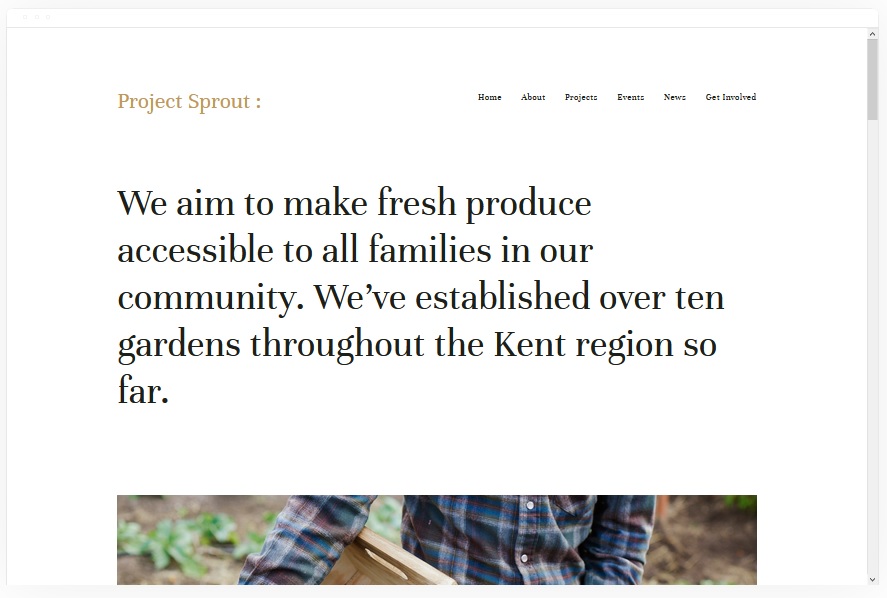 Kent Highlights:
One of the top Squarespace templates when you want to add lots of media.
You can add videos of your work to your website to add more interest.
You can sell artwork, photographs and other products from your website.
Get your website to rank on Google and other search engines with ease.
Kent is a wonderful template that allows you to have an attractive and clean website design. It can help you highlight your skills and talents and promote your creative work. There are portfolio pages on your website where you can showcase all your work with ease. The template can use all kinds of media that include images, videos and more. Therefore, you can really show off what you're capable of.

There are numerous types of pages that you can add on your website. For instance, you can add homepages, blogs, events, album pages, portfolios and more. You can also use the platform to earn lots of revenue through selling products and more.
Final Word: Which of these 10 is the Best Squarespace Template for a Portfolio?
If you're looking for the best Squarespace template for a portfolio, then there are ten options above. Whichever one you choose is up to you. They're all great and perfect for numerous niches. So which one will you choose? Let us know in the comments below.